Last night, the President's Trophy became an Stanley Cup Playoff participation award.
At least Tampa Bay isn't going home empty handed this season. pic.twitter.com/aAxN3CTMqN

— Kevin Harrish (@Kevinish) April 17, 2019
Leafs, Bruins – it doesn't matter. Someone's getting dumped next round.
ICYMI
Word of the Day: Besom.
 BROTHER BEARS. Nick Bosa is just a few days from becoming a top-three pick in the NFL Draft, just three years after his brother Joey was selected No. 3 overall by the Chargers.
Nick's following almost exactly in his brother's footsteps, which makes sense given how close they've been since high school.
From Matt Maiocco of NBC Sports:
Joey Bosa set the standard for Nick. As a 15-year-old, Joey was tempted to immediately commit to Alabama after Nick Saban offered him a scholarship.

But Joey opted to let the entire process play out. He became one of the top defensive linemen in the class of 2013, and ended up choosing Ohio State before his senior year of high school

That year was significant in another way. He and his brother were teammates for the first time at national powerhouse St. Thomas Aquinas High School in Fort Lauderdale. Nick was a freshman who earned his way onto the varsity team and started on the defensive line, along with Joey. The team went on to win the state championship.

"Their relationship was this turning point where they went from Nick being the annoying little brother to being best friends," Cheryl Bosa said.

"It was night and day, like flipping a switch. John and I were like, 'Holy cow, what happened here?' It was awesome. It was a coming of age. Nick was not the pain-in the-butt little brother anymore, and Joey was not the big brother. It was really, really cool. Since then, honestly, I don't think I've seen them get in an argument."

Joey went off to Columbus, Ohio, and Nick continued to develop his game to become -- like his brother before him -- one of the top high school recruits in America. Unlike his brother, there was little doubt where Nick would choose to attend college. He would play for coach Urban Meyer and defensive line coach Larry Johnson. There never was any doubt.
The bond between those brothers probably helps explain why Nick chose to do his rehab alongside Joey in California, living in his apartment. Nick called it the hardest time in his life, it only makes sense he'd want to be with his brother.
The rest of the article is well worth the read. It includes Nick pitching a temper-tantrum on the floor because his parents wouldn't let him play football, him telling his coach as a seven-year-old that he wanted to play defense instead of offense, and Nick's extremely close relationship with Larry Johnson.
It also makes my brain wonder what a Bosa/Bosa pass rush would have looked like at Ohio State. The college football world dodged a bullet there.
 OUT OF THE TOP-10. I've been slow to believe that Dwayne Haskins would actually fall out of the top-10 when draft day comes, but now Adam Schefter seems to be of that belief, and I'm usually not one to doubt the football-knower of football-knowers.
"I've spoken to teams who don't have a first round grade on [Dwayne Haskins]" - @AdamSchefter just now on @SiriusXMFantasy ...predicts Haskins will be picked in the "10-17" range, though

— Mike Clay (@MikeClayNFL) April 16, 2019
I've said this before, but this might not be a bad thing in the long run. See, the teams in the 10-17 range generally seem a hell of a lot more enjoyable to play for than the teams in the 1-10 range. Falling a few spots could be the difference between walking into a good, healthy situation and walking into a dumpster fire.
Also, I can't help but notice, Cincinnati is decidedly within that 10-17 range Schefter mentioned... I'm not going to wish that upon him, but I'm certainly not going to not wish that upon myself, either.
 B1G DREAMS. E.J. Liddell's been improving his game since he first stepped on a high school court, and he knows he's going to have to improve at the college level as well.
But that doesn't mean he's not also coming in with some immediate expectations. He's coming to compete for rings, starting next year.
From Dean Crittle of the Belleville News Democrat:
"Did I think EJ would win back-to-back Mr. Basketball awards? No I did not. Did I think we would win back-to-back state basketball championships? No I did not,'"Muniz said. "But I will tell you one thing: In my 20-22 years of coaching high school basketball, I don't think I've ever had a player improve from day one to his final game as much as he did. Every year he would improve in a different aspect of his game.

"Now EJ has to improve in a lot of different areas in order to make an impact at the next level. I'm looking forward to seeing him do that in the next four years."

The next four years will be at Ohio State University where he will play for head coach Chris Holtmann. He is one of a trio of players that includes Alonzo Gaffney and DJ Carton, which is being touted as one of the best in the nation.

Gaffney is a 6-9 forward while Carton was ranked as one of the top three senior point guards in the nation this past year.

"We're looking to make an impact," Liddell said. "Ohio State will graduate three seniors, two role players. Hopefully we can come in and win the Big Ten Tournament."
I appreciate him trying to be confident but still realistic by suggesting the Big Ten Tournament instead of The Big Dance, but if this team really does have the talent to win the Big Ten Tournament next season, it's absolutely going to be a national title contender as well.
 RETIRED MAN SET TO GOLF. Urban Meyer still has one last remaining obligation as Ohio State's head coach – play golf. And conveniently enough, it's also one last chance for win over Nick Saban and Dabo Swinney.
13 coaches – Urban, Saban and Swinney included – are teaming up with a celebrity from their school to compete in for $650,000 that will go towards a charity of their choice and an endowed scholarship.
Urban's partner is former Buckeye running back Jeff Logan.
Former Ohio State head coach Urban Meyer and former running back Jeff Logan will represent the Buckeyes in the 13th annual Chick-fil-A Peach Bowl Challenge charity golf tournament. Both competitors will look to contend for a share of the $650,000 scholarship and charity purse. The team's winnings will be split between an endowed scholarship at The Ohio State University and the Urban & Shelley Meyer Fund for Cancer Research.
For the youngins and those with short memories, Logan played running back at Ohio State from 1974-77. You'd be very correct in assuming he didn't do much running during his first two years while he backed up a lad named Archie Griffin, but he did rush for over 1,200 yards as a junior and over 600 as a senior.
As for his golf prowess, I have no idea. But he better be damn good to justify choosing him over Buckeye legend Jack Nicklaus for a golf tournament.
 IRON THRONE UPDATE. If you're hoping to catch Joey Bosa's cameo appearance in this season of Game of Thrones, you might be a tad disappointed. He'll be in the show, for sure, but odds are you won't see him. Hell, odds are he won't see him either.
From his Instagram story: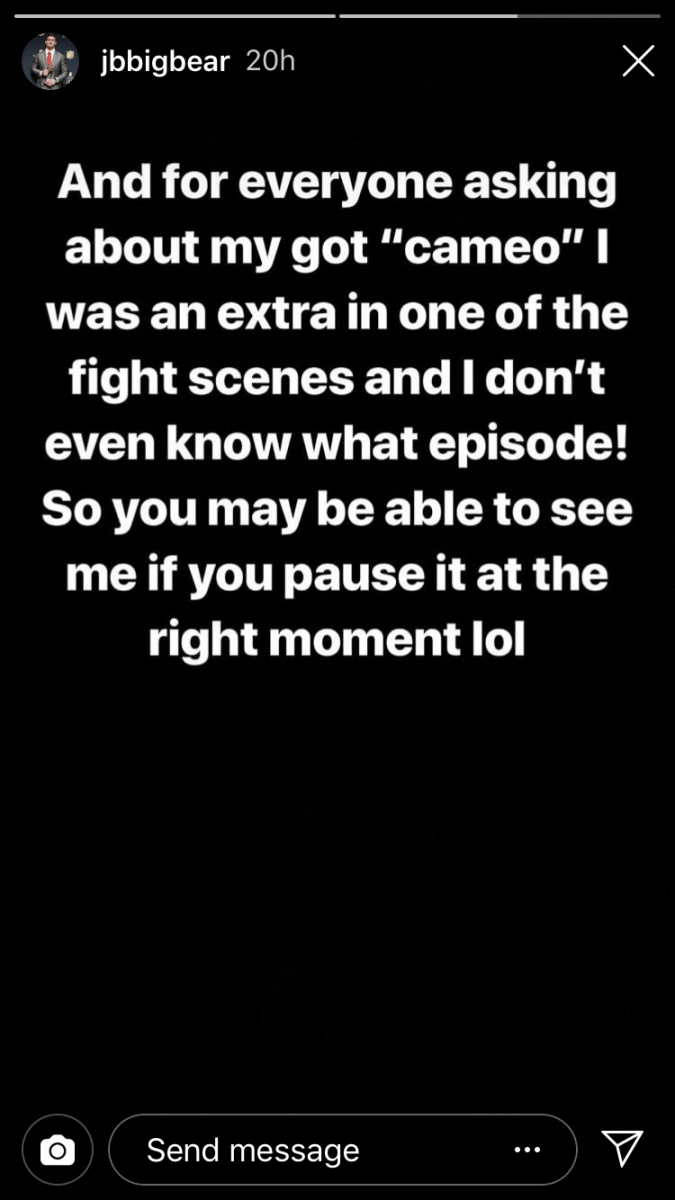 I guess he's not claiming the Iron Throne after all. But Michael Thomas on the other hand...
#WinterIsComing pic.twitter.com/IJWkzIFU2N

— Michael Thomas (@Cantguardmike) April 15, 2019
 LINK LOCKER. Woman arrested for teaching while drunk at a Kentucky middle school... A dive into Israel's mermaid community... The world's most infamous bouncers tell all... Hitman dressed as delivery man shoots woman with crossbow hidden inside package... The cataclysmic break that (maybe) occurred in 1950... Selfie deaths are an epidemic... College kids are living like kings in Vancouver's empty mansions...