There was no grand proclamation. No special announcement. Nothing of that ilk.
When asked in a press conference after Saturday's spring game about his overall impressions of Justin Fields and Matthew Baldwin as spring practice wrapped up, Ryan Day didn't even bother to go out of his way to answer the the question everyone wanted to know. He said both "did a good job today," both "flashed at times" and both "gave some receivers a chance" despite them both still being works in progress. Not even a single hint about how he views them compared to each other, let alone whether he would name a starter.
So, a few minutes later, a reporter followed up: Is there any separation between Fields and Baldwin?
"Again, I don't really know right now," Day said. "I'm going to keep looking at it. I know I keep saying that to you, and everybody wants to know. Again, I don't think right now that we're going to make a decision on that. I think it'll continue through the preseason."
It took some prodding with multiple questions, and Day didn't even finish his answer there, continuing to talk and citing the team's lack of depth at quarterback as one of the reasons for not naming a starter or even a leader, but the public finally got its answer. Ohio State will enter the offseason without making a decision on a starting quarterback and, unless the plan changes, will begin fall camp without naming a starter.
Surprising? Not really. Fields began the spring working with the first-team offense and ended it with the starters. But Day never signaled he was anywhere close naming a starter.
But, is Day taking a calculated risk by not naming a starter until preseason camp? Definitely. 
He could have named Fields the starter, allowing him to both learn the offense and build camaraderie with the receivers and offensive line while not putting pressure on himself to avoid potentially losing the competition. Had Day opted to go that route, Fields wouldn't split any first-team reps in the fall preseason camp, which will now happen.
Instead, Day chose to continue the position battle without any resolution, banking on both quarterbacks taking the next few months to maximize their ability and knowledge of the offense in order to secure the starting job. Fields is in pole position right now, and given the opportunities the coaching staff has given him this spring, they surely want to see him – or Baldwin – take control of the job this summer and fall camp in a way he hasn't yet.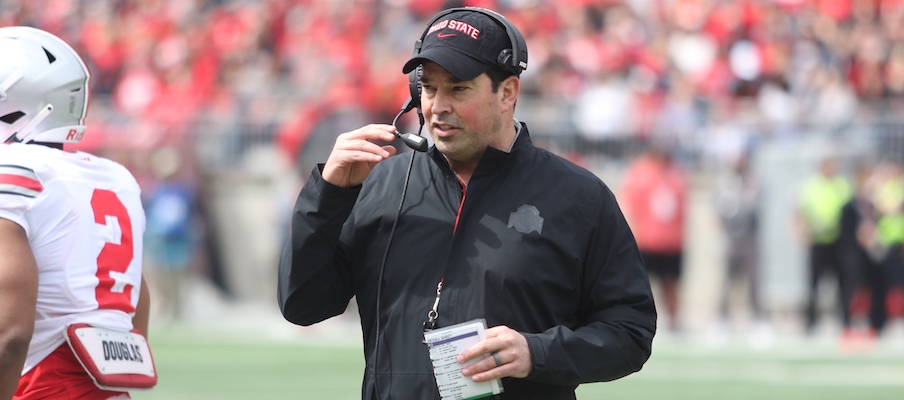 The next few months will go a long way in determining not just who will start at quarterback, but how prepared they'll be when one of them eventually takes the first snap of the regular season.
Day has said multiple times that Dwayne Haskins wouldn't have been ready to start in 2017, his second year in the program. He won't have a chance to avoid playing someone without much experience in 2019, though. This offseason, Day will either choose to go with Fields, a second-year quarterback who transferred to Ohio State in January, or Baldwin, a redshirt freshman who has not played a single collegiate snap after spending much of his first year in Columbus recovering from a torn ACL.
Reps always matter, but they're even more important for those without much – if any – game experience.
"I will say this, and I believe it with all my heart, if the quarterback hasn't practiced a play over 100 times, you're not going to get the production that you want," Day said at Ohio State's coaches clinic on Friday. "You're not going to get the execution that you need. It needs to be done in the offseason. It needs to be done in the summer. Even if he's running a concept on air without a defense, and we just put two receivers out there, we're running through those concepts over and over again. He's going to feel it, he's going to get good at it, he's going to go."
Fields has had 15 practices with Ohio State. He enrolled in the school just three months ago. Baldwin has spent about 15 months in Columbus, but he was limited in practice for much of last year as he recovered from his knee injury. 
Both quarterbacks have a long, long way to go until they reach Day's baseline of having run each play at least 100 times, but the coaching staff gave them the tools to begin catching up by implementing the entire offensive playbook this spring.
"The challenge for our quarterbacks this spring was we had to get all of this in in 15 practices, and it was a lot, but we got it in," Day said on Friday.
The next step, which will take place in the summer and continue into the fall, will be at least as important as what happened in the spring. Fields and Baldwin will make their advancements in the summer, and when preseason camp rolls around, they'll start "from scratch" and learn the offense again.
"I call it repainting the bridge," Day said. "Just keep going over and over it again so now they know it."
Really, Ohio State painted two bridges, and will continue repainting them until Day selects the one he prefers.
Day doesn't view that as enough of a challenge to have chosen a starter entering the offseason. It's a strategic risk, but one he showed no aversion to taking.