Football has entered hibernation mode.
As Ohio State wrapped up spring practice with the spring game on Saturday, the team enters the summer and won't take the field at Ohio Stadium again until the regular season begins on Aug. 31 with a home game against Florida Atlantic.
The Buckeyes entered the spring with a number of position battles, and Ryan Day hasn't officially named starters at any position, but their competitions progressed over the course of their 15 spring practices allowed by the NCAA.
It's time to take a look at how those position battles look entering the summer.
Quarterback
The candidates: Justin Fields (So.), Matthew Baldwin (RS-Fr.)
Leader: Justin Fields
Breakdown: Fields took the first first-team quarterback snaps of the first practice of spring, and he took the first first-team quarterback snaps at the final practice of spring.
Day declined to name a starter, saying the competition will "continue through the preseason." However, it's clear Fields is currently viewed as the frontrunner to win the starting job and line up behind center against Florida Atlantic on Aug. 31.
In the spring game, Fields only played with the first-team offense, while Baldwin took snaps with both the starters and backups. Neither of them, though, looked particularly polished.
Fields completed 4-of-13 passes for 131 yards with the vast majority coming on his 98-yard touchdown pass to Binjimen Victor. Even though defenders weren't able to tackle him, he flashed his speed, rushing eight times for 38 yards. Baldwin, who went 20-for-36 for 246 yards with two touchdowns, had a few impressive throws down the field but also tossed a pair of interceptions.
At the moment, Day doesn't feel comfortable naming a starter.
"They're still a work in progress, they're still growing, they're still making mistakes," he said. "So to say we know where they are in terms of finished product, it's hard to tell and they still have a long way to go."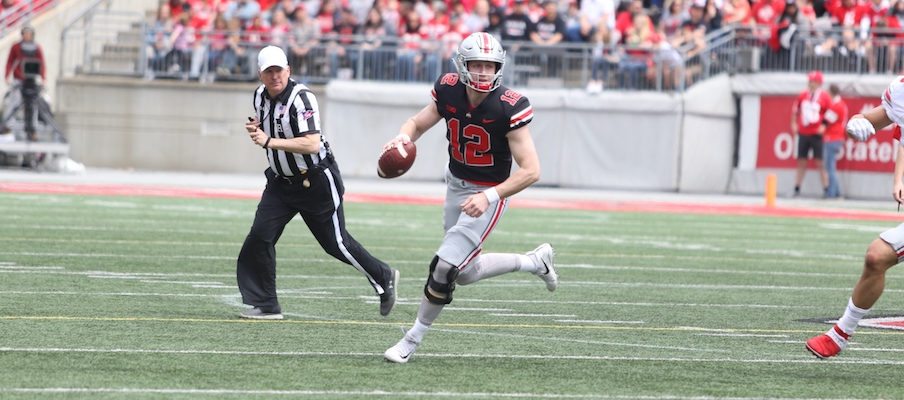 Wide Receiver
The candidates: Garrett Wilson (Fr.), Jaelen Gill (RS-Fr.), C.J. Saunders (Sr.), Ellijah Gardiner (RS-So.), Jaylen Harris (RS-So.)
Leaders: Garrett Wilson and Jaelen Gill
Breakdown: Entering the spring, Ohio State had four answers in the receiver rotation. Austin Mack, Binjimen Victor and Chris Olave would play either X or Z wideout, and K.J. Hill would start at H-back. That left room for one outside receiver to join Mack, Victor and Olave, and one H-back to play behind Hill. 
Ohio State won't release a depth chart until the fall, Day said on Saturday. But if the Buckeyes dropped a two-deep, both Wilson and Gill would make the list. The freshman and redshirt freshman had two of the most impressive springs of anyone on the team.
Wilson flashed according to basically anyone who watched a single spring practice, and he showed why he had been getting so much hype with his corner-of-the-end zone touchdown catch on Saturday. His talent doesn't come around often, and he has seemingly risen above Gardiner and Harris on the depth chart. Kamryn Babb would have been in the mix, but he suffered another knee injury. 
Gill has garnered similarly positive feedback this spring. Most recently, while showing a clip of him at a coaches clinic on Friday, Brian Hartline called him one of the team's most improved players of spring practice. In the spring game, Gill led both teams in catches (7) and receiving yards (95). C.J. Saunders remains in the mix to play H-back as a senior, but Gill has made a push for playing time.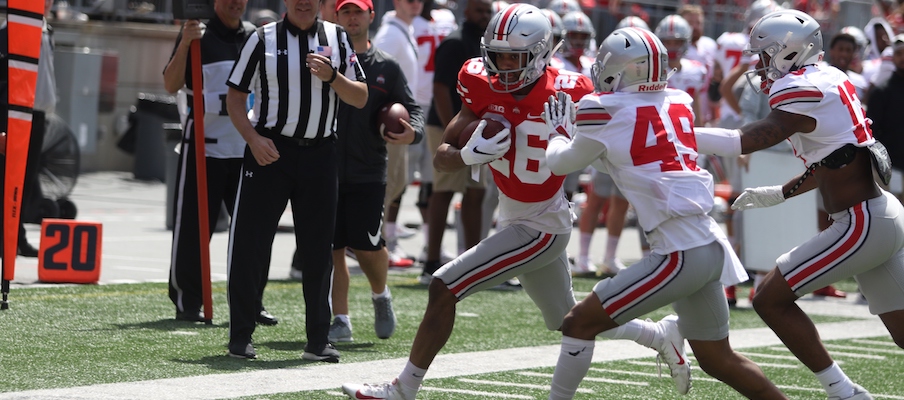 Right Tackle
The candidates: Nicholas Petit-Frere (RS-Fr.), Branden Bowen (RS-Sr.), Joshua Alabi (RS-Sr.)
Leader: Nicholas Petit-Frere
Breakdown: What looked like arguably the most uncertain position entering spring practice has cleared up considerably, and there appears to be a pecking order as the team moves into the summer.
Petit-Frere started at right tackle on Team Gray with the starting offense, while Bowen started at left guard. Neither Day nor Greg Studrawa has named a leader in any position battle, let alone a winner, but Petit-Frere appears to have a lead at right tackle as the team enters the summer. 
As a second-year player and a former five-star prospect, Petit-Frere has indisputable natural ability. Even Bowen said he has the fastest feet of any offensive lineman he has ever seen. Day called Petit-Frere one of the most improved players on the offense. Though Bowen has more experience and has started six games, Petit-Frere might be forcing his way onto the field.
Alabi has spent the majority of spring practice taking reps with the starters at left tackle since Munford could not play due to an injury. He could move back to the right side in the fall, but Petit-Frere and Bowen are more likely candidates to start on the right side than him. 
Left Guard
The candidates: Jonah Jackson (RS-Sr.), Branden Bowen (RS-Sr.), Gavin Cupp (RS-Jr.)
Leader: Jonah Jackson
Breakdown: Not much has changed at the left guard spot at the moment, though it could get interesting in the fall if Bowen doesn't win the right tackle job.
Jackson, who is at Rutgers finishing the semester at Rutgers, has the ability to start at both center and guard, having done so for the Scarlet Knights over the past two years. But given the surge of Josh Myers, who has taken hold of the center position, Jackson's future lies at guard, which Studrawa confirmed a couple weeks ago. 
In his four years at Rutgers, Jackson started for nearly two full seasons and spent the 2018 season as a team captain. He earned honorable mention All-Big Ten honors last year and as a graduate transfer, he was pursued by numerous power conference programs, eventually choosing the Buckeyes instead of Oklahoma, his other finalist.
Given his experience, Jackson will likely get the first crack. But if Petit-Frere starts at right tackle, Bowen and Jackson might have a fierce competition to become the starter at left guard. In 2017, Bowen opened the season starting at right guard, so he has experience as an interior lineman, too.
As the team exits spring practice, since Jackson has not arrived in Columbus and Bowen spent most of the 15 practices at right tackle, there's still a lot to learn about the left guard situation.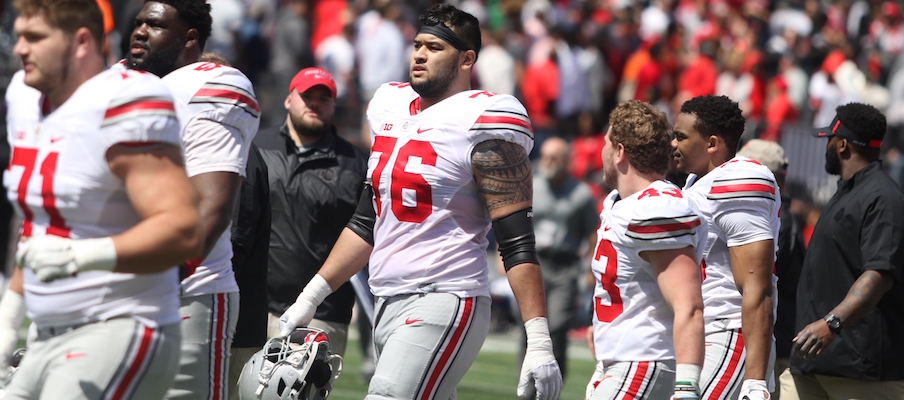 Defensive Tackle
The candidates: Jashon Cornell (RS-Sr.), Haskell Garrett (RS-So.), Taron Vincent (So.)
Leader: Jashon Cornell
Breakdown: Before spring practice began, the public didn't know the current frontrunner to start at defensive tackle alongside Robert Landers even played the position.
Jashon Cornell, who played defensive end last season, moved back inside for his fifth year of college to the position he feels most comfortable playing. With Chase Young, Jonathon Cooper, Tyreke Smith and a bundle of other freshman and sophomore defensive ends pushing for playing time, Cornell left a crowded situation. And though he entered a similarly deep position, with Garrett and Vincent in line for more playing time, he finds himself at the top of the depth chart as spring football ends.
With Garrett and Vincent also both in line to take more snaps than they had last season, this position battle is certainly not over. But it's also not the most important on the team. 
Larry Johnson will rotate all three 3-technique defensive tackles. At the moment, Vincent appears to be above Garrett on the depth chart since he played on Team Scarlet with the first-team defense while Garrett played for Team Gray. But that could change by the time the season begins.
Linebacker
The candidates: Malik Harrison (Sr.), Pete Werner (Jr.), Tuf Borland (RS-Jr.), Baron Browning (Jr.), Teradja Mitchell (So.), Dallas Gant (So.), K'Vaughan Pope (So.)
Leaders: Malik Harrison, Pete Werner and Tuf Borland
Breakdown: Before every collectively loses their minds, there's a lot remaining for Al Washington to figure out, and he didn't come close to naming all three starters.
Only a couple things on the second level of the defense are close to certainties.
Harrison will start at weakside linebacker. He's a senior returning starter who tied for the team lead with 81 tackles last season. Al Washington didn't outright name him a starter this spring, but he came close enough to doing so that it's fair to assume there's no competition.
Also, Werner is in a good position to return as the starter at strongside linebacker. His backup, K'Vaughan Pope, has flashed at time this spring, but it's unlikely he supplants Werner. Werner's playing time could decrease due to the implementation of the bullet, but when the coaches employ three linebackers, expect him to be on the field.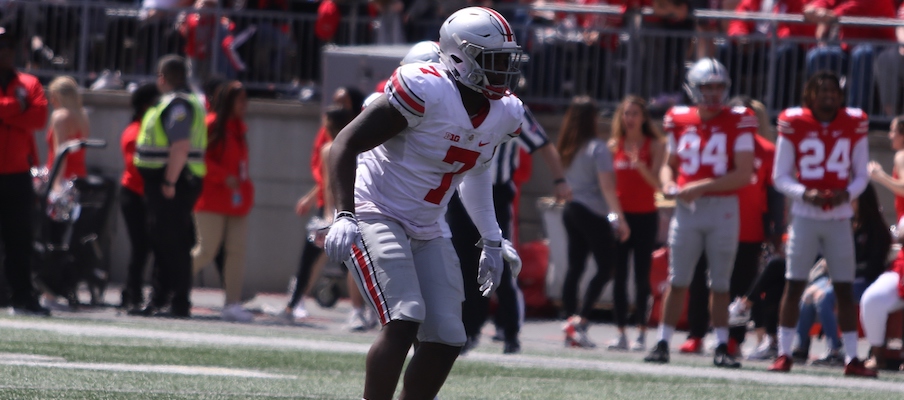 The situation at middle linebacker is much more complicated.
Borland, who has nearly two full seasons of starting experience, missed the entirety of spring practice due to injury. Therefore, Browning played the majority of first-team snaps during practice and in the spring game at middle linebacker. Mitchell also took advantage of the increased practice reps with the backups, becoming a physical thumper and earning extensive praise from Washington at last week's Ohio State coaches' clinic.
All three middle linebackers could start for Big Ten teams, though only one can start for the Buckeyes. But will that matter, or will Ohio State rotate them? Even Washington might not know at this moment. Since Day hired him in January, he has never coached Borland before, so he hasn't been able to fully evaluate him yet.
It would be tough for Washington to turn away from a two-year starter, but Browning and Mitchell have made pushes for playing time. Mitchell, in particular, has made significant strides this spring, and he could become a player that Ohio State simply won't be able to keep off the field.