Folks, we're just days away from the Buckeyes adding some letters of intent. Better start warming up those fax machines.
ICYMI
Word of the Day: Jejune.
 DWAYNE HASKINS TEASES. Look, I accepted the fact that Dwayne Haskins was heading to the NFL following the season about the time he tossed his second-straight 400-yard game.
Since then, he dissected Michigan's top defense, had the best Big Ten Championship game performance ever, won the Silver Football and was named a finalist for the Heisman Trophy.
He's absolutely going to the NFL, and he'll absolutely be a first-round pick, and possibly even the first quarterback taken. He's gone. Totally, completely gone.
Or is he?
Despite not declaring his own intentions yet, Ohio State QB Dwayne Haskins asks RB Mike Weber to stick around one more year at OSU. pic.twitter.com/UavZgzTdSK

— RedditCFB (@RedditCFB) December 17, 2018
For the record, I still believe he is. But either this is a masterful troll from a dude who knows the internet will blow up over a simple instagram comment on one of his friend's posts, or he's legitimately considering returning next season.
Either way, I love him for it.
 WHY RYAN DAY. Urban Meyer was a home run hire, but if we're honest, he kind of fell into Ohio State's lap.
But now with Ryan Day, Gene Smith has a chance to add to his resume of incredible hires in the athletic realm, which includes folks like Chris Holtmann, Tom Ryan, Nick Myers and Nadine Muzerall.
But there's no margin for error with the football program. If he makes the wrong move, nobody's going to care how good the rest of the athletic department is. But he's more than comfortable with his decision to hire Day.
From Dave Briggs of the Toledo Blade:
"Ryan and I established a relationship early on," Smith said. "When Urban told me how talented he thought he was, I spent time in the summer with him. Ryan was one of those guys who wanted to be a head coach, and we talked about what athletic directors look for in a head coach. We had that candid conversation. I really got close with Ryan, and became so impressed with him."

...

Beyond the lopsided wins, Smith said he was dazzled, citing everything from Day's handling of the unwashed media masses — "I watched every single interview he did with you guys," Smith said — to his keeping the class in line. Nary a single spitball was launched the substitute's way. The guy with the beautiful mind could lead, too.

"We didn't have one peep of bad behavior," said Smith who, along with Meyer, was suspended the first three games. "Think about that. Opening week of football season, the students are back, parties are running rampant. ... Normally in those situations, you lose something. Something goes south. I can't think of one thing that went south. Not one. He handled it all masterfully."

...

Smith made his lists and privately leaned on fellow members of the playoff committee, including Oklahoma AD Joe Castiglione, a close friend. For such an A-list job, he wondered if it was his obligation to conduct a true national search and allow one of his candidates the chance to wow him in an interview. He appreciated the risk of "not allowing them to give the pitch."

Yet the more Smith weighed his options, the more he came back to Day.
Gene told us that he considered two current college coaches, a former college coach and an NFL coach. Briggs, through his #sources, learned the identities of three of 75 percent of that crop: Iowa State's Matt Campbell, Syracuse's Dino Babers and former Oklahoma coach Bob Stoops.
Assuming the NFL coach was Mike Vrabel – though Bill Belichick is certainly an option – I have to think Gene made the right call. There is no Urban Meyer on the market and what you have in house is probably better than you can get anywhere else.
Even if you remove Ohio State's specific and unique situation, if I'm a fan of any other team and the list of candidates includes Campbell, Babers, Stoops or Day, I'd want Day. But I may be a bit biased because I've lowkey wanted him as Ohio State's next head coach since 2016, I just never actually thought the timing would work out.
 ZEKE DOES A KIND THING. The Cowboys got shut out, and Ezekiel Elliott was held in check for most of the game. But that didn't stop him from making a young fan's day after the game.
This is cool. On his way into the tunnel, Zeke saw this little guy with a sign saying it was his first Cowboys game.

Sat down, took off his cleats, signed them and gave them to the kid #cowboyswire pic.twitter.com/M1tWkP26lH

— David Helman (@HelmanDC) December 16, 2018
That's awesome. And based on the fellow who I assume is his father rocking the Ohio State jersey in the background, it looks like they've been Zeke fans for quite a long time.
 COLLEGE FOOTBALL, IN PHOTOS. Some patriot put together a collection of over 500 photographs depicting some of the most iconic moments in college football history, going all the way back to 1911.
You can't have over 100 years of football photos without some Buckeye glory present, and here were a few of my favorites from the ole imgur archives.
This is Les Horvath and Bill Hackett kicking it with Carroll Widdoes in 1944 after beating Michigan 18-14: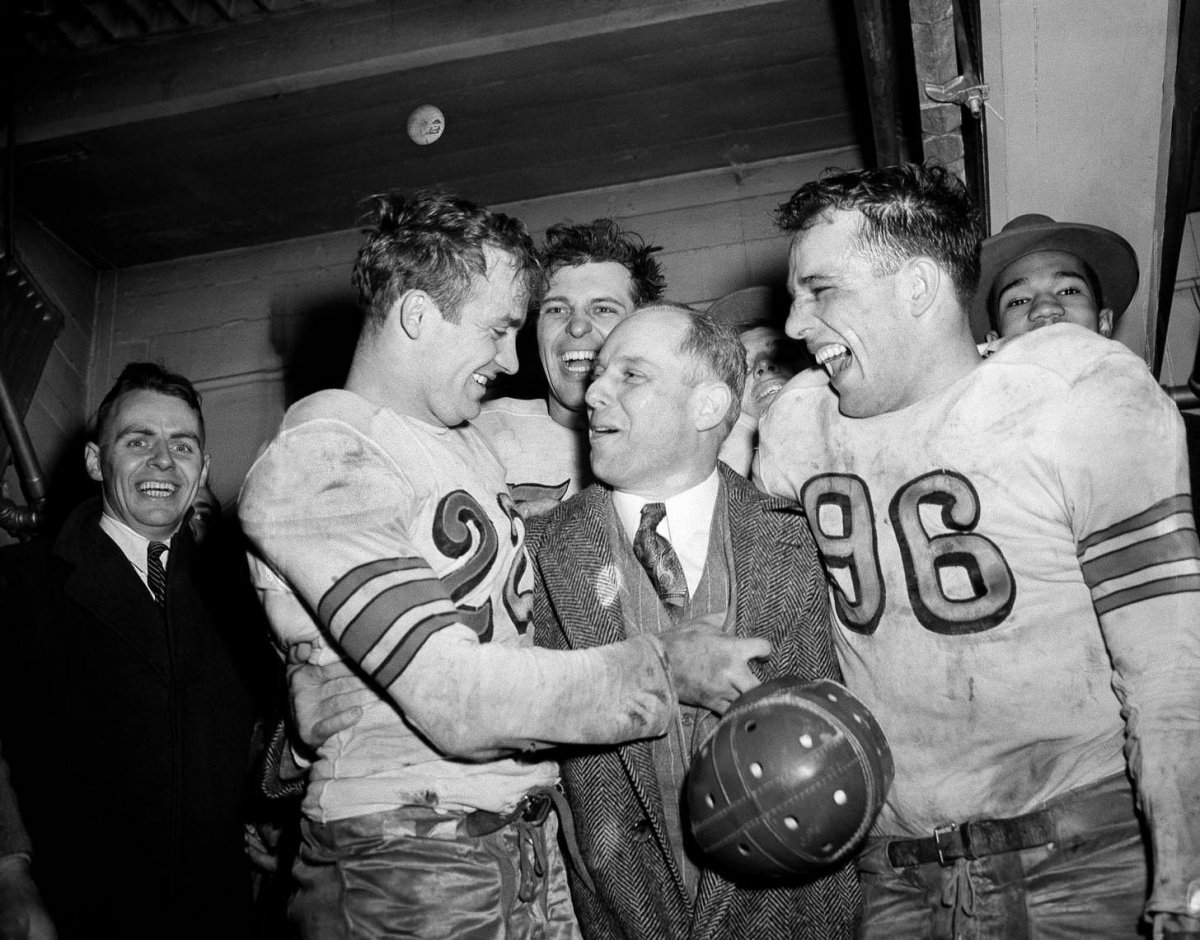 This is Hopalong' Cassady shredding Indiana's defense in 1955: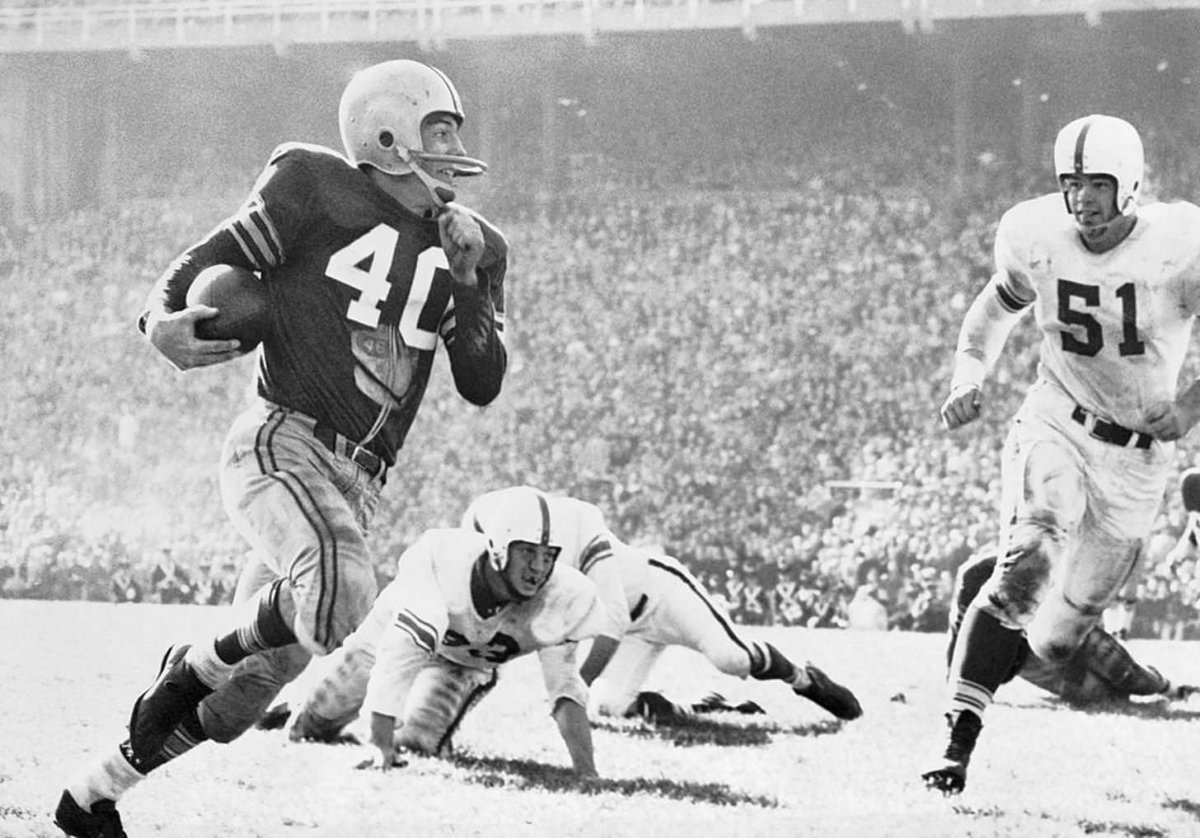 Here's Woody Hayes and Rex Kern choreographing a 50-14 win over Michigan in 1968: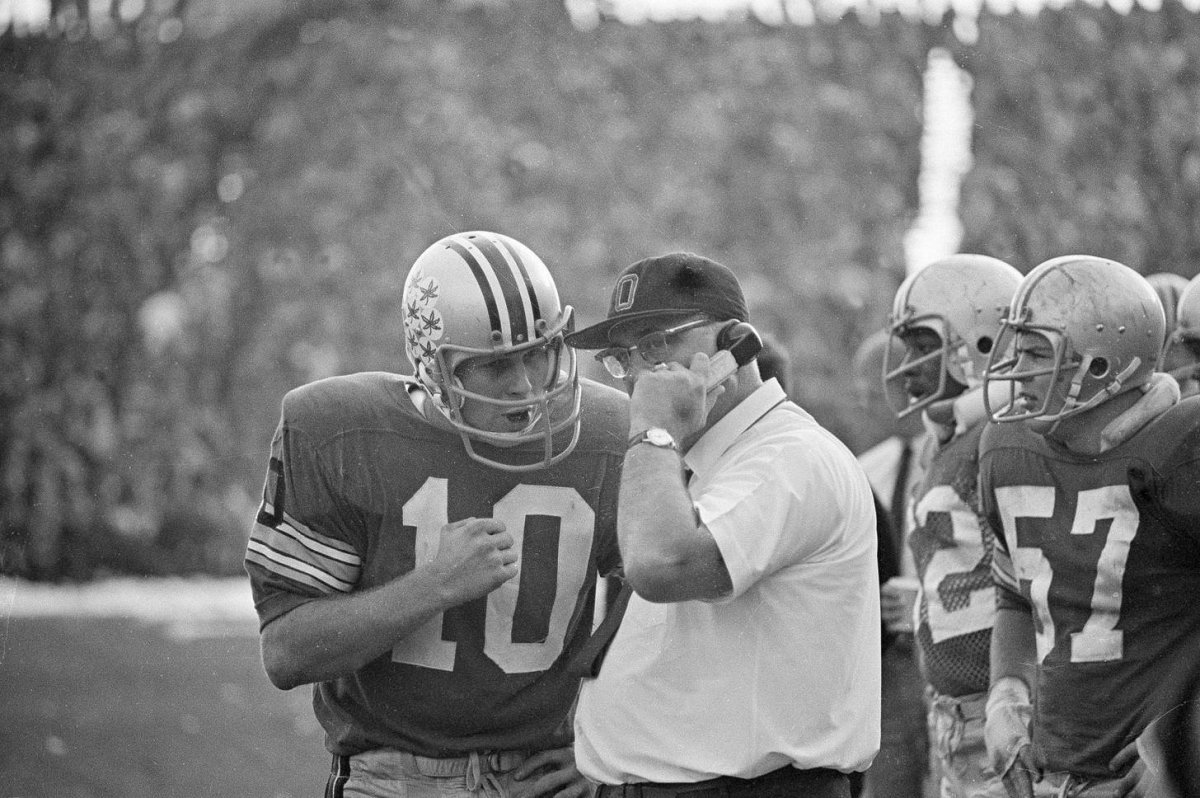 Here is Jack Tatum leveling a fellow in 1970:
And of course, from 2006: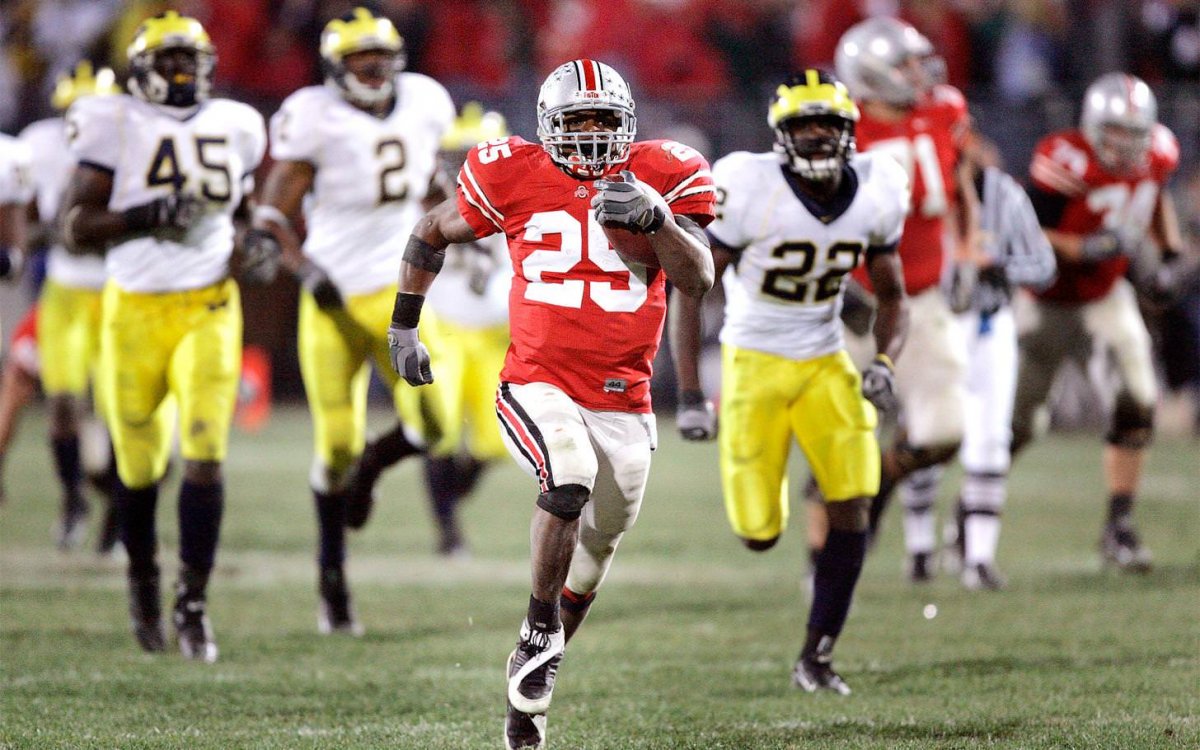 If you're looking to slay some productivity at work – or anywhere else – today, the whole gallery is worth a scroll. In terms of Ohio State photos, it's almost equal parts painful stings as it is triumphs, but there are also some gems like this tossed in, to help ease that sting just a little bit: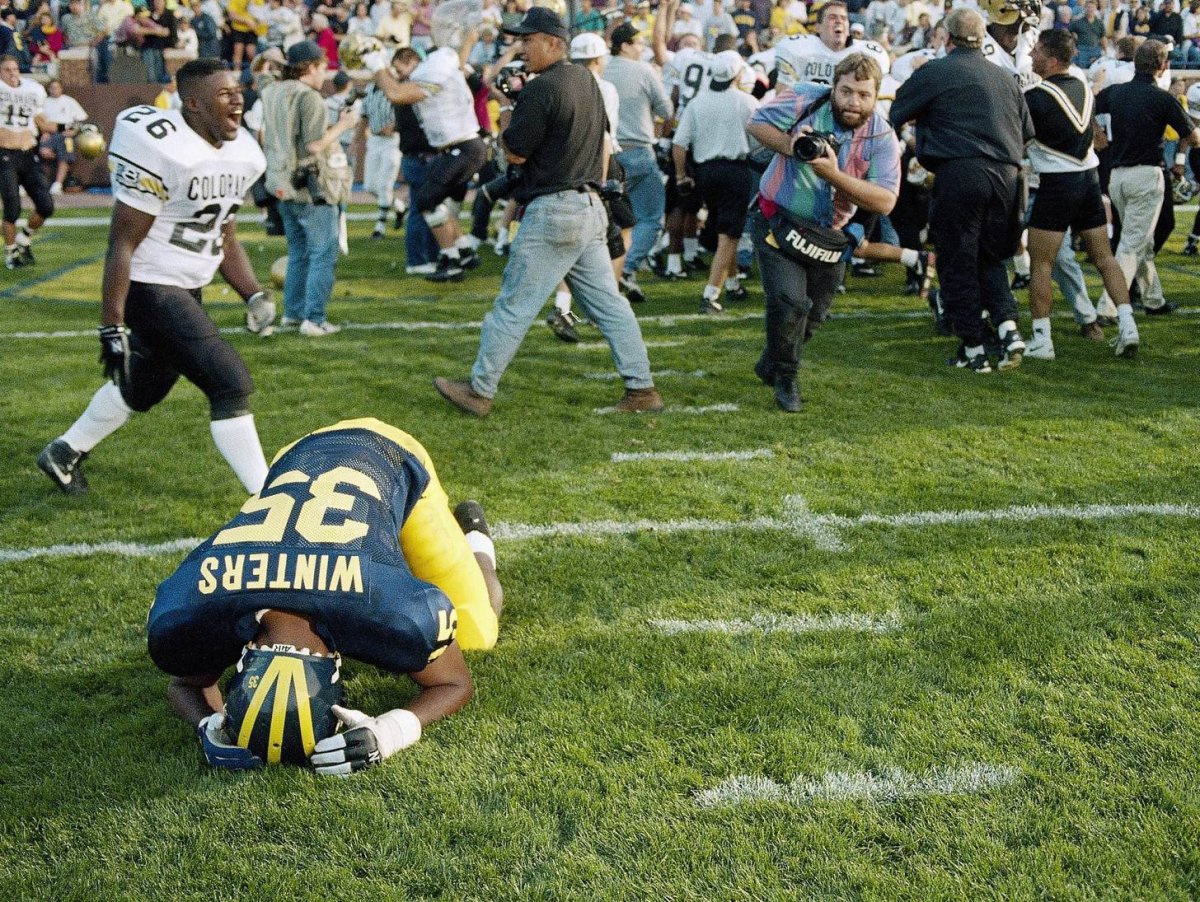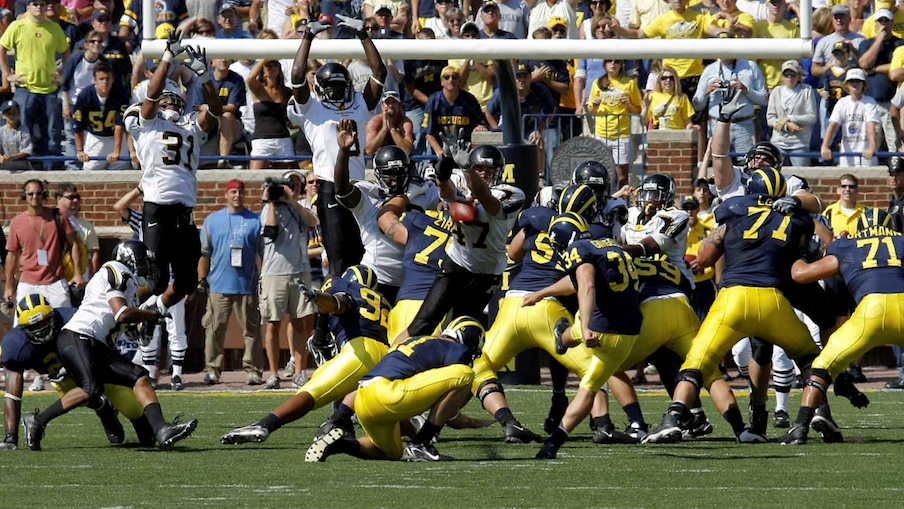 WEARING IT AS PROOF. Chase Winovich may be in denial, but one Buckeye used his graduation day to remind everyone that the past four years were very much real.
My graduation cap for tomorrow! #GoBucks @RedditCFB @Reflog_18 @11W pic.twitter.com/hmMEOiTASX

— Adam Ray Vonderhaar (@vondertinkle) December 15, 2018
What beautiful, beautiful shade.
I just slapped a few 11W stickers on my graduate cap. I guess it's true that the next crop is always the best and brightest.
 LINK LOCKER. Rare super blood moon will soon be visible across North and South America... The academy that trains the best butlers in China... When will electric airliners make sense?... The shortest international border in the world is only 278 feet long... What does a "night mayor" really do?...