Redshirt senior H-back Parris Campbell has turned in one hell of a final season and if he can squeeze out one more strong performance against Washington in the Rose Bowl, he could vault himself into legendary status among Ohio State's receiving greats. 
Boasting team-highs of 79 receptions and 992 receiving yards through 13 games, Campbell finds himself on the cusp of making history. 
With six catches in the Rose Bowl, Campbell would tie David Boston's single-season school-record of 85 receptions. If he doesn't catch even one pass in Pasadena, he'll still own the second-most prolific pass catching season in school history. 
Of even greater importance, if Campbell can muster at least eight receiving yards on January 1st, the Akron St. Vincent-St. Mary's product will become just the fifth Buckeye in school history to record at least 1,000 receiving yards in a single-season. 
FIVE MOST PROLIFIC OSU WR SEASONS IN HISTORY

| RECEIVER | YEAR | GAMES | REC | REC YARDS | YPC | TD | AVG YDS/G |
| --- | --- | --- | --- | --- | --- | --- | --- |
| D. BOSTON | 1998 | 12 | 85 | 1,435 | 16.9 | 13 | 119.6 |
| T. GLENN | 1995 | 12 | 64 | 1,411 | 22.0 | 17 | 117.6 |
| C. CARTER | 1986 | 13 | 69 | 1,127 | 16.3 | 11 | 86.7 |
| M. JENKINS | 2002 | 14 | 61 | 1,076 | 17.6 | 6 | 76.9 |
| P. CAMPBELL* | 2018 | 13 | 79 | 992 | 12.6 | 11 | 76.3 |
With most of the talk this year centering around Urban Meyer and later Dwayne Haskins as he earned a trip to New York as a Heisman Trophy finalist, Campbell's electric season has been a bit overlooked. 
Campbell got off to a strong start with at least one touchdown pass in each of the first four games including a a key 63-yard catch-and-run trimming a 21-13 TCU lead to 21-19 midway through the third quarter of a game Ohio State would eventually go on to win by a score of 40-28. 
A week later, Campbell torched Tulane with eight grabs for a then-career-high 147 yards and two scores, marking his third career 100+ yard receiving game. 
Two weeks later, he would set a career-high with nine receptions against Indiana, good for another 142 yards and a pair of scores. His 18-yard strike put Ohio State in front 21-17 in the second quarter and early in the third, he got loose for a 71-yard touchdown jaunt giving the Buckeyes a 35-20 edge in what became a 49-26 victory. 
Three outings later, Campbell was relatively quiet against Nebraska before taking a jet sweep nine yards to paydirt pushing Ohio State to a 30-21 lead late in the third quarter of a game they'd win by just a five point margin, 36-31. 
And of course, to close out the regular season he flat out torched Michigan with six catches for 192 yards and two touchdowns. One of those scores came via a 78-yard pop-pass around right end in which he left a vapor trail for Wolverine defensive backs to chase.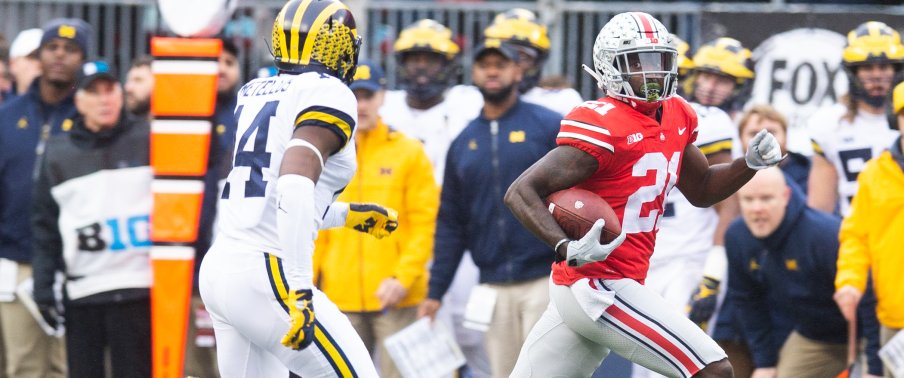 His 192 receiving yards against the maize and blue were good enough for the sixth-best single-game outing by a Buckeye in school history. 
Rumor has it, that Michigan pass defense was a good one but Campbell took no prisoners in a performance that put him on the verge of joining names like Boston, Terry Glenn, Cris Carter and Michael Jenkins in the 1,000-yard single-season club. 
Already with the fifth-most touchdown catches by a Buckeye in a single-season with 11, Campbell could move into a fourth-place tie alongside Devin Smith if he can record just one against the Huskies. 
Putting up big numbers in the Rose Bowl won't likely be easy for Campbell and company as the Huskies boast a legit secondary anchored by cornerback Byron Murphy and safety Taylor Rapp.
That said, with Haskins likely also playing his last game as a Buckeye and the squad trying to send Meyer out a winner, it's a good bet Campbell will be targeted for touches. 
Even on the off-chance Campbell doesn't reach 1,000 yards, there should be nothing but appreciation for what was one hell of a swan song season.