Dwayne Haskins finished third in the Heisman Trophy voting last night – the highest finish by a Buckeye since Troy Smith won the award in 2006 – but a lot of the focus leading up to and after the presentation centered on the lack of respect given to Ohio State's signal-caller from the national media. 
And rightfully so. 
Haskins was slighted at virtually every opportunity by ESPN in particular, and more importantly, by ~37 percent of voters who didn't list him on their Heisman ballot. That doesn't mean Kyler Murray wasn't deserving of the award – he was – but it does mean Haskins could've been treated a hell of a lot better. 
But amid all the deserved anger of how Haskins' season was handled this week, I wanted to touch on Five Things that stood out to me from his incredible season in an effort to celebrate his accomplishments. 
---
RUNNING GAME CRUTCH
Ohio State has been known for its ability to run the damn ball for longer than I've been alive. Running the ball down the opponent's throat was a staple of the Woody Hayes era and even when the Buckeyes turned to a power spread attack decades later under Urban Meyer, being able to run the ball at-will with guys like Carlos Hyde, Braxton Miller, J.T. Barrett and Ezekiel Elliott, among others, was the cornerstone of the offense. 
This year however the rushing attack struggled to find its footing. In fact, for six straight games starting with the TCU tilt, the Buckeyes failed to rush for more than 183 yards in any single game, finishing below 100 twice. 
With the Buckeyes rushing attack spinning its wheels over those six games, Haskins kept the offense afloat throwing for an average of 375.8 yards per game. He went over 300 in five of the contests and over 400 three times. 
In total, he threw for 2,275 yards with 21 touchdowns against just four interceptions while the rushing attack managed five total touchdowns over that same span. Five. And one of those belonged to Haskins.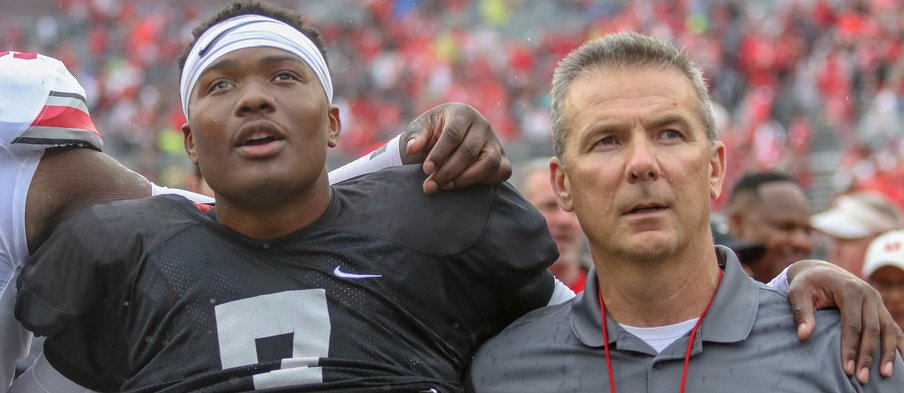 KOLUMBUS KRYPTONITE
It may not be popular to say and it can't be scientifically proven, but I think it's fair to wonder how many voters weren't going to give Haskins any real shot to win this thing at least in part due to Zach Smith saga that engulfed Urban Meyer, and the program by extension, in a wave of bad press? 
As Meyer bungled the press conference announcing his suspension and the national media paid little attention to anything happening on the field at Ohio State while Meyer missed the first three games, Haskins was busy throwing for nearly 300 yards a game with 11 touchdowns against one interception. 
If the national media wasn't crushing Meyer in search of its pound of flesh then it was wondering what in the hell happened to Ohio State's defense making a worthy Heisman candidate far too easy to ignore.
With Meyer back on the sidelines, his health and headaches took center stage for much of the rest of the season as cameras trained on his every move. It felt like there were more replays of Meyer's sideline body language than of Haskins as he dropped dimes all over the field. 
Couple all that with Meyer and the athletic department taking a bit of a backseat to supporting Haskins' candidacy, and it should't be surprising he finished a distant third after putting up numbers dwarfing those of Ohio State's only other Heisman Trophy-winning quarterback of the modern era. 
EXTRA GEAR
Maybe it shouldn't have come to this but it was pretty wild to see Haskins transform from C3PO on the run to that of a serviceable runner after Tate Martell appeared in the Michigan State game. 
Haskins said all the right things but clearly didn't like that he was sidelined in the red zone and from then on out, he looked like a different player on the run. He was never going to look like Miller or even Barrett on the move but he ran with a dogged determination and every one of his yards over the final weeks were critical in getting Ohio State to the Big Ten title game.
In the overtime win over Maryland, Haskins ran for a career-high 59 yards on 15 carries, finding the end zone three times, gaining some tough yards in traffic to help save Ohio State from an embarrassing loss. 
A week later against Michigan, he ran for a modest 34 yards but again did so with bad intentions and came up with a few important runs on scoring drives to augment what you already know was an historic day throwing the football. 
During those two games which not only kept Ohio State in the B1G title hunt but also helped put the team back in the playoff conversation, Haskins tallied 76% of his season rushing yards and three of his four rushing touchdowns.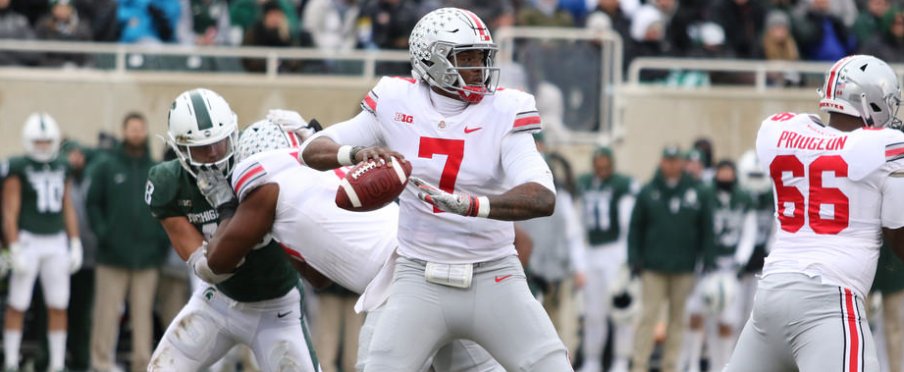 THE NEW STANDARD
It's amazing to think Haskins didn't win the Heisman as he set B1G records for passing yards (4,580), passing touchdowns (47) and total touchdowns (51). Again, I don't have an issue with Murray winning but to finish a distant third with those numbers is pretty astounding. 
Another stat that is more obscure but speaks volumes about Haskins' as a passer is his season-to-date 70.2 completion percentage. The eye test tells you he is the most accurate passer in Ohio State history and the numbers confirm it. 
It's wild just how much better Haskins' accuracy has been compared to the other quarterbacks in Ohio State history. He of course set a new standard with that 70.2 completion percentage but he didn't just set a new record, he obliterated the old mark of 65.3 percent by Troy Smith. 
Consider that while Haskins' bested Troy's mark by 4.9 percentage points, just 3.4 percentage points separate the second-best to 10th-best single-season completion percentage seasons in school history. Dude is a marksman. 
LEGACY CEMENTED
The video has been shown so much I'll spare you dropping it here but it's pretty damn cool Haskins proclaimed as a kid back in 2008 that he would be Ohio State's quarterback and then 10 years later exploded onto the scene like a comet. 
After following through on his dream (or maybe it was a promise) to be the school's quarterback, he rewrote the record books, putting the team on his back at numerous times during the season. 
And he did it with grace. Always confident with the media to be sure, he was never brash, saying and doing all the right things as a first-year starter. 
In hindsight, it's a little odd to me that Meyer seemed worried about Haskins getting a big head and thus maybe not talking him up as much as he could've because we've seen no evidence that he isn't a genuine team guy that wants to be best he can be for himself, sure, but also for his teammates and coaches. 
Dwayne may not have gotten as much love nationally as he deserved but his legacy in Columbus is cemented and that's frankly far more important.