I hope you start your day as happy as James Laurinaitis looks in this high school all-star team picture.
ICYMI:
Word of the Day: Nadir.
 B.J. MULLENS' BEEF WITH SCARLET & GRAY. B.J. Mullens was mysteriously absent from Sunday's TBT game between the Scarlet & Gray and a Texas Tech alumni team called The Matadors.
After the game, Scarlet & Gray coach Scoonie Penn called Mullens had "some personal stuff he had to handle," but it seems there might be more to it than that.
From Mullens' Instagram account:
 I was thrilled to be able to take part in this year's TBT event with my fellow members of our OSU basketball brotherhood. It was very disappointing to not have been able to take part in this event last year due to an injury. As previously indicated, I was not made aware of the distorted financial split with my fellow teammates until 1 day prior. the reasoning for this was due to my non participation last year due to the injury. Something that was completely out of my control. I turned down other opportunities this year just to be part of this event and to represent Scarlet and Grey again. I feel that I am bringing just as much to the table for this team , and our fans as any of the other members. Yet I have been made to feel that my value is somewhat less? We are a team and should be treated as such. I cannot continue, in good faith , to finish the tournament for considerably less then my counter parts and jeopardize a possible injury. It is unfortunate that we couldn't all agree to an even Split between everyone across the board. Thank you for the opportunity to play in front of our fans again. It felt like being home and a sense of family. Best of luck in the remainder of the tournament!
Scarlet & Gray handled business without him, topping the Matadors 82-73, thanks in large part to 28 points and 20 rebounds from Jared Sullinger. But Sullinger won't be there on Friday, as he's getting married this weekend.
Without him, I guess The Scarlet & Gray will just have to rely on the best Buckeye center of all time, Greg Oden. Damn their luck.
 LUCAS AND HAVLICEK JERSEYS FOR AUCTION. If you've got a few thousand dollars to spare, you could own a rare piece of Buckeye basketball history.
Two authentic, game-worn jerseys from Buckeye legends Jerry Lucas and John Havlicek are currently up for auction on the Lelands.com. Both jersey were worn during Ohio State's 1960 national championship season.
The Lucas jersey is also signed by the Buckeye great.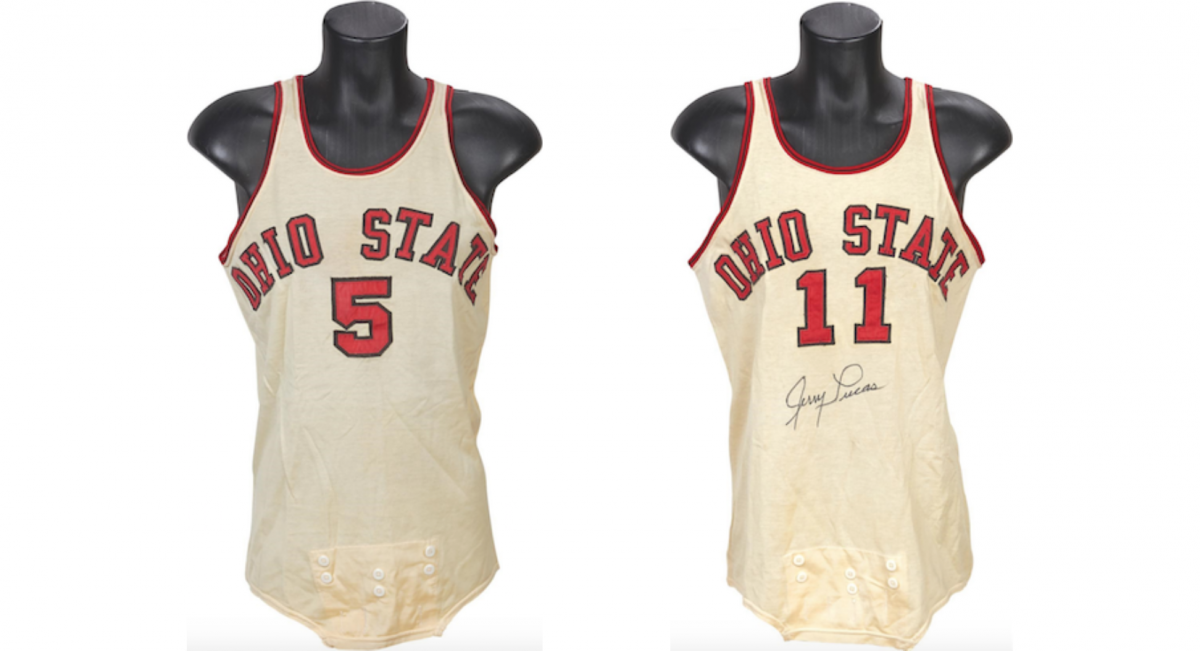 They're awesome and one of a kind, but if you want them, you're going to have to pay a hefty price tag. The auctions began at $2,500, and as of Thursday night both jerseys had a bid of $4,873.
The auction ends on Aug. 17 at midnight.
If you're interested in placing a bid, or just want to follow along, here are the links:
H/T Adam Jardy of the Columbus Dispatch
 LUKE FICKELL, SAVIOR OF UC FOOTBALL. Former Ohio State defensive coordinator Luke Fickell begins his second year at Cincinnati this season after going just 4-8 last season.
But UC fans are willing to accept him, and ride along with him, even though it's a slow process and he's from their big brother school.
From Ken Broo of WCPO.com:
You see, some things die hard for veteran UC fans. There's the old Bob Huggins thing. And the even older Ohio State-won't-schedule-us thing. It's hard being the younger brother. And when the older brother doesn't want to play with or against you, it's even harder.

But Fickell was different. Even if he was an Ohio State lifer, those Buckeyes were always good. Even when Fickell took over from the guy who bought his vests in bulk, he managed to hold things together for a 6-6 season. It was that Ohio State mystique. Surely that would rub off on the Bearcats. Who knows, some of my UC friends told me, maybe Fickell would like it so much around here, he would spend the rest of his life as a Bearcat.

...

Truthfully, the Bearcats could use a little of that Ohio State mystique -- and soon. The Cincinnati sports landscape is getting crowded these days. It's not just a fight for the ticket-buying public. The real fight is for stadium-suite buyers, plus stadium signage, donor dollars for large projects and, of course, sponsors. The trick for any team that plays in a city the size of Cincinnati is expanding its fan base past the core base. UC fans always will be there. There simply aren't enough of them. Like the Cincinnati Reds, like FC Cincinnati and, yes, UC fans, like Xavier.
Personally, I think Fickell is the best possible guy for the Cincinnati job. Bearcat fans might not want to hear this, but they're never going to out-recruit Ohio State and they can't make their living waging recruiting battles against Urban Meyer for the top in-state talent.
But Fickell is adept at finding underrated talent in the state – guys like Darron Lee or Tyvis Powell. If there's any coach that can build a talented roster of talented Ohio recruits Ohio State passes on, it's Fickell.
He might now have Cincinnati at the top of the group of five this year, but it's coming.
 DUNK CITY, OHIO. When Chris Holtmann and his staff hit the road recruiting and leave their team behind, it's probably a little too much to ask for those elite athletes to refrain from throwing down during practice.
We are the DUNKeyes @OhioStateHoops pic.twitter.com/4WpE1Muffj

— Cj (@C_Jack13) July 26, 2018
Great to see quality skill work getting done while we are on the road. https://t.co/CKavjcCQTc

— Chris Holtmann (@ChrisHoltmann) July 26, 2018
As someone who can barely touch the net, I was thoroughly impressed that nobody missed a single dunk throughout the entire lengthy video. Even the self-tossed alley-oops were perfect.
I think it's safe to say Ohio State basketball is fun again.
 COLLEGE FANTASY FOOTBALL NOW A THING. Folks, Saturdays just got even more fun – Yahoo! Sports announced that it's launching college fantasy football this season.
The rumors are true, College Fantasy Football is recruiting.
Commit here: https://t.co/0TOUALBxSn #DraftYourSchoolSpirit pic.twitter.com/ZEDJq6ZSbe

— Yahoo Fantasy Sports (@YahooFantasy) July 26, 2018
The leagues will feature players from 65 different schools – all Power Five programs plus Notre Dame. Otherwise, the roster size, scoring and format works exactly the same way as NFL fantasy football.
As someone who's been waiting years for Yahoo! or ESPN to launch a college football version of fantasy football, I think today is a great day.
 THOSE WMDs. Expected to bloom, Ohio State's corpse flowers die instead... Inside the basketball court above the United State's Supreme Court... Japan hangs six cult members responsible for subway gas attack... Man punished for crimes not proven...