The day the American worker loves to know, Friday, is once again upon our fabled shores.
Celebrate it by firing your boss.
ICYMI:
Word of the Day: Quaff.
 START THE TRAIN. Dwayne Haskins, Joe Burrow, and Tate Martell will compete for the starting quarterback job this spring. (You may have read something about that. And if you haven't, well, have I got good news for you, friend...)
In this house, we ceremonially recognize Dwayne Haskins as the starter. It would be disrespectful to assume he wouldn't start after keeping the Buckeye Cruiseship off the bottom of Lake Erie.
Haskins, thankfully, will have a stable of veteran and emerging receivers.
But his arm, with a consistent ability to drive the ball vertically (sorry, I listened to Mel Kiper talk for an hour yesterday), gives the passing game a dimension it's lacked in recent years.
Haskins starting should be a boon for the receivers, too. We all know how much Meyer loves to run the quarterback, though.
From dispatch.com:
But equally important is having the chance to play with a quarterback who can get them the football, which in turn should help their statistics and draft status. That is being smart, not selfish. Just as college students who don't play football want the highest grades to impress future employers, receivers and running backs want more catches and carries to showcase their talent.

Campbell and the other returning skill-position players respect Barrett and appreciate what he did for the program. They also see more opportunity for themselves with J.T. no longer running the offense (emphasis on running).

Barrett averaged 11.8 rushing attempts this season. Haskins should average half as many, leaving more opportunities for passes to be called and receivers to make catches. Even Weber should benefit, despite playing No. 2 to starter J.K. Dobbins. As the downfield passing game advances under Haskins, the running game also will improve.
I want to believe this is the year Meyer plays to his offensive strengths instead of questing for offensive balance and running the quarterback like a running back. I also get mad at myself for not winning the Mega Millions yet despite never wanting to spend the money on a ticket.
At least we only have eight more months of speculating.
 GET DUMPED THEN, BUFFALO. There is apparently a big tournament after the men's basketball season featuring, like, 150 teams.
Growing up, I remember hearing stories about it. I may have even it once or twice. The 90s were too bitchin' though—only 90s kids remember Starter jackets as playground currency—and my memory remains foggy.
These tournament people, however, apparently do mock drafts like your computer football league... except they're for the aforementioned "big dance."
From Joe Lunardi of espn.com: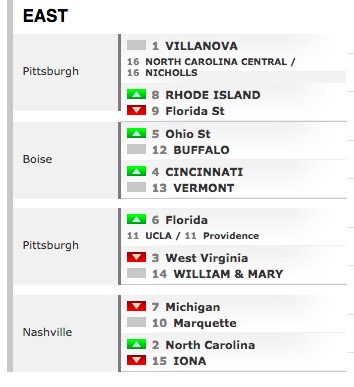 A tournament that offers the chance to run roughshod over Buffalo, Cincinnati or Vermont, and Michigan? Sign me up.
Jokes aside, what's funny is nobody in the national media (other than Dan Dakich and his weed dealer) saw this coming.
Credit to Chris Holtmann for wizardry with a flawed roster.
From sbnation.com:
Many teams that get off to surprising starts can be expected to slow down when conference play revs up. But the Buckeyes have played some of their best games of the season, per KenPom, over the past two weeks. Bob Baptist of The Athletic pointed out earlier this week that they have become ruthlessly efficient on offense. They beat Iowa, a team that plays fast, 92-81, by scoring better than 1.2 points per possession. They also beat Rutgers by 22 in a game that only featured 61 possessions. Pair that with a top-20 defense nationally, and it's no wonder that Holtmann is now the first Ohio State coach in almost a century to start the season 7-0 in the Big Ten.
I went from "Well, the NIT would be a change of pace at least" to "Who wants dumped in the Sweet 16?" in three weeks.
Maybe in three more I'll actually have analysis to offer rather than stumbling around like somebody who just came out of a coma.
 IGGLES RELY ON JENKINS. I like Malcolm Jenkins because he was a damn fine footballer for Ohio State and an even better human. I also liked him because I watched him play before I was in college and he's still performing at a high level. So I can't be that old.
Or so I thought.
I googled Jenkins 30 seconds ago. My rotted mind had blurred the years. Somehow Jenkins is a year younger than me (30). My god. I need a moment.
From espn.com:
He made trips to Harrisburg to push for criminal justice reform legislation, handed out Christmas gifts to families in need in North Philly, and opened a brick-and-mortar designer menswear store, all while guiding one of the top defenses in football. It would be stranger at this point if Jenkins did not to have something huge going on outside of football.

"It's been pretty much on par for the rest of the year," he said with a smile.

Named to his second Pro Bowl in 2017, Jenkins posted a team-high 119 tackles, including 11 tackles for loss, to go with two interceptions, 12 passes defensed and a sack, leading a group that finished fourth in yards (306.5) and points (18.4) per game.

"The thing I've learned from Malcolm is being a leader is not just about all rah-rah," defensive tackle Fletcher Cox said. "It's not just being about the oldest person on the defense. Being a leader is going out, getting your job done and holding each other accountable."
Shoutout to Fletcher Cox for the underhanded compliment of "It's not about being the oldest person on the defense" sandwiched between two legitimate compliments. HE'S A YEAR YOUNGER THAN ME. HE SHOULD NOT BE THE OLDEST PERSON ON THE DEFENSE. HE'S ONLY 30!
Sorry for the caps lock. My insecurities took the wheel for a second, but we're okay now.
 LAST SIP SALOON FOR VRABEL. With the Lions and Colts set to hire Patriots assistants, the Giants set to hire Pat Shurmur for some reason, and the Browns set to hold on to the guy with one win in two seasons, it's down to the Tennessee Titans vacancy for Mike Vrabel's head coaching ambitions.
The @Titans have completed an interview with @HoustonTexans DC Mike Vrabel (@CoachVrabel50) for the teams head coaching job.

Heres what you need to know about Vrabel:

READ https://t.co/emdP3LTuHF pic.twitter.com/xJmFfnlG5O

— Jim Wyatt (@jwyattsports) January 18, 2018
Lot of potential in Tennessee, and he can't be worse than the last coach.
Not sure if Nashville is as fun as a resident as it is as a tourist, but there are worse places to land in the NFL. 
 CINCINNATI SALT. The members of this site and living in Western Ohio have taught me a lot about the Queen City and its esoteric culinary choices. It has flipped my opinion from lukewarm disgust to healthy respect for everyone outside of Mike Brown, his immediate and extended family, and Reds fans.
I'm sure everyone has heard about American cities from coast to coast debasing themselves in attempt to lure Amazon's second headquarters to their empty buildings.
Columbus made the cut, and the coastal elites aren't the only ones salty:
Mayor Cranley on Amazon's rejection of Cincinnati's bid for HQ2...he has
"no idea" why Cincinnati was rejected an Columbus an Indianapolis made the cut of the final 20 cities under consideration.

— Howard Wilkinson (@howardwilkinson) January 18, 2018
Columbus won't win the Amazon HQ, yet beating Cincinnati is a prize in itself.
 THOSE WMDs. Belichick and Saban: The stories behind football's most powerful friendship... Social media giants often side with prosecution... How Triple H turned WWE Monday Night Raw into a monster... Legal battle underway for custody of Charles Manson's body.