My cats warned me not to lead with Honey Bun angle. So I gave them one for dinner and here we are.
ICYMI:
Word of the Day: Mondegreen.
 BODY BUILT BY BREAKFAST PASTRY. J.T. Barrett dropped an "in his own words" piece yesterday detailing his winding career ("I've practically seen everything") to previewing the 2017 campaign ("I feel like I have really connected with [quarterbacks coach Ryan Day]"). 
It's an engaging letter expected of a fifth-year captain, and it's always nice to see athletes showcase writing skills.
But to me, the idiot, this was the most pertinent part.
From yahoo.com (emphasis mine):
Years from now, if people do talk about me or my legacy, I hope people remember me both as a winner and a good dude who cared about people and never wanted to be big time. To me, I'm still J.T. Barrett from Wichita Falls, Texas, who likes to stay home and play video games and eat Honey Buns. That's who I am, and I'm not going get away from it. My stay here has been unique, and to finish it leading this team to the national title would be the perfect ending to a memorable journey.
In middle school I got $2 for lunch and went à la cart for a cup of soft serve ice cream (75 cents), a Cosmic Brownie (50 cents) and a Honey Bun (75 cents). The Honey Bun was always dessert. (Pro tip: Put the Bun in the microwave for 6-8 seconds for the greatest legal high available in America.)
I should have weighed 500 pounds. But I didn't because people forget Honey Buns are actually healthy. 
You might not believe me. That's fine. But when Barrett leads the team we love to know to glory, just remember, "There goes a man who made Honey Buns the staple of his diet." Then ask yourself,  "What could a Honey Bun diet do for me?"
 PLEASE JUST CATCH THE BALL. I've watched football for 22 years and am still amazed anyone signs up to catch punts while 8-10 concrete lads in pads sprint at them while they stand there and stare into the lights.
It's madness, and it explains why it's always been an adventure in the Urban Meyer era, despite his emphasis on special teams.
From theozone.net:
"The number one thing will be ball security," Coombs said. "The number two thing is going to be 'Can you put your foot in the ground and go get us some yards?' Because we're going to be better on punt return this season."

In other words, daredevils need not apply. In fact, actually returning the ball falls well down the list of priorities for the entire punt return/punt block unit. That might sound odd, but it makes sense when you consider what happens after a punt return.

"I will tell you again, the number one objective of the punt block team is secure the kick," Coombs said. "The number two objective is to be penalty free. If we do those two things, one of the best offenses in the country is gonna trot out there wherever they caught the ball and go play."
The good news is should the chosen returner (K.J. Hill, Demario McCall, Kendall Sheffield, Eric Glover-Williams, etc) falter, Coombs will have plenty of other Pokémon to toss onto the field.
 A POINT TO THE PROFESSOR. Ohio State filed to trademark the "10th Unit" in May. It's a play on the football program's "Nine units strong" mantra that designates the fans as "the 10th Unit" behind quarterbacks, wide receivers, running backs, offensive linemen, tight ends, defensive linemen, linebackers, cornerbacks, and safeties.
I always wondered why Meyer never designated the 10th unit as special teams. Turns out the 10th Unit first belonged to the parents:
I guess we should have trademarked our 10th unit after OSU trademark & licensing dept told us to stop using Ohio State on our merchandise. pic.twitter.com/XGG9Glf20o

— Stephanie Webb (@ProfessorSWebb) August 16, 2017
Not a great look for the university, despite the legality. I'd say I won't buy any 10th Unit garb but I already said that.
 CFB FILM ROOM. Ohio State's offensive line struggled at times last year — in passing situations. They performed much better in run blocking.
From cfbfilmroom.com:
Using our new heat map tool, we went back and charted where Weber was first touched by the defense on each of his carries in 2016. The heat map below shows the results: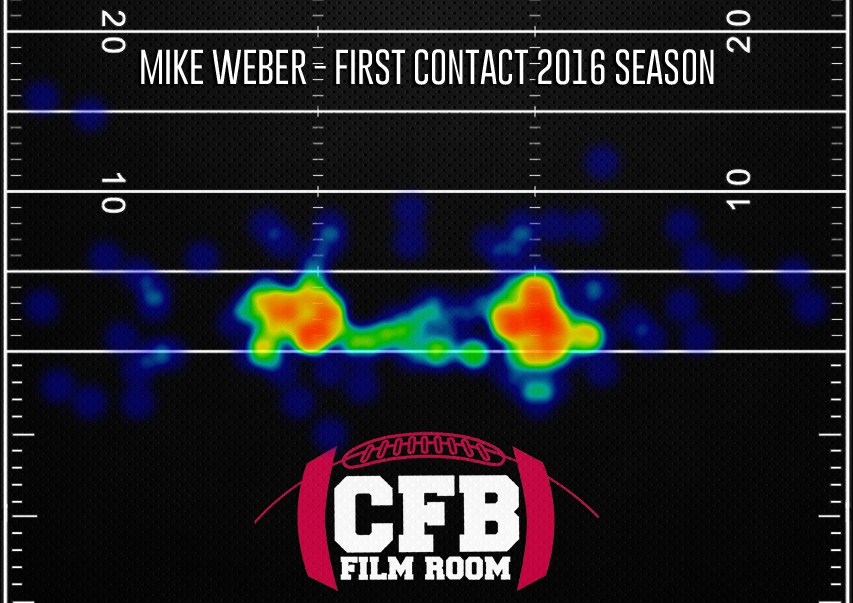 The rate at which Mike Weber was allowed to get past the line of scrimmage is remarkable, especially when comparing this performance to other running backs we have charted (check out Nick Chubb and Leonard Fournette here).
Not the same mix of guys as last year, and I wish somebody—anybody—would've already earned the starting right guard spot by now. (Maybe that's more psychological games from Urbz, who you might not know graduated from Cincinnati with a psych degree.
I still remain confident in the line until proven otherwise.
 SAVAGE TIGER RETURNS. Back in January, I lost a crow video bet to an infamous Clemson vlogger known as Savage Tiger. (You think this might be the nadir of my life. Buddy, it ain't even Top 20.) 
Credit to Savage. He said Ohio State wouldn't score a point and they didn't. I didn't even think that was possible. 
Clemson went on to win the title. And literally the only good thing about that, the Savage Tiger Championship Video, did not materialize. He stopped responding to my texts. Imagined he went away to live out his days on an island, where Clemson won the title every year.
Wednesday morning, I received a call from a private number at 3:34 a.m. I don't answer numbers I don't know, let alone private ones. I muted my phone and went back to bed.
Big mistake. I missed an early morning parley with a 100% sober Savage Tiger.
Good morning, folks. pic.twitter.com/OkcSaH3KDr

— Ohio Resident (@marion_ohio) August 16, 2017
He left a 14-second voicemail of crunken jibberish. My lawyers advised to not post it due to lack of comedic value, and my super power is listening to people smarter than me at least 29% of the time.
Tiger texted me back 12 hours later. He's fresh out of the clink and ready to vlog the 2017 season, which he says ends with a Clemson repeat. Sadly, he's just on a hot streak and doesn't realize all nights end.
Instead we'll leave it on a Friday mix via the last YouTube video ol' Savage liked:
 THOSE WMDs. A 2:15 alarm, 2 trains, and a bus to get her to work by 7... VIDEO: The correct way to pour beer... Canadian housing prices take biggest monthly drop in over a decade... VIDEO: Joe Thomas tries to name all 18 Browns QBs of last decade... Katrina Durango's War for Weeds... Death by fire... The Wehrmacht and the myth of "clean hands."