You could very easily take the first few sentences of last year's quarterback season preview and put it in this spot, and not many people would think twice about it. 
Emphasis on the 'not many' part. 
Despite how some view J.T. Barrett, the fifth-year senior quarterback is going to be the starting signal caller for Ohio State, barring any unforeseen circumstance. 
While Barrett is a familiar face on the Ohio State offense, the faces that surround him are not as recognizable. 
 
Barrett is set to work with his third center and third quarterbacks coach since he became Ohio State's starting signal caller in 2014. With his last two position coaches now at the University of Texas, Barrett is working on developing his relationship with Ryan Day, who comes to Columbus after coaching quarterbacks in the NFL the last two seasons. 
Day, a former graduate assistant for Urban Meyer at Florida in 2005, said he has established a connection between Barrett and the other quarterbacks in the room (we will get to them in a second), despite not yet coaching in a game with the Buckeyes. 
"I think there is a respect level there. I have a lot of respect for them. They are very talented and they are very good in the classroom," Day said Aug. 14. "When we go in there together, we have conversations about football and I think they respect the fact that what I tell them and what goes on in the meeting room, happens on the field and they can carry that over."
The easy transition for Day could very well be attributed to the fact that his starter has three years of college playing experience. Day added that Barrett's attention to detail and his understanding of the game gives him the opportunity to be successful in 2017. 
"He has been there before. He knows what is real and what isn't. If you get up there and put something up on the board, he can visualize it. I talk to those guys all the time. The higher level you go as a quarterback, you play with an imagination," Day said. "Every time you take a snap, it is like being in the Horseshoe, playing against Oklahoma on a Saturday night. It is not just another rep out on Coffey Fields. (Barrett) can do that."
Quarterbacks In 2016

If there was ever a quarterback who had a roller coaster season in terms of production, it was Barrett in 2016. 
A Heisman hopeful entering his junior season, Barrett came out of the gates firing, completing nearly 70 percent of his throws in Ohio State's first four games against Bowling Green, Tulsa, Oklahoma and Rutgers. In three of those four games, he threw for four or more touchdowns, compiling 14 scoring tosses to just two interceptions through the first third of the season. 
Then, Kevin Wilson's Hoosiers came to town. 
While Buckeye fans are surely happy to see Wilson wearing scarlet and gray now, he and Indiana's then-defensive coordinator Tom Allen gave Barrett fits. The Ohio State quarterback completed just nine of his 21 pass attempts for 93 yards, 37 of which came on a late scoring strike to Dontre Wilson.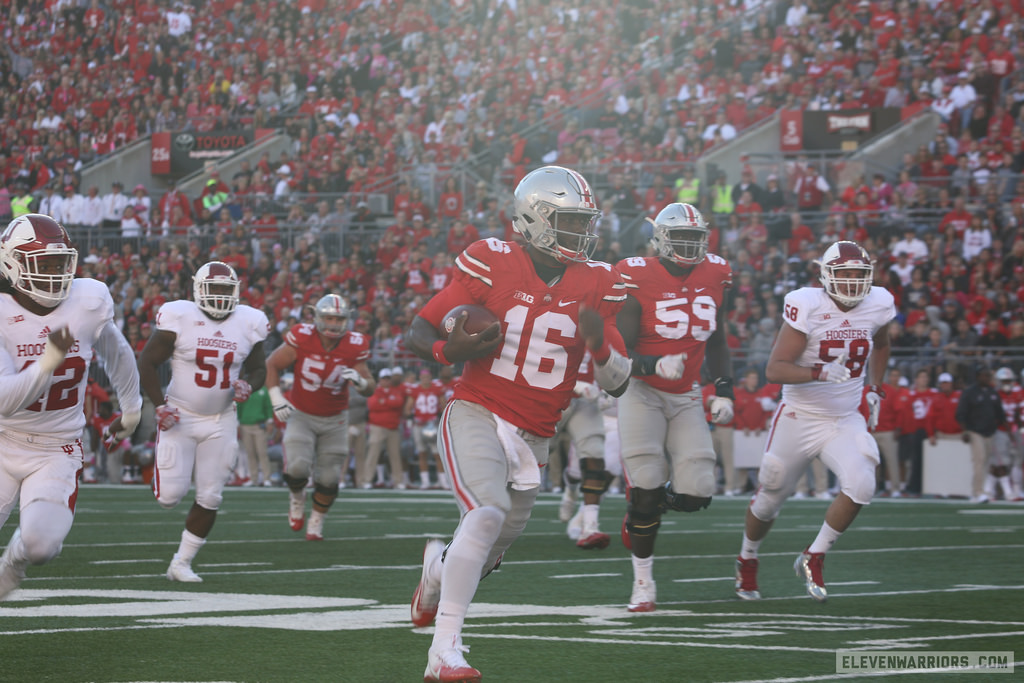 After willing the Buckeyes to an overtime win over Wisconsin on the road, Barrett and the Buckeye offense sputtered in a 24-21 loss to Penn State. 
A 24-20 win over Northwestern was followed by a 62-3 thrashing of Nebraska at home, in which Barrett appeared to right the ship. He threw for 290 yards and four touchdowns, without an interception and Ohio State appeared to be back on track. 
The Buckeyes then dispatched of Maryland by another 62-3 final, before the wheels slowly began to fall off for Barrett and the passing attack. 
A blustery, cold afternoon in East Lansing, Mich. restricted Barrett through the air as he threw for a season-low 86 yards. He did his part on the ground however, rushing 24 times for 105 yards as Ohio State escaped with a 17-16 victory over Michigan State.
Ohio State's 30-27 double-overtime win over Michigan on Nov. 26 will go down in history as one of the more memorable games between the two rivals. However, for much of the contest, Barrett and the Buckeye offense faltered. 
The Buckeyes did enough to topple the Wolverines, but were shut out in a 31-0 loss to Clemson in the College Football Playoff semis. The poor performance from Barrett (19-for-33, 127 yards and two interceptions) had some clamoring for Joe Burrow, Dwayne Haskins and even Tate Martell to battle for the starting job in 2017. 
While Burrow was solid in mop-up duty in 2016 (22-of-28, 226 yards and two touchdowns), he never saw the field during meaningful action. Once Barrett announced he would return for a senior year, the quarterback debate as to who would start in 2017 was over. 
2017 Outlook

Barrett is the starter, but with the amount of carries he has had in the past, it is not out of the question that he could go down with an injury at some point in 2017, like he did in 2014. 
The battle to be Barrett's backup is still ongoing, but Burrow appears to be the leader. The Athens, Ohio product is a coach's son and certainly looked the part when he saw the field in 2016. He accounted for three touchdowns and completed nearly 80 percent of his throws, albeit against second team defenses. 
Pushing him for QB2 is Haskins, who spent the 2016 season on the bench as a redshirt. Buckeye fans got their first look at Haskins in the 2017 spring game, in which he did not disappoint. The Potomac, Md. native completed 26-of-37 passes for 293 yards in the scrimmage, tossing three touchdown passes as he played for both the Scarlet and Gray teams. 
The competition is currently too close to call according to the coaching staff, and Day said Monday that he does not have a timeline for when Ohio State will name a true backup. 
"Every day, you never know what is going to happen. Someone could roll an ankle tomorrow. Anything can happen," Day said. "We are just focused right now on one day at a time. We are in preseason camp. We will pick our head up pretty soon and figure it out."
Meyer said Monday that Martell was "in the mix," but the true freshman is still donning a scarlet jersey in practice, which means he is allowed to be hit by the defense.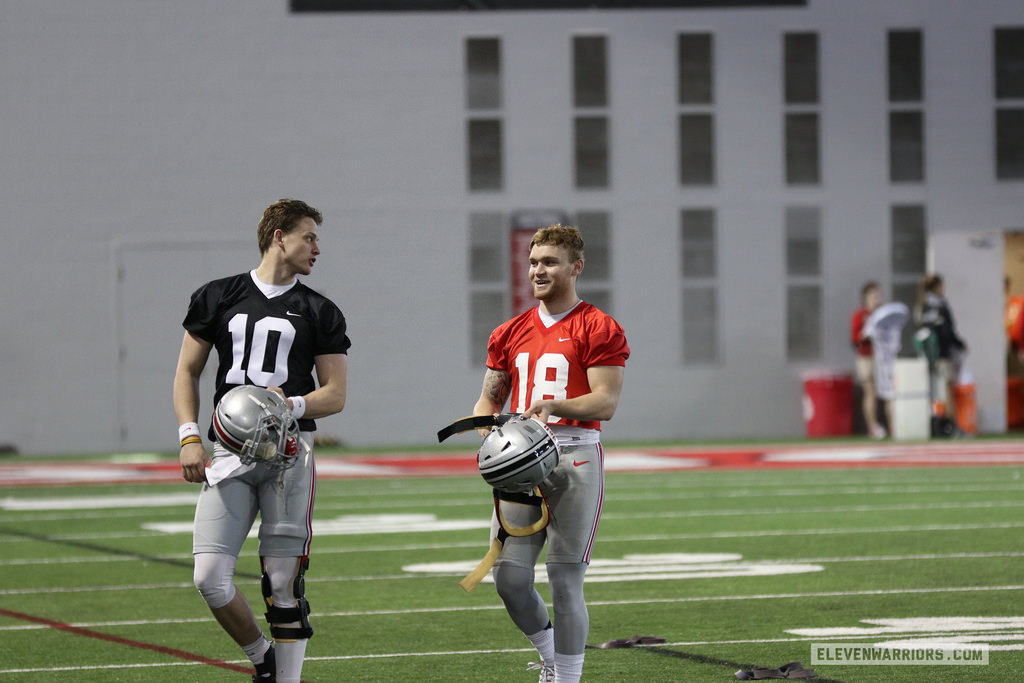 That said, the Buckeye head coach said the young signal caller has impressed him in his first fall camp. 
"I think he's a very confident guy. He's a guy that's had great success as a player in the bright lights of one of the top high school programs in America. I think I just love where he's at right now," Meyer said. "I love his mentality. I love the look in his eye. I love the fact that he understands he's got work to do, and it's not going to be easy. He's a real competitive guy, real confident guy, and he wants to play so bad. Those are the people you want to be around."
Final Word

Barrett is just seven touchdowns away from breaking the Big Ten record set by Drew Brees for most touchdowns accounted for in a career (106). That stat tells you all you need to know about whether or not Barrett is qualified to be the Buckeye's quarterback. 
Barring an injury, and with the addition of Wilson and Day to the staff, there is reason to believe the redshirt senior will bounce back from a tough ending to the 2016 campaign. 
While some remain skeptical of what Barrett can do in his final year, his head coach said he has been encouraged with the progress the Wichita Falls, Texas, native has made in the offseason. 
"His accuracy and just his energy level right now is incredible. He's providing that energy for everybody," Meyer said. "He's always done that, but I can tell that this is – he's got complete ownership and everything going on in that offense, his relationship with Ryan Day is incredible, and his skill set or the thing he's most improved at right now is accuracy. Very accurate player right now."