Let us begin today with a prayer.
Woody Hayes, we love you; you know we do. Please prevent us from tweeting a take that will age as well as milk in sunlight:
Jourdan Lewis is gonna be a 1st round pick while this dude Mike Thomas is trying to get his name known by talkin smack lolol

— Scooby (@RealSeanONeill) January 28, 2016
ICYMI:
Word of the Day: El Dorado.
 HERE COMES THE MASSILLON MAN. Marshon Lattimore, despite national media being unable to locate a proper picture of him, exploded onto the scene in 2016. Many analysts expect he'll be the first cornerback selected.
Teams shouldn't sleep on Ohio State's other cornerback, though. After an impressive combine, there are reportedly teams that have Gareon Conley higher on the boards, and it's easy to see why.
From profootballfocus.com (emphasis mine):
One key stat that highlights just how good both were last year can be found in the PFF Draft Pass under coverage efficiency. Using this table you can sort all of the draft-eligible cornerbacks in this class by targets, receptions, yards allowed and more. For the Ohio State superstar cornerbacks though, it's all about NFL passer rating allowed.
| NAME | TEAM | TARGETS | RECS | YARDS | YAC | TDs | INTS | NFL RATING |
| --- | --- | --- | --- | --- | --- | --- | --- | --- |
| GAREON CONLEY | OHIO STATE | 43 | 14 | 159 | 44 | 1 | 4 | 13.6 |
| CHANNING STRIBLING | MICHIGAN | 63 | 19 | 251 | 67 | 1 | 4 | 22.7 |
| QUINCY WILSON | FLORIDA | 49 | 16 | 227 | 80 | 1 | 3 | 29.9 |
| MARSHON LATTIMORE | OHIO STATE | 41 | 18 | 226 | 106 | 1 | 4 | 30.2 |
| JOSIAH POWELL | NAVY | 22 | 13 | 109 | 67 | 0 | 2 | 34.1 |
Both of them rank inside the top four when it comes to lowest NFL passer rating allowed, with Lattimore ranking fourth at 30.2, and Conley all the way at No. 1 with an NFL passer rating allowed of 13.6. The most startling thing about those numbers? For both players, that's actually lower than the NFL passer rating a quarterback would get if he simply threw the ball away on every play. That's right, in college this past season, opposing quarterbacks would have fared better simply by throwing the ball into the turf than they actually did from going after Conley and Lattimore.
Those statistics are almost as mind-boggling as me expecting zero drop-off in the secondary after losing three first-round picks. Such is the curse of Urban Meyer's success at Ohio State.
No pressure, guys!
 GOOD TEAM EYES GOOD PLAYER. The New England Patriots rode to Super Bowl success after Tom Brady sold his soul to the Devil. This much is known. Still, you can't discount the Patriots' eye for a good player and a good deal. 
They plan to kick the tires on former Ohio State linebacker Raekwon McMillan before next month's draft:
#Patriots will have a private workout with Ohio State ILB Raekwon McMillan. Ran an impressive 4.61 at the combine. pic.twitter.com/zzTuSZX3In

— Jared Tokarz (@NFLDraftInsider) March 15, 2017
I knew and loved Raekwon. He was a great linebacker and a better man. He will be missed dearly by Buckeye Nation if the Patriots draft him.
 DONTRE WILSON: STILL GRINDING. Dontre Wilson, once hailed as "the next big thing" in Columbus, failed to earn an invite to the Senior Bowl and NFL Combine.
Wilson isn't ready to retire yet. He's training for Ohio State's pro day next Thursday:
The @NFL isn't gonna just hand it to @OhioStateFB's Dontre Wilson (@treydayy_).

So he's gonna go ahead and take it pic.twitter.com/l91fxzXt6B

— FOX Sports: PROcast (@PROcast) March 14, 2017

Pertinent note to FOX producers: It's not a "silent grind" if a player films himself after a workout. Good luck to Wilson nonetheless.
 TERRELLE PRYOR, A DUKIE? Terrelle Pryor signed with OSU in 2008 as the No. 1 dual-threat quarterback in the class. Had he been allowed to play basketball at Duke, however, he might've ended up in Durham, North Carolina.
From yesterday's Dan Patrick Show:
It's hard for me to wrap my non-gorilla smoothed brain around the "What ifs?" involving the alternate timeline where Pryor commits to Duke. Would Jim Tressel still coach in Columbus? I don't think so, but Urban Meyer might coach Penn State or Notre Dame right now.
Let's move on.
 OSU PLAYS OTHER SPORTS. The football team is on spring break and the basketball team is sleeping off the hangover of the century. 
The Buckeyes are still balling in just about every other sport right now.
From the Instagram account of Brutus Buckeye: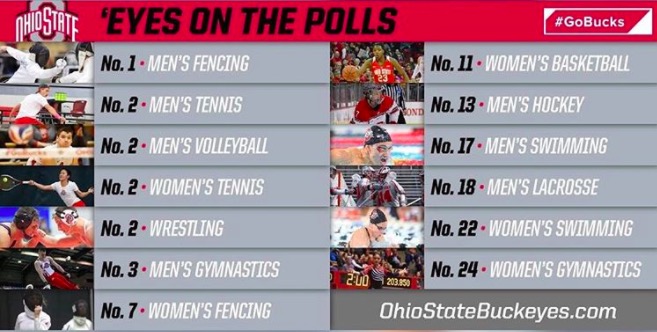 Fencing! I've always wanted to fence. Maybe one day.
 THOSE WMDs. Lorrie Moore, the art of fiction No. 167... Brazilian soccer club signs goalie who had his ex murdered and fed to dogs... Afraid of jail? Buy an upgrade... 20 years later, Biggie Smalls' murder remains rap's greatest mystery... In search of Forrest Fenn's treasure.