Atlanta and South Bend presented similar hostilities.
They produced eerily comparable football machinations from kickoff right up until the final seconds. Both venues held just enough Ohioans to reduce the home crowd's temperature a few degrees. Every uninvited sect in the cult of college football attended the twilight service from their own parish.
And the Buckeyes held double-digit leads in both games. Following a series of unfortunate events - including curious and ill-fated 4th down decisions - the visitors found themselves trailing late.
Once again, Marvin Harrison Jr. was face-down on the turf being attended to by trainers in the 3rd quarter. Dubious officiating, even with the benefit of clear replay review was squarely in the limelight.
Kyle McCord pulled off what CJ Stroud could not in an equally fearless, sturdy and magnificent closing act.
Each play's final act had Ohio State's offense with the ball and a chance to win as time expired. All those twists and circumstances from New Year's Eve were surfacing again on Saturday, dripping with ominous familiarity. This just happened four games ago.
Except the ball didn't fly wide of the uprights as time expired. This time the ball dropped just over the goal line with one second left. Those two games diverged on their last drives; the Georgia Buckeyes could not convert a 3rd or 4th down on what became the final sequence of their season.
By stark contrast, the South Bend Buckeyes converted three 3rd downs and a 4th down with everything at stake. Kyle McCord pulled off what CJ Stroud could not in an equally fearless, sturdy and magnificent closing act. The only difference was McCord won and Stroud lost. College football, man.
If you can't find buoyancy in your team winning the way Ohio State did on Saturday night, you're suffering from an acute condition medical experts refer to as a You Problem. 4-0! Let's get Situational.
OPENER | RHYMES WITH COIFFED
Hey, look at Harrison at the top of the screen with a seven-yard cushion on 4th and inches!
Wow, that would have been...really easy. Breathe. They won. Anyway, the second thing you might notice about that play is Ohio State's center getting pushed right into his quarterback after the snap. New starter playing in his first big game - that describes 60% of the offensive line on Saturday night.
Not ideal, but not surprising either. The third thing is this is an odd play to run into the boundary on 4th and 1, like why would you gift the defense a 12th defender? Sidelines make 100% of the tackles they're allowed to - this was way too cute. Even if it worked, which it did not.
The fourth things may be several players in white jerseys erasing their defenders, and the fifth is you're watching this too many times and thinking too much about it - which perfectly captures Ohio State's play calls in high-pressure games as of late.
In a word, it's been overthought. They think too hard. Not the same thing as being soft.
Soft does not mean can't get a yard on 3rd and 1. Emeka Egbuka gained nine yards on that same play back in the 2nd quarter on 1st down. TreVeyon Henderson got six the following play. McCord gained five after that.
But 1st and 10 feels different than 4th and 1. And Ryan Day seems oddly devoted to a cause that's very hard to understand, which appears to be proving his offense can crank up the degree of difficulty on itself and still succeed in spite of self-sabotage.
Just get a yard the easiest way possible. Right here, this is the opposite of that.
Another boundary-side run, this time with two guys who will be 1st round draft picks in a few months watching from the sideline. If you're facing Ohio State and the Buckeyes remove Egbuka and Harrison in a critical situation, you're euphoric. You're laughing. Your job just got easier.
Perhaps you're old enough to remember the K.J. Hill Red Zone Play™, a short-yardage solution and delightfully simple humiliation instrument the Buckeyes used to be happy to overuse.
Here's KJ Hill telling Josh Metellus that the play was headed his way. pic.twitter.com/OJkALVg9h8

— Tony Gerdeman (@TonyGerdeman) November 29, 2018
That play was designed and called by...what was his name again oh right, that guy. The Buckeyes' current short-yardage solution is not conservative. It paints a target for all 11 defenders to hit. It's reckless football. It's not soft.
Day is same play caller who meshed Don Brown's Revenge Tour defense into oblivion by identifying its weak spots and picking at them until Michigan bled out. But being the offensive coordinator feels different in a high-anxiety, legacy-defining game than being head coach. Here, this is not a means for proving toughness:
It might have been a 1st down? Questionable spot, sure - but McCord keeping on a bootleg to the field side would have moved the chains if not the scoreboard. Would that have been soft play call? Cool, I'd like to order six soft points for my football team please.
Ohio State's short-yardage strategy of late infuses opponents with confidence and makes road environments more hostile, as was the case at the beginning of the 2nd half in Ann Arbor back in 2021 with three straight handoffs into humanity with Chris Olave, Jaxon Smith-Njigba and Garrett Wilson all available.
That wasn't soft, either. It was arrogant. It was hold my beer football. Here's a chart.
SOME RECENT OHIO STATE FOOTBALL 2ND HALVES

| OPPONENT | 3Q BOX SCORE | 4Q BOX SCORE | RESULT |
| --- | --- | --- | --- |
| CLEMSON CFP SEMI 2019 | 0-7 | 7-8 | L |
| RUTGERS 2020 | 7-6 | 7-18 | W |
| INDIANA 2020 | 14-14 | 0-14 | W |
| ALABAMA CFP FINAL 2021 | 7-10 | 0-7 | L |
| MICHIGAN 2021 | 0-14 | 14-14 | L |
| MARYLAND 2022 | 17-0 | 16-17 | W |
| MICHIGAN 2022 | 0-7 | 3-21 | L |
| GEORGIA 2022 | 10-0 | 3-18 | L |
We've got a few wins in there - Rutgers made this list because it scored 25% of its total B1G points vs. Ohio State since joining the conference in a single 4th quarter, which disqualifies them from being ordinary, average garbage time points.
This chart is about late game pliability. The Buckeye defense, still recovering from Jeff Hafley's departure and hasty pandemic hires, has earned its ridicule of late. They siphon their own stamina trying to prove a meaningless point.
But that's not quite what Lou Holtz said, as far as I could understand - Lou has had a dead hamster stuck in his teeth since 2008. Day's Buckeyes win plenty of big games. They also move the ball quite well against whomever whenever they choose to play to the strengths of how they're designed.
The final thing you might notice about all of those failed short yardage plays GIF'd above is they all go to the right. Ohio State heavily favors the less-unreliable side of its neophyte offensive line. It's not that they love the boundary. They just prefer running toward Matt Jones. Shhh don't tell anyone. Keep that between us.
Henderson's 61-yard touchdown run was a counter that started right and then went left, which allowed him to run as fast as he can, rather than directly at a huge pile of larger guys.
Ohio State will win a track meet against every team in the country this season. That's playing to strengths. That's conservative football. And there's nothing soft about it.
INTERMISSION
The Solo
CONTENT NOTE: This season Situational enthusiasts are controlling the Intermission jukebox, and as is the case in your local tavern - nobody knows who's choosing the songs. You have the right to get mad. If this goes off the rails, good.
---
The 1978 football season at Ohio State began with Woody Hayes on triple-secret probation. He had punched a cameraman in Ann Arbor on live television. HR was watching.
That level of evidence made it hard to place an allegedly in front of the accusation. Hayes allegedly hit a player in practice that year too. By the end of the season he would record his second televised assault, this time on Clemson's Charlie Bauman.
Woody's rationale was one of Bauman's ancestors had allegedly killed his great-great grandfather in the Civil War and he had it coming. Clemson's linebacker had breached mercenary territory.
Woody's coaching career was over. America waited for Columbus to replace a legend. That same year, Little Feat released Waiting for Columbus in homage to Ohio State's big decision, with Mercenary Territory as the penultimate song on side two.
A Bauman tribute, allegedly. It features trumpet and sax solos. Let's answer our two questions.
Are the trumpet and saxophone soloists actually playing their instruments?
Original horns were handled by the Tower of Power but this recent live version had the esteemed Midnight Ramble Horns assuming duties. That's Steve Bernstein on trumpet and Jay Collins on the tenor sax. They're highly-esteemed. This is a live performance. VERDICT: Yes, conclusive.
Do these solos slap?
I actually saw Little Feat open for Jimmy Buffett and will admit to only having been familiar with Dixie Chicken and Fat Man in a Bathtub prior to this reader submission. Little Feat did not pack memorable horns for that tour, and I went 33 years without being mad about it.
Now I'm absolutely furious. I could punch something. Allegedly. VERDICT: Slaps

The Bourbon
There is a bourbon for every situation. Sometimes the spirits and the events overlap, which means that where bourbon is concerned there can be more than one worthy choice.
A lad named Kyle McCord breaking Irish hearts on a Saturday night probably happens several times every weekend across the pond. It happened here last week, and now all of us have a weekend to relax. There's a bourbon for that.
The first September bye week since 2016 is a reminder of how horribly wrong the optimized October bye of 2022 steered the program. It turns out symmetry with a bye placed between two six-game stretches is, well, not great!
It resulted in two different Ohio State teams taking the field - the first over six games was untouchable and the one that showed up following the break, well, you know. You were there.
A Saturday without the Buckeyes delivers an opportunity for anxiety-free college football, which means we can approach it without overthinking the decision. It calls for a practical choice, worthy of the price tag and guaranteed to deliver.
Old Fo 1920 goes 72/18/10 corn/rye/barley which means sweet, thick, rich heat. As the name suggests, this is a classic Prohibition-style expression - think warm pecan pie a la mode with one eye on the prohis agents. It should run you $60.
Crack it as Southern Cal-Colorado kicks off - our old friend Alex Grinch plus a rickety Buffs unit which will give Caleb Williams plenty of Heisman fuel should be wildly entertaining, as will watching the run at the 73.5 over/under.
CLOSER | STICKS AND STONES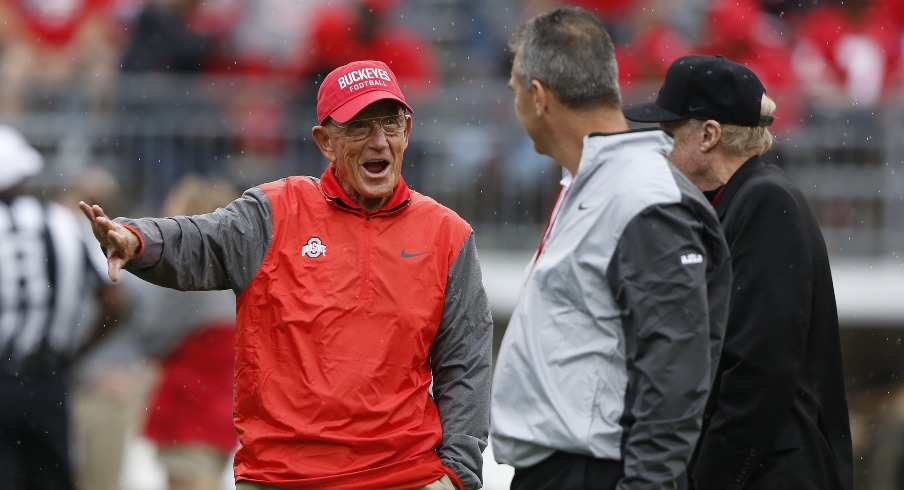 On Saturday night while watching the Buckeyes defile themselves on 2nd down and in short-yardage situations, I found myself thinking about George Foreman and Marty McFly.
I've had more appalling intrusive thoughts in my life. This one was relatively mild. Two charismatic figures, one real and one fictional. Foreman was a massive, imposing and legendary fighter. Marty was a tiny alpha time-traveling protagonist relentlessly determined to beat the odds.
Both had faulty wiring which made their talents hackable. You could turn both on themselves.
Foreman at his peak was expected to pummel Muhammad Ali in his decline when they fought in 1974, and for about seven rounds that appeared to be happening. Ali allowed the favored, younger fighter to tee off on him, protecting his face while only allowing body shots that kept him in the fight.
And he never stopped taunting him, all while taking shot after shot after shot. *Ali voice*:
"George, is that all you got? They told me you could punch like Joe Louis!"
This enraged Foreman, who expended valuable energy hammering away at Ali's forearms. By the seventh round, he was exhausted. Ali floored him in the eighth. Had Foreman been deaf or emotionally composed he would have won that fight 100/100 times, at worst by decision.
As for fictional McFly, his plans went sideways every time his bully challenged his manhood.
Hes an excellent coach. He has one extremely simple and fatal flaw https://t.co/VxBdPHN52S pic.twitter.com/NXeM9LsoSc

— Ramzy Nasrallah (@ramzy) September 24, 2023
George and Marty responded poorly to being called soft. Neither was, but that wasn't the point. Their inefficient, impotent responses to being challenged set them back.
Now, Lou Holtz is a benign boogeyman compared to Jim Harbaugh. Perhaps this weird chapter of the 2023 Ohio State football journey is a strategic shift toward more productive and healthier energy channeling. Last year's impotent energy and game plan cannot be repeated in November.
And Harbaugh has picked up on the absolute truth that Day's career ladder is both fortunate and a sensitive subject. He had to coach in the FCS before getting a Power 5 program. Day's predecessors at Ohio State led Bowling Green, Youngstown State, Tusla, Iowa State, Miami (OH), and Wesleyan - among other proving grounds - before getting the reins in Columbus.
The last guy to start his head coaching career was Paul Bixler in 1946. He lost to Michigan by 52 points and decided yeah this isn't for me and left for Colgate.
Getting handed an Urban Meyer-era roster means there's really only one direction to take program health, and it's not good. Yet Day has kept the Buckeyes buoyant, through the pandemic, through unexpected attrition, through inherited bad hires and in spite of his own misfires.
He would be resilient if he didn't conspicuously leave the door into his psyche ajar. Having been accused of being born on 3rd base and having soft teams might be deviating his play calling from strategic to emotive, which - let's dehumanize the man for a moment - is what's being questioned here.
He doesn't have to prove he's the guy for the job to the people saying condescending things about his performance - like Michigan fans. Notre Dame fans. People looking for clicks and attention. Holtz goes on this list.
And he can say anything he wants, because octogenarians have earned the right to shed their filters, fart in public and treat people however they choose with minimal consequences.
Anyone can say whatever they want about you too. You get to decide how it affects you. Hopefully that doesn't affect your work or prevent you from showing up as the best version of yourself.
Thanks for getting Situational today. Go Bucks. Stay hydrated.