Ohio State's 2019 season was one of the least anxious on record.
The Buckeyes marched through a tepid schedule and beat every opponent by double-digits. Even if things got a little hairy, it was only for a quarter - and a cosmetic waxing always followed.
New QB Justin Fields was every bit of the difference maker he was purported to be. New head coach Ryan Day - who had quickly lifted the OSU offense out of the SP+ 40s into the top five nationally as OC - kept them elite as the boss (5th in 2017, then 4th, 2nd, 2nd, 1st and currently 2nd, in case you still feel empowered to give him play calling advice).
Saturday Anxiety was at historic lows back in 2019, as Ohio State was not forced into a single season-defining drive or stand until after regular season had concluded. That is when Wisconsin got a second shot at the Buckeyes in Indy and came out swinging. It was...a little hairy.
But Ohio State cosmetically waxed the Badgers after halftime, 27-0. Its second and final dose of anxiety came against Clemson in the national semifinal. Two seasons later, Ohio State now appears to be willfully manufacturing Saturday Anxiety dry runs against hapless opponents.
The Buckeyes routinely stayed in nickel on Saturday while Northwestern was lined up in goal line formations without a QB on the field, which is like playing a video game one-handed on hard mode. Pay no attention to the run-heavy arch rival showing up later this month, or the idea said rival might review OSU film to get a beat on its tendencies.
These types of Saturdays don't need to be too difficult, but manufacturing a taste of Saturday Anxiety against non-lethal opponents could pay dividends later. The Buckeyes did not abruptly forget how to play football, recognize Wildcat or abandon cogent strategy in favor of grab-bag substitution patterns or yolo mid-game prop bets. Have the slightest bit of faith.
It's operating like a team that believes the threat level is low. You can choose to believe Ohio State coaches have suddenly lost their minds, or perhaps they're being strategically risky. Consider the hindsight math:
THE NERDS WOULD LIKE YOU TO CALM DOWN

| OSU OPPONENT | PERF. VS. SP+ PROJ. | OFF. | DEF. |
| --- | --- | --- | --- |
| NOTRE DAME | -0.3 | -13.8 | -13.5 |
| ARKANSAS STATE | -11.4 | -8.4 | 3.1 |
| TOLEDO | 29.1 | 35.2 | 6.2 |
| WISCONSIN | 15.7 | 17.8 | 2.1 |
| RUTGERS | 7.3 | 6.5 | -0.7 |
| @ MICHIGAN STATE | 11.2 | 10.3 | -1.0 |
| IOWA | 22.0 | 19.5 | -2.6 |
| @ PENN STATE | 1.7 | 11.4 | 9.7 |
| @ NORTHWESTERN | -25.6 | -26.3 | -0.7 |
A positive offensive number means Ohio State did better than forecasted, scoring more than expected. Negative defensive numbers mean the same thing - they're good. Yeah, it's confusing.
Being off by nearly four touchdowns offensively should be a disaster. Ohio State still won comfortably.
The Buckeye defense has performed within its predicted margin of error nearly all season long, with relative underperformances against Toledo and Penn State. As for the offense, its stumbles were largely in the first two weeks after being thrown into mild chaos with both slot guys out.
Once the WRs figured out their musical chairs, that machine began humming again. Only twice through nine games have the Buckeyes fallen short of both forecasts: Arkansas State and last weekend in Evanston.
And here's a thing Arkansas State and Northwestern have in common: Not a single player on the roster came to Columbus to play in those games. No OSU coach stayed up late into the night back in June thinking about the Wildcats or whatever Arkansas State is called (I already forgot and don't care enough to look it up).
There's one game everyone is and has been thinking about, and the only macro objective for the next two weeks is making it there with 11 wins. The micro objectives - pad levels, defensive substitution patterns, rushing play design - are thieves of joy.
If the Buckeyes are playing with fire in the meantime - like, showing nothing against the worst team in the conference playing its own version of a Super Bowl - that means the coaches pre-determined Ohio State can do that safely.
It's both audacious and big picture-oriented. Perhaps that 2019 team could have used a few more doses of anxiety prior to Glendale. Getting twisted up over meaningless games is bad for your health. Guys, we just covered this:
You'll barely remember the Wildcats in a month. It's just another Saturday in the lab.
Good news, you won't remember the Hoosiers either. Let's get Situational -
OPENER | WAGES OF FEAR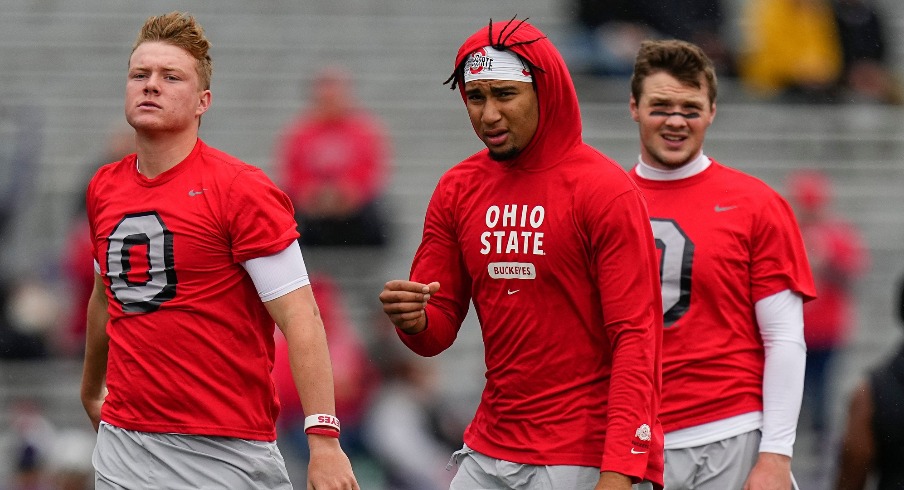 Ryan Day made Competitive Excellence OSU's primary development objective for this season.
Building toughness up and down the roster was a strategic imperative, especially after Ohio State appeared to take a step back in the toughness category last season when it mattered most.
That mantra has been hammered into every hype video and press conference. Eight games into this season of Competitive Excellence, the Buckeyes took the field against the conference's weakest team.
And then the wind knocked them over. We are all jittery meteorologists now. Well, some of us.
I watched Ohio State play disinterested football out of base formations for the majority of the afternoon in Evanston. Twenty-six passing attempts in a tornado is probably 10 too many, unless you're completely unconcerned about the game's outcome.
The rushing strategy looked both stale and poorly-executed, especially by the interior line. A team that sneezes for 35 points a game finished with only three touchdowns but also played without any urgency for more. It's blip outlier.
And if it felt like an eerie, distant rerun - well yes, college football repeats itself all the time.
Sixteen years ago I sat on a cold metal bench in Champaign and watched eventual Heisman winner Troy Smith go 13/23 for no touchdowns, barely 100 yards and an interception. Here is how that 2nd half went between the top-ranked Buckeyes and the Big Ten's worst team: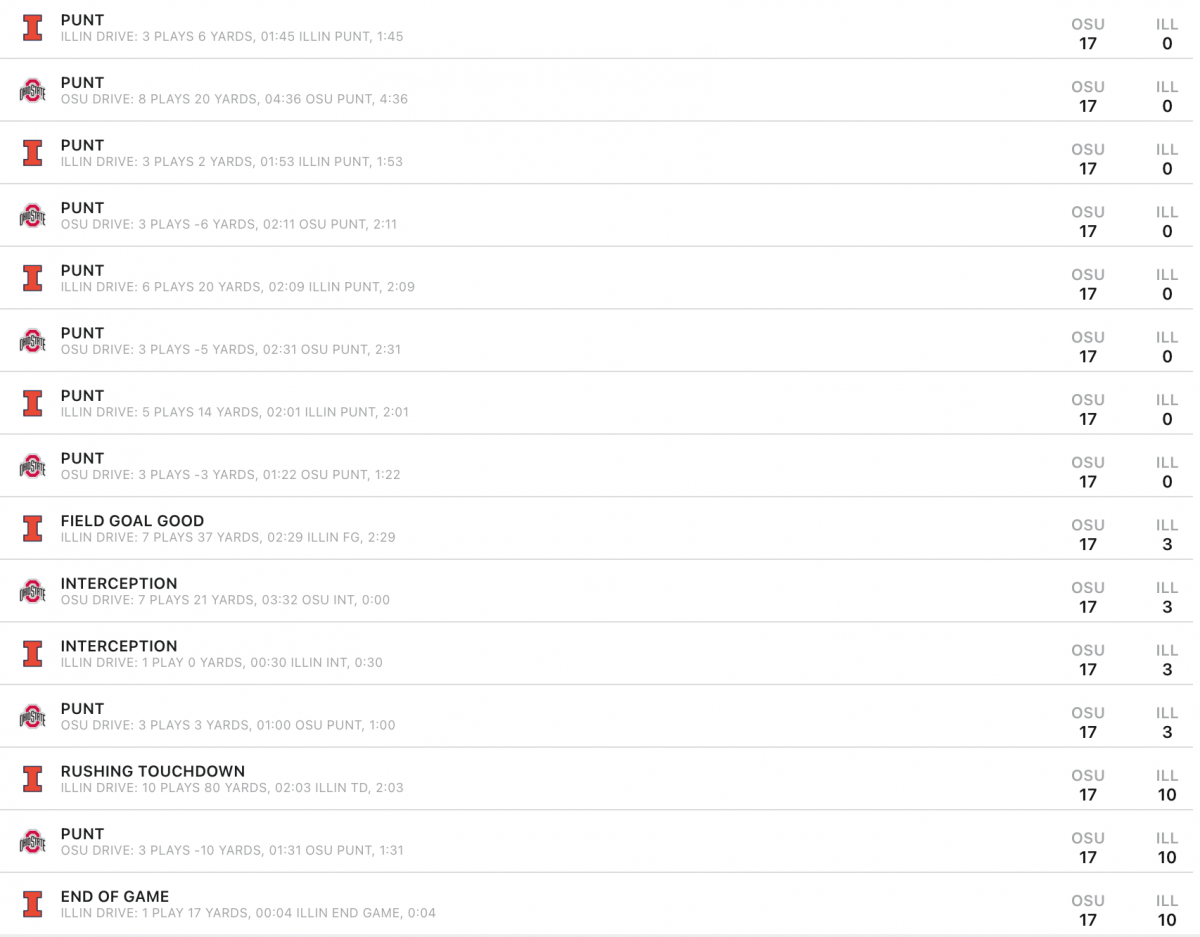 The home team played with Super Bowl energy, while the Buckeyes showed little to no interest in putting on a show. They had entered a stretch of their schedule that was all filler, inconveniently separating them from an intergalactic death match with Michigan everyone saw coming in October.
Day has treated each Saturday of this schedule as the chapter in a story Ohio State is writing about the 2022 season. I would have enjoyed seeing the Buckeyes flatten Northwestern with a big fireworks show, but I'm also sure I would have forgotten it quickly.
The Buckeyes had two 100-yard rushers against Wisconsin and ground the Irish into a paste. Rising to the occasion might just be opponent-dependent, while the lesser foes just need to lose and go away.
Smith's Buckeyes had no real incentive for Champaign fireworks 16 years ago and C.J. Stroud's had even less in Evanston last week. Add the lousy elements and there's no real point to prove on an afternoon like that against a program that will finish with one win this season.
Both the 2006 and 2022 teams just needed to get out of Illinois and move onto their respective chapters. Day admitted on Tuesday the team prepares for Michigan every day of the year.
That included last Saturday, when the Buckeyes produced a game tape that is all but useless for any opponent with an actual chance of challenging them for four quarters - in any conditions.
INTERMISSION
The Solo
The first album I ever bought with my own money was American Fool by John Cougar.
I listened to that record until it warped into an unplayable saucer. For me it was the soundtrack of a familiar land, which in my universe was a place where cornfields always appeared outside the car window no matter where mom was driving us.
American Fool just sounded like home. I began saving allowance money so I could buy Cougar's previous album, which I had never heard but saw at the record store. Once I had the cash, I plunked it all down for Nothin' Matters and What if it Did.
It might not be the worst album I ever paid money for, but it's in the conversation. Its only song that survived history's dustbin was Ain't Even Done with the Night. It features what I believe is the only sax solo in the entire Couger/Mellencamp pantheon.
Let's answer our two questions.
Is the soloist in this video actually playing the saxophone?
Sax duties are handled by David Woodford. This performance is at the bottom of his resumé, which has The Heat is On by Glenn Frey from Beverly Hills Cop at the top - a banger so sax-heavy you could argue he should have gotten a co-lead singer credit for it.
Woodford does not appear in this video, which - good decision. It's quite terrible. VERDICT: No.
Does this saxophone solo slap?
Ain't Even Done with the Night was engineered with precision to sound like two teenagers sloppily learning how to kiss in the back of a bronze mist metallic Oldsmobile Cutlass that smelled like English Leather cologne and Arthur Treacher's stale hushpuppies. Woodford's sax cuts through that silly, odious tension like a serrated plastic knife. VERDICT: Slaps.
The Bourbon
There is a bourbon for every situation. Sometimes the spirits and the events overlap, which means that where bourbon is concerned there can be more than one worthy choice.
When we last checked in with O.K.I. it was just emerging from its New Riff era. Two years later, it has released its first blend.
O.K.I. Reserve Batch 1 is comprised of five whiskeys - an older low-rye bourbon, a younger high-rye bourbon, an older rye, an older corn whiskey and an older light whiskey. Longtime partner MGP approached O.K.I. about adopting the blend, and after they sampled the batch it was a hard yes.
Reserve is sweet and citrusy with a hint of wet tobacco leaf on the nose. It is surprisingly balanced on the palate, considering the variations in the juices. I did not expect it to land so elegantly. Five whiskies! One bottle!
Recently I made an upside-down pear poundcake from the fruit raining out of the trees in my backyard. Reserve finishes like the warm liquid version of that. Vanilla, cinnamon, caramelized brown sugar, sweet fruit. Like that cake, this bottle requires portion control.
Wonderful experience, with the caveat that anyone who has paid attention to these reviews over the past decade knows - I'm a sucker for sophisticated blends and especially four grain products.
O.K.I. and MGP pulled a fiver here and I was an easy mark. You should be able to find it for under $90.

CLOSER | ILLUSION OF PROGRESS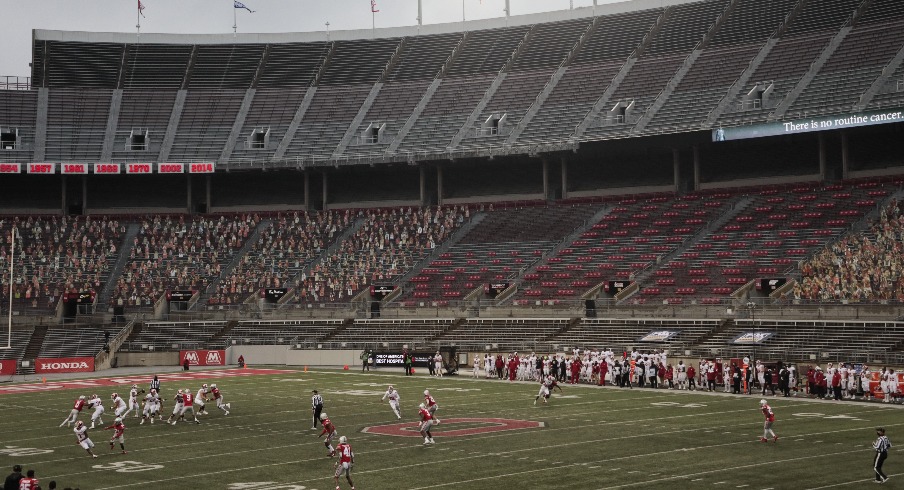 Ohio State hasn't stopped preparing for Michigan since the Rose Bowl ended. That game has been the catalyst for urgency, change and - just one writer's opinion - several of the curious game plans we've seen this season.
Indiana represents another opportunity for the Buckeyes to navigate toward another successful Saturday without showing too many of its rivalry cards. The Hoosiers have won just three conference games since their last visit to Columbus in 2020, pictured above.
That was a 42-35 shootout won by the Buckeyes which was mischaracterized as a close game (at one point Ohio State's win probability slipped all the way to a game-low of 81.4%, eek). The home team, loosely applied in 2020, played one of its worst halves of football in recent memory - with a 28-point lead - and survived.
The offensive mind and quarterback Indiana used to claw back into covering the spread that afternoon are both in Seattle now. What's left in Bloomington is a program which hasn't won a conference road game with fans in the building since 2019.
The analytics have the Hoosiers as Cream and Crimson Northwestern; a less-terrible offense and more-terrible defense. IU is the final opponent Ohio State is capable of bluffing, condescending and still beating this season.
Which means Saturday just might be treated like another character-building opportunity. Earlier:
Manufacturing a taste of Saturday Anxiety against non-lethal opponents might pay dividends when it matters.
I would not be surprised if Day continues to condition the team for the season's exciting conclusion, regardless of the weather. This is a defense Stroud could easily tattoo through the air, which was exactly how last year's Purdue and Michigan State games transpired.
Neither of those games paid any dividends in Ann Arbor. So Ohio State probably won't follow the same November path as it pursues a return trip to Indianapolis. For one big, looming reason.
Thanks for getting Situational today. Go Bucks, beat Indiana.