Ohio State opened as a 36-point favorite in Evanston.
By Monday the line had jumped to 39, which means bettors convinced themselves​ every possible form of the Buckeyes would be far better than the best version of Northwestern, a program that has not won a football game in the Western Hemisphere in well over a year.
The Cats are so bad Ryan Day declined to pretend they're a threat - he didn't inflate this week's opponent whatsoever ("they don't have the record they want"). Northwestern has just one B1G win since Trey Sermon turned them into minced nerd paste in an empty Lucas Oil Stadium two years ago.
Perspective: Ohio State won four B1G games last month. But can it beat NU by 39? This is the [whatever your wager is] question.
To quote the great Queen Latifa - that's why it's called gambling and not crochet. The Buckeyes might deploy the video game version of the offense (Evil Ryan Day) or use the opportunity to run live practice drills (Sun Tzu Ryan Day) or completely discard the notion of deception and telegraph its intentions all afternoon to build the team's tolerance for frustration in a cruel and unjust world (Obi-Wan Rynobi).
Gamblers don't know. Crocheters don't know. As for you and your wallet, if the Buckeye offense takes the field Saturday and lines up in Pistol then abandons all pre-snap motion for three hours, just un-sheath your lightsaber and settle in. Northwestern has not scored 35 in a game this season in any hemisphere. The road team might still be 39 points better than its host.
Or, just take the home dog to cover? Comrades, it's Nerd Week! Let's get Situational -
OPENER | BUCKEYES CHEATIN'
Last week in this exact space:
Stroud-to-Harrison Jr. is damn near unstoppable. It will be there. Work on something harder, especially if you have the chance to do so without the threat of losing a game.
Coach Day, thank you for reading The Situational. Let's revisit the circumstances where Ohio State took a break from working on something harder - telegraphed bubble screens or outside zone runs against slanting defensive fronts - and pivoted to being unfair.
Here are all the times OSU dialed up Stroud-to-Harrison Jr. on Saturday in Beaver Stadium:
STROUD TO HARRISON JR. | OHIO STATE vs. PENN STATE 2022

| QUARTER | DOWN & DISTANCE | STROUD TO HARRISON | RESULT |
| --- | --- | --- | --- |
| 1st | 2nd & 10 @ Ohio State 25 | Incomplete | 3rd Down @ OSU 25 |
| 1st | 3rd & 10 @ Ohio State 25 | Complete for 37 yards | 1st Down @ PSU 38 |
| 1st | 1st & 10 @ Penn State 41 | Complete for 18 yards | 1st Down @ PSU 23 |
| 1st | 1st & 10 @ Penn State 23 | Complete for 19 yards | 1st Down @ PSU 4 |
| 2nd | 4th & 7 @ Penn State 43 | Complete for 14 yards | 1st Down @ PSU 29 |
| 2nd | 1st & 10 @ Penn State 29 | Complete for 21 yards | 1st Down @ PSU 8 |
| 3rd | 3rd & 10 @ Ohio State 19 | Complete for 11 yards | 1st Down @ OSU 30 |
| 3rd | 3rd & 7 @ Ohio State 33 | Incomplete | 4th Down @ OSU 33 |
| 3rd | 1st & 10 @ Ohio State 33 | Complete for 16 yards | 1st Down @ OSU 49 |
| 4th | 1st & 10 @ Ohio State 25 | Complete for 21 yards | 1st Down @ OSU 46 |
| 4th | 1st & 10 @ Ohio State 25 | Complete for 16 yards | 1st Down @ OSU 41 |
| 4th | 3rd & 10 @ Ohio State 41 | Complete for 12 yards | 1st Down @ PSU 47 |
Nearly half of Ohio State's 1st downs came via Stroud-to-Harrison Jr. (10/21).
The Buckeyes were 5/13 on 3rd and 4th down, but 4/5 when Stroud-to-Harrison Jr. was the play. Going beyond the chart, each time Harrison registered a catch every next passing attempt downfield was successful, including the teardrop to Emeka Ebuka atop this section.
Which demonstrates Stroud-to-Harrison Jr. is not only unfair, it loosens everything else up and makes moving the ball easier for the offense. But as we said last week (this time with added emphasis):
Stroud-to-Harrison Jr. is damn near unstoppable. It will be there. Work on something harder, especially if you have the chance to do so without the threat of losing a game.
Uhhhhh...cutting it just a little close, coach?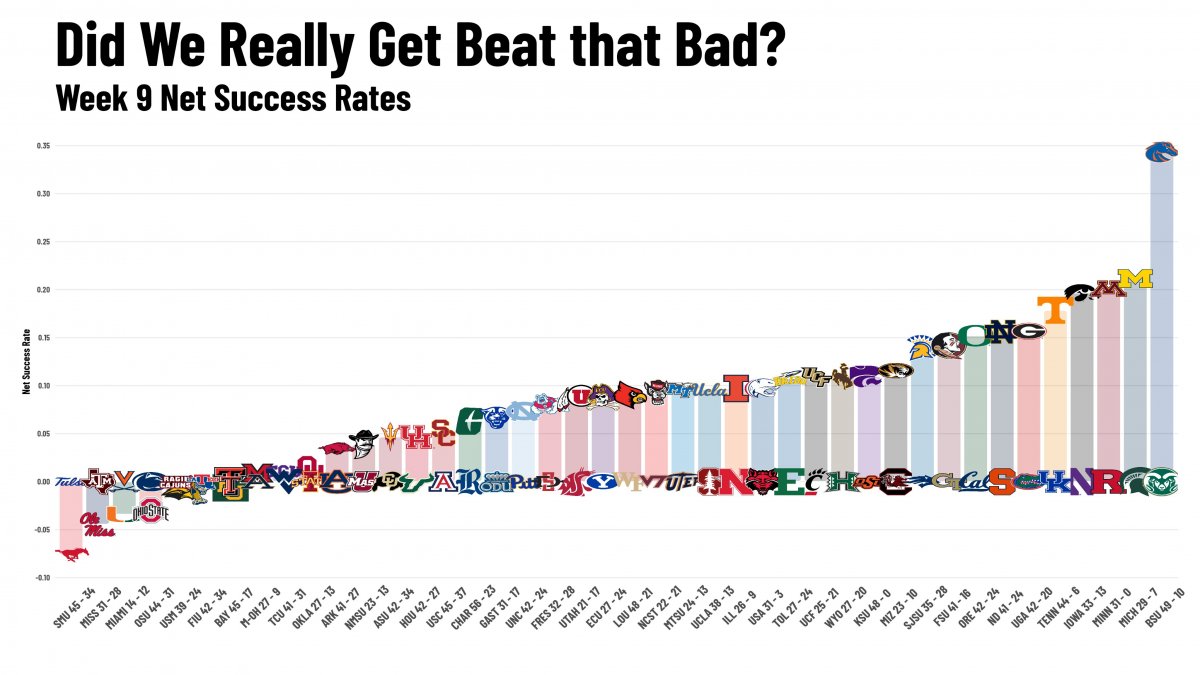 That chart doesn't account for the garbage time TD drive the Buckeye defense ole'd into blowing the cover, but requiring a generational performance from a defensive end to seal the deal isn't a margin-for-error buster you can rely on happening every week.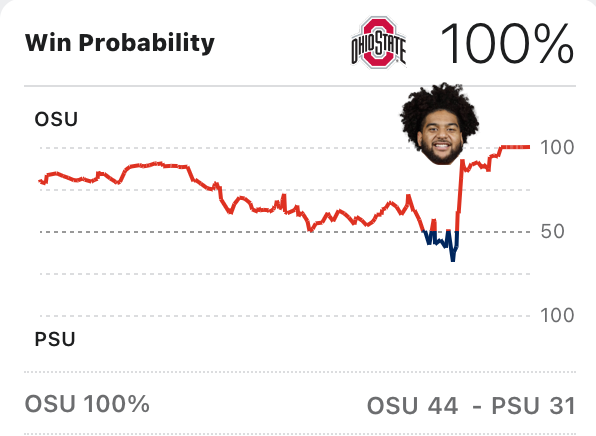 Perhaps Day was seeking tension, knowing too well how quickly the celebration over last season's comfortable fireworks orgy with the Spartans evaporated a week later in Ann Arbor. This was an afternoon where Penn State was catching what felt like every single break in a hostile stadium, and it took one Ohio State defender - and that nearly unstoppable connection on offense - to counter what felt like inevitable cosmic forces.
The Buckeyes definitely achieved their desired competitive excellence session on Saturday, settling into running an offense with little-to-no pre-snap motion along with simplified schemes to counter a deafening and chaotic environment. This approach still left the Buckeyes susceptible to chronic game management confusion, delay-of-game penalties and other bouts of inefficiency.
But they could have taken Beaver Stadium out of the game in the 1st half through measures well within the offense's disposal. Ohio State deliberately chose not to, knowing it had an aerial cheat code that would still be all but unstoppable - when they chose to use it.
The best secondary - by far - on the Buckeyes' schedule never had a chance. Relish that.
INTERMISSION
The Solo
Wagering on Ohio State as a fan to cover gargantuan spreads despite the distinct possibility of the strategy transitioning into live practice drills is peak degenerate activity. I'm already anxious during Buckeye games, hell with it - let's add financial stress to the afternoon.
As the defense tapped out to end the Penn State game and Ohio State's cover, I slowly opened my mouth and whispered the words Foolish Beat, the sentiment of a gambler on the wrong side of the point spread, and also the title of an ancient Debbie Gibson joint featuring a forlorn saxophone solo.
Let's answer our two questions.
Is the soloist in this video actually playing the saxophone?
This video tells the story of an imaginary world in 1988 where there's a straight white male in America who chooses to not date Debbie Gibson. The backing sax and solo are performed by Vernon Jeffrey Smith - who does not appear in the story, because he's too real. VERDICT: Inconclusive
Does this sax solo slap?
It's worth mentioning Voices of Extreme covered Foolish Beat and produced a video that's just grown-up Gibson gazing directly at the camera. I'm on the record saying this version absolutely bangs and we as a society in peril demand more queefcore covers of wistful 80s teen pop anthems. They might just be what saves us from ourselves.
Sadly, these bands and this genre are as endangered and rare as sax solos which cut right through the angst of a song telling a story that would never happen. VERDICT: Slaps.
The Bourbon
There is a bourbon for every situation. Sometimes the spirits and the events overlap, which means that where bourbon is concerned there can be more than one worthy choice.
Ohio State visits the B1G's purple wildcat program on Saturday (a team the Buckeyes have only hosted once since 2007, which is bizarre). This is a situation. And yes, there is a purple wildcat bourbon.
Boot Hill Distillery in Dodge City is a soil-to-sip operation that insources every element of its whiskey, which means if the experience is great or terrible, it's on them. Kansas State grads are in charge of it, and in their portfolio is a wheated victory bourbon called Wabash Reserve.
WR runs 55/35/10 corn/wheat/unmalted barley, which means if you tend to wince or brace for impact before you sip a whiskey, you're wasting energy here - no rye means minimal burn.
As for the experience, I could not tell if this was great or terrible. Wabash Reserve could win the B1G West in one sip but then go winless immediately afterward. There's definitely a there there, but...I wasn't sure where? Burnt toast with sweet jam. It worked, then didn't, then did, then didn't, etc etc etc.
I kept drinking this purple wildcat juice, waiting for an epiphany. WR's ceiling is the Music City Bowl - it's just good enough to be good enough. If Ohio State is reading this, hey look - a land grant university-licensed bourbon! That's an idea.
CLOSER | WASTING LIGHT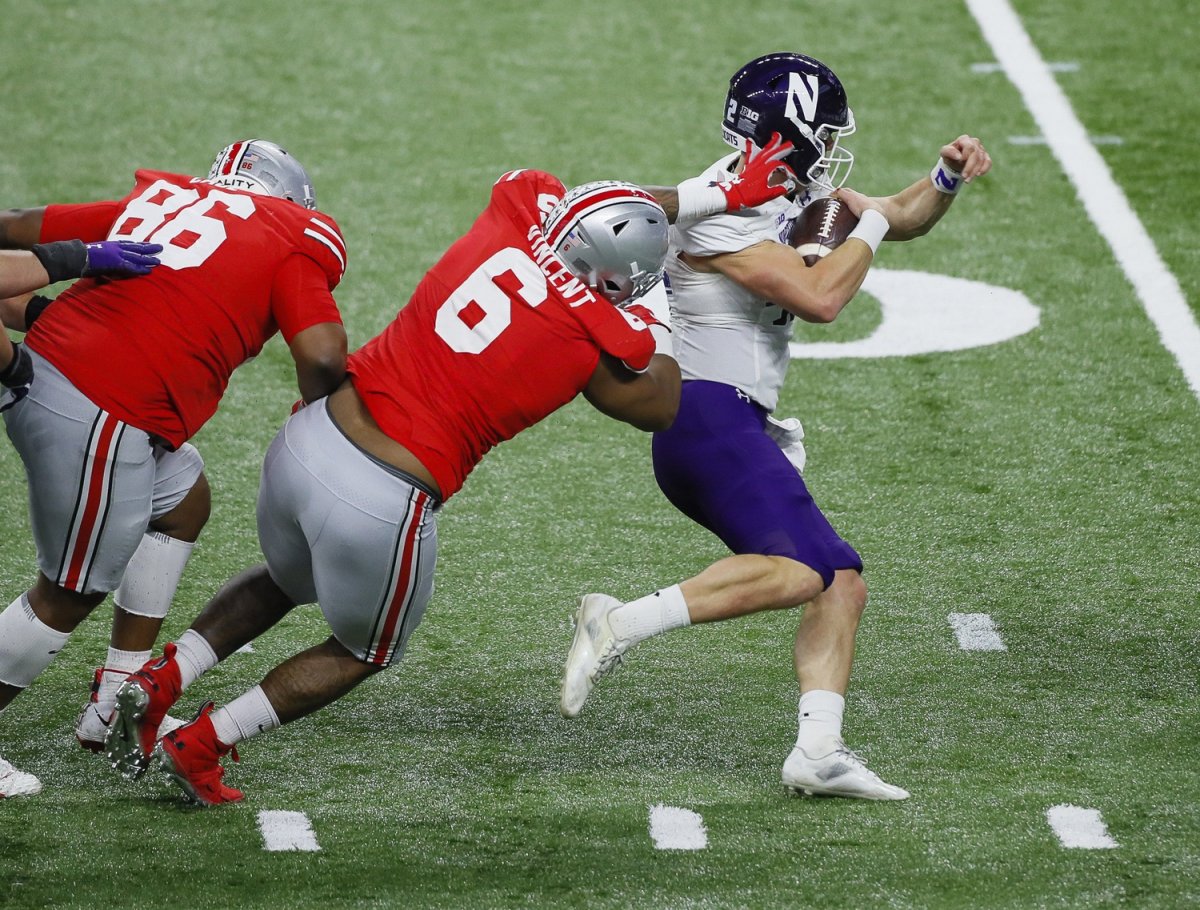 The Ohio State football program has spent the better part of the current century participating in games where it spends more time playing with its food than eating it.
This was the foundational strategy of Tresselball. Push it around, look at the clock, push it around some more and then maybe - only if they had to, under duress - put it out of its misery. Even spread jedi and X&O savant Urban Meyer discovered a happy place where QB keepers reigned.
Urban found comfort in playing with his food. Ryan Day is only in his fourth year as a head coach and has not approached his middle-age football comfort zone yet (Nick Saban was still the Browns' defensive coordinator when he was Day's current age). What we've seen thus far is that he treats each opponent like a lab experiment.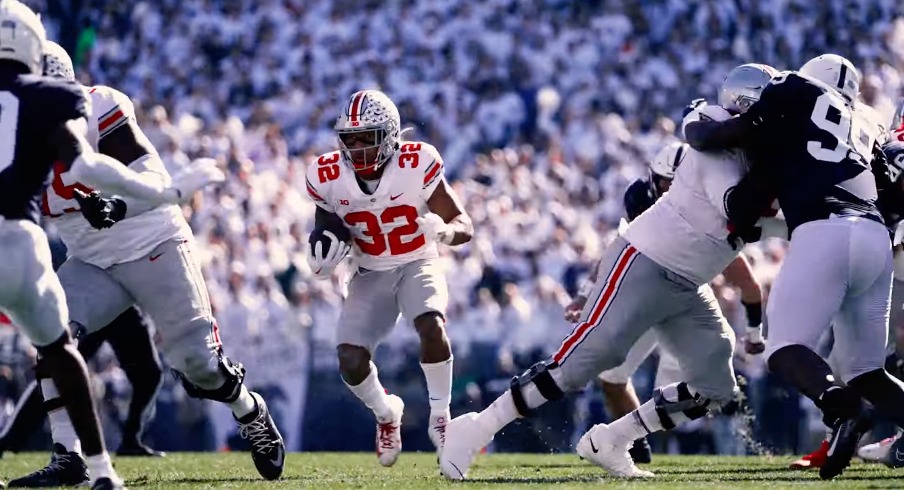 Each Saturday is a choose-your-own-adventure in formations, strategy, play-calling and pace. This is frustrating to fans who just want to fast-forward to the Death Machine portion of the programming, largely because we're haunted by bad memories of Ohio State playing with its food a little too much. The Buckeyes should have beaten Clemson 10 different ways in 2019.
They should have put Michigan State in a ditch in 2015 (and 2013, and 1998, and 1974). Day has lost four times as OSU head coach: That ref-aided Clemson debacle, Alabama with 40% of his roster in COVID purgatory, Oregon while breaking in a new QB and Michigan - the latter two with historically bad defenses.
He now employs a Head Coach of the Defense, which frees him to be fully autonomous whenever his team has the ball. He's also not haunted by most of the dated events that haunt us, because they are basically fables to him.
Day is obsessed with beating Michigan, clinching the East, leaving Indy victorious and then winning the playoff. The events that take place en route to those destinations serve as opportunities to sustain, improve and tinker with his final product. He's young, but he figured out the whole journey management thing very quickly - and that hasn't cost him a game.
As for us, we'll barely remember the Wildcats in a month. It's just another Saturday in the lab.
Thanks for getting Situational today. Go Bucks, beat Northwestern.