It's been a minute since OSU played at PSU while the sun was shining.
Actually, it's been roughly 6.8 million minutes - that's how much of our lives have ticked away since the Buckeyes and Nittany Lions kicked off at Beaver Stadium at 3:30pm back in 2009. That's how many seasons have passed since Ohio State was not the designated White Out™ opponent.
And that's how long it's been since we were treated to a hand-drawn Nittany Lion consoling dejected Pennsylvania native and Buckeye quarterback Terrelle Pryor (above). This imagined 2009-version of the PSU mascot stood at least seven feet tall and was clearly on recombinant DNA-derived synthetic growth hormone therapy.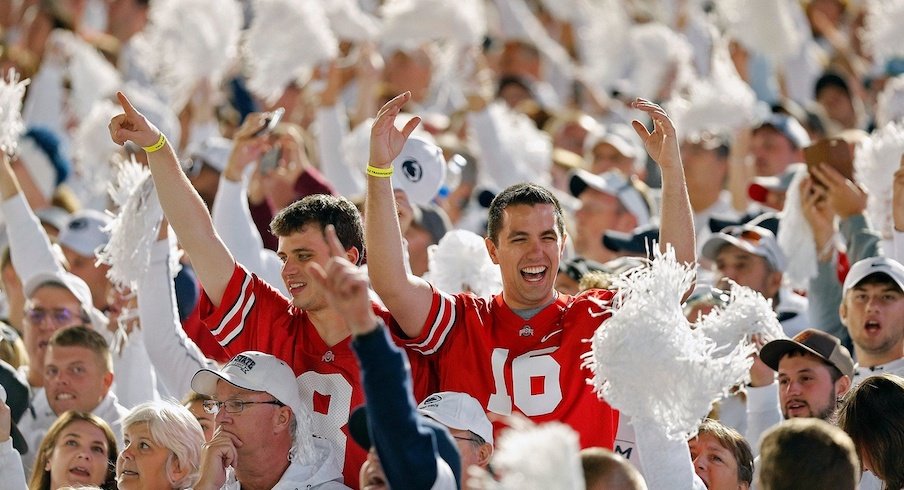 It was also conspicuously teeming with stoicism and empathy. Thirteen years later, this funny moment in Not a Rivalry But Still Kind of a Thing history now just seems weird and creepy. Onward State on the drawing in 2009:
The design for the Ohio State game is brilliant. It has the Nittany Lion presenting a box of tissues to a crying Terrelle Pryor. How can a Penn State fan NOT enjoy this shirt?
Nutcracker was the Penn State Marketing Association's (PSMA) winning design for the White Out-adjacent t-shirt. The Lions had prevailed the previous season in Columbus, with that game careening out of Ohio State's control on a single play where Pryor could have raced 50 yards for a touchdown, but fumbled instead.
Hence, the tissues. But beneath that empathy was pent-up frustration. When Pryor was one of the nation's most-coveted recruits in 2007, Joe Paterno was coasting through his Queen of England phase, refusing to both retire and participate in recruiting if it required him to leave campus. Which was largely how Pryor ended up elsewhere.
As for the shirt design, well...there were problems. Most notably, this predated NIL by well over a decade - which meant selling a product featuring an amateur athlete's Name (sic, check) Image (check) and Likeness (check) was a ghastly violation of amateurism. PSMA recalled the shirt later that week and apologized:
"We did not intend for this shirt to offend Terrelle Pryor, The Ohio State University, or Penn State Athletics, and we apologize for any offense it caused," Daniel Sturman, the marketing association's chief executive officer said in a statement e-mailed Thursday announcing that the shirts were being recalled.
And that closed out what was then regarded as the most offensive, appalling and embarrassing scandal ever associated with the Penn State football program. The Buckeyes ended up beating the Nittany Lions 24-7 in the Nutcracker game, and we have only experienced White Out conditions ever since.
Until this Saturday, when they kick off at noon. It's a stripe-out! Let's get Situational -
OPENER | EXIT STRATEGY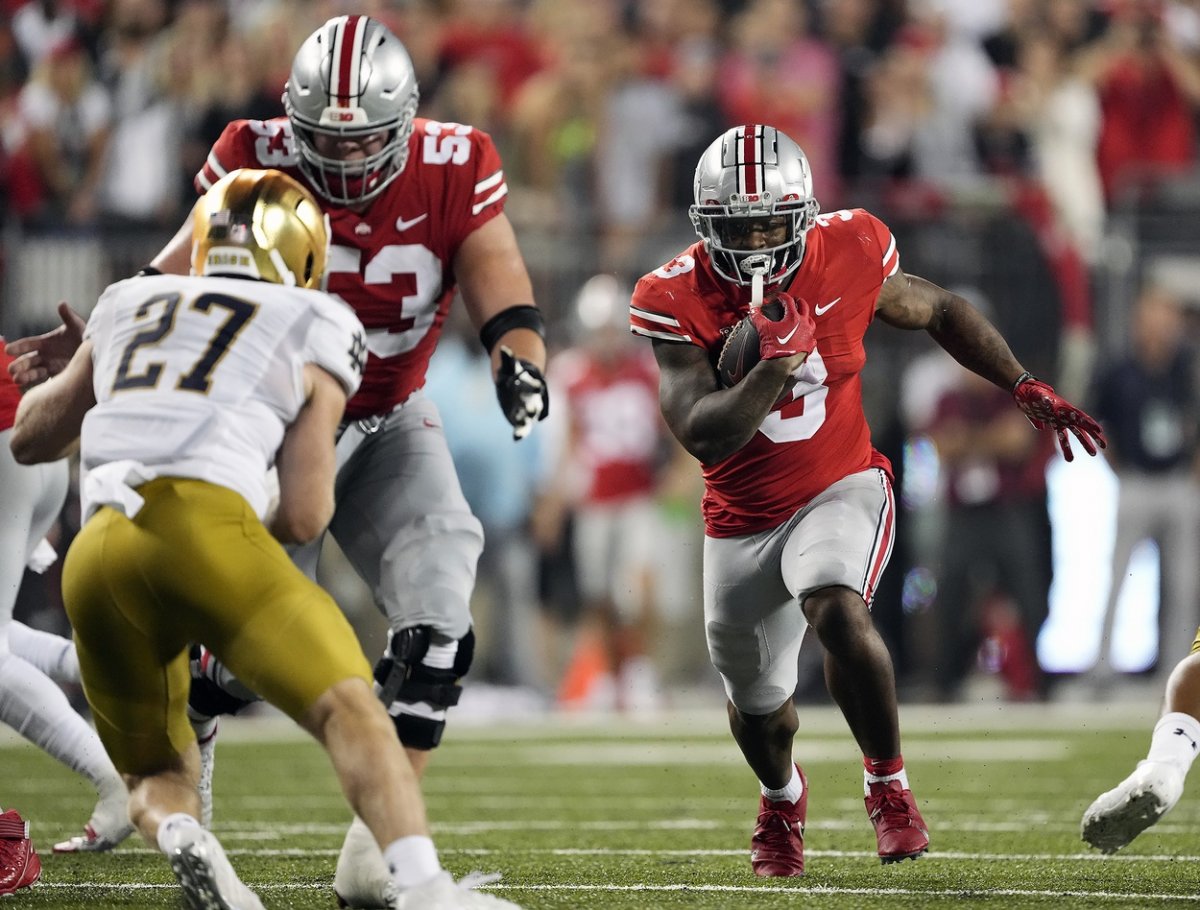 A sizable segment of the Ohio State fan base has a minimum standard for game performances that mirrors what the Buckeyes did to Wisconsin in the 2014 B1G championship game.
Either we're up 38-0 with a 3rd string QB going into halftime, or something must be wrong - this is how you guarantee diminished satisfaction. This year's Buckeyes are not susceptible to losing on account of inferior talent (yet, or anytime soon) because none of the teams in the rearview mirror were capable - and neither are any of its conference brethren.
That leaves execution and strategy as the vulnerabilities. Notre Dame and Iowa brought game plans into Columbus designed to force Ohio State to do one thing instead of the other, and in both cases the Buckeyes eventually called the bluff and did the other thing.
Eventually. Prior to the 2022 season, the best example of this pivot was the 2020 B1G championship game against Northwestern. It was clear Justin Fields was not having anything approach a Justin Fields performance, so OSU shifted to Trey Sermon. It worked.
SELLING OUT TO MAKE a pyromaniac program frustrated BY its inability to produce fireworks AND THEN HOPING IT FLINCHES IS SMART STRATEGY.
Against the Irish, that pivot was Tresselball. With the Hawkeyes, the Buckeyes took the top off the secondary and bombed them to end the anxiety. The prevailing concern for the Diminished Satisfaction segment that needs to win 59-0 every week is what if that doesn't work.
It's possible. Selling out to make a pyromaniac football program like Ohio State frustrated with its inability to produce the fireworks it loves so much and then betting on self-sabotage is a smarter strategy than trying to man-up with a program that generally wins games on Signing Day.
The second fear (if you're one of these people, just stop this reading now) is what if the opponent anticipates the adjustment and adjusts first. Yeah mate, that's how football coaching works. That's why there are guys seated 180 feet above the field with what are basically walkie talkies interpreting the big picture and informing the coaches on the ground how the battlefield looks.
When Virginia Tech's bear front famously stymied Ohio State early in 2014, the Buckeyes knew every one of their capable opponents would attempt the same strategy. While they were unable to make the right adjustment against the Hokies, they were ready for every subsequent bear front they saw.
Eight years later, this is all sped up. Ohio State's offense can adjust mid-game to take what it is being given and rewrite the script accordingly. Ryan Day knows what he likes to do and is prepared to pivot to what he has to do. He did it in Indy against Northwestern, in the season opener against Notre Dame and last week against Iowa.
That last one is tricky though, isn't It? Nobody believed for a second Iowa's offense was a threat to maintain or sustain drives, which cooled the anxiety. So there was no urgency to break the glass and pull the In Case of Emergency lever. The game's outcome wasn't in jeopardy, so Day took the opportunity to try and toughen his offense against an elevated degree of difficulty.
Iowa isn't allowing three yards per carry this season. The Hawkeyes have only allowed three rushing touchdowns all year - what they did to Ohio State is what they do to everyone they face. Michigan, Illinois and Georgia have the only rushing defenses in Iowa's orbit, and all three are or could be on the opposite sideline before the season ends.
Stroud-to-Harrison Jr. is damn near unstoppable. It will be there. Work on something harder, especially if you have the chance to do so without the threat of losing a game.
INTERMISSION
The Solo
Last week's intermission discussed how Foreigner's Urgent which was originally conceived by Thomas Dolby. If you're a regular here you probably saw what was coming this week.
She Blinded Me with Science tells the classic story a scientist who falls for his lab assistant. Dolby tapped Actual Scientist Magnus Pyke - star of Britain's Don't Ask Me hit science show of the 1970s - to record a series of him saying "science" in various infections and tones. He plays the role of the scientist in the video, which, big stretch for Dr. Pyke.
The internet tells me this was his TV catchphrase, but alas I'm neither British or old enough to have memories of the show. The song features a violin solo. Let's answer our two questions.
Is the soloist in this video actually playing the violin?
Dolby is a synthesizer savant - he recorded the solo himself using a Roland Jupiter-4 programmed to sound like a violin. In the video, the solo is performed first by a geriatric psychiatric patient pretending to play a violin, then by Dolby himself playing lab assistant Miss Sakamoto's back, which has been painted to look like a string instrument.
She is not a violin. There is no violin. The violin is a lie. VERDICT: No
Does this violin solo slap?
You can watch Dolby deconstructing the entire song and performing the solo here in 2018 on a modern Roland-8 while receiving a lifetime achievement award from the company that makes it. "Does this violin solo slap? Well, he performed it while receiving a lifetime achievement award." We're done here. VERDICT: Good heavens, Miss Sakamoto. It's beautiful. Slaps.
The Bourbon
There is a bourbon for every situation. Sometimes the spirits and the events overlap, which means that where bourbon is concerned there can be more than one worthy choice.
Widow Jane first achieved Situational Bourbon status five seasons ago with its flagship juice and then again during the pandemic with dueling rye mashes. Those were three very different experiences.
We're running it back a fourth time because Batch 224 of the flagship is a huge departure from the conventional.
This was the first run of a batched product for a brand that had gone the single barrel route as it grew in popularity. You can bury yourself in questions - but why? Sourcing issues? Dissatisfied with the previous experience (it was fine). Scarcity? COGS reduction? Get those intrusive business school thoughts out of your head.
Your only question should be what is the result? The single-barrel WJ was exclusively Kentuckian; this batching expands to include both Tennessee and Indiana bourbons, the latter of which is a bit of an eye-roll considering the volume of Kentucky bourbons sitting at MGP in Lawrenceburg. This created a lot more complexity and diverse aging characteristics.
The answer to the only question is it's even better now. Tastes older, oakier and a lot more sophisticated than the single barrel and perfectly acceptable WJ you may have known and loved during the previous decade. Not terribly hard to find. Don't pay more than $80.

CLOSER | BUSINESS DECISION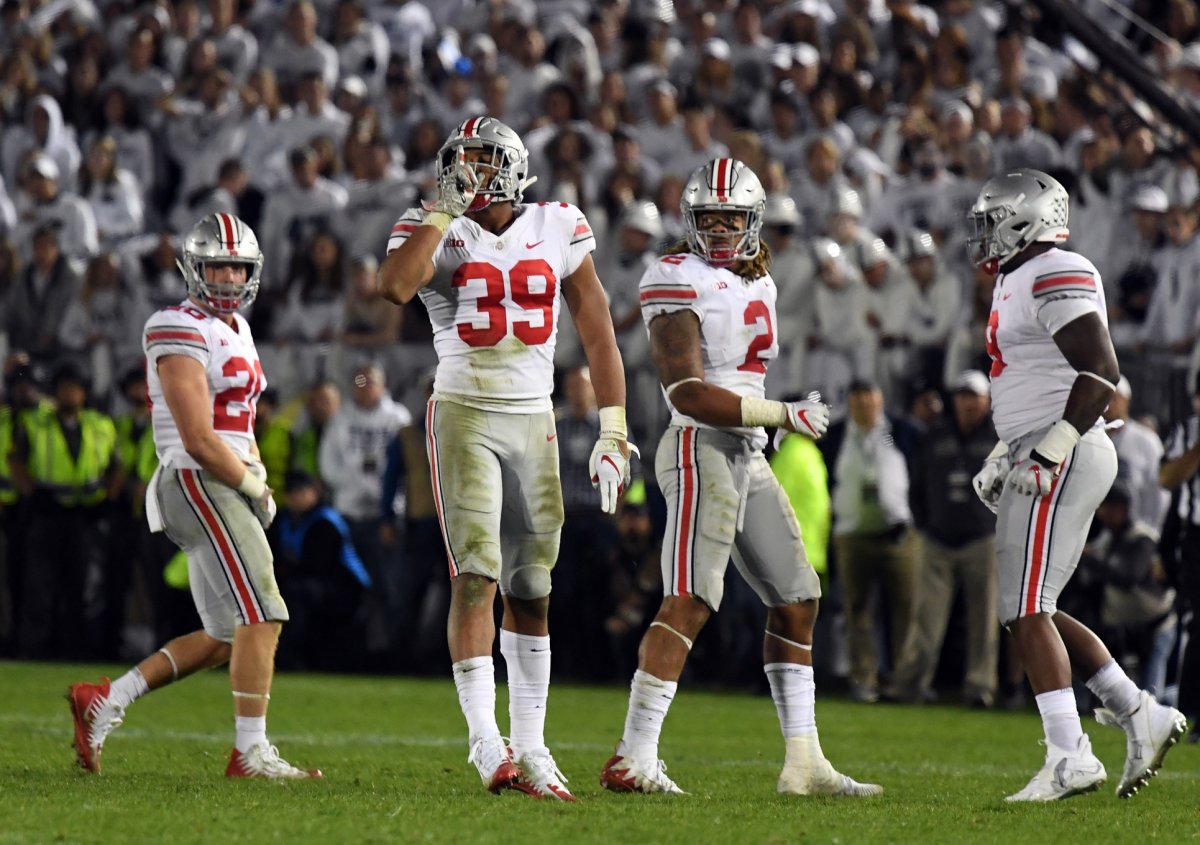 We started by mentioning how Ohio State hasn't participated in a day game in State College in 13 seasons. The Buckeyes haven't played in a noon kickoff there since 2001.
What we didn't address was why this matchup, which has been all but a de facto even-numbered year White Out, was relegated to a noon kick. It's Big Noon/Fox's fault well, the game was only available because Penn State didn't lock it down for a night kick. That was a choice.
Here's how the Buckeyes fare in daylight since Penn State joined the conference in 1993.
DAY GAMES @ BEAVER STADIUM

| SEASON | KICK | RESULT |
| --- | --- | --- |
| 1994 | 3:30 | (1) PENN STATE 63, (21) OHIO STATE 14 |
| 1995 | NOON | (5) OHIO STATE 28, (12) PENN STATE 25 |
| 1997 | 3:30 | (2) PENN STATE 31, (7) OHIO STATE 27 |
| 1999 | NOON | (2) PENN STATE 23, (17) OHIO STATE 10 |
| 2001 | NOON | PENN STATE 29, OHIO STATE 27 |
| 2003 | 3:30 | (8) OHIO STATE 21, PENN STATE 20 |
| 2009 | 3:30 | (15) OHIO STATE 24, (11) PENN STATE 7 |
First, let's appreciate the 52-point swing between 1994 and 1995. College football reigns supreme.
The Nittany Lions are 4-3 against the Buckeyes when hosting them in day games. Winning record against Ohio State is generally an achievement football programs hold in high esteem. Preserving that is an aspiration.
Conversely, here's how this series has looked under the lights:
NIGHT GAMES @ BEAVER STADIUM

| SEASON | WHITE OUT? | RESULT |
| --- | --- | --- |
| 2005 | YES | (16) PENN STATE 17, (6) OHIO STATE 10 |
| 2007 | NIGHT KICK | (1) OHIO STATE 37, (24) PENN STATE 17 |
| 2012 | YES | (9) OHIO STATE 35, PENN STATE 23 |
| 2014 | YES | (12) OHIO STATE 31, PENN STATE 24 (2OT) |
| 2016 | YES | PENN STATE 24, (2) OHIO STATE 21 |
| 2018 | YES | (4) OHIO STATE 27, (9) PENN STATE 26 |
| 2020 | NIGHT KICK | (3) OHIO STATE 38, (18) PENN STATE 25 |
The Nittany Lions are 2-5 against the Buckeyes when hosting them in night games. That record improves to 2-3 when the official White Out tag is applied.
That's because the official White Out opponent in 2007 was the first Uh Oh Maybe Charlie Weis is Bad Actually-edition of what was eventually a 3-9 Notre Dame team. The 2020 Ohio State game was intended to be a White Out, but it ended up being played in a nearly empty Beaver Stadium. Cannot remember why; too lazy to look it up.
Penn State's pre-November home opponents - the 2022 White Out candidates - were Ohio, Central Michigan, Northwestern, Minnesota and Ohio State. A botched field goal attempt in 2016 that punctuated a thumb-sucking game plan are all that separate the Buckeyes from being unbeaten at night in State College going back to the White Out's inception.
Which means keeping the Buckeyes clear of State College's biggest football, stadium and recruiting event of the year feels like a business decision that had nothing to do with Fox or Big Noon. Keeping Ohio State as far away from an 8pm kick as possible makes sense. If Penn State could kick off at 9am, it probably would.
Thanks for getting Situational today. Go Bucks, beat Penn State.