Nebraska accepted its invitation to join the Big Ten on June 10, 2010.
They were still celebrating in Lincoln when UNL was abruptly kicked out of the AAU, making it the only member of our Warrior Poet consortium on the outside of that exclusive academic club. The football team had not yet participated in a conference game.
Local journalists submitted a flurry of FOIA requests to try and solve how its new band of brothers could have allowed this to happen and wouldn't you know it - the calls were coming from inside the house. Michigan and Wisconsin were in the wrong column where Nebraska's AAU renewal was concerned. Quite a welcome to the neighborhood.
One decade later the intrepid football enthusiasts from Lincoln used FOIA and other legal instruments to create public urgency toward reversing what had been a muddled, awkward and comprehensively mishandled B1G season suspension. We now have football back, and the B1G's only non-AAU member helped keep that possibility in the national consciousness for a full month.
It's not the same level of passive-aggressiveness, but similar to how Nebraska was "rewarded" back in 2010 when conference members aided and abetted in its AAU dismissal, the Huskers will open their campaign in Columbus. Sneak preview:
They were scheduled to face the Buckeyes and Nittany Lions all along, but getting the three top teams in the conference over the first three weeks of the season seems...not random. Was this done on purpose?
So Nebraska's harsh schedule was actually the work of...Nebraska alumnus Barry Alvarez. A troll emissary. https://t.co/hvhbT6UWPW pic.twitter.com/QPTN0UngL3

— Ramzy Nasrallah (@ramzy) September 22, 2020
Mmmmmmmmm yeah a little bit.
This is guaranteed to piss off Nebraska, already in the throes of its longest postseason drought ever, coupled with doused expectations for a quick, UCF-like turnaround under Scott Frost. Starting Year 3 at 0-3, a real possibility, would be unhelpful. However, actually getting to play three football games in 2020 is and should always feel like a blessing.
College football is a magnificent soap opera played out by giant teenagers and broken old men. Let's get Situational!
OPENING: PARALLEL UNIVERSE
Pour one out for what should have been Rutgers Week.
The last time the Scarlet Knights wandered into Columbus they deployed a novel Put a True Freshman DB on Senior Johnnie Dixon and See How That Goes strategy. Maybe they'll attempt that again on Nov 7 with Chris Olave. Do it, cowards. Justin Fields needs all the state he can accumulate.
Rutgers has since swapped out former Ohio State defensive coordinators as head coaches (the previous one is now rekindling 2014 magic with Tom Herman in Austin) and they're sure to put up a tougher fight than any hands Chris Ash brought to this burgeoning rivalry. We can talk more about that in a month or so, provided the antigen testing machine doesn't beep too loudly.
As for now on Earth 2, let's cherish the pilot, debut and series finale of The Tate Martell Show™ which all aired during Rutgers' most recent visit to Columbus.
Going 10/10 passing with nearly 100 yards rushing all in a relief effort is known as an Inverted Bauserman in technical football terms and should never be diminished. Two years later, Tate is opting out of this season in Miami for extremely this-season reasons.
Even though he wears a dastardly U-M uniform, he will always have two sets of Gold Pants. Cheers, Tathan. See you soon, Rutgers. Hopefully.
INTERMISSION: THE SOLO
Well my friends, the time has come - to raise the roof and have some fun.
That line lives forever in the pantheon of greatest 80s songs opening lyrics, alongside welcome to the jungle, we've got fun and games and give me time to realize my crime. What separates Lionel Richie's All Night Long is one of the most unique solos of any era, which of course was a classic lyrical African chant:
Tom bo li de say de moi ya
Yeah jambo jumbo
Way to parti' we goin'
Oh jambali
Tom bo li de say de moi ya
Yeah jambo jumbo
Haha just kidding that's not a classic lyrical African anything - it's pure gibberish set to a Caribbean beat. Richie had wanted a foreign language interlude here but found out that, inconveniently 1) Africa has 2,000 languages - a full third of what's spoken on earth, and 2) translators are both expensive and unreliable. So he decided to just make shit up.
My personal theory is he had Wanna Be Startin' Something Bantu chant envy but didn't have the budget or patience to imitate it properly. Let's answer our two questions.
Is the soloist in this video actually speaking the gibberish?
All Night Long has two dozen (!) chanters getting gibberish vocal credits and only six actual singers on backup vocals. You've never heard of any of these people except for Situational sax solo alumnus Richard Marx who is one of the voices you hear echoing all niiiiiight throughout the song. It's authentic gibberish, but the video people are lip-syncing it. VERDICT: No jambo jumbo
Does this gibberish solo slap?
This song is a banger about a banger and the banginest part is the gibberish, which every 80s 5th grader shouted at slumber parties until the parents finally broke emotionally and made everything awkward. Remember parties? Parties were fun. VERDICT: Oh jambali
THE BOURBON
There is a bourbon for every situation. Sometimes the spirits and the events overlap, which means that where bourbon is concerned there can be more than one worthy choice.
This is usually a bourbon section, but it will veer into other whiskeys for various reasons - like when a bourbony rye hits the market or when non-bourbon (pictured) shows up at your door from a distillery that's committed to whiskey and football living happily together.
It's been three years since the Widow Jane flagship graced this section and it's had a good commercial run. WJ has been one of my sub-$80 go-tos for awhile, but I had never seen either of the ryes that showed up at my house in the wild.
Basically, WJ ages their young rye in its discarded bourbon barrels - but also inserts, as the labels inform you - American Oak and Applewood staves into the finish. The resulting juices are light, unique and I'll just admit this here - I nerded out tasting both of these because I was not prepared.
The American Oak hits you like delicate, sweetened clover tea, while the Applewood is very much like a liquid fruit basket with a welcoming burn that is anything but overwhelming.
I probably shouldn't have poured both at the same time and used a large Sicilian pizza as a palate cleanser jumping back and forth between glasses, but what's done is done and now I will now do everything possible to make menage a trois pizza-assisted rye tasting an Olympic sport, if Japan is allowed to have large crowds again by next summer.
You can procure these and other Widow Jane varieties online or, if you're fortunate, at your local liquor purveyor.
CLOSING: RUNNING A LITTLE BIT SCARED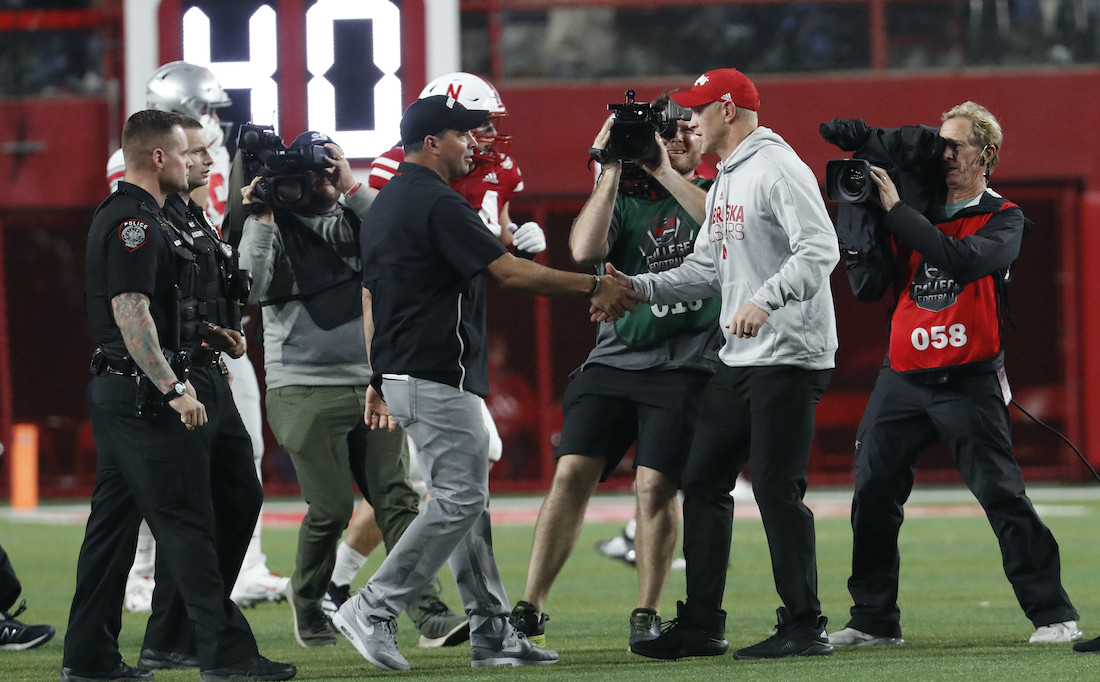 In honor of Nebraska's heroic effort to advance a 2020 B1G season let's review its road to here:
2011: Academically-defrocked Nebraska enters B1G competition under Ohio State graduate Bo Pelini, famous for temper tantrums and being one of the "slow white guys" John Cooper complained about when discussing his inherited roster to a pre-YouTube Ohio State media contingent.
Huskers finish 9-4 as Pelini teams generally do, spared of an 8-5 record on the strength of the Night of 1,000 Bauserbombs.
2012: A 7-1 conference record, still the high watermark. Nebraska's only loss was a 63-38 setback in Columbus. Due to Ohio State and Penn State postseason suspensions the Huskers faced Leaders Division 3rd Place Champion Wisconsin and allowed 70 points, whoops.
2013-14: Two more disappointing nine-win seasons. Nebraska replaces Pelini with affable grandpa Mike Riley from Oregon State, where he was coming off four straight seasons of finishing no better than 3rd in the Pac 12 West.
2015-17: *the sound of rabid weasels feasting on a clown carcass*
2018: Nebraska hires legacy and folk legend Scott Frost to replace Riley, who was last seen coaching quarterbacks in the XFL. Lincoln quickly got its confidence back:
Husker AD Bill Moos on Scott Frost hire: Urban Meyer and Jim Harbaugh are "running a little bit scared right now and they don't want to admit it. We'll leave it at that." https://t.co/ezuQklK8Ab pic.twitter.com/sW2X97Ba1J

— Eleven Warriors (@11W) April 25, 2018
Huskers would fall to the Wolverines 56-10 and to the Buckeyes 36-31 that season. In 2019 they would lose to the Buckeyes 48-7 at home in a game where Ohio State had trainers, the percussion section from TBDBITL and a handful of geriatric fans who had made the trip from Columbus playing in the 4th quarter.
2020: "Running a little bit scared right now" update:
Bill Moos calls it like he sees it. And he says Nebraska got mistreated with the new schedule. https://t.co/YBTdMghT8I

— Dirk Chatelain (@dirkchatelain) September 19, 2020
Nebraska opens in Columbus next month. Michigan is off the schedule for the second consecutive season. Are the Wolverines running a little bit scared? It's worth debating, for sure.
Thanks for getting Situational today. Go Bucks. Take care of each other.