Ohio State's spookiest house guest returns to town Saturday night.
The 1987 team lost in the Horseshoe to Michigan State, starting a three-game slide that ended Earle Bruce's tenure, as the then-no.15 team in the country spiraled into free-fall. The 1998 meeting with Sparty was harder on Generation X than our Baby Boomer parents. Some of us will never get over that one. 
Urban Meyer's first two conference losses at Ohio State were also to the Spartans; one in Indianapolis in 2013 and the second in 2015 at home, again, with the most talented roster Ohio State has ever had. Both cost the Buckeyes title shots. Ghosts are scary, especially when they wear white and green and show up in Columbus.
the only football team with more wins in the Horseshoe this decade THAN MICHIGAN STATE is the one that plays all of its home games there.
Michigan State has gone just 26-20 since the 2015 shocker. The Buckeyes are 43-5. It doesn't matter. Sparty is always a problem in Ohio Stadium (the Buckeyes haven't lost in East Lansing in two decades).
Michigan State is the rudest house guest of the current era - the only football program with more wins in the Horseshoe this decade than Mark Dantonio's is the one that plays all of its home games there. Elite Buckeye teams that took MSU lightly - or played scared - are famous forever for all the wrong reasons.
The B1G program powered entirely by disrespekt is always dangerous when it's living out of a Columbus hotel. Let's get Situational!
THE STREAK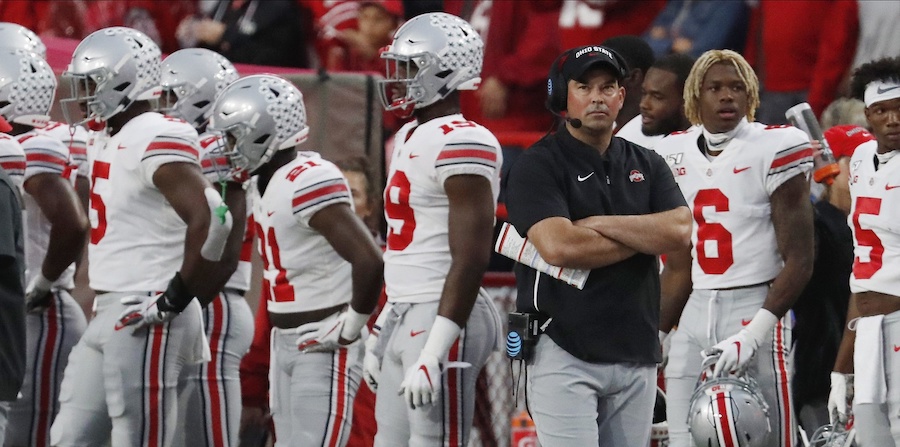 The 2019 Ohio State Buckeyes - a team too many fools expected to take a step back following Meyer's latest retirement - are beating their opponents by a 52.4 to 7.2 margin through five games. If you're new to the sport of football: That's good.
Ryan Day's debut edition has made the defending Rose Bowl/Cotton Bowl/two-time B1G champions look as though they were both sandbagging en route to the rings they earned. Through five games they have been ferocious, unmerciful and efficient killers. If you're new to the sport of football: That's scary in real life BUT in football it's exactly what you want.
Day's philosophy is to maximize the skill and talent on hand, rather than stubbornly forcing it into a preferred scheme, which has contributed to making both the offense and defense unrecognizable from just a year ago. This is the old do more of what you're good at and less of what you're not strategy and - brace yourselves - it already has people saying the unthinkable:
5 things I think, 5 weeks in:

1. Chase Young's the B1G's best player.
2. Penn State has B1G's top defense.
3. B1G West WRs are severely underrated.
4. Minnesota will start, at worst, 7-1.
5. Ryan Day will win COY. pic.twitter.com/LcSohpfb6n

— Brent Yarina (@BTNBrentYarina) September 30, 2019
If you're new to the sport of football: Ohio State's boss is not a candidate for B1G Coach of the Year. It is one of the conference's unwritten rules.
This is like talking about a no-hitter in the top of the 4th inning, but it is also the furthest any Ohio State coach has gone into a season in decades without being eliminated from contention for the conference's highest coaching honor.
The drought celebrates its 40th anniversary this season. Will Day join the ranks of Jerry Kill, Brady Hoke, Ron Zook, Bret Bielema, John L. Smith and Ron Turner - but not Jim Tressel or Urban Meyer?
Let's get weird. Let us speak Ryan Day, B1G Coach of the Year into existence.
THE 1980s SAX SOLO INTERMISSION
John Cooper was named Ohio State's 21st coach on New Year's Eve 1987. Later that fateful week, Endless Summer Nights was released, which - name a more iconic January summer love song. You can't; none exist.
The entire Richard Marx catalog is comprised of sloppy backseat make-out anthems, and this one made it all the way to No.2 on the adult contemporary chart before petering out, stuck behind one of the decade's immortal and undefeated bangers. Had Marx's label released it on a summer night instead of in winter it might have claimed the top spot, hashtag Timing is Everything.
Let's answer our two questions.
Is the soloist in this video actually playing the saxophone?
Reverend Dave Boruff, the sax player behind Rob Lowe's sax solos in St. Elmo's Fire does the honors here, flexing his versatility for both beer-soaked 80s frat rock jams and sloppy backseat make-out anthems.
We're deprived of seeing the Reverend in the video, however. Instead of him standing on the bar shredding the sax in boilerplate 80s video fashion, we get two drunk old guys popping Alka Seltzer. VERDICT: Not applicable (!) a true rarity in 80s music videos.
Does this saxophone solo slap?
Literally everyone turning 31 this year was conceived to this song. VERDICT: Slaaaaaaaps.
THE BOURBON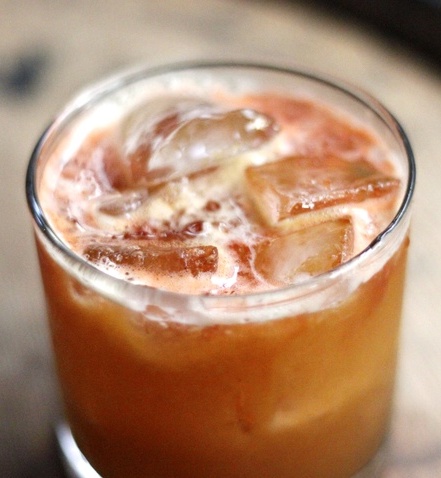 There is a bourbon for every situation. Sometimes the spirits and the events overlap, which means that where bourbon is concerned there can be more than one worthy choice.
Pumpkin Spice is its own season now, kicking off last week and extending through Thanksgiving weekend. As with any cultural phenomenon that gains traction and popularity in America, there is predictable backlash.
Pumpkin Spice haters are an angry mob, blessed by their enviable ability to see little else quite as upsetting as the pleasure others gain from a seasonal flavor. They're basically that kid in every Ohio high school who "grows up a Michigan fan" for no reason other than to be a contrarian out loud. Go ahead with your bold anti-flavors. Keep hating Pumpkin Spice and taking Ls every November. 
A two-month celebration of Pumpkin Spice is absolutely fine, and while the Pumpkin Spice market is objectively overextended on account of market demand, it has a rightful place in your fall beverage. In fact, a Pumpkin Spice Old Fashioned is appropriate all year, not just now.
PUMPKIN SPICE OLD FASHIONED

| INGREDIENT | QUANTITY |
| --- | --- |
| OLD GRANDDAD | 3 oz |
| ANGOSTURA BITTERS | 3 shakes |
| CASAMIGOS | 1 oz |
| SUGAR | 1 cube |
| ICE | your call, chief |
It is going to be sweet, so you'll want to balance what it brings to the glass with a little heat. A high-rye first-shelf value bourbon like Old Granddad is a sold choice here. Value isn't condescending; it just means it's good by itself or in a cocktail and there's no shame or poor decision-making in doing either.
You're going to follow the Situational Proper Old Fashioned recipe and construction but with one major addition - you'll add Casamigos to the process when you add bitters. 
Casamigos is not only a legitimate culinary addition for this drink or any other fall treat you decide to make as an accompaniment, it's also fun as hell to whisper when your impressed and bewildered guests ask what the secret is to your impressive seasonal Old Fashioned skills.
SAY SOMETHING NICE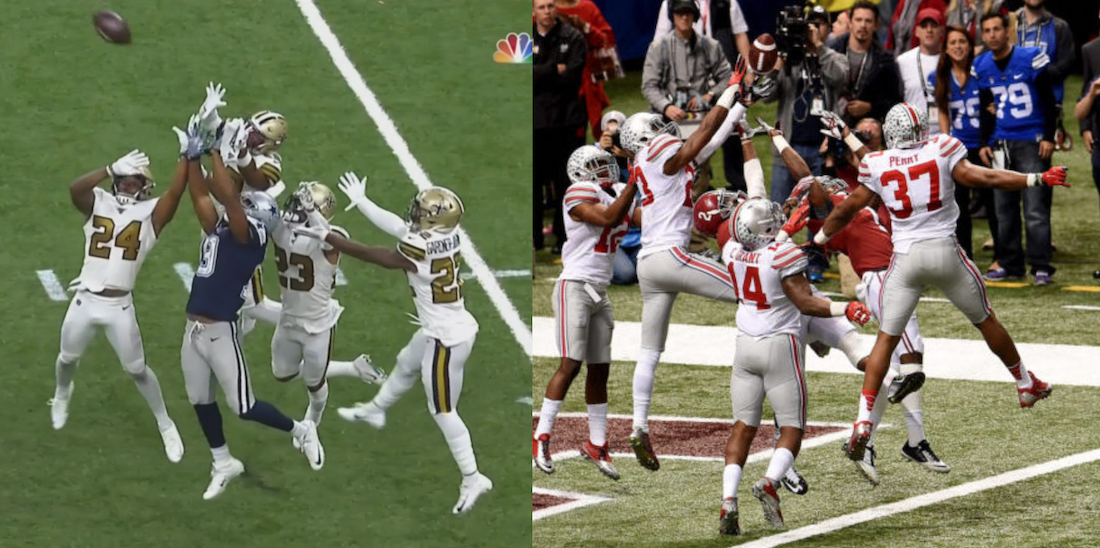 If you watched the Sunday Night Football game between Dallas and New Orleans and saw the player introductions, you experienced an avalanche of familiar faces saying THE Ohio State.
Ezekiel Elliott, Devin Smith, Eli Apple, Vonn Bell, Ted Ginn, Marshon Lattimore and Michael Thomas were all conspicuous participants in the game. It was basically the 2015 Ohio State spring game with Ginn tagging along flaunting his agelessness. 
But just when it seemed more Buckeye flavor wasn't possible, the play above/left happened.
Dallas desperately tried to complete a comeback that ultimately came up short, targeting former Alabama standout Amari Cooper on a deep pass - reuniting him with what Buckeye fans affectionately refer to as BIA. Bell - pictured above, twice - Apple and Lattimore converged on him with former Florida Gator C.J. Gardner-Johnson (no.23 in your game program) filling in for Tyvis Powell (no.23 in our hearts).
Cooper, playing from behind on the same field as he did in the 2015 Sugar Bowl, once again did not come down with the ball with the game in the balance. If you were watching but unable to understand why you abruptly felt a rush of comforting warmth - deja vu, comrades - now you know why.
Thank you for getting Situational today. Go Bucks. Beat Michigan State.