"If I could do that again, I would have taken a knee."
Ryan Day's 17th win at Ohio State produced his first apology to an opponent for winning too big.
I feel bad about that at the end of the game. I had a younger quarterback in the game, and I didn't feel like we had the personnel to take the knee, and I probably should have done that. So I just want to publicly apologize for that to (Nebraska head coach) Scott (Frost).
Day tacked on a garbage time touchdown using 1) the legs of true freshman Jack Miller, a pro-style QB who has still never attempted a collegiate pass, and 2) Xavier Johnson, a walk-on who has been on campus for three years and whose four career carries came on that drive.
It doesn't get more unsportsmanlike than that. That classless (and pass-less!) scoring drive went like this:
$$ HOW OHIO STATE HIT THE OVER (68.5) VS. NEBRASKA $$

| PLAY | RESULT |
| --- | --- |
| 1st & 10 NEB 40 | (2:50 - 4th) Walk-On RB run for 7 yds |
| 2nd & 3 NEB 33 | (2:40 - 4th) True Freshman Pocket Passer run for 21 yds |
| 1st & 10 NEB 12 | (2:15 - 4th) Walk-On RB run for 3 yds |
| 2nd & 7 Neb 9 | (2:00 - 4th) Walk-On RB run for 4 yds |
| 3rd & 3 Neb 5 | (1:40 - 4th) Walk-On RB run for 3 yds |
| 1st & Goal Neb 2 | (0:18 - 4th) True Freshman Pocket Passer run for 2 yds (Touchdown) |
Apologizing for scoring too much - however genuine Day may have been - is the only good passive-aggressiveness. Running up the score is a gift. Victory Formation inside the Michigan 10-yard line denied us of hitting 69 points in 2018. Urban Meyer could have easily punched it in and then said post-game, "Jim, I'm sorry for scoring that final touchdown. That wasn't very nice."
Day should never stop running live plays, even with freshmen or walk-ons – and especially up by 28 points. And when the Buckeyes accidentally score against a demoralized, blown-out opponent he should always apologize for garbage time success. It's far more entertaining than the usual post-game platitudes.
Just don't ever apologize for getting Situational. It's Penn State week, let's gooooo
OPENING: PARALLEL UNIVERSE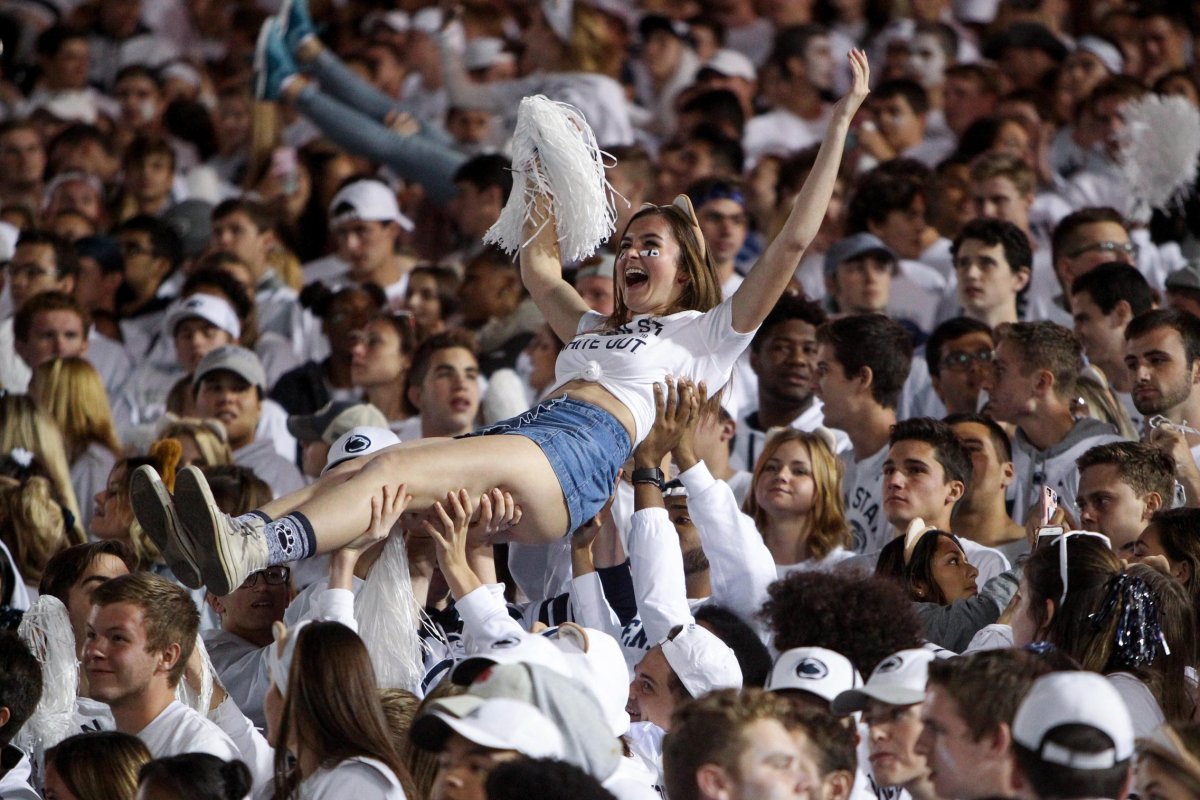 In a world without COVID-19, the Buckeyes are returning home from a traditional White Out affair in Beaver Stadium to host the Nebraska Cornhuskers on Halloween which, yeah. We just did that; everything in 2020 is backwards, sometimes literally.
Our pandemic schedule re-remix flipped this part of the original script, and now we're spending Halloween night in Beaver Stadium - which sounds so much cooler if you're just waking up from a seven-month coma and have no idea what's been happening beyond your bedsores and the socks your teeth are wearing.
Saturday should be the first and last Blight-Out.
This will be the first and hopefully last-ever Blight Out but it's still appointment television. Instead of visiting State College last week already at cruising altitude, the Buckeyes rolled with their base look into their delayed opener and stretched their legs at home against a program that was completely overmatched but schemed them very well.
It's the second assist Nebraska has given the Ohio State football program in 2020. Cheers, corn.
Now the Buckeyes head to a hostile environment that's de-venomed but also hasn't treated them poorly at full-potency either. Every football game is a gift, now more than ever.
INTERMISSION: THE SOLO
You might think All Apologies is not an Eighties song, and you are technically correct.
From a popular music standpoint 1990 was definitely 1980-eleven, and 1991 was shaping up to be 1980-twelve but then Nevermind arrived that fall and effectively ended the genre and terminated the previous decade's influence over what was played on the radio. The 1980s might have taken over the entire decade if not for the intense feelingsball the Seattle music scene dropped on the rest of the country.
If you don't believe that, just look at the top 10 songs the month before Nirvana arrived.
BILLBOARD HOT 100 | AUG 24, 1991

| RANK | SONG | ARTIST |
| --- | --- | --- |
| 1 | (Everything I Do) I Do it For You | Bryan Adams |
| 2 | It Ain't Over 'Til It's Over | Lenny Kravitz |
| 3 | Every Heartbeat | Amy Grant |
| 4 | Fading Like a Flower | Roxette |
| 5 | Summertime | DJ Jazzy Jeff & the Fresh Prince |
| 6 | Temptation | Corina |
| 7 | Winds of Change | The Scorpions |
| 8 | The Promise of a New Day | Paula Abdul |
| 9 | 3 A.M. Eternal | KLF |
| 10 | I Can't Wait Another Minute | Hi-Five |
Bunch of 80s-ass songs atop the late 1991 charts. But that decade was about to end in a melancholy hellfire of distorted guitar rock and angst-filled introspection.
As for its 80s cred, Kurt Cobain penned All Apologies years before Nirvana finally recorded it and Grunge actually took root well before devouring Eighties music for good in the early 1990s. The reason for the Apologies delayed release - as was often the case with Cobain - was he hated the song he had written. He hated most everything. That's a big part of what made him so effective. Let's answer our two questions.
Is the soloist in this video actually playing the cello?
That cello is getting banged on by classically-trained cellist Lori Goldston, the pacific northwest's go-to cello resource for decades. Kera Schaley did the honors on the studio version from In Utero but Goldston hit the road with the band and ultimately got the lionized MTV Unplugged gig. VERDICT: Lori's cello is doing all the weeping on this, the more acclaimed version.
Does this cello solo slap?
Can a cello slap? Perhaps you're unfamiliar with Samara Ginsberg, whose cello bangers have been a glimmer of light during this dark year. Her version of the Knight Rider theme song is not-optional listening and tells you all you need to know about a cello's highest calling, post-Chopin.
Chopin was a gangster who conquered everything but tuberculosis. Samara is a queen, running up the score on coronavirus. A good cello solo can change the world, and here Lori demonstrates the subtle art of draping a death march with a precision, baritone dread cloak. VERDICT: Slaps in D Major.
THE BOURBON
There is a bourbon for every situation. Sometimes the spirits and the events overlap, which means that where bourbon is concerned there can be more than one worthy choice.
Halloween is this weekend and the Situational Bourbon-Candy Pairing Chart can be found here. And here is a themed beverage you can mix up to enjoy the evening.
The Lantern shares a name with Ohio State's acclaimed student newspaper and also serves as a Halloween-appropriate beverage, which is to say it's orangey-luminescent as its namesake suggests.
Start with the hard cider of your choosing and gently pour half of it into a glass. Follow that with two shots of any high corn first shelfer ( you'll want >75% corn on the mash bill, which means your candidates can include Dickel, Evan Williams, Four Roses, Jim Beam, Bakers, Knob Creek, Old Crow or Turkey; plenty of sweet options for you to consider.
THE LANTERN

| | |
| --- | --- |
| HARD CIDER | 1/2 BOTTLE |
| EVAN WILLIAMS | 2 SHOTS |
| AGAVE NECTAR | 1 SHOT |
| CINNAMON | 2 SHAKES |
| GRANNY SMITH | 2 SLICES |
| ICE CUBES | AS DESIRED |
You could also use Old Crow, which fits the bill. Shout-out to TBDBITL's C Row, flugelhorn maestros and Old Crow's most notorious and possibly only enthusiasts.
Add a shot of agave nectar or triple sec, whichever you have in your bar - if you'd prefer to make simple syrup from scratch and have five minutes to spare, go for it. Give your mixture two shakes of cinnamon, then either gently pour it into a glass that has ice cubes in it. Remember, cider gets angry if you jostle it too much.
Garnish with two Granny Smith apple slices and you're all set for Halloween night.
CLOSING: LUCKY SEVYN
Ohio State's offense produces a ton of points, which is awesome and also fortunate since its defense and special teams haven't been contributing to the scoreboard lately.
Remember when Sevyn Banks was in the right place (northeast side of the field in Ohio Stadium) at the right time (a running head start toward a loose football that hit him in the hands) which allowed him to skate to the south endzone for a score?
Yeah you do, last weekend. But it also happened once before back when Sevyn was Fyfteen.
A couple of hours before Urban went into Victory Formation at the expense of putting a 69er on the board, Chris Olave blocked a Michigan punt that bounced right to Sevyn, who politely returned it to the south stands in exchange for points.
On Saturday, Johnathon Cooper jarred the ball loose from Adrian Martinez and Sevyn was in the same place at the right time again, while running toward cardboard cutouts masquerading as students.
TRIVIA: Do you know how many Ohio State defensive and special teams players scored touchdowns in between Sevyn's two sixes?
DEF. & SPECIAL TEAMS TD (SEVYN '18 - SEVYN '20)

| GAME | BUCKEYE TOUCHDOWN SCORER |
| --- | --- |
| MICHIGAN 2018 | SEVYN BANKS (BLOCKED PUNT RETURN) |
| @ INDIANA 2019 | DAMON ARNETTE (INTERCEPTION RETURN) |
| NEBRASKA 2020 | SEVYN BANKS (FUMBLE RECOVERY RETURN) |
Just one. That's over a 17-game stretch, which if you're thinking wow that's light you're correct. Last year's defense and special teams scored only one touchdown? College football got lucky.
The Buckeyes scored 757 points between Sevyn's blocked punt and fumble return, but only seven of those points came from the not-offense. Was Jordan Fuller robbed of touchdowns twice during that span? Of course he was. But we can only count the scores that weren't erased by criminally shitty officiating counted on the scoreboard.
He's been in the right place twice on limited attempts, and closed the deal both times. Sevyn being a registered six offender is a good omen for the Ohio State side of the ball that hasn't been doing much scoring as of late, and hopefully the defense and the Score Team (that's what Buckeye special teams used to be called!) can get back into the endzone with more regularity.
Thanks for getting Situational today. Go Bucks. Beat Penn State. Take care of each other.