If you were eager to see what freshman quarterback Jack Miller could do for Ohio State, you probably enjoyed seeing him run for a touchdown on the Buckeyes' final possession of Saturday's 52-17 win over Nebraska.
If you had money on the game hitting the over, you were certainly happy to see Miller cross the goal line with just 18 seconds left to play.
After Ryan Day had a few minutes to think over how the game ended, though, he regretted allowing Miller to score on that play, coming to the conclusion that he should have instructed his backup quarterback to take a knee and run out the clock instead.
"I just want to say it publicly and I'm gonna text (Nebraska coach Scott Frost), at the end of the game there, if I could do that again I would have taken a knee," Day said after the game. "I feel bad about that at the end of the game. I had a younger quarterback in the game, and I didn't feel like we had the personnel to take the knee, and I probably should have done that. So I just want to publicly apologize for that to Scott."
Did Day really owe Frost an apology? That's a fair question. It wasn't as if Ohio State was aggressively throwing the ball to the end zone. Nebraska just didn't stop runs by a freshman quarterback seeing his first collegiate playing time, and a walk-on running back (Xavier Johnson). But Nebraska's decision to take a timeout with just three seconds left on its subsequent meaningless possession suggested Frost might have taken the touchdown the wrong way, and Day said during the week that he has "always had a lot of respect for Scott."
Ohio State could have had reason to be upset with Nebraska, too, after several questionable high hits by Cornhuskers defenders in the second half, including two that led to targeting ejections and another that knocked Buckeyes wide receiver Chris Olave out of the game. Day said after the game, though, that he did not believe those hits came with any intent to injure his players.
"I know Scott, and I know the guys on the defensive staff, I know that they would never teach that," Day said. "There's some tough spots in there. We certainly know and understand it from last year. Had our own share. But when it's going fast and you're trying to make decisions on how to get a guy down, it's hard. I'd be shocked if there was any malintent there. I think it was all just the speed of the game. 
"When you slow it down, sometimes it looks a little crazy. But at the same time, understanding you gotta protect the players, and that's part of this right now, which isn't easy at times."
As for Olave, who did not return to the game after taking a shoulder to the head from Nebraska safety Deontai Williams – one of the players who was later ejected – Day indicated that he believed Olave would be fine, though he didn't know yet what Olave's status might be for next week's game at Penn State.
"He seemed good," Day said. "He was in good spirits. Had a good look in his eye. And that's all I really know at this point. So we'll kind of see what happens tomorrow morning."
"It's a miracle"
Ohio State defensive tackle Haskell Garrett narrowly avoided tragedy on Aug. 30 when he was shot in the face while attempting to break up an argument. At the time, whether he'd be able to play football this fall seemed simply unimportant, as he suffered what police described as a "through and through gunshot wound" to his cheeks and had to undergo surgery to repair his teeth and tongue.
But even while he was still recovering from those injuries, Garrett never stopped working. According to defensive coordinator Kerry Coombs, Garrett kept coming into the Woody Hayes Athletic Center and meeting with defensive line coach Larry Johnson even while he still had stitches in his face and was unable to do anything physically.
That hard work paid off on Saturday, less than eight weeks after the shooting, when Garrett was not only able to play in Ohio State's season opener, but saw extensive playing time in the defensive tackle rotation and recorded the Buckeyes' first sack of the season.
Coombs couldn't have been prouder of Garrett.
"I hugged Haskell in the locker room after the game and I said, 'This is a miracle,'" Coombs said. "It's a miracle. This kid was shot in the face, and I don't know how many days ago it was, but it wasn't that long ago, and he just never gave up.
"I'm not gonna tell you how he played, I don't know that until I watch the tape, but I know having him on the field was a difference-maker for the Buckeyes. And so in every way, shape and form, you can't undervalue the impact that that has on his teammates and the defense in general, and how he got back on the field in such a short period of time."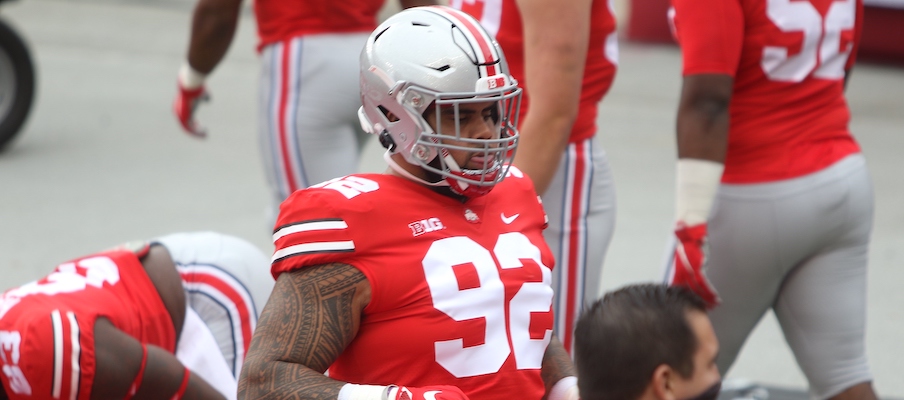 At a position where Ohio State had major depth questions entering the season, the Buckeyes primarily leaned on a rotation of four players on Saturday, with Tommy Togiai and Jerron Cage at nose tackle and Antwuan Jackson and Garrett at 3-technique. With Taron Vincent still working his way back from a shoulder injury and Jaden McKenzie also sidelined by an undisclosed injury, Day was glad the Buckeyes were able to have Garrett back on the field.
"To have him there was a huge boost to the inside guys," Day said. "His experience and his ability, it was great to have him in there."
14 players make Buckeye debuts
While Ohio State didn't lean on any of its true freshmen to play huge roles on Saturday, nine members of the Buckeyes' recruiting class of 2020 did make their Ohio State debuts in the season opener.
The standout among them, certainly, was Jaxon Smith-Njigba, who rotated in at slot receiver behind Garrett Wilson and caught two passes, including a toe-tapping one-handed grab at the back of the end zone for a touchdown in his first game as a Buckeye.
WHAT A TOE TAP BY @jaxon_smith1

The @OhioStateFB Freshman WR comes up with a big TD for the Buckeyes! pic.twitter.com/2pnGD86fVR

— FOX College Football (@CFBONFOX) October 24, 2020
Julian Fleming also saw his share of playing time on Saturday, taking Olave's place in the lineup after he left the game, and gained 13 yards on his first career catch. Fellow freshman receiver Gee Scott Jr. also saw playing time on offense in the fourth quarter, but did not record a catch.
Other freshmen who played at least one snap on Saturday included Paris Johnson Jr. and Luke Wypler, who were both on the second-team offensive line blocking for Miller at the end of the game; Ty Hamilton and Darrion Henry-Young, who saw playing time on the defensive line in the fourth quarter; and defensive backs Lathan Ransom and Ryan Watts. Henry-Young recorded his first career sack on Saturday, while Ransom and Watts also each recorded a tackle.
Graduate transfer running back Trey Sermon also made his debut on Saturday, rushing for 55 yards on 11 carries and catching one pass for seven yards. Third-year wide receiver Kamryn Babb, who missed his first two years at Ohio State with knee injuries, and second-year defensive back Ronnie Hickman, who missed his first season as a Buckeye with a torn ACL, made their first game appearances for Ohio State, as well. A pair of walk-ons also saw their first playing time on Saturday: wide receiver Chris Booker, a former member of Ohio State's club football team, was on the kickoff return unit, while walk-on tight end Patrick Gurd also got on the field, according to Ohio State's participation report.
Day said he'd have to watch the film before he could evaluate how any of them played, but he was happy that all of them were able to get some game action.
"I'll watch the film, but certainly Jaxon made that big play in the back of the end zone, and it was good to get Julian out there, get his feet wet," Day said. "It was good to get Trey Sermon out there, get some carries, it's the first time he's run the ball live in a long time. And then there was a bunch of guys at the end that were able to get in there and just kind of get going. But we'll look at the film and see where those guys can start to help us."