They did it. We did it. You did it! This weekend the Buckeyes finally graduate from the longest offseason ever.
Only SMU waited more time between football games - and that was because it earned two years' worth of death penalties in the late 1980s. Ohio State and its B1G colleagues slogged through a 35-day sentence before paroling themselves last month into the limited work-release program that begins Friday night.
Now all they have to do is stay out of the corona clink, which hasn't been easy for some major programs already playing. Let's hope B1G's ability to insulate itself from outbreak is significantly better than its PR skill.
If we're allowed to enjoy just one damn thing in 2020, PLEASE let it be this.
Anxiety and contagion are still fogging up our lives, but we're getting football back for as long as we're all able to keep it upright. Self-care is vital; you don't need one more thing to stress you out this fall, so try to avoid dwelling on the usual historic mishaps embroidered onto your fragile psyche: Shawn Springs slipping. Ted Ginn's final collegiate play in Glendale.
Jeff Heuerman's missed block in Indy. Any one of 10 stupid things that happened against Clemson. We now enter a very short period where Someone Sneezed Near Chris Olave could join those nightmares, and it does you no good to think about that.
The only airborne threat your fragile mind should focus on involves what Justin Fields is going to spray all over 11 teams en route a January stadium celebration you'll get to attend from a safe distance.
If we're allowed to enjoy just one damn thing in 2020, please let it be this. Let's get Situational.
OPENING: PARALLEL UNIVERSE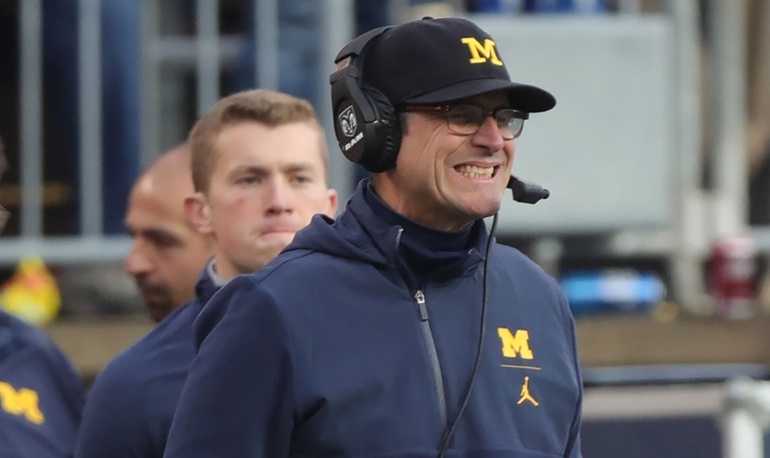 Three months ago this was Penn State week. We were all set for another glorious White Out.
Two months ago the college football world went conference-only, and this week switched:
Ohio State's newly released schedule includes Michigan on Oct. 24, no exceedingly difficult back-to-back games and eases them into action with Illinois and Rutgers. https://t.co/bkLN6OlUKc

— Eleven Warriors (@11W) August 5, 2020
This was Michigan Week for exactly six days. We would be red-Xing all of the Ms, right now.
But Michigan has since been rescheduled for what's normally Christmas Party weekend. Penn State is now next week. Nebraska became Ohio State's third opening opponent in the course of three months. Very normal procedure for a very normal year.
ESPN College Gameday will almost certainly take its awkward vacant roadshow to State College next weekend while the guy responsible for recruiting half of Ohio State's roster will be in attendance with his Fox Sports studio colleagues in the Horseshoe on Saturday.
OHIO STATE'S seniors can become the first ever to pull off a four-year sweep of the conference's other winningest programs.
Imagine being told of what you just finished reading, back in July 2018. Boring, routine and normal has never sounded sexier than it does in 2020. If you miss boring, routine and normal as much as I do, then I have great news for you: Ohio State beating Nebraska, Penn State and Michigan in the same season is boring, routine and normal. We're back, baby!
This year's seniors can become the first Buckeyes ever to pull off a four-year sweep of the conference's other winningest programs. It all starts by denying the third opening opponent of the past three months its 903rd program win on Saturday.
Unless it gets rescheduled for a fourth time. Relax, that won't happen. I think.
INTERMISSION: THE SOLO
If you heard the name Bruce Dickinson anytime between 1981 and 2000, chances are you would have thought of Iron Maiden's lead singer.
But hearing it since then makes it more likely that you'll think of Christopher Walken pretending to be Blue Oyster Cult's producer on Saturday Night Live. For a hot minute, this week's solo was going to be the cowbell played by Gene Frenkle, portrayed by Will Ferrell. Frenkle was not a member of Blue Oyster Cult. I don't think he was a real person. However, the cowbell in Don't Fear the Reaper was real as hell.
That said, it made more sense to showcase one of the greatest metal guitar solos of all time, which you can enjoy in the video above starting around 4:45 that also features Non-Walken Bruce Dickinson. Let's answer our two questions.
Is the soloist in this video actually playing the guitar?
That's Adrian Smith, who - kind of random - shares a name with a girl I dated in high school. Adrienne couldn't play the guitar at all. Adrian has talent in Eddie Van Halen's orbit but Maiden is neither as radio or MTV-friendly as Eddie's band was. Eddie had David Lee Roth on lead vocals - one of the most recognizable and charismatic front men in rock history.
Adrian had Bruce Dickinson, whom you probably couldn't pick out of a lineup. Advantage: Eddie. VERDICT: Adrian shreds.
Does this guitar solo slap?
When you see Dana Carvey or Jack Black - or really, any comedian doing a bit on 1980s heavy metal - they're going to parody Maiden. Even Bill & Ted's Excellent Adventure had an Iron Maiden joke. That band is the definitive caricature of what the metal period looked and sounded like, and Megadeth and Metallica just aren't funny. VERDICT: Slaps *Walken voice* like gold-plated diapers.
THE BOURBON
There is a bourbon for every situation. Sometimes the spirits and the events overlap, which means that where bourbon is concerned there can be more than one worthy choice.
Never thought we'd experience a Limited Release College Football Season, but here we are. You might think there's no way there's a bourbon for that and as usual - you're wrong! There's a bourbon for every situation, and a Limited Release college football season demands a Limited Release bourbon.
Penelope Rosé Cask Finish is so limited I was only able to secure a 100ml sample from the distiller, who could not have been more gracious to supply product to *checks bourbon resumé* a long-time whiskey critic for an unconventional albeit heavily-trafficked online sports publication.
I'll take what I can get. Kind of like this B1G schedule.
Founder Mike Paladini told me Penelope is fast-tracking Batch 2 already, which if you're into demand indicators - that's the definitely good kind. But is it the novelty of the process or the actual product driving it? I was excited to find out.
Penelope, whose four grain offering I mentioned last week took that mash bill and finished it in discarded French Grenache rosé wine casks from the Languedoc-Roussilon area of Rhône, which is a) the southern French region you should see once before you expire, and b) where the best rosé in the world is made.
Penelope went to the region and personally selected its rosé casks. Fun reason to visit France.
I poured PRCF over a large cube - I just don't think rosé anything should be consumed neat - and found it fruity and floral from the nose to the palate. It picked up a nice creamy heat and light oak essence from taste through finish. Rosé casks aren't charred like bourbon barrels are but there was no real contrast, just a deep and satisfying texture.
I wanted to keep tasting and exploring it, and I plan to once I get my hands on more than a 100ml sample. I found PRCF superior to other wine-finished whiskeys I've enjoyed recently (Angel's Envy/port, Jeff Reserve/cabernet, Yippee Kip-Yay/syrah to name a few).
Do I want a whole bottle? Would I prefer a full B1G football schedule? Yes, and yes.
CLOSING: RYAN DAY IS STEELY-EYED MISSILE MAN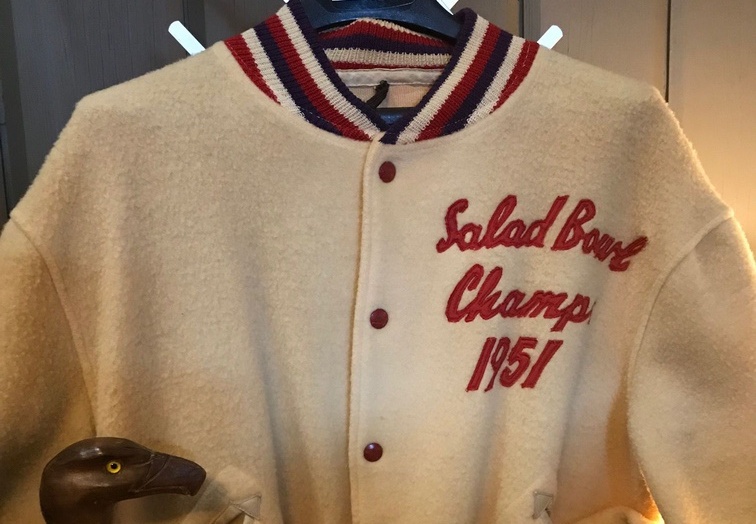 Ryan Day's tenure has violated the natural flow of space and time. It's unlike anything else.
We're only entering his second full season as governor Ohio State's head coach, and he's 16-1 already. The math was always going to be funny on account of the reigning B1G Coach of the Year's (!) three-game stint in 2018, but 16-1 after one full season is hard to reconcile in any era.
Day won't officially shed his rookie head coach label until the Buckeyes take the field on Saturday. Seventy years ago this month Wayne Woodrow Hayes shed his while coaching Miami in Year 2. He that chance in 1949 after building enough resumé at Denison to be considered. Day didn't do time leading a tiny program. His tenure really is unlike anything else.
Woody's then-Redskins finished 9-1 in Year 2, winning the MAC, getting the coveted Salad Bowl bid and running it up on a 9-1 Arizona State team that had been outscoring its opponents 383-120. They barely celebrated their Salad Bowl championship in Oxford when Columbus came calling, and 70 years later Day now walks past Hayes' statue on his way into the office.
He was not on Ohio State's radar as an Urban Meyer successor even two summers ago. Now the big question as he enters his own Year 2 is if he's as great as his teams have played and his staff has recruited, or if he's merely benefiting from tailwinds his Hall of Fame predecessor generated over one of the greatest decades in program history.
We'll find out shortly. This abbreviated 2020 slate could end up giving Day a more normalized 28 games over two full seasons. Space and time will have slowed down just enough to catch up with what he's done thus far. It would be the first ordinary element of his extraordinary tenure, and it took a plague to make it almost normal. 2020, man.
Thanks for getting Situational today. Go Bucks. Beat Nebraska. Take care of each other.