Ohio State's fastest defensive lineman and most skilled quarterback hunter is named Chase.
Its new quarterback will rack up several thousand yards this season, and he is named Fields. The gutsy linebacker who played through an Achilles rupture last year is named Tuf. And then there's Mack, who Returns from the injury that prematurely ended his junior season. These names are all just a little too on the nose.
But there's also a 6'5" behemoth right tackle whose French surname translates to Little Brother as well as a kid named Sevyn who wears 15. Sevyn scored six against the Wolverines last November. Any name you make for yourself with the Buckeyes will overshadow the one printed on your back.

As the 20th century drew to a close Ohio State's roster had a King, a Queen and a Bishop on the board. It was the twilight of John Cooper's Reload vs. Rebuild zenith, ushering in the current era where the Buckeyes can walk and chew gum at the same time with entitled regularity.
In simpler terms, the current Buckeyes have been recruiting and producing elite talent, beating Michigan, winning the Big Ten and their postseason games - all at the same time! Back then, no matter how Coop arranged his chess pieces he always found himself on the receiving end of a checkmate. Doing it all has been our expectation for generations, but ever since Coop it's been a recurring reality.
the caretaker of Ohio State's darkest era since WWII has been in the College Football Hall of Fame since 2002.
The program in 2019 steps away from Urban Meyer's 83-9 stretch, which followed Jim Tressel's 106-22 run, Coop's own 111-43-4 mark, Earle Bruce's Big Ten best 81-26-1 and Woody Hayes' 206-61-10 school record. In simpler terms, the non-interim caretaker of Ohio State's darkest era since WWII has been in the College Football Hall of Fame since 2002. All his peers are in as well, or just waiting for induction.
No program in the country has welded the past 70 years of coaching eras together like this.
The new coach - Ohio's first import from beyond state lines since Coop - is named Day. He is uniquely positioned to have the best inaugural season in program history, which is remarkable considering his former boss went undefeated in his. If Ryan Day wasn't up to matching and surpassing all of those enshrined legacies he wouldn't have sprinted toward the opportunity.
The Big Ten has never had an outright three-peat football champion. So, like their head coach, Nicholas Petit-Frere and that kid named Sevyn, the 2019 Ohio State Buckeyes are also uniquely positioned to make a name for themselves.
Welcome back to college football season. Let's get Situational!
THE TRANSITION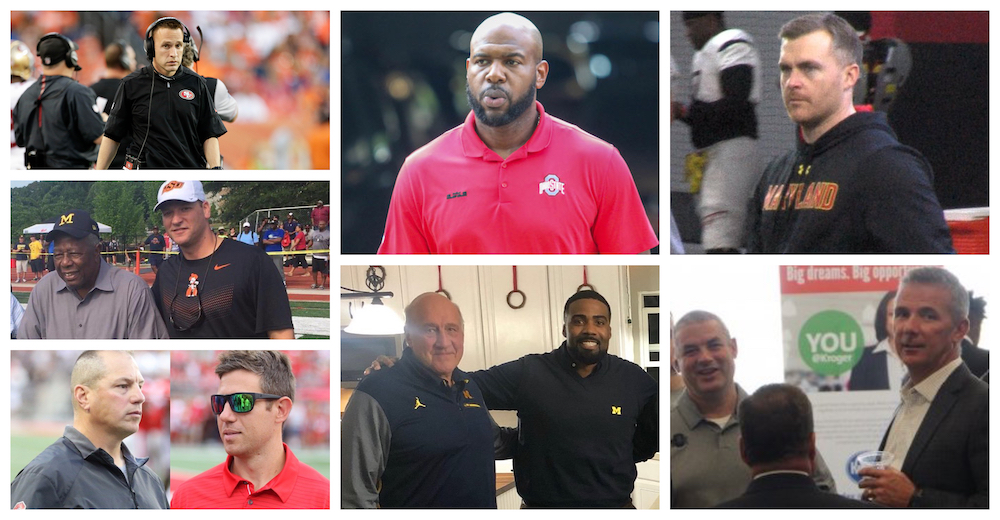 Ryan Stamper is one of only eight two-time captains in Florida Gators history. He won two national titles in Gainesville, graduated and then he couldn't land a job - he didn't really know how to. Stamper was a cop in Florida when Urban Meyer contacted him and asked if he'd be cool with moving to Ohio in 2012 to get into the coaching business.
Ohio State's Real Life Wednesdays program was basically molded for guys like Stamper, the model student-athlete for whom the NFL wasn't a reality. He enters Year Eight in Columbus but Year One with a new boss. The same goes for Meyer hires and long-time trusted confidantes Mark Pantoni, Brian Voltolini and program backbone Mickey Marotti.
Kevin Wilson, Larry Johnson, Tony Alford, Greg Studrawa and Brian Hartline return to coordinate and run their respective position rooms, so this era begins with anything but a fresh start. Alex Grinch (we hardly knew you) Best Friend Greg Schiano and Best Man Bill Davis are no longer around.
Every single assistant on the 2019 staff is a flight risk, which speaks to the top-to-bottom competence of what Ryan Day has built.
Day replaced himself and those guys with Greg Mattison, whom Meyer unsuccessfully tried to recruit back to his staff in 2012, Al Washington, Jeff Hafley, Mike Yurcich and Matt Barnes, who are - to a man - both proven and unencumbered by non-football relationships with their boss.
The new guys are a combination of high risers and reliable teachers. No one is on this staff as a personal favor, and every single coach is a flight risk. It's hard to find a healthier mix of merit, familiarity, freshness, foundation and innovation in program history - and that's not hyperbole. Bruce's first staff in 1979 retained Woody holdovers like Glenn Mason and Bill Myles and paired them with exciting new hires like Bob Tucker and Pete Carroll. That worked out pretty well.
By the way, the guy in the Michigan hat pictured above with Yurcich is baseball legend Hank Aaron. Good Lord, we have got to start treating our senior citizens better. Shameful.
THE 1980s SAX SOLO INTERMISSION
The Situational is now in its eighth season at Eleven Warriors. Only the Skull Session and Five Things have been around as long. Unfortunately, whenever a series goes on longer than it should, its writers are forced to introduce cheap gimmicks to keep viewers interested.
This is why every good TV show that turns into a cash cow ends up writing a big wedding or a baby into the storyline. We don't do weddings during football season, so that's out. And babies are fine, but none of us are pregnant at the moment. So we're bringing in some saxophones and a time machine. 
You'll quickly notice that everyone in the Hungry Eyes video above is way too aroused. We will now answer the important questions about this 80s artifact even though nobody asked.
Is the soloist in this video actually playing the saxophone? 
Her fingers are not moving. Unlike Michigan's Revenge Tour, saxophones do not play themselves. We can conclude that she is not actually playing the saxophone.
Does this saxophone solo slap?
Hungry Eyes was one of the thirstiest songs of the decade, from one of the thirstiest movies of all time. Thusly, we rate the sax solo from Hungry Eyes as: Slaps Hard.
THE BOURBON
There is a bourbon for every situation. Sometimes the spirits and the events overlap, which means that where bourbon is concerned there can be more than one worthy choice.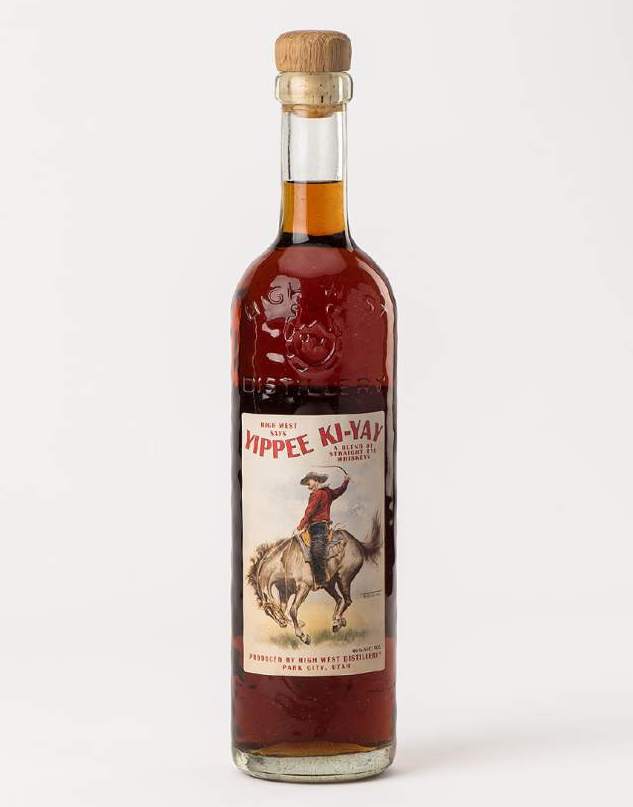 And sometimes it's a rye. Whoa, did The Situational just write a rye gimmick into Season Eight? Little bit.
You should think of worthy non-bourbon whiskeys as Joanie and Chachi entering the storyline. Vodka showing up here would be like putting Fonzie on water skis. Approximately 17% of readers will get this reference.
Yippee Ki-Yay is a rye from reputable bourbon purveyor High West, and its name is reminiscent of everything from cowboys to John McClane to the feeling at the start of a new college football season, the last of which is why we're talking about it today. Yippee's primary bourbon disqualifier is that it's light on corn. There's no reason to be bourbon-uppity toward a good rye. Joanie and Chachi were adorable in their prime but they were never the raison d'être, and everyone knew it. This is how rye works as well.
Yippee is a rye blend aged in bourbon-required charred English oak barrels and finished in secondhand French ones originally used to age vermouth and Petit Syrah. The result of the blend and finish is something kind of like Cinnamon Toast Crunch, but boozy and fruity. It's not a conventional rye, and this is not a conventional football season.
Even if you're bourbon-uppity, you'll like this enough to admit you were harsh. Yippee Ki-Yay.
SAY SOMETHING NICE
Psyched to binge-read todays mail. Expecting the highs and lows to hit me differently pic.twitter.com/QOt2aaK8b2

— Ramzy Nasrallah (@ramzy) July 24, 2019
Ohio State and Michigan are on opposite sides of the greatest sports rivalry. Consuming Buckeye content is like fuel. Consuming Wolverine content, as a result of its position in Ohio State's orbit, should contain, at worst, a burst of energy. To wit, I've read everything John U. Bacon has ever written and I've never been bored or disappointed.
Overtime is not a linear journey through Michigan's 2018 non-championship season, but it contains the entire trip. Bacon has layered in non-chronological elements ranging from Jim Harbaugh's childhood to the recruiting paths taken by Michigan's 2018 stars to Ann Arbor. From the latter you'll learn Rashan Gary turned down $300K in bagman money to attend Michigan on a scholarship. You'll also read firsthand how Shelley Meyer might be the reason childhood Buckeye football enthusiast Chase Winovich became a Wolverine instead.
Sprinkling character profiles into the storyline of the Wolverines' 2018 campaign produces a quick and captivating read - even if your position in Michigan's football orbit is as an Ohio State fan, because you already know how the story ends and SPOILER it's 62 shades of g l o r i o u s.
Overtime is kind of like the Titanic movie in that you already know before you see anything that an iceberg, a great ship and dripping hubris are destined to meet at midnight. It's just a lot more romantic and inspiring than when 1,500 people died in the North Atlantic back during the golden era of Michigan football.
One element that's inescapable from any of Bacon's books, Overtime included, is Harbaugh is a lifer. While an 0-4 start against the Buckeyes isn't ideal (note: to them) it's not a dealbreaker. Harbaugh is not Coop on loan from somewhere else, which means he isn't going anywhere - whether he's 0-4 against Ohio State or 0-14. *rubs genie lamp that looks like Ryan Day's head*. Overtime comes out Sept 3 and is available for pre-order here.
Thank you for getting Situational today. Go Bucks - and welcome back, college football.