Mike Tomczak would be the only quarterback in Ohio State's 1981 recruiting class.
Earle Bruce had assured him. It was a flattering offer for an Illinois prep star who grew up idolizing Bo Schembechler and the Michigan Wolverines. The Buckeyes were three years removed from the Woody Hayes era and had not slipped from their perch in the Big Ten's elite tier under the legendary coach's successor and former assistant. 
Their alumni were still all over the NFL. Columbus wasn't too far from Chicago either. Tomczak was intrigued.
So he committed to Ohio State to play for Bruce, and Michigan would no longer be his favorite college football program. The greatest football player Thornton Fractional High School in Calumet City has ever produced signed his letter of intent, on a day when Ohio State would also sign four other quarterbacks.
Only then did Tomczak learn there were five quarterbacks in his recruiting class.
He picked up the phone and called Earle to ask him about that promise he had made him during his recruitment to be the only quarterback in the class.
"You are the only quarterback in the class," Bruce assured him. "The only quarterback from Illinois."
---
Woody punched Charlie Baumann on a Friday night. Ohio State fired him on Saturday. 
The Sunday morning sunrise revealed red-letter stickers fans had applied to the doors of St. John Arena overnight that spelled out IT'S GOTTA BE LOU. 
Monday was New Year's Day. Amid the shock of The Punch and the disappointment of losing to Clemson was a sense of calm: replacing the irreplaceable could be done.
The Buckeyes had lost the de facto Big Ten championship game to Michigan in each of Hayes' final three seasons while scoring a total of nine points against the Wolverines. This was the silver lining from The Punch. It's better to burn out than fade away. Ohio State would get to hand all of its immense resources and tradition to someone who could give it a fresh start.
The program was still quite strong; it just wasn't winning marquee games or beating Michigan like it used to. The Buckeyes' lone bowl win in those final three seasons came against Colorado at the expense of former Hayes assistant Bill Mallory, who himself had just been fired.
Mallory was a "candidate" to replace Woody in Columbus, as were former players Bo Rein and Rudy Hubbard and current staffers George Chaump and George Hill. They were all "candidates." Washington legend Don James was a candidate.
The other candidate everyone wanted and expected to take over was in Hawaii coaching the Arkansas Razorbacks in their bowl game. His name was already spelled out in red-letter stickers on campus. But Lou Holtz quickly removed himself from consideration, saying he did not want to be the coach burdened by having to follow Woody Hayes in Columbus (but would gladly follow whoever followed him). 
Elton Wieman took over for Fielding Yost and lasted two whole seasons. He's barely a footnote in Michigan football history.
Iowa State's head coach ended up being the coach ran into Woody's shadow. Bruce had turned the Cyclones into an annual eight-win contender in the Big Eight, which put them in Nebraska and Oklahoma's neighborhood. He was punching up in Ames.
Bruce had left Ohio State to begin his college head coaching career three seasons into the 10-Year War. He described the Ohio State job as the pinnacle of college football. He wasn't afraid of anyone's shadow; the circumstances surrounding the vacancy weren't all that important to him. Being brave is easy if you want something badly enough.
So Bruce left Ames and ran back to the Graveyard of Coaches. Following a legend in college football coaching usually does not go well, as Holtz was well-aware. Elton Wieman took over for Fielding Yost and lasted two whole seasons; he's barely a footnote in Michigan football history. Harvey Robinson matched Wieman's brief tenure when he succeeded Robert Neyland at Tennessee. You have never heard of him.
Hunk Anderson took over for his friend, the late Knute Rockne at Notre Dame, and lasted only three years. Ray Perkins spent four seasons in Bear Bryant's shadow before leaving Tuscaloosa. Frank Solich got six years in Lincoln after Tom Osborne retired. 
Nebraska has been churning through coaches ever since. Minnesota still hasn't figured out how to replace Bernie Bierman and it's been almost 90 years. Those shadows will swallow coaches whole. Escaping them requires more than just beating other teams; the new guy has to also reinvent what's basically a monarchy in his own image. The shadow peels away.
It rarely happens, and it's kingdom-dependent. Kirk Ferentz taking over for Hayden Fry is a notable example, but Columbus wasn't and isn't Iowa City. The guy brave enough to run into Woody's shadow would have to do two things - 1) win games (especially the last two) and 2) remake the throne.
If Earle was unsuccessful in Columbus, he would be run off campus like every other football coach including his former boss. And he would be sacrificing both himself and his career - while doing ambitious coaches like Holtz a favor - by putting just enough space between all of them and Woody's shadow.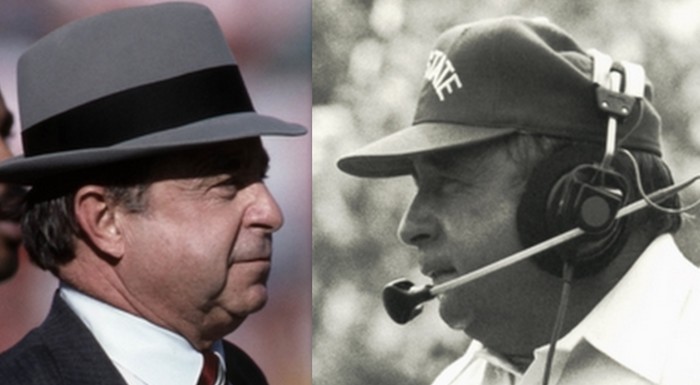 Iowa State has won eight games in three consecutive seasons only once in its 122 years. 
That happened in Earle's final three seasons there, and the streak ended when he left for Ohio State. Eight wins triggers a parade in Ames. Eight wins gets you fired in Columbus. Earle knew the Buckeyes had to win more than eight games a year.
So Nine and Three became the new normal during his Ohio State tenure, a decade when the Little 8 returned from Big Ten oblivion. Fry had elevated Iowa in much of the same way Bruce had transformed its in-state rival. Illinois ran the table in 1983. The 1987 de facto Big Ten championship game took place when Michigan State played Indiana for the Rose Bowl berth. 
Northwestern was still Northwestern, Michigan was still Michigan and Ohio State was still Ohio State - but every other program took at least one step forward during the 1980s. Nine and Three didn't feel like a step forward in Columbus, even though the Buckeyes were beating Michigan with pre-decline Woody frequency and winning bowl games.
Getting out of that shadow required winning games (especially the last two) and remaking the throne. Earle had done nothing to erase the memory of the old man who still took walks around Upper Arlington, literally right down the street from where the Buckeyes played on Saturdays.
Earle wasn't being measured against Woody in Decline. He was expected to be Woody at his peak - in titles, in the national conversation, in caricature, in everything. Woody is what Ohio State's football coach looked like. The team won new fewer than nine games in each of his first eight seasons, but that shadow and standard remained. Woody was larger than life, whereas Earle looked like every other college football coach in the country.
So for his ninth season, he lost weight and changed his sideline decorum from Typical Coach's Closet to All Business. But fans still hated the offense. They didn't hang on his every word the way the world got quiet whenever Woody spoke. They said he lacked charisma and presence, and they were right - Bruce was always more of a servant-leader than a monarch, which made him a bad fit for Ohio State, which is and will always be a monarchy.
Ultimately, he gave too many important people with too much influence and way too much money too many reasons to unhappy. It's why his firing from Ohio State was so ham-fisted, which ironically altered the lens to how history viewed his tenure. Nine wins every season. No Big Ten team had a better record during his tenure. Beat Michigan. Won bowl games.
That's pretty damn good, especially in the Mythical National Championship Era and when you also consider Ohio State beat Michigan twice in 13 tries after he was fired. But everyone was too busy complaining about his run-run-pass-punt offense and sideline appearance to notice while he was coaching.
He had to leave for everyone to realize what the rest of the country knew: Woody was gone. He was not going to return, either. That shadow was holding Ohio State football back more than Earle's offense ever did.
---
Tomczak ended up winning the quarterback competition in 1981 that gave him the starting job in 1982 after Art Schlichter exhausted his eligibility. He would be following a four-year starter, who was both Woody's last quarterback and Earle's first. That meant there were two shadows in 1982; a new one in the backfield and the one on the sideline that never faded.
He threw the interception against Stanford that September which allowed John Elway to take the field and lead the game-winning drive in the Horseshoe. The chant as fans trickled out of Ohio Stadium was Bring! Back! Woo-dy! It was Earle's fourth season back in Columbus.
Tomczak lost his starting job and the Buckeyes ended up losing three straight, but the only quarterback from Illinois in the 1981 recruiting class got his job back the next month and Ohio State didn't lose again that season. He started for the rest of his career, graduated and then repaid his scholarship back to Ohio State, thankful for the opportunity Bruce and the school gave him. His roommate Jim Lachey did the same thing.
Woody preached the practice of paying forward. It's part of his brand; it also happens to be the essence of what Earle preached to his players and coaches. He just didn't do so into a microphone, or particularly enjoy giving speeches and making appearances. The testimony comes from his former players and their actions.
Some of us are Buckeyes for life because of where we grew up. We didn't choose this, it chose us. Tomczak is a Buckeye because of Earle. He credits that decision for giving him a lifetime of friends and opportunities. There are countless players and coaches who were influenced by a guy Ohio State ran out of town for not being enough like someone else.
The coach who ran into Woody's shadow did more for the program than people will ever realize, despite failing to be larger than life during what was still a Hall of Fame career. He was stubbornly his own man, despite pleas for him to be more like someone else. Former assistants like Jim Tressel, Urban Meyer, Mark Dantonio, Pete Carroll and Nick Saban are defiantly who they are. It's exhausting to be someone else.
Earle figured that out long before Ohio State fans ever did. Be yourself. Pay forward. That's a shadow we can all get behind.

Donate to the Earle and Jean Bruce Alzheimer's Research Fund in Neurology at OSU here.