Secondary coach Jeff Hafley uses NFL experience and a calm demeanor in all areas of his role in the Ohio State coaching staff. That includes on the recruiting trail.
When Ohio State safety Jordan Fuller was in eighth grade, his brother Devin was being recruited as an athlete by Rutgers, whose secondary coach that year was Jeff Hafley. Fuller still remembers the in-home visit Hafley made to the Fuller house.
Now, eight years later, Hafley has weaved his way to Columbus, where he took over the secondary coaching position in January. He's made a big impact on the 2020 recruiting class in the six months since his arrival. Defensive backs Clark Phillips, Lathan Ransom and Lejond Cavazos and New Jersey linebacker Cody Simon – one of the first prospects Hafley reached out to after joining the Buckeye staff – are all now committed to the Buckeyes, helping push Ohio State's class to the No. 2 spot in the nation.
And in 2011, he almost had Devin Fuller (who ended up at UCLA), too.
"I met him my eighth grade year because he did an in-home visit with my brother. It's kind of crazy how he's my coach now," Jordan Fuller said. "My brother was about to go to Rutgers if they had stayed through signing day. I knew if my brother loved Coach Hafley as a recruiter, that everybody else would. I know Coach Day only hires the best kind of people for their jobs."
With his time with the San Francisco 49ers and growing up in New Jersey, Hafley brought recruiting ties to both sides fo the continental United States and immediately used them. Only two Buckeyes were from California when Hafley joined the staff, and now he's brought in Phillips while continuing to recruit Kourt Williams from the state. Ransom and Simon are also both credited to Hafley, while Cavazos recommitted to Ohio State after getting to know Hafley and Ryan Day. The new secondary coach was also at the center of the recruitment for Cameron Martinez, who could play either safety or wide receiver at Ohio State.
He's done these things without the luxury of a full recruiting cycle, which will change in 2021 – a class where he has already offered four California defensive backs and is developing a very close relationship with No. 2 cornerback Tony Grimes out of Virginia Beach.
A lot of the success he's found on the recruiting trail is based on the fact that he's level-headed on the sidelines and in living rooms, and he brings knowledge to a defensive backs room that few collegiate secondary coaches can bring, stemming from his seven years in the NFL coaching ranks.
"He's just real," Fuller said. "And you can tell, like if he cares about something, he truly cares. And he doesn't care about the fluff. He just cares about real relationships and just real facts. So his facts speak for themselves. He's a great guy and a great coach, very knowledgeable and just sitting down and talking with him, you can just get that feel. That's Coach Hafley. He's just the same guy all the time."
Ohio State fans have yet to see Hafley coach in an actual game in Ohio Stadium, but during spring practice with his own defensive backs and throughout summer camps in June, he worked in the same patient manner. Usually with a football in one arm, he directs his players or campers with the other, calmly and smoothly giving instruction. That demeanor doesn't change.
During the camps, he walked the outside of the sidelines slowly, on the fringes of the excitement, assessing players from afar and only approaching the field closer when he was looking to talk to the players he was watching.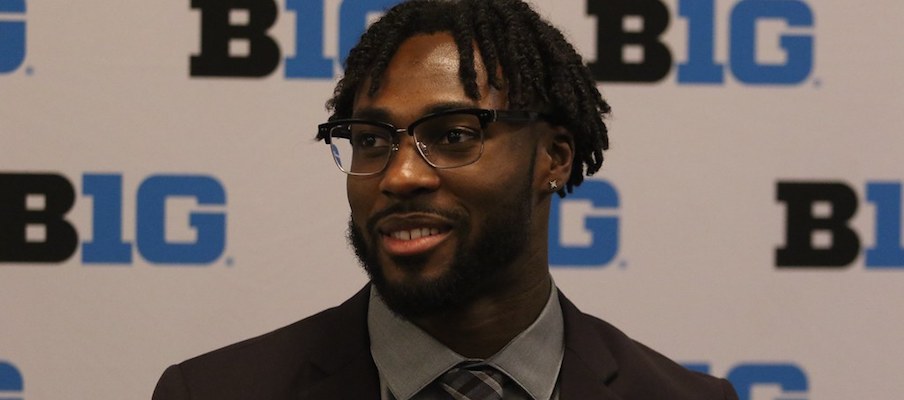 When Hafley is the coach or the recruiter, there is a clear feeling that he has the situation in control without smothering everyone else involved, and Fuller's explanation confirms the vibe Hafley gives in his coaching style.
"Any question I have, he has a great answer for," Fuller said. "He definitely listens to us as well. If we have a concern about something, we ask him about it and he asks us what we're thinking. It's not always that way with a coach. It could be, 'No, you're doing it my way.' Sometimes he'll let you do your own thing because it works best for you. He's also giving the leaders ownership in the room. We don't feel like we're being talked at. We feel like we're all a part of it together."
Since Fuller was already at Ohio State when Hafley arrived, the secondary coach didn't need to recruit Fuller – he needed to make a good first impression. And he did.
Fuller said all he knew about Hafley was that he was a good person and could develop good relationships with his players, but now he is one of those players and finds himself learning from the wealth of NFL experience that Hafley brings.
"I know after being in the NFL, all he did in his free time was watch tape," Fuller said. "He was watching tape of the best in the world do it. I'm just a sponge when I'm talking to him. I know a bunch of the DB's are too."
None of this is a surprise to Day, who worked with Hafley in San Francisco. He brought him onto the staff knowing the potential he would bring in recruiting and in coaching. Hafley still remains unproven in terms of translating his coaching and recruiting to the field, though he has coached Richard Sherman and Joe Haden in the NFL. But Day saw how Hafley could help the program in recruiting, and he has a vision of Hafley translating that to the field, as well.
"Jeff has always been a tremendous recruiter," Day said. "People ask me if he can recruit, and I think that is one of the best things that he does. Now, because he was in the NFL, I think seven years, people don't know that. But when he was at Pitt, when he was at Rutgers, he was one of the best recruiters in the entire country. He was recruiting some of the best players to those schools. I knew that about him from a long time ago, and when we worked together at the 49ers, I told him that he was going to be an unbelievable head football coach someday. I believed in him from the get-go."