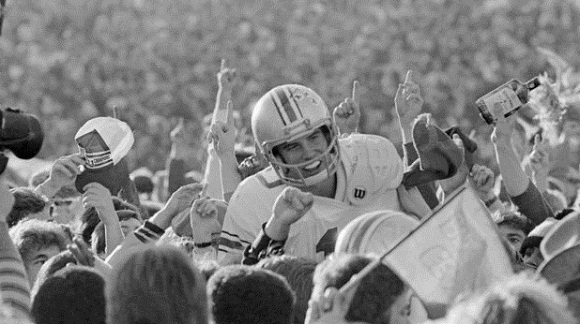 It would be difficult to describe the anxiety of Ohio State fans at the end of the 1978 season. Their legendary head coach had just been forced to resign after punching an opposing player on national television. Their team had just lost a bowl game to an inferior team, leading to the aforementioned event. They had lost to their arch-rivals for three straight years and had not scored a touchdown in any of those games. 
Hiring a new head coach would ease the tensions a bit, but not as much as expected. After all, the man who was hired to take over the helm of the troubled OSU program, then Iowa State coach Earle Bruce, was a relative unknown. More well known options like Lou Holtz (Arkansas) and Don James (Washington) were passed over in favor of Bruce. That first recruiting class would surely suffer as a result.
But a funny thing happened on the way to despair: Bruce's first recruiting class turned out to be pretty good. In addition to blue-chip running backs Tim Spencer and Kelvin Lindsey, he also grabbed two prospects who would become immediate starters: linebacker Marcus Marek and offensive lineman Joe Lukens. The addition of Lukens in particular was gratifying, since he hailed from high school powerhouse Cincinnati Moeller, a traditional feeding ground for Notre Dame.
Moreover, Bruce came in with a disciplinarian mindset that seemed to reshape the character of the team. Woody Hayes was still a fiery man in his later years, but his grip on the players had softened a bit. When Bruce, who had been a player and assistant coach for Hayes back in the 50s and 60s, came in as the new coach, things got quite a bit tighter. Most players observed that they had never been worked as hard by Hayes.
Another reason for guarded optimism was the development of quarterback Art Schlichter. Schlichter had been the most highly-heralded quarterback to come to Ohio State since Rex Kern, and the expectations for him were just as high. However, in his first season he had struggled at times while flashing his potential here and there. Bruce promised to bring a more open offense, with the passing game featured more prominently than it had been under Hayes.
Ohio State was not ranked entering the season, but that changed quickly as they reeled off victories. From a comeback win at UCLA to blowout victories over good Big Ten squads like Michigan State (42-0) and Indiana (47-6), the Buckeyes impressed the poll voters and by the time they prepared for their trip to Ann Arbor to play Michigan they were sitting at 10-0 and ranked #2 in the country.
Michigan had begun the season ranked #7 but losses to Notre Dame and Purdue pushed them down to #13. They also got a scare when they played Lee Corso's Indiana team, but they pulled out victory at the last minute and in the process a star was born. Freshman receiver Anthony Carter caught a 45-yard touchdown pass from quarterback John Wangler as time expired to break a 21-21 tie and send the Wolverines to a 27-21 victory.
That play would foreshadow more heroics against Ohio State, but a more ominous sign for Michigan fans was also visible: special teams breakdowns. Michigan had already had three punts blocked prior to the game against OSU, including one that led to the decisive touchdown in the loss to Purdue. Since the Purdue game was the week before Ohio State came to town, the bad taste of the loss was still in the mouths of UM fans, and it would linger for at least one more game.
After a scoreless first quarter, Michigan head coach Bo Schembechler decided to run a fake punt from his own 35. Punter Bryan Virgil's ugly pass was off the mark, and Ohio State took over from there. They failed to cash in on that mistake, but a few drives later they would get on the scoreboard. After starting tailback Calvin Murray left with a hip injury, backup Jimmy Gayle broke off two big runs to help drive the team down deep into UM territory. The drive would stall though, and they settled for Vlade Janakievski's 23-yard field goal to go up 3-0.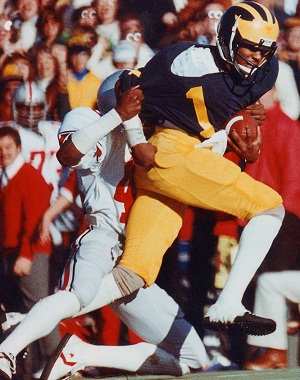 Michigan had surprised OSU by starting freshman Rich Hewlett at quarterback. Schembechler was concerned about Ohio State's run defense, and he wanted to have an option quarterback in the game to counter that strength. It backfired on the Wolverines' only serious threat of the first half. They had moved all the way down the field but faced a fourth-and-inches at the OSU one-yard line. Hewlett's option run was smothered for a loss by Marek and Al Washington and the Buckeyes took over from there.
Now trailing 3-0 at home with only 3:48 remaining in the first half, Schembechler went with back to Wangler, and he responded by tossing a 59-yard touchdown pass to Carter down the left sideline. Undaunted, Schlichter and the Buckeyes worked the two-minute drill to perfection, but again had to settle for a field goal as Janakievski booted it through the uprights from 25 yards out. The two teams went into halftime with Michigan leading 7-6.
UM started the second half with the ball, but the OSU defense stopped them cold, forcing a punt. This time Virgil shanked it, sending the ball out of bounds at midfield. With such good field position, Schlichter and company went to work, moving quickly down to the Michigan 19. From there Schlichter hit split end Chuck Hunter in the left corner of the end zone for a touchdown pass to put Ohio State up 12-7 (two-point conversion attempt no good).
They would not hold the lead for long. Starting from the UM 15-yard line, Wangler lofted a deep ball to Carter over the middle, which he caught and carried all the way to the OSU 19 (see picture at right). Seven plays later, UM fullback Roosevelt Smith scored on a one-yard plunge. Then Smith carried it in again for the two-point conversion to put the Wolverines up 15-12 with less than four minutes remaining in the third quarter. 
Ohio State quickly moved to retaliate on their next possession, as Schlichter hit junior flanker Doug Donley on a deep pass down the right side and Donley carried it all the way to the UM 15. But on the next play, Gayle fumbled it away to Michigan at their 10, and a great opportunity went by the boards. However, the OSU defense was not finished yet.
Michigan gained a couple of first downs, but afterward their drive stalled and they were forced to punt from their own 38. Knowing that this was a weak area, Bruce sent 10 players up to the line to rush the punter, and outside linebacker Jim Laughlin came through for the block, sending the ball bouncing backwards. Buckeye safety Vince Skillings attempted to catch the ball on a high bounce, but he collided with fellow safety Todd Bell and the ball went bouncing again. Bell grabbed it on the bounce at the UM 15 and scrambled into the end zone untouched for a touchdown that put Ohio State up 18-15 (the PAT failed, thus enabling my mother to win her office pool for the first time all season). 
There was still a lot of time left in the fourth quarter, but the Ohio State defense was now fully prepared for Carter's deep routes and they shut down that part of UM's attack. With no success on the ground, the Wolverines were forced to punt repeatedly until they gave it up to the Buckeyes with just over five minutes to go. From there the OSU running game, led by freshman Tim Spencer, worked their way down the field against the worn out Michigan defense.
UM finally got the ball back with less than 30 seconds left, but Wangler's desperation pass was intercepted by Marek and that was the ballgame. The Buckeyes won 18-15 to take the Big Ten title and secure a Rose Bowl trip. Unfortunately, their quest for a national title would come up short as they fell to the talented USC Trojans 17-16. Nevertheless, the 1979 season was one for the ages, and the win in Ann Arbor after three fruitless seasons was completely satisfying.
---
Enjoy this wonderful moment from the history of the world's greatest rivalry.