Welcome to the most excessively previewed season of Ohio State football in program history. It should be worth the wait!
Usually we look ahead during the wintertime, track the 85-man roster's movement and coaching shuffles in the springtime and then position battles in the summertime for a total of almost eight months without college football.
You know by now there is no such thing as usually in 2020. We've reached Month Ten of the offseason. Usually tested positive for COVID right around Valentine's Day and hasn't been seen since.
We had never formally previewed a football team for 10 months until this year. But informally - we actually preview several upcoming editions the Buckeyes many years in advance, and just about daily. Our previews even trickle into other conferences.
Check out this inadvertent Tennessee 2020 season preview from six years ago:
Depending on how this year's recruiting goes, Dwayne Haskins or Jarrett Guarantano could be Ohio State's QB in 2016. http://t.co/T20v1KmqMg

— Eleven Warriors (@11W) October 27, 2014
Haskins is currently earning $14.4M to not play for the Washington Football Team, which is amazing work if you can get it. Meanwhile, Guarantano and Ohio State mutually cooled on each other during his recruitment when this guy committed to the Buckeyes.
Hold that thought. Fast-forward four recruiting cycles:
#BOOM Michigan four-star quarterback Dwan Mathis flips commitment from Michigan State to Ohio State. https://t.co/14y46VKJYK

— Eleven Warriors (@11W) June 24, 2018
Mathis entered the Georgia-Tennessee game this past Saturday for one play as the Bulldogs' backup. Guarantano started and played the entire game for the Volunteers, where his record as a starter is now 8-17. That's two Ohio State Quarterbacks of the Future™, on opposite non-Ohio State sidelines years after their plans changed.
Cool. So how did Mathis end up at Georgia?
Dwan Mathis expects Justin Fields to transfer from Georgia, telling The Detroit News that Fields' absence from the roster is a reason why he signed with the Bulldogs. https://t.co/S55yFecED3

— Eleven Warriors (@11W) December 20, 2018
So Guarantano didn't come to Ohio State because Tristen Wallace said he was going to, but then didn't. Haskins did land at Ohio State but started only one season, creating an immediate opening. When Mathis flipped from Michigan State to Ohio State to Georgia to fill the gap he expected Fields to create, Brian Maurer - who was all set for Columbus - figured he needed to head elsewhere.
Maurer ended up in Knoxville and is now one of Guarantano's backups - so it was actually three Ohio State Quarterbacks of the Future™ congregating in Athens over the past weekend. And staying in Georgia, let's rewind four recruiting cycles and remember the Marietta tailback the Buckeyes were in hot pursuit of who unceremoniously deleted them from consideration:
The Hurry Up: Trey Sermon's top six excludes Ohio State and why that could be good news, Wesson decision day. https://t.co/DsW7ENa19k

— Eleven Warriors (@11W) April 12, 2016
Ohio State lost out on Sermon and ended up with JK Dobbins instead, who makes $5.7M to play for the Baltimore Ravens - amazing work if you can get it. So if you're keeping track - and of course you are - the Buckeyes now have a seasoned version of the guy whose top six they failed to make four years ago which created a sequence of events that landed them Dobbins. And now, a de-risked Sermon, too.
Recruiting is a perverse, time warped, non-linear, crystal ball with the added bonus of never tipping you off as to which team or season is being previewed until after it happens, sometimes six years later. Gypsy fortune tellers are less creepy and mysterious. College football is always in season preview mode. Ten months of waiting is a farce.
Crazy things happen all the time in this sport. Right?
"Dream quarterback"

"One of the most athletic individuals Ive ever seen."

"Best QB (recruit) in the world."

That's how fellow Penn State commits described Justin Fields as a 2018 class linchpin. Now they'll work to ensure he never wins a Big Ten title.https://t.co/H5gARffdrq

— Tyler Donohue (@TDsTake) January 4, 2019
Right?
Breaking: No. 1 overall football recruit QB Justin Fields commits to Georgia, per @RadiNabulsi pic.twitter.com/DBuv59YUCo

— Bleacher Report CFB (@BR_CFB) October 6, 2017
R i g h t ?
Patiently Waiting. pic.twitter.com/fyslTuaY8K

— Justin Fields (@justnfields) October 5, 2020
Damn right. We've been so patient. Welcome back to Ohio State football. Let's get Situational.
OPENING: PARALLEL UNIVERSE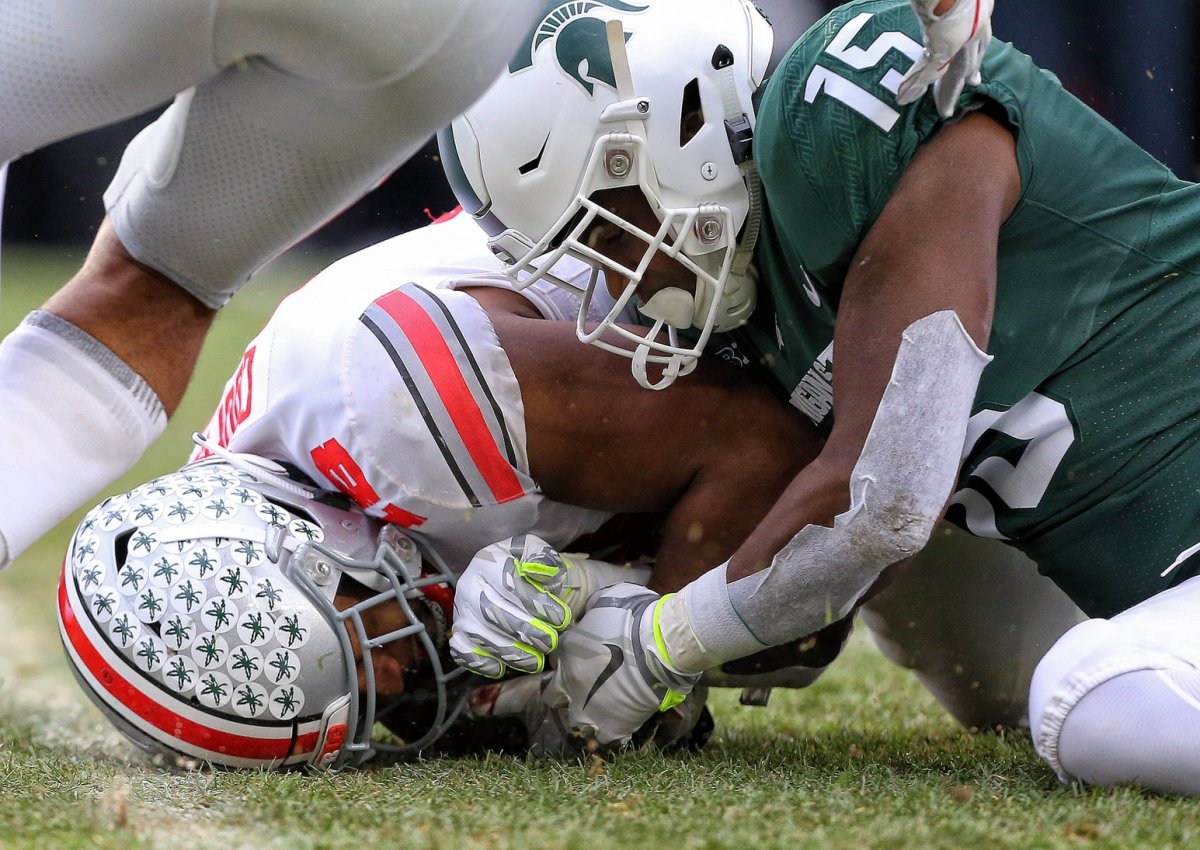 Ohio State's first and second schedules (RIP to both) each featured East Lansing visits this weekend. The Buckeyes would be coming off a long-awaited reunion with Iowa in the Horseshoe before heading north. This was a bit of a Danger Zone-y spot on Earth 2.
Spartan Stadium is the spookiest B1G venue the Buckeyes seem to clear with bizarre regularity. Do you know how many times Ohio State has lost up there over the past 30 years?
♫ IT WAS FOOTBALL TIME IN CENTRAL MICHIGAN ♫

| YEAR | GAME RESULT IN EAST LANSING |
| --- | --- |
| 2018 | OHIO STATE 26, MICHIGAN STATE 6 |
| 2016 | OHIO STATE 17, MICHIGAN STATE 16 |
| 2014 | OHIO STATE 49, MICHIGAN STATE 37 |
| 2012 | OHIO STATE 17, MICHIGAN STATE 16 |
| 2008 | OHIO STATE 45, MICHIGAN STATE 7 |
| 2006 | OHIO STATE 38, MICHIGAN STATE 7 |
| 2004 | OHIO STATE 32, MICHIGAN STATE 19 |
| 1999 | MICHIGAN STATE 23, OHIO STATE 7 |
| 1997 | OHIO STATE 37, MICHIGAN STATE 13 |
| 1994 | OHIO STATE 23, MICHIGAN STATE 7 |
| 1992 | OHIO STATE 27, MICHIGAN STATE |
Once. Only Minneapolis and Bloomington have been kinder hosts over that span.
Losing was a common item on Ohio State's 1999 football menu - some of us were at that game, behind the visitors' bench watching Buckeye players fight with each other. Their freshmen ended up winning a BCS championship. The point is 1999 losses sucked but didn't sting. Except, you know, the last one. The nineties, man.
Every single one of your Sparty nightmares from the past three decades has taken place either in Ohio Stadium or in the month of December. And with Schedule Número Tres, Michigan State in a month that should no longer be possible with the demise of Leaders and Legends.
Ohio State vs. Michigan State, coming this December. Ghoulish.
INTERMISSION: THE SOLOS
People are tasked with huge, consequential decisions every day in this cruel world.
When Tom Petty passed away, I tucked 44 of his song titles into that week's Situational. I love Tom Petty. I love Eddie Van Halen too. Eddie passed away from cancer last week, which is crushing for those of us who grew up with his music. Don't bother looking for Van Halen easter eggs - we've got a requiem this time.
Choosing a single entry for one of the most prolific musicians of all time, known for his captivating virtuosity and soloing talent is an impossible task. I know the Van Halen catalog back-to-front. How do you choose just one Eddie solo? Eruption? Too easy. Ice Cream Man, Spanish Fly or Beat It? It's like choosing a favorite child - you do that in your head and never tell anyone.
So the solution is to cop out and choose the band's only No.1 song. Starting at 2:18 in Jump you'll see Eddie shredding an impossible guitar solo. By 2:31, he's crushing a keyboard solo. It's really him both times - there was no CGI back then. Let's answer our two questions.
Is the soloist in this video actually playing the keyboards and the guitar?
It took him nearly a decade to convince the band to do Jump, since it included those heavy, off-brand keyboards. Eddie putting down his signature instrument to pick up another one is kind of like Braxton Miller playing wide receiver - weird and exciting, but only in limited quantities and no one quite knew what to do with it. VERDICT: Yes. Eddie was a witch.
Does this keyboard/guitar hybrid solo slap?
Eddie could do anything he wanted with a musical instrument while laughing at the rest of the world's inability to look half as cool pretending to do what he could effortlessly do. VERDICT: Slaps eternal. Rest in peace, king.
THE BOURBON
There is a bourbon for every situation. Sometimes the spirits and the events overlap, which means that where bourbon is concerned there can be more than one worthy choice.
Ohio State owns the only outright three-peat in B1G football history, which if you've forgotten over these grueling 10 months - is an active streak. Justin Fields is attempting to become the first starting QB since Terrelle Pryor to get two straight and the first since Howard Yerges Sr. to get two outright (Howard Sr. - best known for handing off to Chic Harley, not to be confused with his son Howard Jr.)
You're wondering if there's a bourbon for a season in which an outright four-peat is the objective, and yes of course there is. A four-peat requires a Four Grain.
Bourbon is made from a 51% corn base and then chooses one or more out of rye, wheat and barley (or more corn) to complete the bill. Four Grain bourbons circle D and use all of the above, resulting in something that should be complex and sophisticated when distilled properly. The most popular Four Grain belongs to Colonel Taylor, which appeared here a couple of seasons ago and is pretty much ghost bourbon these days.
Fortunately there are several options. My current favorites are the Penelope Four Grain (which isn't appearing this week because there's another Penelope that will be showing up in this space shortly) and the Laws Bonded Four Grain, which is 60% corn, 20% heirloom wheat, 10% heirloom rye and 10% heirloom malted barley aged at least six years in a Federally-bonded Colorado rickhouse. Complex. Sophisticated.
Up front it's toffee-caked sandalwood, and it leaves a nice fall spice in your palate on the way down. There's more bite than you'd expect with a lower rye content, which I've been told could be a Colorado water thing but who knows, it's nice either way.
You know what else sounds nice? A four-peat. Hopefully we'll get to try that out.
CLOSING: CRISIS MANAGEMENT II - THE SEARCH FOR LEADERSHIP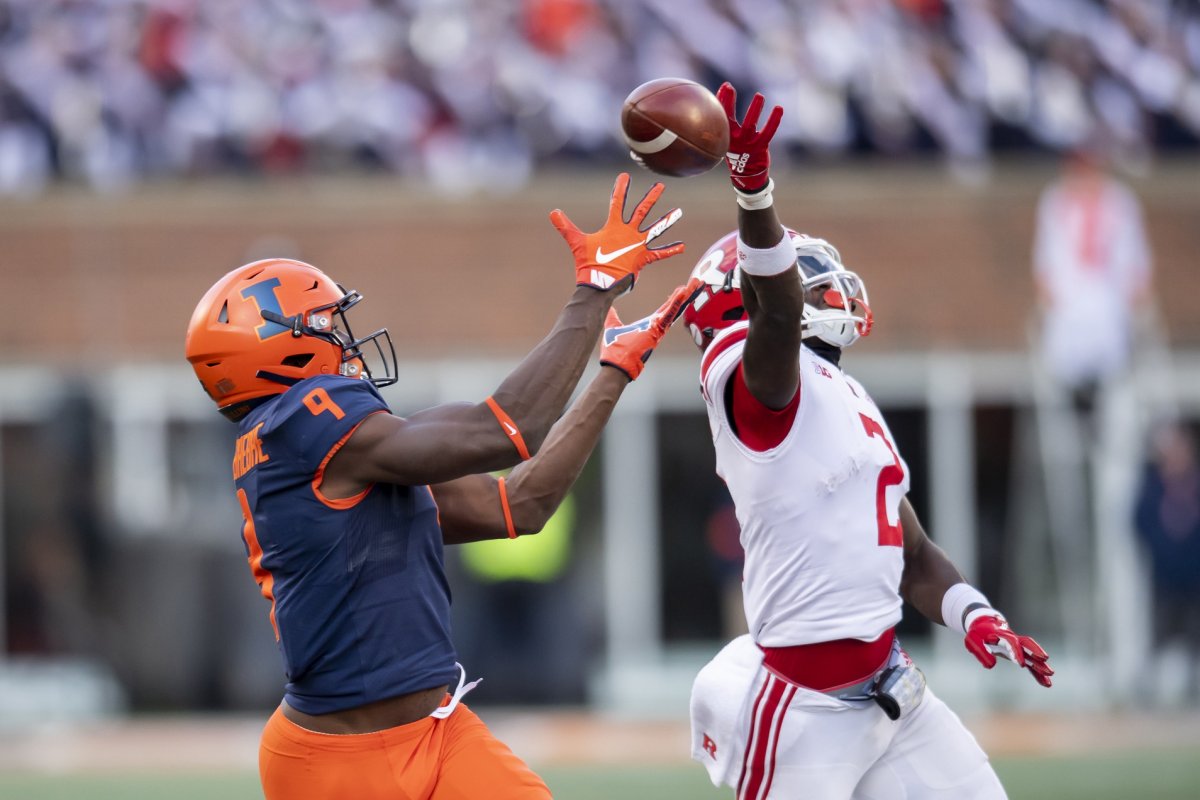 This B1G season will end with the East's top team playing the West's for the title, as usual. But we'll also get the runners-up facing each other, all the way down to the B1G Battle for 13th Place Presented by Rotel™, which hey look at the photo above - maybe that's a preview!
I've been thinking a lot about how poor the conference's vision was in crisis, apparently just hoping COVID would disappear on its own this summer. When it didn't, they abruptly canceled the season and then packed three months of planning into a one-month fire drill that produced the 2020 abbreviated slate we're set to enjoy shortly.
HAS the CONFERENCE made A contingency plan(S) to preserve the runway(s) for its most promising team(s) in the event of an outbreak(s)?
Their lack of foresight and planning left them with no wiggle room or bye weeks. One has to wonder, as other leagues have been playing for a month now, if they've noticed how dozens of games have been canceled or postponed. One also has to wonder - huge gulp - if the B1G has a contingency plan(s) to preserve the runway(s) for its most promising team(s) in the event of an outbreak(s).
Here's a scenario: Illinois pauses football activities the week it's scheduled to play Ohio State for disease reasons. A day later, news breaks that the Illini exceeded their threshold and cannot play on Saturday. The Buckeyes are now down an opponent in a season where they have to play a full schedule if they have playoff aspirations, which they do.
Is the conference, which we learned in August was prepared for a b s o l u t e l y n o t h i n g, preparing for something like this - which is now happening elsewhere - to happen at home?
Florida paused football activities yesterday and is supposed to play LSU on Saturday. One idea is a contingency that switches an opponent from a non-contender (e.g. Purdue and Rutgers play each other on Ohio State-Illinois weekend) and preserves a full schedule for the program more likely to represent the conference in a big-ticket postseason event at the gracious expense of a non-contender, for considerations.
It's just one idea, but they need those ideas in already in place. B1G should have alignment on all contingencies in advance. So, now. They need to plan now.
No one wants this to happen, but no one wanted a pandemic either. You have to plan for things in advance before they happen so that if they happen you're not caught with your thumb in your ass. B1G leaders won't have three months to kick the can down the road this time before packing a crisis management session into a single month, and if they didn't like the protests in August - they do not want to see what's coming if another failure to plan robs a contender of a game.
They'll have one day to break the glass and pull that alarm. Maybe two. And all 14 schools should know that someone had the foresight to put together a disaster scenario plan before a disaster scenario unfolded - and agree to it in advance. Here's to them not making the same mistake twice.
Thanks for getting Situational today. Go Bucks. Take care of each other.