You saw all of this coming in the early hours following the Oklahoma ambush.
The false sense of security blanketing the Ohio State football program was in the forecast all along. Sweet, comforting statistics from West Point via Army's Not Even Trying to Pass offense arrived, as scheduled. Vegas brought four players to town who might have fit on Ohio State's roster, along with 49 who absolutely wouldn't. And God bless Rutgers, which *deep inhale* is still Rutgers.
Everything got better, as expected. And there are doubts due to the degree of difficulty, as expected. 
Ohio State currently features the nation's 13th-ranked passing offense and 20th-ranked rushing offense. It is 12th in passing efficiency and 5th in total offense. Following those rare drives when the offense fails to get points, it punts - and Ohio State is 13th nationally in net punting. We'll get to the skyrocketing defensive statistical rankings in a bit.
J.T. Barrett breaks another Ohio State or Big Ten record each week, which means every Saturday he is putting more space between himself and the next best legend. He's currently 6th nationally in Points Responsible For among all FBS players, which seems kind of high for a guy a lot of fans still want benched. Zone 6 may still drop several gimme passes per game, but it's now catching more and YACing with gusto.
They're also blocking their asses off. Those YACs don't happen alone. Love is a long road; run shiftier routes and pick up some stickier hands and who knows what this unit might be able to do. 
Confidence is sexy, even if it's at the expense of the grossly overmatched. Even the losers count as Ws on this schedule. The Buckeyes are on a stretch where they have no choice but to punch down, and since they are deprived of any say in the matter - they might as well punch down as hard as they can. If UNLV is going to arm-tackle on bubble screens, Parris Campbell might as well declare it a track meet.
If Army is going to play zone, Barrett might as well distribute to eight different receivers squatting in its holes. And if Ben Victor is going to stubbornly insist on being tall and having a three-mile wingspan, Ohio State might as well play volley-ball instead of football.
Yes, you saw all of this coming in the early hours following the Oklahoma ambush. That shouldn't make anything that's happened the past three weeks any less enjoyable or impressive. If it is, that's on you. Time to move one - beating the hell out of weaklings is as American as tax evasion. 
It's Homecoming in Columbus! Let's get Situational.
---
DAMN THE TORPEDOES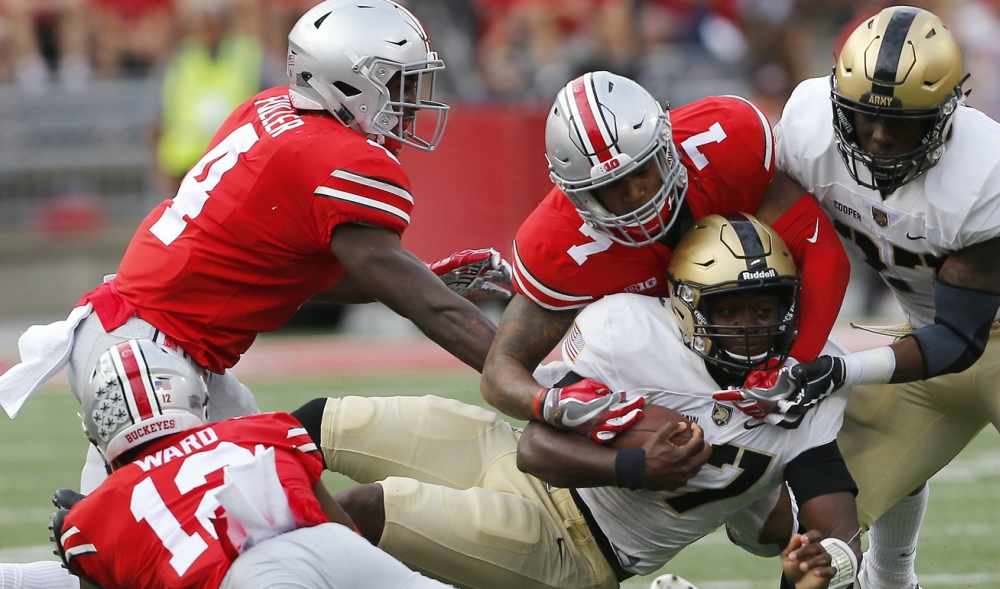 Now, back to something big - those skyrocketing defensive statistics.
The Buckeyes opened at Indiana and then hosted Oklahoma, which resulted in them sitting at 130th out of 130 FBS teams in passing yards allowed per game. If you were born prior to early September 2017 you're old enough to remember those harrowing days.
It's switched since then. Army football is a reflection of the men of valor it represents and is almost exclusively ground-based. Rutgers faced Ohio State without the services of Janarion Grant, its leading receiver and best overall player on Saturday - and his pass-catching colleagues were swallowed up as a result. Z e r o yards receiving by Rutgers receivers.
But nothing exemplifies the Buckeyes defensive backfield progress since those first two outings better than how it contained UNLV's top weapon, Devonte Boyd:
DEVONTE BOYD (UNLV) | LAST SIX GAMES

| OPPONENT | CATCHES | YARDS | AVERAGE |
| --- | --- | --- | --- |
| @ SAN JOSE STATE | 6 | 136 | 22.7 |
| WYOMING | 10 | 127 | 12.7 |
| HOWARD | 4 | 105 | 26.3 |
| @ IDAHO | 2 | 103 | 51.5 |
| @ OHIO STATE | 3 | 48 | 16 |
| SAN JOSE STATE | 5 | 105 | 21 |
More like Devonte Void (nope, not even sorry).
This was a 3,000-yard receiver the Buckeyes contained for an afternoon. His dynamic dual-threat QB, Armani Rogers, has thrown for 220, 193, 88 and 203 yards in his four games this season. The drop in production in Columbus was significant.
Yes, of course Ohio State should be better than UNLV, Rutgers, Army and just about damn everybody. And of course the Buckeye secondary required time to coalesce after turning over nearly all of its starters to the NFL draft in each of the past two seasons. It'll all work out - this defensive backfield was never lacking ability or skill; it was just lacking experience. Built to Last for this unit means lasting one season, then it gets rebuilt again.
THE BUCKEYES RANKED 130th IN PASSING YARDS ALLOWED THREE WEEKS AGO. THEY ARE NOW 42nd.
Opening against Indiana and Oklahoma was a rude way to accrue those first few minutes of game action. Dead last in passing yards allowed per game was the literal low point. They were bound to dig out from that breakdown, but jumping nearly 90 (!) spots in just three games is impossible to diminish. You can still change your mind - this unit is both feasting on lesser competition and demonstrably improving.
Maryland is the third top-25 rushing offense the Buckeyes will face this season, which points to more statistical gains on the pass-defense side of things. It's more game time, more confidence and more space between the present and those two opening tryouts against pass-happy teams.
The secondary was written off before the Sooners even left town. Perhaps that was premature. There are couple more games to get better before Trace McSorely, Mike Gesicki, Daesean Hamilton and Saquon Barkley come to town.
They know what's coming, so they grew up fast. Here's to the Voids yet to come.
---
AMERICAN GIRL
There is a bourbon for every situation. Sometimes the spirits and the events overlap, which means that where bourbon is concerned there can be more than one worthy choice.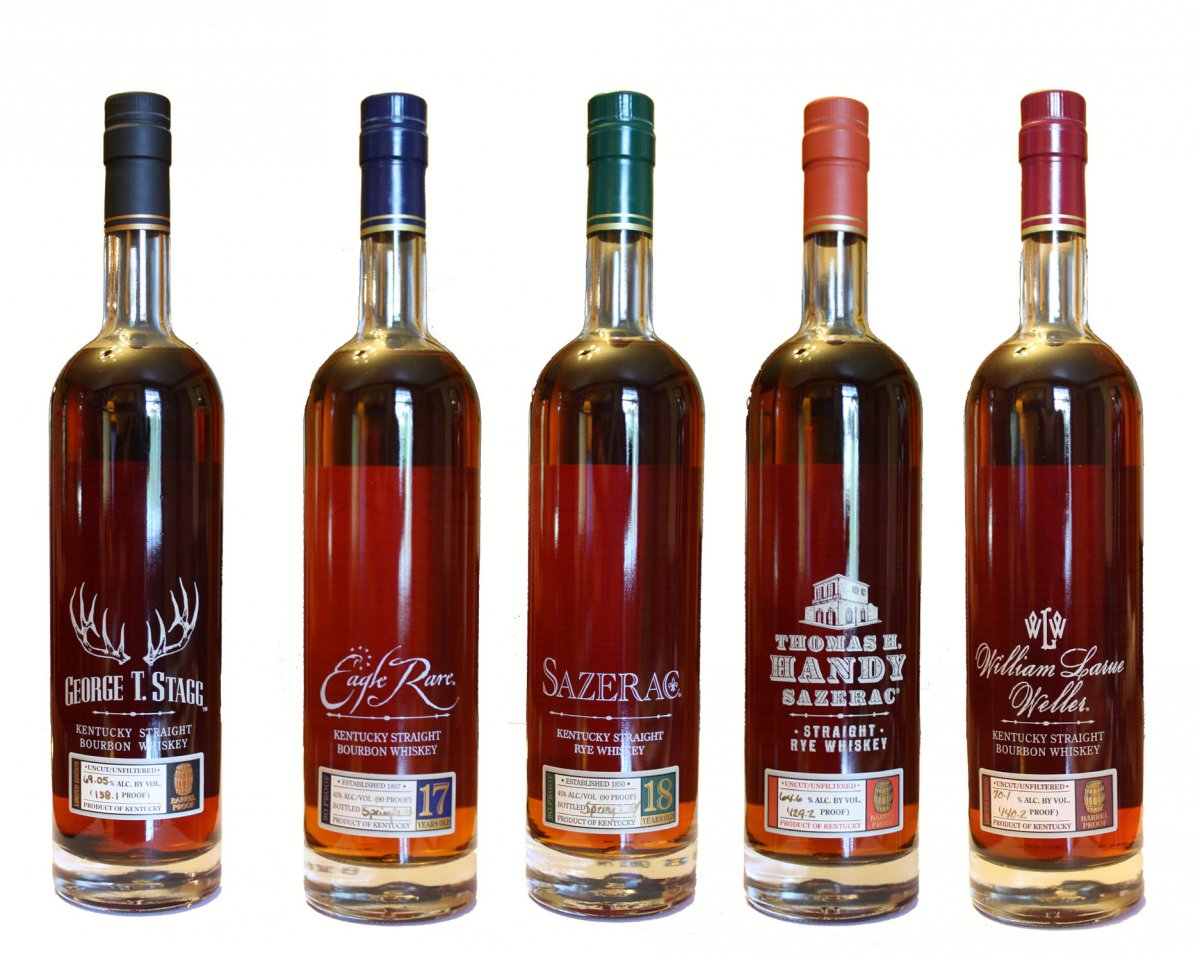 We've reached October, the purest month of the college football season. Its walls house only college football weather and every color you associate with fall. American whiskey enthusiasts also know October as BTAC Month, which is shorthand for The Release of the Buffalo Trace Antique Collection. Folks, there's something good coming from Kentucky to your liquor store.
Whereas September is highlighted by Old Forester Birthday and Parkers Heritage releases, October belongs to BTAC. This hasn't always been the case, as Pappy Van Winkle (also a Buffalo Trace brand) releases in October, but since PVW is now relegated to Ghost Bourbon status, BTAC takes the main stage. 
Here's what you need to know when the time comes to try and find any or all of the BTACs:
THE BUFFALO TRACE ANTIQUE COLLECTION: WHISKEY BATCH 006 | OCTOBER 2017

| BRAND | PROOF | AGE | SCARCE? | RETAIL | The SITUATIONAL REVIEW (based on prior vintages) |
| --- | --- | --- | --- | --- | --- |
| George T. Stagg | 129 | 15 years, 3 months | ~38K bottles | $90 | Elegant dark Swiss chocolate mixed with pure gasoline. It requires an ice cube to be fully tasted. |
| SAZERAC RYE | 90 | 18 years | ~3.7K bottles. Happy hunting. | $90 | Oaky, leathery and a long mint/spice finish. If you're wearing a sweater you'll take it off. |
| EAGLE RARE | 90 | 17 years, 3 months | Fewer than 1500 bottles. [Taken voice] Good luck. | $90 | Like smoking a mild cigar while chewing on Big Red gum and thinking about a Heath bar. |
| Thomas Handy Sazerac | 127 | 6.5 years | ~14K bottles | $90 | Santa's sleigh powered by plutonium. Potent Christmas comfort in a glass. |
| WILLIAM LARUE WELLER | 128 | 12 years, 3 months | ~19K bottles. They will fly away. | $90 | "Poor Man's Pappy" if being poor meant just being regular-wealthy. Wheated; not a hint of rye. The sweetest of the lot. |
Getting your hands on just one of the BTACs is a win, but assembling the entire collection is the championship - there isn't an average sip among the five. It's not just the cornerstone of any reputable whiskey library; it's the foundation. 
Simple version: Are you happy making the Outback Bowl, or are you motivated enough to get into the CFP? When you're runnin' down a dream of the best American distilleries have to offer, procuring BTAC intact is the high trophy. 
---
INTO THE GREAT WIDE OPEN
This week it was announced that Justin Timberlake would be headlining the Super Bowl halftime show. Timberlake might never have gone solo from N'Sync had Michael Jackson not convinced him to do so 16 years ago. Nobody could have predicted that fateful conversation would eventually impact football's grandest night.
The Super Bowl, despite professional football's recent stumbles, is still America's peak entertainment stage. Here's the King of Pop, aged 34 years at the time, transforming its halftime show forever:
That low-tech masterpiece with 98,000 screaming fans all wearing the same baggy sweatshirt marked the beginning of the Super Bowl Halftime Show as we know it. Previous editions were constructed for bathroom breaks, but since MJ's turn it has become The Show within the show.
This performance took place on Timberlake's 12th birthday. He'll take the stage on the 25th anniversary of Jackson's performance. But this is all just backdrop, context, storytelling. We're not playing off The Situational with historical N'Sync anecdotes.
That honor goes to the headliner from The Show within Super Bowl XLII.
RIP, Tom. The soundtrack of my life would be full of holes if not for your timeless grace. Here is a playlist of every Tom Petty song title embedded into this article. If you happened to notice...you got lucky.
Thanks for getting Situational today. Go Bucks. Win homecoming.