The 2015 Ohio State game is circled on a dozen different schedules.
It's not just the usual circle that comes with being the Ohio State game - there's special circling this season. Thick Sharpies were used. Red ones. This game pops out on all 12 opponent schedules - WEEK X: the defending national champions. 
Their games before and after they face Ohio State serve as trap and letdown games, respectively. This year's Buckeyes are stamped and double-stamped on every slate in which they appear. They might even be triple-stamped. Don't let anyone tell you that isn't possible.

Ohio State will be the defending champions all season long. The SEC-style entitlement juice that has long delivered second chances for anointed title contenders (including a third chance for LSU in 2007) has spilled to the north and may actually benefit the Buckeyes should they slip in pursuit of a second-consecutive championship.
For several years now Alabama has been allowed to lose a game with the understanding that it was still the strongest, deepest team in the country. Ohio State has close to the same level of credibility following the exciting conclusion of 2014. This means you shouldn't hear any condescending weekly warning that the Buckeyes must look the part in order to be taken seriously this year.
THIS SEASON You won't hear THE condescending weekly warning that Ohio State must "look the part" in order to be taken seriously.
Defending champions get a special waiver. It's a perk that Alabama has earned. Florida State got it and abused the hell out of it last season, playing just mediocre enough to win against a schedule comparable in strength to Ohio State's before getting housed by Oregon in the Rose Bowl.
TCU is still bitter about Florida State's inclusion in the playoff, though it should be angrier that scored 58 against Baylor and still lost. Going 11-14 over the previous two seasons - while the Seminoles were going 26-2 with a title - didn't really it help either. That's not how you earn the nation's benefit of the doubt. That's not how you get triple-stamped.
Being circled by all of one's opponentry accompanies this privilege. Now that the Buckeyes have it, hopefully they will allow their gold-plated mulligan to go unused and renew itself for 2016. Here's hoping they look the part even though they don't have to.
Football is nearly here! Let's get Situational.
---
The VENGEANCE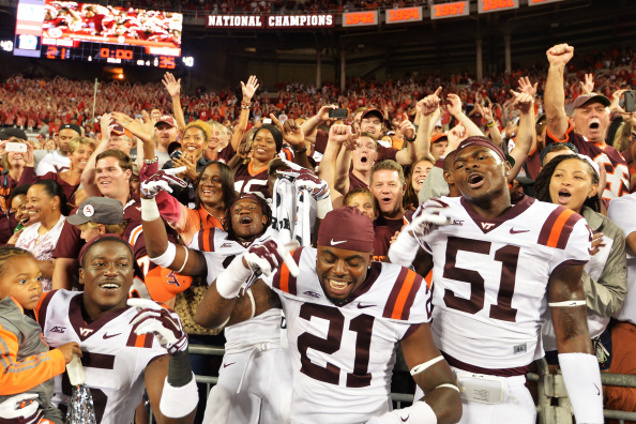 For the second season in a row the Buckeyes only have one revenge game on their schedule.
Last year it was straightening out the 2013 dream-snatching inflicted by Michigan State in Indianapolis. This year it's a remarkably different: Virginia Tech is arguably the weirdest revenge game Ohio State has ever had.
The Buckeyes might not have evolved into the world beaters they became had they not suffered their most lopsided home loss in 15 years to the worst team to ever beat an eventual national champion. Not only was Ohio State held to its lowest output of the year, the 35 points it gave up to the Hokies tied Virginia Tech's highest output of the season.
They play in the Big Ten and lost at home to Virginia Tech was the opening and closing argument for keeping the Buckeyes out of the inaugural playoff. They snatched the #4 seed - in part because TCU and Baylor literally or figuratively played nobody 15 times - and two games later the national media was bewildered that this juggernaut could have lost to any team, let alone the Hokies.
Virginia Tech is arguably the weirdest revenge game Ohio State has ever had.
Ohio State would eventually rush for 221 more yards on the ground against the Alabama Crimson Tide than they did against Virginia Tech, which lost at home to East Carolina the week after beating the Buckeyes.
They allowed 427 passing yards to ECU. That's 100 more than Ohio State had in total. Virginia Tech comprehensively outcoached Ohio State that night and then proceeded to go 5-6 against the rest of its schedule. All six of its losses came against unranked teams. 
Sometimes you never know the true value of a moment until it becomes a memory. As lousy as that evening felt, that game ended up serving as the Buckeyes' launching pad.
It was the Hokies' peak, and unfortunately for them the first weekend in September is decidedly not the right time for that to happen. It just so happens to be when the rematch takes place. Revenge? More like redemption - and if anyone is seeking it on September 7 it is the Hokies - not the defending national champions.
The visitors will be out to show their 2014 meeting was a fluke. The home team will be trying to prove it wasn't.
---
THE COMEBACK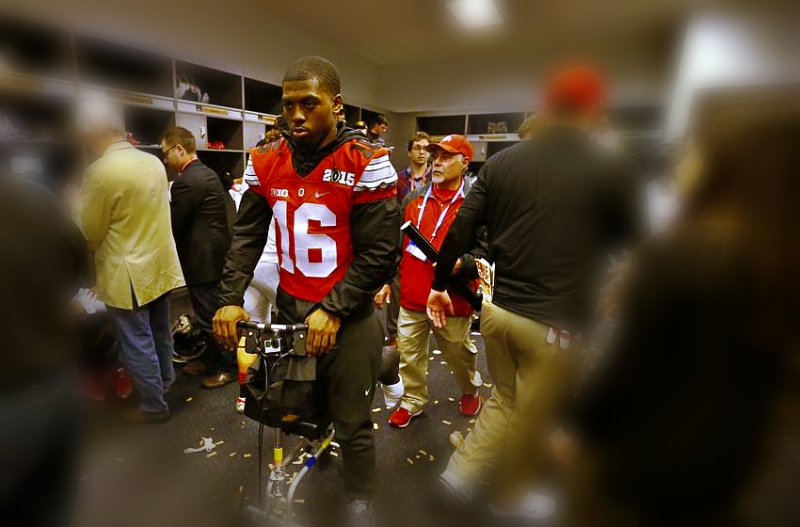 If you're capable of looking past the stat sheet then you enthusiastically joined the J.T. Barrett fan club the night the Buckeyes lost to the Hokies:
Each time receivers jogged back to the line after failing to secure a catchable ball, Barrett would single them out, put his hands on their shoulder pads and visibly give them encouragement.

He never sulked, got up slowly from being tackled or dared to exhibit any visible frustration - all of which can be contagious. Instead he stayed even and never let his confidence down. I'll do what quarterbacks are supposed to do. You go be great.
The following week he threw six touchdown passes against Kent State and probably could have thrown six more had he been allowed to. By the time his season abruptly ended on the first play of the 4th quarter against Michigan Barrett had set 19 Ohio State and two Big Ten records (!) without padding his stats in garbage time and with 13 quarters still left unplayed.
That doesn't even seem real. Can stats be photoshopped? That looks photoshopped.
Barrett set 19 Ohio State and two B1G records without padding his stats in garbage time and with 13 quarters left unplayed.
Barrett's reward for leading the Buckeyes through an improbable record-breaking season was surgery. He was stuck on a scooter for three magnificent evenings while the rest of his teammates were dancing. He was 5th in Heisman balloting; had he been able to finish off the Wolverines and Badgers he might have found himself invited to Manhattan.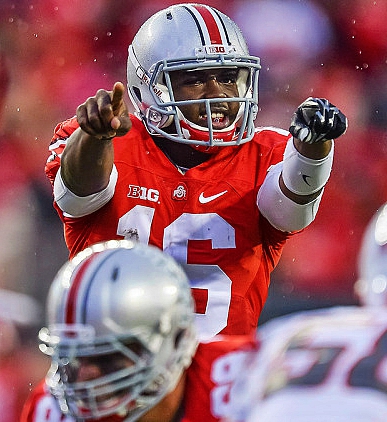 Ohio State's hero on wheels has now suffered two season-ending injuries in his football career. He's been stuck on the sideline, stuck on a scooter, stuck in a cast and now stuck winning back a job he already won - and set 19 records doing. There hasn't been a What Was And Oh What Might Have Been player at Ohio State quite like Barrett since Maurice Clarett. 
The difference, obviously aside from the circumstances, is that Barrett still owns his runway. He's already starting the season as either best starting quarterback in the Big Ten or the best backup quarterback in the country, and beyond that - he is every quarterback superlative imaginable: Barrett is the hardest worker, the consummate leader, cool and even-keeled, a humble team player who doesn't lack confidence and does all the little things well. 
Barrett makes all the other Buckeyes better including Cardale Jones, so as intriguing as QBGeddon has been all these months, it is still incredibly difficult to imagine betting against him.
But if Ohio State does land on Cardale as its starter, Barrett will be familiar with his situation. He'll thrive either way. And he'll still own his runway.
---
The IMPLOSION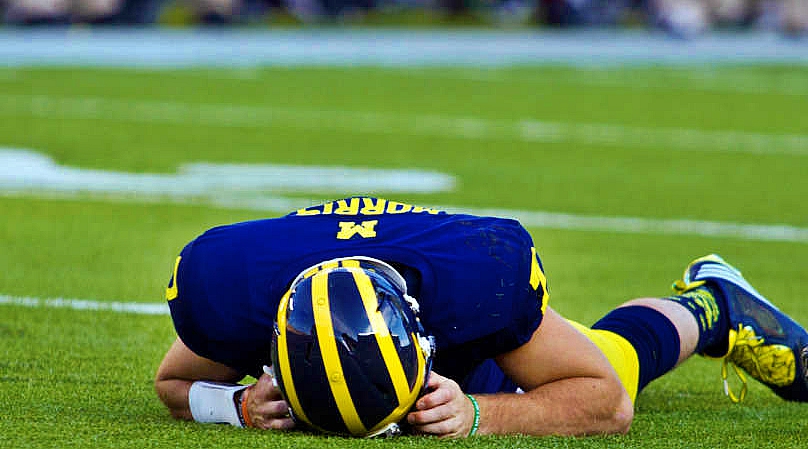 College football insiders are often self-adulatory carnival barkers with varying levels of access. They can be truly connected, they can be like Josh Ostrovsky who culls and repackages content he finds on the Internet as his own - or they can be somewhere in-between.
John U. Bacon is as connected to the University of Michigan as anyone has ever been, so when he speaks or writes anything about Michigan athletics, it's the scoop of record. His latest book Endzone: The Rise, Fall, and Return of Michigan Football neatly tells the story of how Michigan became Michigan (10%, for context), what in the sam hell happened over the past several years (75%) and how Jim Harbaugh finally found his coaching destiny back in Ann Arbor (15%).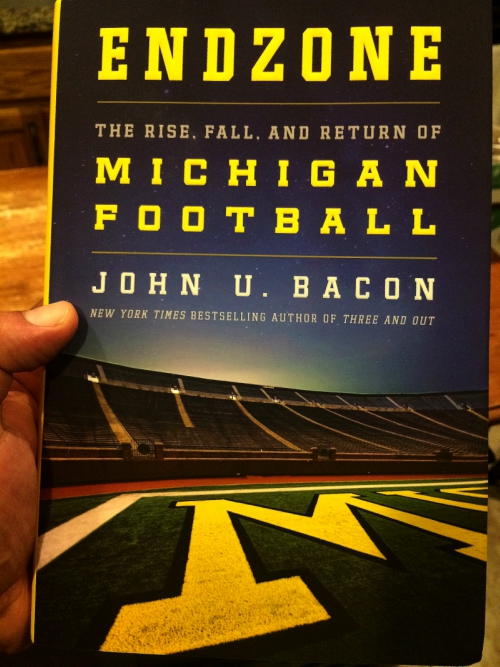 As the title explains, this is the story of how Michigan athletics broke and then fixed itself. The star of the story isn't Harbaugh or even Brady Hoke; it's deposed athletic director Dave Brandon, whom Michigan allowed to take control of operations and then systematically turn the entire department into a cartoonish corporate caricature of excess, gross mismanagement, vanity and cronyism.
Bacon's accounts of Brandon's mass destruction of everything from university safeguards to sacred traditions are sourced on-the-record, balanced and, frankly, bewildering (I've been personally fascinated by his hubris and have written extensively about Brandon - here, here and here). Readers tempted to question if this historiography was built on a grudge or bias are forced to reconcile the necessary cruelty of the facts, cleanly presented without prejudice:
Brandon fired most of the staff he inherited, added 80 new heads and increased administrative salaries by 72%.
Hoke's agent Trace Armstrong (who is also Urban's agent) took Brandon to the cleaners while negotiating his contract. Hoke was making $675,000 at San Diego State with no major suitors. Michigan gave him a six-year deal worth $3.25MM per.
This came after he fired Rich Rodriguez, expecting Harbaugh would just sort of volunteer himself for the Michigan job (the 49ers pursued and landed him instead while Brandon waited for his call).
Brandon did not see the value in the Notre Dame rivalry and the Irish dropped Michigan in large part because of his frosty relationship with ND AD Jack Swarbrick. The Irish replaced the Michigan series with a number of high-profile teams, including Ohio State.
Free admission to Michigan football games by buying a couple of soft drinks, Shane Morris' concussion and so many more public relations, marketing, financial and administrative disasters - as well as how they were willfully allowed to happen - are all autopsied in glorious, gruesome detail.
And those uNiFoRmZ?
(Adidas) acquiesced when Brandon insisted he would only speak with the CEO of Adidas North America. They let Brandon order design after design - which took time and money, of course - and when he finally picked one, and his idea was lampooned by tradition-bound Michigan fans, he blamed it on Adidas.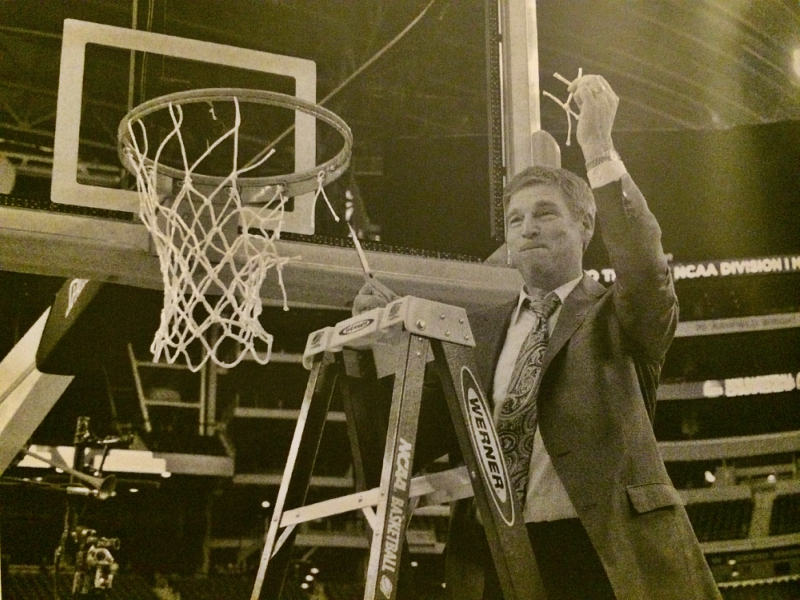 Brandon treated the Adidas relationship with Michigan athletics - whose flagship sport was sucking wind and not exactly blowing out the merchandise side of their agreement - as if he was doing it a favor. Adidas did almost $17B in revenues last year, while Brandon's athletic department operated on a $151MM budget. That's less than one percent.
This is a mere fraction of what was going on behind the scenes in Ann Arbor.
The comprehensive retelling of these gaffes within the framework of Michigan athletics makes the meat of this book - the Fall part of its title; the shit in the shit sandwich - well worth the price of admission. As outsiders - especially as Buckeye fans - there is so much learn from how poorly, incompetently and arrogantly the department was run. It could happen anywhere a megalomaniac is given the reigns, and that's what happened in Ann Arbor.
"Our once classy and great school somehow feels cheap, tacky and frankly, desperate for attention."– Former UM Football PLayer Yale Van Dyne in "Endzone"
I often hear Gene Smith's contributions to Ohio State diminished. How hard could it have been to hire Urban? No one could screw that up. Well, Brandon totally bricked Michigan's version of that layup in 2010. Notre Dame did as well when Meyer was at Utah. Both schools ended up grossly overpaying for mediocre corpulent Plan Bs as bad consolation prizes.
Michigan's beginnings and Harbaugh's delayed recruitment back to Ann Arbor serve as convenient bookends to Brandon's historically inept reign, which itself would have been a marvelous Harvard Business Review case in mismanagement had Bacon not upgraded the concept into a far more thorough and comprehensive retelling.
The Fall is preceded by a noble beginning and succeeded with the beginning of a happy ending. Endzone concludes with Michigan finally getting its man, which is to say it ends well for the Wolverines. As it turns out, the U-M AD analysis you've read on this site hasn't been terribly far off:
@ramzy And let me add: read this at the time, and agreed with every word, and of course now it resonates even more deeply. A book backs you!

— John U. Bacon (@Johnubacon) August 21, 2015
As for that second bookend - the Return - you may roll your eyes and chalk that premature conclusion up to classic Michigan arrogance. But once you read the entire book you'll realize that addition by subtraction is the only reasonable conclusion to be made regarding U-M athletics with Brandon's departure last October.
Endzone is an enchanting read and a solid buy. Pick it up and keep your enemies closer.
---
THE BOURBON
There is a bourbon for every situation. Sometimes the spirits and the events overlap, which means that where bourbon is concerned there can be more than one worthy choice.
In 1870 George Garvin Brown concocted a novel business idea: he would make and sell premium whiskey in clear glass bottles. Seems simple today, but it was audacious five years removed from the Civil War when whiskey was largely sold in barrels. He invested five grand of his own money to get it started.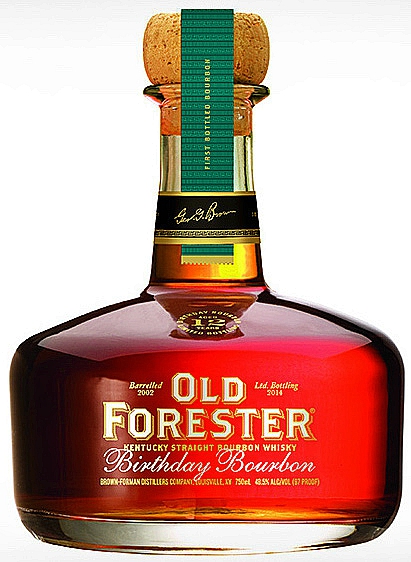 Today that company is Brown-Forman, a multi-billion dollar corporation that owns brands you've shot (Jack Daniels, Herradura, Finlandia) chewed up and enjoyed (Old Forester, Chambord, Don Eduardo) as well as ones you totally regret ever trying (Southern Comfort, Korbel). You could say Brown-Forman's portfolio is diversified.
One week from today - September 2 - is Brown's birthday. Thirteen years ago his company began celebrating it by releasing a limited edition 12-year old vintage that only comes out once a year on the date of his birth: Old Forester Birthday Bourbon.
Old Forester uses the same mash bill as Woodford Reserve, which is higher in corn and rye than most bourbons and light on the barley - so it's quite pleasant and sweet. Age that mash bill longer than the standard edition and you end up with - you'll never see this coming - a delightful vanilla, cinnamon and caramel cake-like finish. If you and I happened to share a drink at last year's Eleven Dubgate it was either the George T. Stagg or the 2014 Birthday Bourbon issue that we had for our donors. And we loved it, because that's the only impression it allows you to have.
Birthday Bourbon is hard to come by because it is limited, comes out only once a year and - most of all - is really good. If you count down to its release each September you're also unavoidably counting down to football season. Both gifts arrive in your life during the same week and are to be savored for as long as possible. Then they disappear.
Football season is upon us. Happy 168th, George.
---
The Playoff
Two years ago Matthew Gnepper and I put together a syrupy video love letter to college football.
At the time I was suffering fatigue from too many hype videos set to P.O.D's Boom and wanted to have a hand in creating the antidote. Two years later we have collaborated again to tell another story; this time about how championships are claimed in January, but they're won in August. 
Ohio State won the national title eight months ago and we've all been enjoying the best kind of reruns for all those weeks and months still partially in disbelief over how the 2014 season concluded.
Each time you've rewatched the Sugar Bowl you've prevented the 2014 season from ending. Every time you've suspended belief long enough to see Cardale surprise the both yourself and the Badgers you've extended the celebration. But now it's August. It's time for the Buckeyes to become nine units strong so they can win January again.
Go Bucks. Beat everybody.