Maryland had a 90.1% probability of beating Ohio State.
Seventy-four seconds remained. The Terps were clinging to a 45-38 advantage, having held the lead all afternoon after ambushing the Buckeyes with a 17-3 1st quarter. Scoring had been easy for the home team; keeping the visitors out of the end zone was more challenging.
Ohio State had the ball on the Maryland 37 with no timeouts. This was a predictable byproduct of the 2018 season's clock mismanagement adventures that had seen the Buckeyes flirt with delay of game penalties at the most inexplicable of times, from a game's opening possession to coming out of timeouts to ahead of critical two-point conversions. Of course Ohio State was out of timeouts.
Here's what Maryland's chances to win looked like with time slipping away, one year ago next weekend. Rock-bottom on that line graph is 74 seconds from the end of regulation and a second Ohio State loss to a big underdog.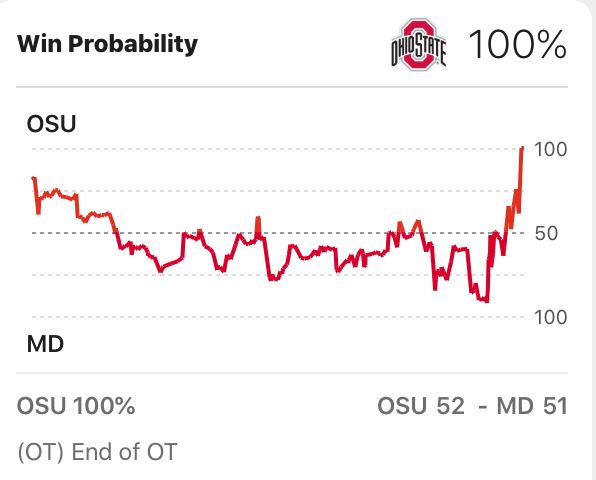 A game-tying seven-play touchdown drive ate up just 61 of those seconds and pushed Senior Day into overtime, where both teams got into the end zone. But after the Buckeyes settled for a PAT, the Terps went for the win and failed. Urban Meyer's final road game would be a victorious 52-51 thriller, and the only thing burning hotter in his head than Maryland's offense were his brain cysts.
The Terrapins visit Columbus this Saturday. So, is this a revenge game? And if you think it is, then for whom?
We're fresh out of bye weeks here in 2019. Let's get Situational!
THE MISTAKEN IDENTITY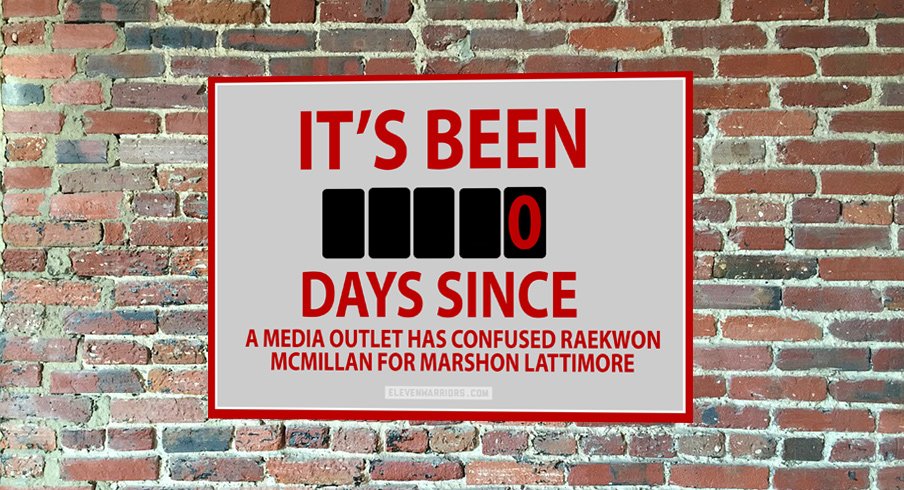 It's been a few years so you may have forgotten about how media photos of Raekwon McMillan were routinely mis-captioned as being of Marshon Lattimore. 
It happened often enough that both players could have been charged with identity theft. Eleven Warriors staff was so captivated by how widespread this practice was, our writers began hunting instances in the wild for sport and compiling them for #content reasons.
Lol smh https://t.co/17MfSKKp0w

— Marshon Lattimore (@shonrp2) March 14, 2017
Our internal forensic investigation determined this was all Braxton Miller's fault, going back to when Jeff Heuerman chose to honor his injured teammate by wearing his No.5 during the 2014 postseason.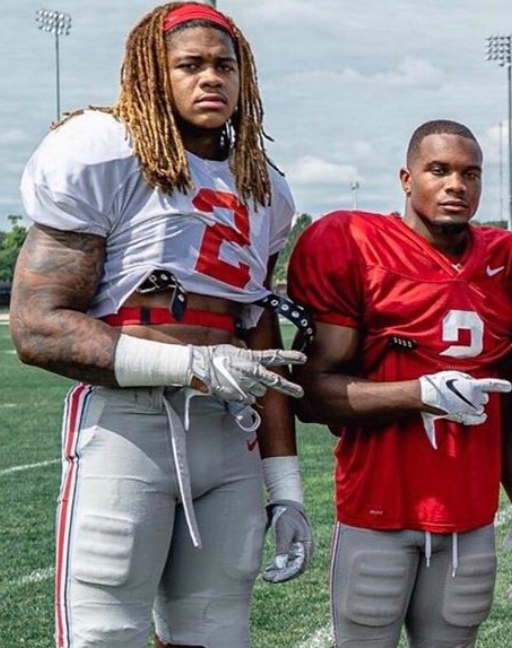 McMillan swapped his No.5 for No.2 (which was shared by Dontre Wilson - and yeah, of course this happened too). A single CFP photo captured of him in that jersey was mistakenly filed as being of Lattimore, who did not play in 2014.
So this photo was the source of the outbreak. The rest is history.
And since history has a habit of repeating itself, let's get ahead of Ohio State's current jersey confusion right now so we can avoid another series of caption mishaps. You know exactly who we're talking about. Just look at the identical twins pictured to the right.
Chase Young and JK Dobbins both wear the same jersey number. With all of the hype and highlights surrounding their play in 2019, it's difficult to remember who is who - just look at what happened four years ago, when McMillan and Lattimore were merged into a single player by the national media on account of a briefly-shared jersey number. Young and Dobbins both wear No.2 all the time. ICEBERG. RIGHT AHEAD.
This has all the makings of another caption debacle. We have the power to stop it before it happens, so please refer to this handy guide for how to tell these two talented Buckeyes apart:
NUMBER TWO FOR OSU: CHEAT SHEET

|   | DOBBINS | YOUNG |
| --- | --- | --- |
| JERSEY NUMBER | 2 | 2 |
| POSITION | HB | DE |
| GOLD PANTS | 2 | 2 |
| B1G TITLE RINGS | 2 | 2 |
| FROM OHIO | No | No |
| HEISMAN CANDIDATE | Yes | Yes |
| RUNS OVER DUDES | Yes | Yes |
| CONTAINED IN 2019 | No | No |
| Likely 1st Team all-B1G | Yes | Yes |
Hope this clears up any confusion. Young is not Dobbins. Probably.
THE 1980S SAX SOLO INTERMISSION
Today is November 6. If you were somehow unaware, November 6 is Saxophone Day.
For those of you who don't skip right over this section to get to the bourbon: Merry Saxmas to you and yours. A proper celebration requires a heavy dose of saxophones, which means today we're going to play the David Bowie card.
Modern Love not only contains a saxophone solo, the arrangement features an entire saxophone section that plays rhythm saxophone before, during and after the solo. In musical terms this is known as a Saxophone Orgy, a tradition dating back to a few seconds ago when I made it up because it sounds awesome.
Let's answer our two questions.
Is the soloist in this video actually playing the saxophone?
Robert Aaron, Steve Elson and Stan Harrison are all playing their saxophones beneath a giant golden lamé moon that's actively birthing hundreds of golden lamé moon babies all over the stage and crowd. Since this video was shot at a Bowie concert in Philly, we have to assume all of the golden lamé moon babies got mugged. It's a cruel world.
We'll also assume the giant golden lamé moon was impregnated during the Saxophone Orgy, a calculated risk anyone who listens to Modern Love must be willing to accept. VERDICT: Triple Yes
Does this saxophone solo slap?
Look at all of that advanced, saxophone choreography. Look at all those golden lamé moon babies. Happy Saxophone Day, readers. VERDICT: Slaps, and gets you to the Church. On. Time.
THE BOURBON
There is a bourbon for every situation. Sometimes the spirits and the events overlap, which means that where bourbon is concerned there can be more than one worthy choice.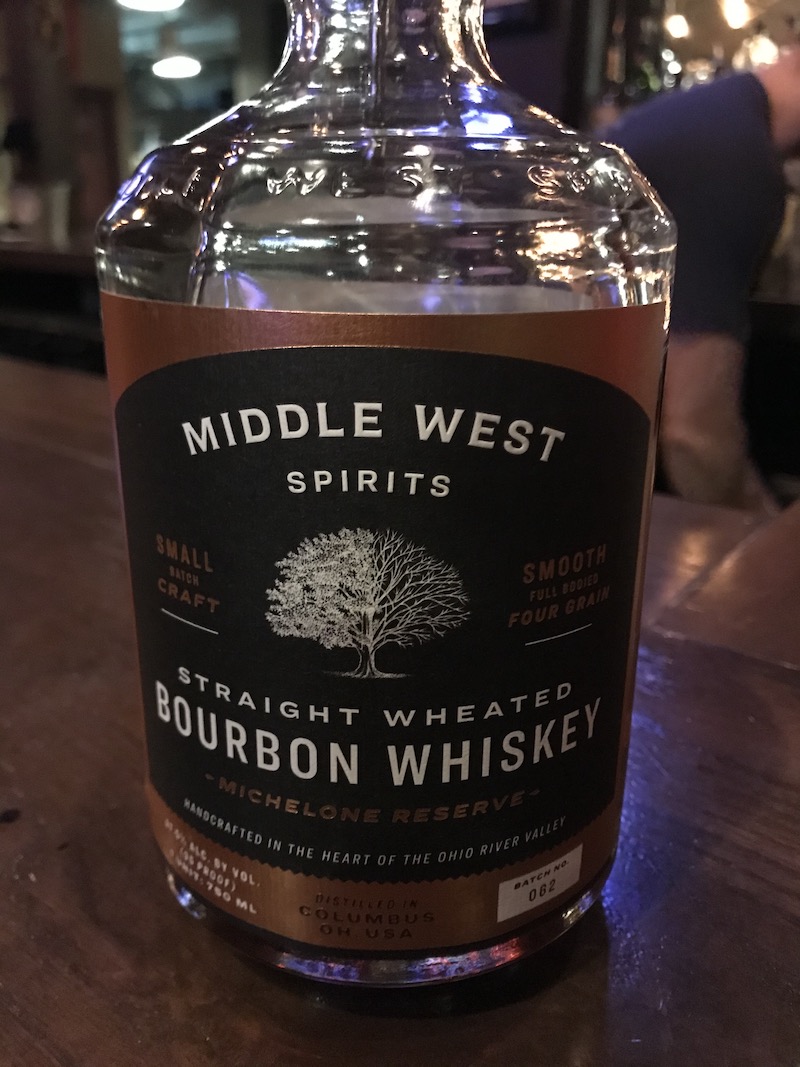 Friday night prior to the Eleven Dubgate IX served as an exclusive 12W Premium Lounge Banger™, which we held at North High Brewing. I am partial to distilleries, but I do not quarrel with brewers - especially when they also serve local spirits for patrons who prefer liquor to beer.
That evening I was introduced to Middle West Straight Wheated Bourbon, which I pledged my loyalty to from the first sip through the balance of the banger. It comes from OYO, which has rebranded some of its whiskey portfolio under this new MW label (the vodka is still branded OYO).
Wheated right on the label tells you Middle West is going to bite about as hard as a newborn puppy - the finish on most wheateds is quiet, and this one is no exception. The rest of the mash is corn, rye and barley, but the percentages aren't easy to find or documented anywhere I looked. If I had to guess: ~60% corn, ~20% wheat, ~15% barley, ~5% rye.
Middle West is oaky on the nose and warm vanilla sugar on the palate. I would drink it again in a brewery, in their distillery, on my couch or on your patio. Good wheateds are rare or hoarded, so this was a delight. Being made in Ohio is nice bonus.
SAY SOMETHING NICE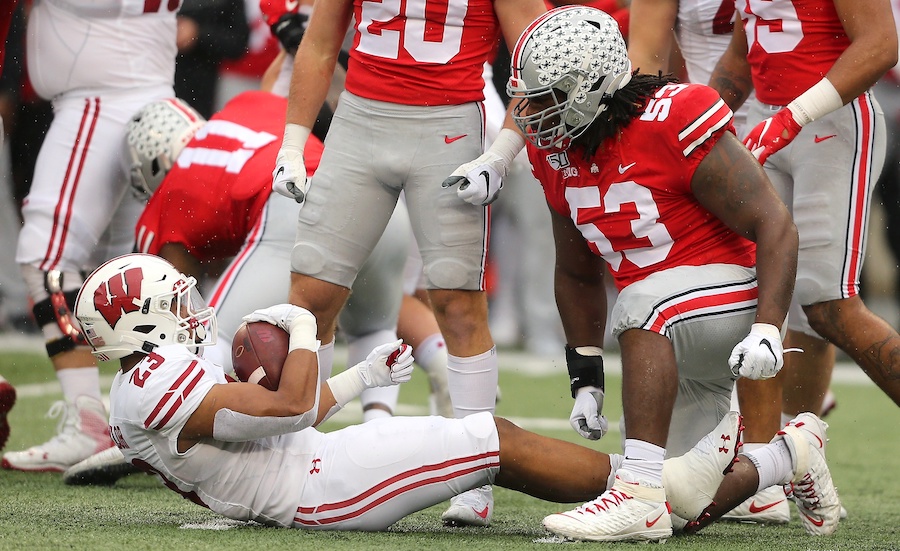 First it was 55-24. Then one year later, 49-20.
The 2017 Iowa Hawkeyes finished with just eight wins; the 2018 Purdue Boilermakers ended up with six. Both records included playoff-eliminating victories over heavily-favored Ohio State, the respective top highlight of their seasons.
The Buckeyes losing to middling B1G West opponents in their houses became a thing the second it happened for the second time in two seasons. Their trips to Lincoln and Evanston were immediately circled ahead this season for valid, precedent reasons. It can not only happen, it's already happened twice. 
Perhaps it would happen again. But to whom?
Last season B1G West opponents combined to beat the Buckeyes 94-86 in aggregate, thanks to that blowout in West Lafayette and tight games with Minnesota and Nebraska. This season - in the starkest possible contrast - Ohio State closed out its B1G West regular season slate with an aggregate blowout victory of 138-17, with two of those meetings getting ESPN and Fox's Biggest Game of the Week treatment. Yeah.
We've chewed on a lot of stats this year that demonstrably show how good the Buckeyes have been in 2019. That is another one for the pile. This team is not just good. It's different.
Thank you for getting Situational today. Go Bucks. Beat Maryland.