Those 2014 season parallels have been great thus far, right?
Ohio State opened its season somewhere other than the Horseshoe (again) and then returned home and lost at night to a Power 5 opponent by two touchdowns (again) season over (again) *record scratch* whoa here come the Buckeyes steamrolling everybody (again). Happened then! Happening again!
Offensive line gelling. Playmakers emerging. Defensive lapses. Questions about the strength of competition. Hell, there's even a Bosa and a J.T. Barrett again. Love these mofo parallels. Do people still say mofo? They probably did in 2014. Parallels!
Here's the thing though: 2014 is not happening again. That season would not repeat itself if you gave it 50,000 opportunities to do so - it was too ludicrous even then to be real. No team loses two quarterbacks and rides the third to the title, but that one did. It also lost a teammate during Michigan week, and yeah this is a dark place to go - but nobody was beating them after Kosta Karageorge's funeral. 
So let's dismiss that parallel fantasy and instead revisit the last seven times Ohio State either found itself in a dogfight or was facing stiff competition:
J.T. THE BLANKEY: OHIO STATE IN RECENT BATTLES

| YEAR | TEAM | BARRETT CARRIES | TOTAL RB CARRIES | RESULT |
| --- | --- | --- | --- | --- |
| 2017 | OKLAHOMA | 18 for 66 yards | 16 for 101 yards | LOSS |
| 2016 | CLEMSON | 11 for -2 yards | 11 for 91 yards | LOSS |
| 2016 | MICHIGAN | 30 for 125 yards | 18 for 80 yards | WIN |
| 2016 | MICHIGAN STATE | 24 for 105 yards | 18 for 124 yards | WIN |
| 2016 | PENN STATE | 17 for 26 yards | 23 for 142 yards | LOSS |
| 2016 | WISCONSIN | 21 for 92 yards | 23 for 92 yards | WIN |
| 2015 | MICHIGAN STATE | 15 for 44 yards | 12 for 33 yards | LOSS |
Barrett was first introduced to us as a #distributor. He's as good as it gets when he lives into that role...and yet in Ohio State's tightest games #distributor gets canceled in favor of rushing him into the boundary. It's the same play Ohio State lost the 2013 B1G title game on, but with Braxton Miller.
Rushing Barrett into the weak side is [thumbsucking sounds.mp3]. The Buckeyes have been fortunate to win any of those games with that philosophy. He has carried the ball as much or more than every running back combined in five of those seven, because those seven presented them with formidable opposition. Who visits Ohio Stadium this Saturday? Yeah.
Urban Meyer has gone on the record saying Barrett is his security blanket in times of crisis, and when the going has gotten tough, Urb has held onto his blankey with an iron grip. You can taste the fear when the playcalling strategy gets vetoed in favor of JT keepers, especially in lousy weather oh hey look it's going to be cold and rainy on Saturday. Everyone remain calm - we dismissed the parallels fantasy a few paragraphs ago, remember? It's different now. It has to be.
Ohio State began Penn State's sweetheart streak. Ohio State can also end it. Let's get Situational.
---
THE COSTUMES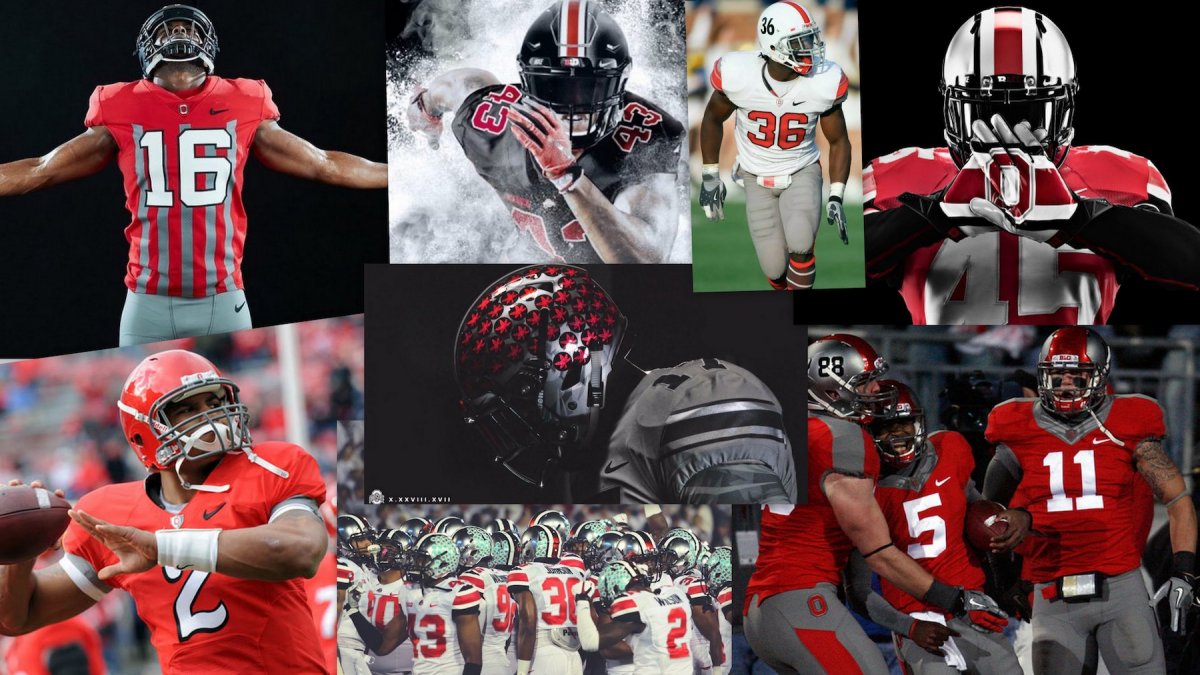 Three topics produce torrential pageview showers on this web site above all others.
The first is Ezekiel Elliott, who can sneeze and go viral. The second is, unfortunately, of the police blotter variety. The third is whenever Ohio State does or is rumored to be wearing alternate uniforms.
The 2009 team's trip to Ann Arbor marked the first instance of the Buckeyes participating in Nike's incremental consumer revenue campaign. Here are the kits that have been rolled out since then, in order of personal preference (does not include the Diamond Quest uniforms, which Ohio State should always wear - but that's an argument for another day).
OHIO STATE IN THE NIKE-WANTS-TO-SELL-MORE-JERSEYS ERA

| UNIFORM | YEAR | OPPONENT | RESULT | COMMENT |
| --- | --- | --- | --- | --- |
| The Cocaine WHITES™ | 2013, 14 | UM, PSU | W, W | Easily the best. Two nailbiters, however. |
| THE CHROMIES™ | 2012-14 | UM, UW, PSU, CL, VT, ILL | W, W, W, L, L, W | Frst good ones, but they took the only Ls. |
| THE Schindler's Lists™ | 2017 | PSU | TBD | We'll see if they look this good live. |
| THE DARK NIGHTS™ | 2015 | PSU | W | Black uniforms. The #teens were thrilled. |
| THE LEATHERHEADS™ | 2016 | NEB, 1/2 UM | W | AKA The Chic Harleys. Wore the helmets twice. |
| TATE FORCIER PASS MAGNETS™ | 2009 | UM | W | Five interceptions. Okay fine, those were good. |
| THE BRAXTON2DEVINS™ | 2011 | UW | W | 2011's only highlight. But, ugly. |
| The FAKE THROWBACKS™ | 2010 | UM | W | Rutgers-ass lookin' helmets. |
Low-key best thing about the Chromies was Ohio State wearing them one final time against Illinois to get the Virginia Tech taste out of their mouths before the university sold off the parts to collectors. Here's to the Wolves finishing the weekend undefeated.
---
THE BOURBON
There is a bourbon for every situation. Sometimes the spirits and the events overlap, which means that where bourbon is concerned there can be more than one worthy choice.
Ohio State's bye sent me to Oxford (the southern one, not the Ohio or the England one) for the Ole Miss-LSU game. It was a full weekend packed with southern cuisine, largely mediocre football and - this may come as a surprise to none of you - bourbon.
I consumed some pregame Wild Turkeys with Alex McDaniel, a better writer than you and me both as well as the Editor-in-Chief of the Oxford Eagle and the founding editor of Oxford Magazine. People ask me why bourbon an awful lot, and I've never had the energy or passion to end that inquisition with anything beyond because it's tasty or beer makes you bloated and fat and pee too much.
Alex has the energy and passion. Here's one paragraph from Why Bourbon is Probably the Love of My Life, entire thing recommended:
Bourbon tastes like a million stories I'll never have the time or space to tell. It's the Grove in September, served over ice in a Solo cup. It's a sunset view from the City Grocery balcony, blended with bitters and muddled fruit. It's the obscene number of bottles my college friends and I left at Faulkner's grave. It's the celebratory nip of Woodford the day I brought my newborn son home from the hospital. It's ending up at Boure after my father's funeral for a double-shot of liquid calm served neat. It's the flask of Maker's I smuggled into Bryant-Denny Stadium when Ole Miss beat Alabama in 2015. It's the contraband Bulleit my best friend drained when she realized there was no hope for her beloved Tide.
I can enthusiastically endorse both the aforementioned City Grocery and Bouré for when you cross Oxford off your College Football Saturday destination list. And I can confidently support Alex's position that bourbon is the most prolific storyteller you can possibly fit inside a single glass, flask or red Solo cup.
Why bourbon? That's why.
---
THE PLAYOFF
It's 1996. Ohio State is undefeated and ranked 3rd, having already beaten another top-five opponent in South Bend. Penn State is undefeated and ranked 4th, already having beaten a top 10 opponent in Giants Stadium where it deconstructed the USC Trojans in the Kickoff Classic.
Two top-five vs. top-five games by the first October Saturday! Cue Keith Jackson:
Orlando Pace should have been brought up on murder charges that day, so make sure you keep an eye on him. Commercials are included here, which gives us a nice little media time capsule; you may have forgotten that 21 years ago Burger King was using Across the Field to sell Whoppers. <-- click that, get through the commercial break and you'll see a youthful and pleated-pant Kirk Herbstreit, Chris Fowler and Lee Corso gushing about the novelty of being on campus as part of their 20th (!) ESPN Gameday roadie.
You can watch the 2nd half here, which begins with the Buckeyes already up 24-0. Penn State lost a one-point heartbreaker to Iowa two weeks later and then didn't lose again, mauling everyone including Texas in the Fiesta Bowl. Ohio State played, arguably, its best game of the season against the Nittany Lions, its toughest opponent. Heyyyy, stop it - we're done with parallels. Besides, you don't ever want to relive how that regular season ended.
Thanks for getting Situational today. Go Bucks. Beat Penn State.