LINCOLN, Neb. - When Ohio State lost to Oklahoma on Sept. 9, the rallying cry amongst Buckeye fans, and perhaps inside the locker room, was to point to the 2014 season. 
By now, everyone knows how Ohio State's season ended three years ago, as the Buckeyes ran the table following an early season, non-conference loss. Following the loss to Oklahoma, however, it was hard for some to think the same could happen again. 
Five weeks after losing 31-16 to the Sooners, however, the parallels are becoming too relevant to ignore. 
You will remember that Ohio State's loss to Virginia Tech in 2014 featured then-freshman quarterback J.T. Barrett getting sacked seven times, as it appeared the Buckeye offensive line would struggle to replace four starters up front. Later that same year, it was that offensive line that plowed the way for Ezekiel Elliott's historic run in Ohio State's final three games. 
This season, the Buckeyes are on a similar track. 
The loss to Oklahoma featured an anemic passing attack that had many clamoring for backup quarterback Dwayne Haskins to play over the veteran Barrett. 
Since the calls for his job after the loss to the Sooners, all Barrett has done is throw for 1,351 yards and 18 touchdowns to zero interceptions through the air, adding another four scores on the ground. Suddenly, Ohio State's passing offense is beginning to carry a group that looked lost against the Sooners at home, much like the running game did for the Buckeyes three years ago. 
The cautionary tale, however, is of course Ohio State's path to improvement. Over the last five weeks, the Buckeye wins have come against teams with a combined 15-17 record. Of the teams Ohio State has played this season outside of Oklahoma, only Army has a winning record (5-2). 
The same was the case in 2014, as Ohio State rallied from its loss to Virginia Tech to defeat Kent State, Cincinnati, Maryland, Rutgers and Illinois by 22 points or more. The lone outlier was a 31-24 double-overtime win over Penn State. 
The defining moment in 2014 for Ohio State came when the Buckeyes defeated Michigan State 49-37, a win that propelled them to a Big Ten title appearance and ultimately a national title. 
A similar situation faces the Buckeyes in 2017, as Ohio State is set to host Penn State on Oct. 28, the team that handed the Scarlet and Gray its lone conference loss of the previous season. 
Barrett, who completed 27-of-33 passes for 325 yards and five touchdowns against Nebraska, said the Buckeyes look back on their title season from time to time, but are trying to build a new legacy three years later.
"We reflect back to 2014 quite a bit, but I think right now, I think we're building an identity for ourselves, something different than 2014, but I think things are going well," Barrett said. "I think really just we're practicing great as a football team, offense and defense, and I think that's building that confidence to go out there every Saturday and play well, not just offense but defense as well."
Much like in 2014, the pivotal game in Ohio State's season is set to come against the team that beat them the previous season, and ultimately kept them from a Big Ten title. 
The Nittany Lions are set to take on Michigan next week, while Ohio State is set for a bye week. Wide receiver Terry McLaurin, who was a redshirt-freshman for the Buckeyes in 2014, said he isn't worried about the bye week taking any momentum away from his team.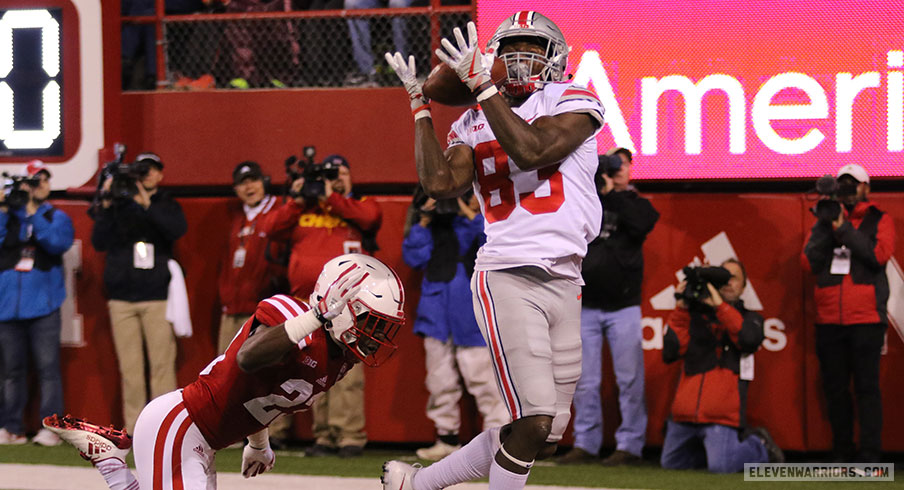 "We will get some time to get some rest and really put more emphasis on Penn State," McLaurin said. "We get some extra time to prepare which is nice. We've got a nice train rolling right now, we just want to come into the bye week focused and ready to get better."
McLaurin even said that the Buckeye coaches have been preparing for the Nittany Lions "for weeks," while also putting together game plans for games like their 56-14 rout of Nebraska on Saturday night. 
Much like in 2014, Ohio State will need to win a statement conference game in order to get back into the College Football Playoff hunt, and that will come when the Nittany Lions come to town in two weeks. 
"I was a younger guy then, and I understand football at a higher level now," McLaurin said of Ohio State's 2014 run. "As receivers, we have to make every play. Plays that we missed (early in the season), we are sick about it and we are critiquing ourselves. The sky is the limit for this team.
"The parallels are there, but our coaches really want us to focus on this year's team. We want to leave our legacy as the 2017 Buckeyes."