Ohio State fans have waited all year for a "new" uniform, and today Nike released the first images of the jerseys the inaugural NCAA playoff participants will wear.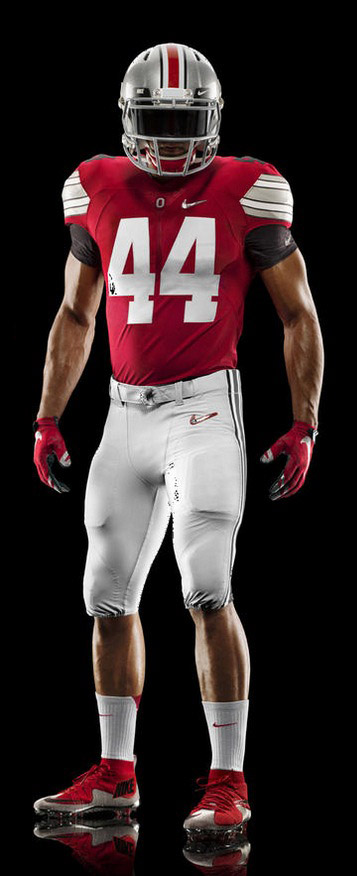 The "new" jerseys should look remarkably familiar to Buckeye fans, especially if/when they don the scarlet version (as Ohio State is the visiting team, they won't be wearing the uniform you see here in the Sugar Bowl).
The home scarlet jersey features black numbers on the shoulders, which seems to pay homage to the 1968 national championship team, which wore black numbers on the sleeves while keeping the tradition of recent teams by placing the numbers on the shoulders.
The jerseys show gray stripes on the sleeves, worn by both the 1968 and 2002 national championship teams.
The pants also feature a new black and dark gray stripe combination down the sides.
According to ESPN.com, the most recognizably different element of each jersey will be a diamond-tinged swoosh. As always, there's a method to Nike's madness.
Each of the uniforms for Alabama, Oregon, Florida State and Ohio State feature a diamond-colored swoosh on the front of the uniform, which Nike says symbolizes the teams' goal: a diamond championship ring.
The Buckeyes will be wearing the same kit, but with white jerseys instead of scarlet in the Sugar Bowl. As the No. 4 seed in the playoff, Ohio State will wear road whites throughout.
Gray shoulder stripes? Black letters? Yes. Yes. Yes. But the awesome doesn't stop there, oh no. Check out the bad-assery of the Buckeyes "base layer" – Nike's fancy term for undershirts – and the homage to Woody Hayes in the photo gallery above.
Best of all, Fanatics has these in stock already and can have one at your door for Christmas.
You can check out the entire line as released by Nike today. Thanks, Uncle Phil.