You spend a dozen fall Saturdays cheering for the same two colors.
College football outfits are vehicles for school history and tradition. They have deep, important ties to civic and regional pride. For decades Ole Miss marched out onto the field in what amounted to Confederate battle regalia. Its mascot, Colonel Reb, wore a costume that wasn't nearly as nuanced.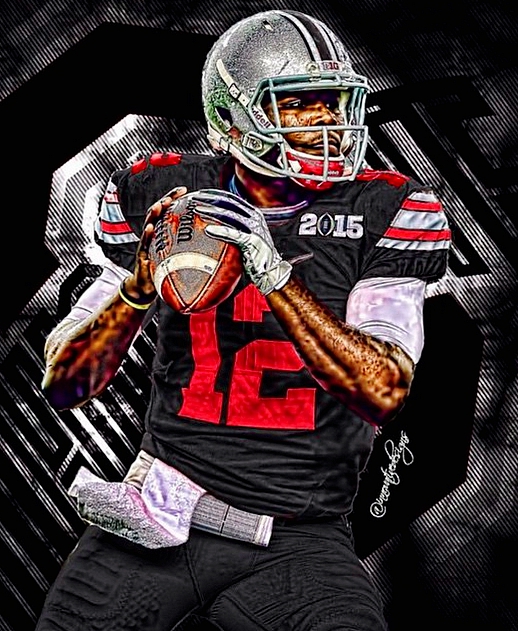 They're still called the Rebels today, 150 years after their ancestors surrendered to the Union and formally abandoned the rebellion. Until very recently their fans still waved giant Confederate battle flags and sang From Dixie with Love, shouting The South Will Rise Again at the end of it. It was as much of a tradition as the Rebs losing.
Ole Miss used to be the most active and accurate Civil War reenactment in our nation's history. That song, the flag and its former mascot might not be at games anymore, but the color scheme remains intact. It's the core of a university's identity.
Ole Miss is one of a kind. Ole Miss is every school.
Last week we learned the Buckeyes will be wearing another one in a series of alternate uniforms in the upcoming season - except unlike previous editions which were largely homages to past national champions and school traditions, this one is just being referred to as the black uniform.
It's potentially the opposite version of what the Buckeyes are pictured wearing atop this article, which many fans referred to as Ohio State's cocaine whites. It's too soon to christen them as the krokodil blacks (you do not want to google image search that).
The new, non-traditional, non-sacred outfits we expect to see on the Buckeyes' backs when Penn State comes to town will be black, a football jersey color you are often told matter-of-factly is scientifically proven to aid in recruiting. This is why the nation's elite recruits predictably whittle their scholarship offers down to either Iowa or Purdue before shocking everyone by choosing Texas Tech.
It's why Cincinnati is Ohio's true BCS team. It's why Colorado just can't stop winning the Big XII Pac 12. Nike will spare Buckeye fans the contrived tributes to the 1942, 1954, 1961 or 1968 teams this time around and transform the Men of the Scarlet and Gray into the Men of the Black Jerseys That Will Be On Every Ohio Teenager's Christmas List This Year.
Nike's only sacred tradition is creating shareholder wealth. Limited-edition alternate uniforms, no matter how good or terrible they are, are terrific marketing. They're the McRib of the college football apparel industry. They get people talking about jerseys.
Limited-Edition Uniforms are the McRIB of the COLLEGE FOOTBALL APPAREL INDUSTRY.
As cool as they might look that evening, they will not approach the flawlessness of the Buckeyes' CFP Diamond Quest uniforms from January, because why wear those perfect things again. Once you've done what you had to, they will never let you do what you want to.
That's a Catwoman quote. You know Catwoman. She's literally into black uniforms.
Black jerseys on Ohio State football players smite the rich academic and athletic history of a university that deliberately chose two noble colors to represent itself: Scarlet. Gray. Colors that matter. Colors with meaning. Colors that identify. Colors called out in the fight song.
Colors that were 100% arbitrarily chosen.
A committee of three students decided on the colors for the university during the 1878 Spring Term. The original colors selected for OSU were orange and black. However, because Princeton had already chosen those colors, the committee decided to change their decision to scarlet and gray. Alice Townshend, one of the members on the committee, reported that the colors did not signify anything. Instead, the committee wanted to choose something that was a nice combination and had not been used by any other college.
Ohio State had no intention of being confused with the Princeton Tigers, those miserable commissioners of academic mediocrity. Scarlet and Gray was uniquely theirs until UNLV was founded 79 years later and copied it. In 2015 the Buckeyes will desecrate the graves of Ms. Townshend and her two late colleagues by wearing one of the colors they rejected. Everyone's going to think they're Princeton.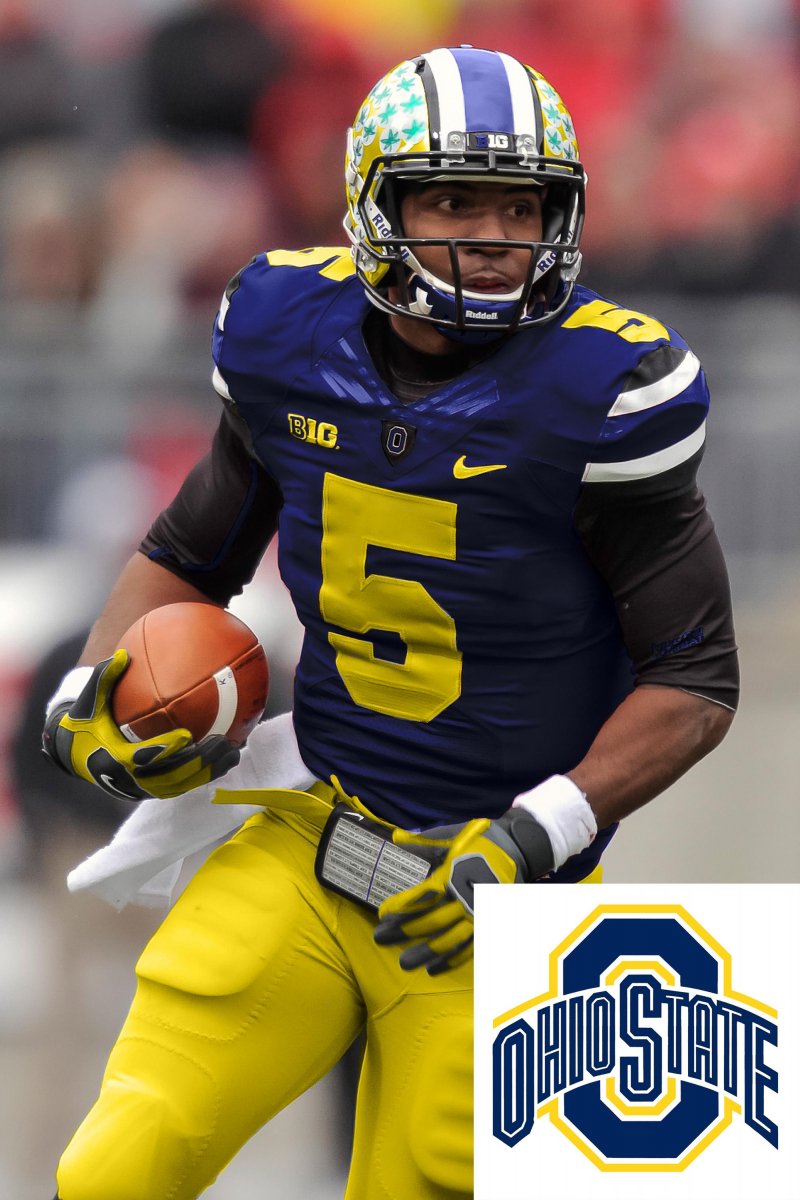 Still, Scarlet and Gray are at the core of Ohio State's identity. Colors matter. If they didn't, Urban Meyer would not have players and visitors ushered away from his practice facility and forced to change clothing for the crime of wearing blue. Hey, accidents happen.
Imagine the Buckeyes and Wolverines swapping uniforms before playing each other this November. Colors matter. Traditions matter. Ohio State is one of a kind. Ohio State is every school.
All that being said, it's just one game, it's black - not blue - and this is a deliberate spectacle. It's an extremely temporary masquerade. You're supposed to notice something is off. You might love it; you may hate it. It's McRib. It will be gone before you know it.
You could waste your energy getting twisted up over one evening of playing dress-up or you could simply enjoy the novelty instead. College football outfits are vehicles for school history and tradition. Ohio State's tradition is winning. Triumph doesn't have a color.
So the Buckeyes abandoning their sacred and arbitrary color scheme for one evening this October will have no adverse or positive impact on Ohio State football - all of that will be absorbed by Nike. Your emotions and #hotuniformtakes will cancel each other out, and then one week later the Buckeyes will be back on a football field wearing their familiar road whites.
They'll be in Piscataway, staring down a Rutgers team that will very likely be wearing black uniforms with scarlet trim and silver helmets. It will be like looking in a funhouse mirror while in a time machine from seven days away. And all you'll care about is Ohio State winning the damn game. We spend a dozen fall Saturdays cheering for the same two colors.
You'll quickly find out on Black Jersey Night this October that you're quite capable of cheering for one more.