Urban Meyer called Ohio State's defensive performance against Maryland "alarming" after Saturday's game, then used the same word to describe it on Monday. Sounds about right.
The Buckeyes allowed 51 points and 535 yards to a sub-.500 Maryland team that, even after the offensive outburst, doesn't rank in the top 50 in scoring offense or total offense. The Terrapins are No. 56 in scoring offense (below Army, SMU, South Florida and others) and No. 86 in total offense (below Kent State, Marshall, Illinois, UNLV and more).
Yet, Anthony McFarland Jr. needed just 21 rushes to gain 298 yards and score two touchdowns, while Tyrrell Pigrome tossed for 180 yards on just six completions. On the first play of overtime, McFarland had a 24-yard rush, and on the following play, the Terrapins scored. They nearly completed the game-winning two-point conversion, too.
So, would "alarming" be the right way to describe that performance? It seems pretty apt, and Meyer agreed.
"I thought that we started to crack the rock the last few weeks as far as playing good defense, elimination of big plays," Meyer said. "And obviously it was not good. So we're not blaming people, whether it be missed tackle, alignment, scheme, whatever it is. It's a matter of getting ready for this one. We watched it with the defense and it was not good."
Ohio State missed eight tackles – he said five misses is where a team wants to be – and blamed that partially on the big plays given up by the defense. Maryland scored on 4-of-5 red-zone opportunities and reached the end zone three of them.
None of the issues have been single-game issues or have even recently cropped up.
"We'll have to play better than we did on defense or we won't win the game. That's going to be the message all week, and I anticipate we'll play much better."– Urban Meyer after the Maryland win
Oregon State's Artavis Pierce had rushes for 75 and 81 yards in the first game of the season. Urban Meyer called big plays – the same types the decimated Ohio State on Saturday – the defense's biggest problem in his first post-suspension press conference. The Buckeyes missed 20 tackles against Purdue, then missed a bunch more against Nebraska. Middling quarterbacks have diced up Ohio State's secondary. Six teams have scored at least 25 points against the Buckeyes.
That has led to difficult conversations with the defensive staff, said Meyer, who characterized them as "uncomfortable and direct."
"And I was saying around here: Win the moment," Meyer said. "The moment is to get ready for the next one, not what happened against Oregon State or even last week. That's hard to do. Your question is legit and very uncomfortable to discuss but our players deserve our best and that's to focus on today and that's what's coming next."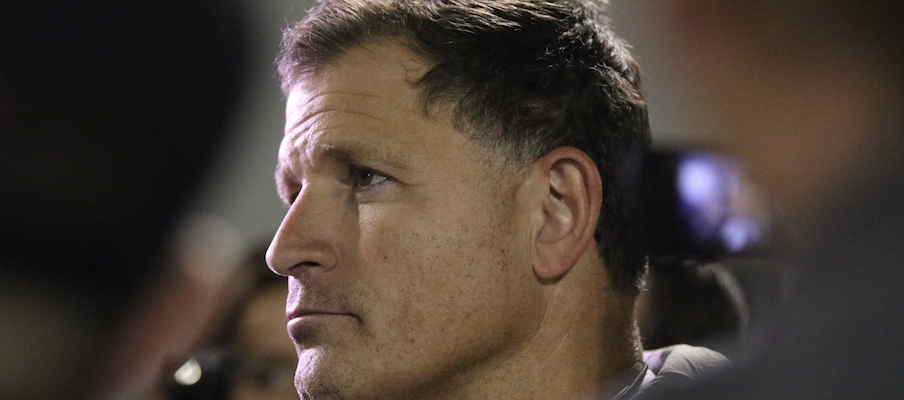 What's coming next is the biggest game of the year. What's coming next is a game against a team that would have beat Ohio State last year had it had a competent quarterback.
Well, Michigan has that guy now. Shea Patterson, a former five-star prospect and a Mississippi transfer, has passed for 2,177 yards with 18 touchdowns and four interceptions. He's not the focal point of the offense – the Wolverines still prefer to run the ball, especially in games against ranked opponents – but he's been a dual-threat weapon who will challenge a shaky Ohio State defense. Karan Higdon, who had 11 rushes for 55 yards versus the Buckeyes last year, has 209 carries for 1,106 yards and 10 touchdowns this season.
Michigan has the top scoring offense among Ohio State's 12 regular season opponents and converts third downs at a higher rate than all but eight teams in the country. Three weeks ago, the Wolverines dropped 42 points on Penn State. Considering they also possess the top fifth-best scoring defense and allow the fewest yards in the country, it'll be pertinent for Ohio State's defense to keep them in check.
Meyer knows Ohio State can't win with a similar defensive performance to what it had against Maryland. He said so after the one-point win on Saturday.
"We'll have to play better than we did on defense or we won't win the game," Meyer said on Saturday. "That's going to be the message all week, and I anticipate we'll play much better."
It's hard to justify much optimism for a unit that has been plagued with similar issues for the entire season and lost arguably the best defender in the nation for the season in Week 3. But Ohio State has no other choice. It's stuck with what it has, for better or worse. Now, the Buckeyes just have to make the most of it against their chief rival.
In order to turn around a scuffling defense, Meyer said his coaching staff is putting in extra time this week, both as expected and as necessary.
"Game plan and spend a ridiculous amount of time in there, from 6.00 a.m. to probably 11 tonight and come up with a scheme and make sure our checkers are in the right place," Meyer said. "And my job is to make sure our team is rested and it's a busy week. Had band here yesterday. We have the senior tackle. We have Thanksgiving and then we've got the rival."