Ohio State has won six straight games against Michigan, dating back to Urban Meyer's first season in 2012, but the Buckeyes are set to face what should be their toughest test against the Wolverines in the Meyer era in this year's rivalry game.
After many years of mediocrity, Michigan has re-emerged as a Big Ten and perhaps even a national championship contender in 2018. Since losing its season opener against Notre Dame (which is undefeated and ranked as the No. 3 team in the country), the Wolverines have rattled off 10 straight wins and are ranked No. 4 in the College Football Playoff standings.
The Wolverines have been carried by the strength of their defense, which has not allowed more than 24 points in any game this season and leads the Football Bowl Subdivision with only 234.8 yards allowed per game. That said, Michigan's offense has also improved substantially from last season, averaging 36.6 points per game (24th in the FBS) and 429.6 yards per game (47th in the FBS) this year after averaging just 25.2 points per game (91st) and 348.9 yards per game (105th) in 2017.
We now take a closer look at Michigan on both sides of the ball in this week's Scouting Report.
Quarterback
2 Shea Patterson – 6-2, 205, Junior
If the Wolverines had a better quarterback than John O'Korn, they very well might have been able to win last year's edition of The Game in Ann Arbor.
This year, they do have a significantly better quarterback.
A transfer from Ole Miss, Patterson hasn't necessarily quite lived up to the hype that surrounded him upon his offseason arrival at Michigan. he has been an upgrade to the Wolverines' passing game nonetheless, completing 65.9 percent of his passes for 2,177 yards and 18 touchdowns with only four interceptions.
A five-star recruit out of high school who is considered a candidate to declare for early entry into the 2019 NFL draft, Patterson has a strong arm and is also a good athlete, having rushed for 255 yards and two touchdowns on 60 carries this season. As such, Ohio State will have to account for his ability to take deep shots as a passer but also for his ability to scramble and make plays with his legs when opportunities present themselves.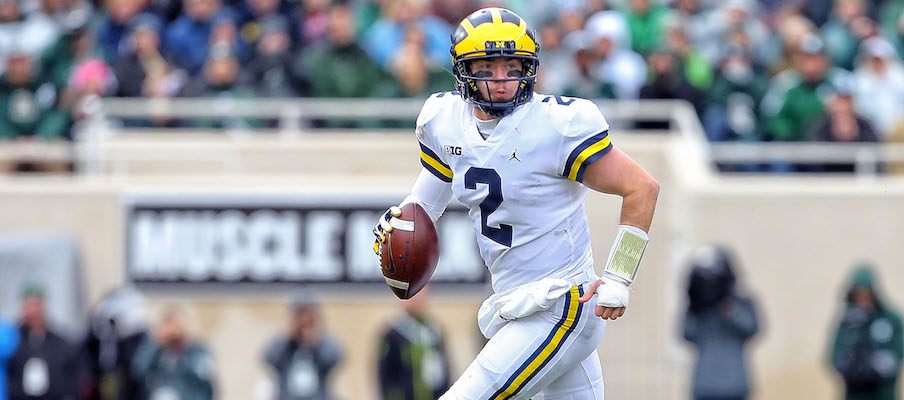 Running Back
22 Karan Higdon – 5-10, 202, Senior
12 Chris Evans – 5-11, 216, Junior
42 Ben Mason – 6-3, 254, Sophomore (Fullback)
Higdon has been one of college football's most consistent runners this season, rushing for more than 100 yards in eight of the 10 games he has played in this year. He's a tough runner who can finish through contact to extend runs, but he also has a good burst out of the backfield and quick feet, making him threat to break free for big plays as well. For the season as a whole, Higdon has rushed for 1,106 yards and 10 touchdowns this season.
Evans is Michigan's No. 2 running back for the third year in a row, and he's performed solidly in that role, rushing for 370 yards and four touchdowns this season. Fellow junior Tru Wilson (5-10, 202) has also earned an increasing role in the Wolverines' running back rotation, running for 323 yards and a touchdown on 52 carries.
Mason plays primarily as a blocker, but also gets some handoffs to run as a big power back in short-yardage and goal-line situations. He's taken advantage of those opportunities this season, rushing for 73 yards and six touchdowns on just 28 carries.
Wide Receiver
9 Donovan Peoples-Jones – 6-2, 208, Sophomore
4 Nico Collins – 6-4, 218, Sophomore
88 Grant Perry – 6-0, 195, Senior
An explosive athlete with the speed to stretch the field and the agility to extend plays in space, Peoples-Jones is the Wolverines' most dangerous offensive playmaker. He leads the Wolverines with 32 catches for 477 yards and seven receiving touchdowns this season, while he also has 24 punt returns for 243 yards, including a 60-yard punt return touchdown against Nebraska.
Collins, the biggest target among Michigan's wide receivers, has also shown big-play ability in a breakout sophomore season for the Wolverines, catching 29 passes for 461 yards and four touchdowns.
None of the Wolverines' other wide receivers have more than 18 catches this year, but they do have several other receivers who see playing time in the rotation, including Perry, freshman Ronnie Bell (6-0, 182) and redshirt freshman Oliver Martin (6-1, 200).
Tarik Black (6-3, 215), who emerged as an immediate star as a true freshman in 2017 but missed the final 10 games of last season and the first seven games of this season with foot injuries, caught his first pass of the season for a 5-yard gain this past Saturday against Indiana, but has not yet returned to form.
Tight End
83 Zach Gentry – 6-8, 262, Redshirt Junior
84 Sean McKeon – 6-5, 251, Junior
82 Nick Eubanks – 6-5, 252, Junior
Michigan has three tight ends who all play regularly – in the last two games, all three have been in the starting lineup – and all of them are big, athletic tight ends who can be playmakers in the passing game.
The top playmaker of the group is Gentry, who arrived at Michigan as a quarterback but has develop into one of the Big Ten's best tight ends. He has an excellent combination of height and athleticism, and has shown the ability to stretch the field up the middle this year, catching 30 passes for 475 yards and two touchdowns.
Eubanks showed his big-play potential in the Wolverines' most recent game, catching a 41-yard touchdown pass against Indiana. McKeon is more of a short-yardage receiver, gaining just 109 yards on 12 catches this year, but he's the best blocker of the group.
Offensive Line
75 Jon Runyan Jr. – 6-5, 310, Redshirt Junior (Left Tackle)
74 Ben Bredeson – 6-5, 320, Junior (Left Guard)
51 Cesar Ruiz – 6-4, 319, Sophomore (Center)
50 Michael Onwenu – 6-3, 350, Junior (Right Guard)
76 Juwann Bushell-Beatty – 6-6, 318, Redshirt Senior (Right Tackle)
A weakness of the Wolverines last season, Michigan's offensive line has improved substantially in former Ohio State assistant coach Ed Warinner's first season coaching the unit.
Runyan and Bushell-Beatty, who were both liabilities when called upon to play at offensive tackle last season, have emerged this season as a solid pair of bookends for the Wolverines, while Bredeson, Ruiz and Onwenu have shown the ability to be dominant on the interior.
This group has led the way for Michigan to average 5.03 yards per rushing attempt, 27th-best in the FBS, after the Wolverines averaged just 4.37 yards per carry (61st) in 2017. And they've allowed just 15 sacks in 11 games this season after allowing 36 sacks in 13 games last season.
Defensive End
3 Rashan Gary – 6-5, 283, Junior
15 Chase Winovich – 6-3, 255, Redshirt Senior OR 19 Kwity Paye – 6-4, 260, Sophomore
The Wolverines suffered a potentially massive loss at defensive end when Winovich, their best pass-rusher and one of their most active defenders, left Saturday's game against Indiana with an injury. Jim Harbaugh told reporters that X-rays came back negative for Winovich, but said Monday that he did not yet know whether Winovich would be able to play against Ohio State this week.
The good news for Michigan is that Gary, who missed three games earlier this season with a shoulder injury (leading to some speculation at the time that he wouldn't come back this year at all), has re-emerged as a star on the Wolverines' defensive front, recording nine total tackles with 1.5 sacks against the Hoosiers. An excellent athlete for his size, Gary can wreak havoc as both a pass-rusher and run stopper, and could be the most crucial player for Ohio State to block regardless of whether Winovich plays.
Paye has also seen regular playing time in the Wolverines' defensive end rotation, also seeing some playing time at defensive tackle in pass-rushing situation, and has also emerged as a difference-maker up front for the maize and blue this year, recording 26 total tackles with 5.5 tackles for loss, two sacks and a forced fumble.
Defensive Tackle
2 Carlo Kemp – 6-3, 280, Junior
90 Bryan Mone – 6-4, 335, Redshirt Senior (Nose Tackle)
Kemp and Mone aren't huge playmakers for the Wolverines' defense, but they do a good job of occupying blockers and closing lanes in the running game, leading the way up the middle for a defense that ranks 14th in the Football Bowl Subdivision in rushing yards allowed per game (111.6).
Junior defensive tackle Michael Dwumfour (6-2, 285) also sees regular playing time in the rotation, and he's been the Wolverines' most statistically productive player at the position this year, recording 18 total tackles with four tackles for loss. He also recorded his first career interception on Saturday against Indiana.
Sophomore defensive tackle Aubrey Solomon (6-3, 287), who was expected to play a starring role for the Wolverines at the position this year, has played only a limited role after undergoing knee surgery in September.
Linebacker
7 Khaleke Hudson – 6-0, 220, Junior (Strongside Linebacker)
10 Devin Bush – 5-11, 233, Junior (Middle Linebacker)
36 Devin Gil – 6-1, 231, Redshirt Sophomore (Weakside Linebacker)
A well-rounded middle linebacker who can be a downhill thumper in the run game, an effective pass-rusher from various alignments and is also fluid in coverage, Bush is one of the best linebackers in college football. He leads the Wolverines with 72 total tackles this season, including 9.5 tackles for loss and five sacks, and has five pass breakups.
Hudson is another versatile athlete who can be a jack-of-all-trades for the Wolverines defense, playing a similar role to that which Jabrill Peppers used to play for Don Brown's unit. He'll line up everywhere from the edge of the defensive line as a pass-rusher to back in coverage like a safety. He hasn't made nearly as many plays this season as he did in 2017, however, recording just 33 total tackles with 2.5 tackles for loss and no interceptions after recording 82 tackles with 18 tackles for loss and two interceptions last season.
Gil has started all 11 of Michigan's game at weakside linebacker, but has recorded just 23 tackles this year. Josh Ross (6-2, 225), who has rotated in at the position, has been more productive, recording 41 total tackles.
Another linebacker to watch: Josh Uche (6-3, 238), who plays almost exclusively as a pass-rushing specialist but has excelled in that role, recording a team-high seven sacks.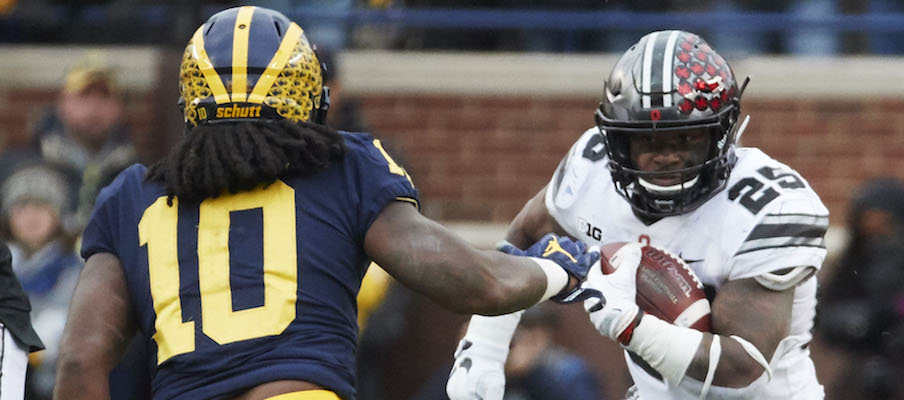 Cornerback
24 Lavert Hill – 5-11, 181, Junior
22 David Long – 5-11, 198, Junior
28 Brandon Watson – 5-11, 204, Redshirt Senior
Both in their second years as starters for the Wolverines, Hill and Long are one of the nation's most dominant cornerback duos. Thanks in large part to their consistent excellence in coverage, Michigan leads the FBS in opposing completion percentage (47.1), passing yards per attempt (4.9) and passing yards allowed per game (123.2).
Watson, Michigan's No. 3 cornerback (who typically plays outside, with Hill moving into the slot, in nickel packages), has also been a playmaker for the Wolverines defense this year, recording three interceptions and returning two of them for touchdowns.
Ambry Thomas (6-0, 183) also sees playing time in the cornerback rotation, while the sophomore is also the Wolverines' lead kickoff returner, gaining 325 yards on just 13 kickoff returns this season, including a 99-yard kickoff return touchdown against Notre Dame.
Safety
23 Tyree Kinnel – 5-11, 215, Senior (Free Safety)
14 Josh Metellus – 6-0, 204, Junior (Strong Safety)
Kinnel and Metellus can be inconsistent – Metellus was a weak link, making several costly mistakes, in Michigan's secondary against Ohio State last year – but they've both improved this year and have made no shortage of plays. Metellus is tied for the team with three interceptions, including a 73-yard touchdown return against SMU, while Kinnel ranks second on the team with 62 total tackles.
Ohio State is likely to have more success throwing against the safeties over the middle than it will throwing against the cornerbacks on the outside, but Kinnel and Metellus do both have a nose for the ball and can take advantage if Dwayne Haskins makes mistakes.
Specialists
2 Jake Moody – 6-0, 177, Freshman OR 3 Quinn Nordin – 6-1, 206, Redshirt Sophomore (Kicker)
17 Will Hart – 6-3, 192, Redshirt Sophomore (Punter)
In his debut game kicking field goals for the Wolverines against Indiana, Moody made all six of his field goal attempts, setting a Michigan school record for most field goals in a single game.
Nordin, who infamously hosted Harbaugh for a sleepover during his recruitment, missed Saturday's game due to illness but could now be in danger of losing his job, having made only three of his last seven field goal attempts.
Moody has also been solid as the Wolverines' kickoff specialist, while Hart has been one of college football's best punters, averaging 47.9 yards per punt.
Overall Outlook
Michigan will be the best and most complete team that Ohio State has played this season. If Ohio State is going to keep its winning streak in The Game alive, it is going to need to play its best game of the season on Saturday at noon at Ohio Stadium.
The Wolverines' defense is coming off its worst game of the season, allowing 385 yards to Indiana, but has been dominant against mostly every other opponent. Their ability to put pressure on the quarterback and challenge every throw will put Haskins to the test, while they also won't make it easy for the Buckeyes to run the ball.
Offensively, the Wolverines aren't elite, but they're more than good enough to take advantage if Ohio State's defense doesn't play substantially better than it did this past week at Maryland, when it allowed six touchdowns and 535 yards as the Buckeyes escaped with a 52-51 overtime win.
With good kickers and punters and a dangerous pair of returners in Peoples-Jones and Thomas, Michigan is also strong on special teams and could swing the game in its favor in that phase of the game as well.
Simply put, Michigan comes to Columbus as one of the best teams in college football, and Ohio State must play well in all three phases – which it hasn't in many games this season –to have a chance to win.