Like many things in modern college football, the change first took place in Tuscaloosa.

In the spring of 2010, Dan O'Brien's graduate studies had finished and it was time to move on. The son of former Boston College and N.C. State head coach Tom O'Brien, Dan was unsure of his next move in the coaching profession, having recently served as a Graduate Assistant on the Alabama staff.
For decades, programs have relied upon graduate assistant positions to help former players transition into the coaching profession while simultaneously building a bench of up-and-comers to fill future gaps on the staff. 
Over time, the NCAA began regulating their use, and today, teams can only employ four such staffers. They're allowed the same access as the regular staff, capable of working directly with players during practice and wearing a headset during games. They are even allowed to participate in recruiting practices, albeit in a limited capacity.
No longer eligible for such a role and with a boss just a few years removed from a stint in the NFL, O'Brien was offered a new role commonly found at the pro level but otherwise unknown in college: that of an advance scout.
By that time, NFL coaching staffs had already ballooned far beyond the point of having just one assistant for each position group. Teams had begun employing assistant position coaches, "Run/Passing Game Coordinators" (on both sides of the ball), "Quality Control" coaches, and a slew of interns whose names don't even make it in the media guide. 
With so much focus on identifying even the smallest of edges to be exploited in an upcoming contest, professional staffs added body after body to pore over game film. Meanwhile, college programs were limited to just nine assistants at the time, each responsible for duplicating the same amount of work each week in addition to their recruiting responsibilities.
That season, just months before Saban would claim his second national championship at Alabama, O'Brien was hired to the ambiguous role of "analyst" along with two other young coaches: former Arkansas GA Jeff Norrid and a relatively unknown linebacker coach from Birmingham-Southern named Joe Judge. 
In their previous roles, the trio had been able to work directly with the players in on-field instruction, but in this new role, they essentially acted as additional sets of eyes for the coordinators. They lived in the film room, watching tape of both future opponents and of the Tide itself, looking for tendencies and reporting back to the official coaches.
After one year behind the scenes, all three moved into on-field coaching roles either at Alabama or elsewhere. Today, O'Brien coaches outside linebackers at the Naval Academy and Norrid is the offensive line coach at Florida Atlantic, while Judge just completed his first season as head coach of the New York Giants.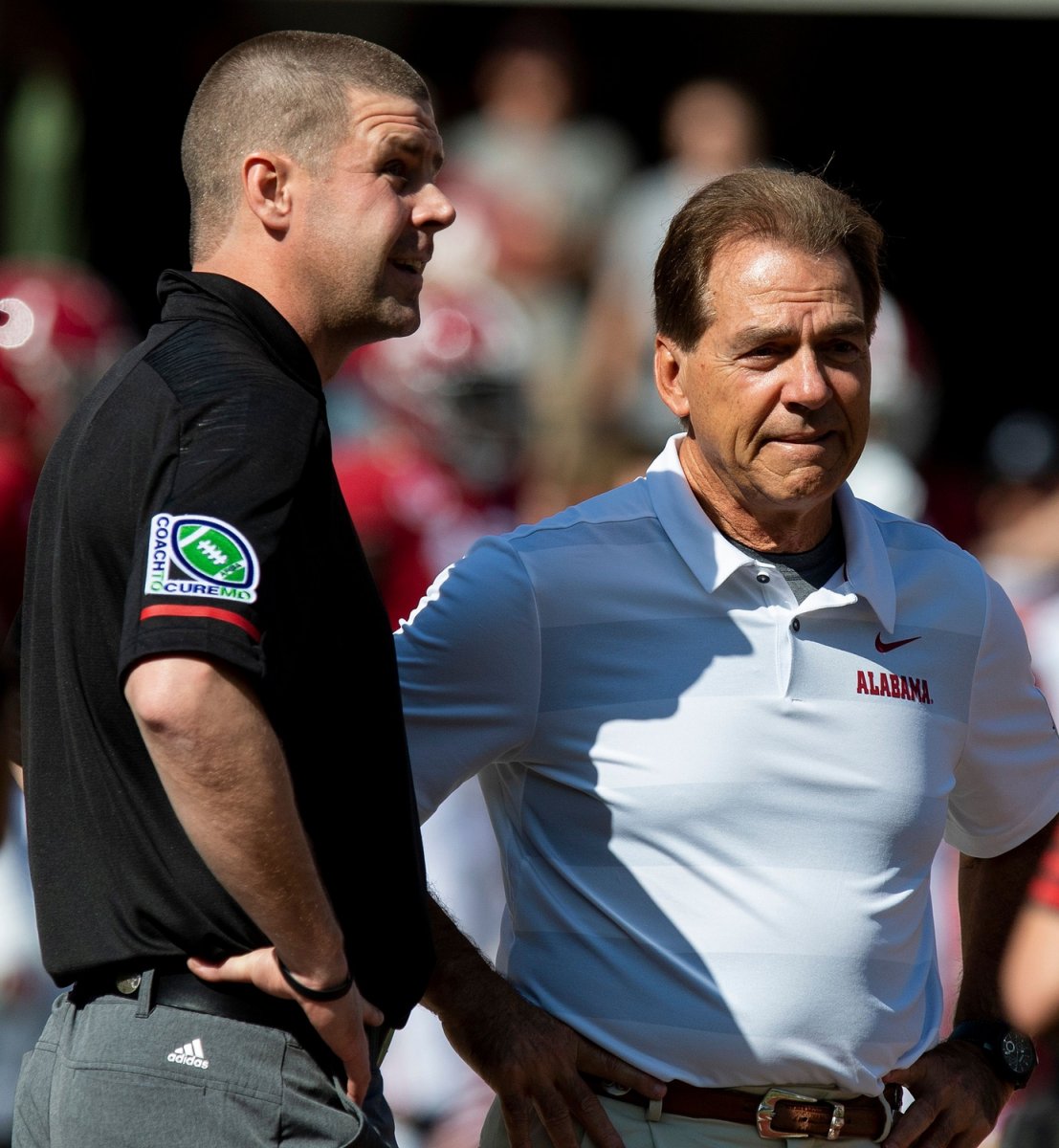 As the coaching carousel spun, Saban re-stocked his stable of analysts in 2011, this time led by the recently-fired offensive coordinator at Clemson, Billy Napier. Today, Napier is one of the hottest names in the coaching business, having turned the Louisiana Ragin' Cajuns into the Sun Belt champions in 2020 and finishing the season ranked 15th in the AP poll. 
According to a recent profile in SI, Napier credits his time as an Alabama analyst as "the most valuable year of his career." Napier, too, would move into an on-field coaching role after one season as an Alabama analyst and today tries to replicate what he learned from Saban within his own program:
"There is a method to the madness," says Louisiana offensive coordinator Rob Sale, who worked for six years as a support staff member for Saban. "Everything, when you walk into this building, has the Alabama backbone. How we do our film breakdown, summer scouting reports, academic point structure, offseason program … everything is the same. We're going to win here."
Alabama wasn't the only one expanding its coaching staff at the time, however. Virtually every major program had begun adding Quality Control coaches by this time, which has become an elevated version of a GA. 
These QC coaches often look like regular assistants, but even though they're considered part of the support staff, they're able to work directly with players (unlike Saban's analysts). Their roles can shift based on the needs of the staff, sometimes working consistently with one position group and other times completing whatever task the head coach or coordinator may assign.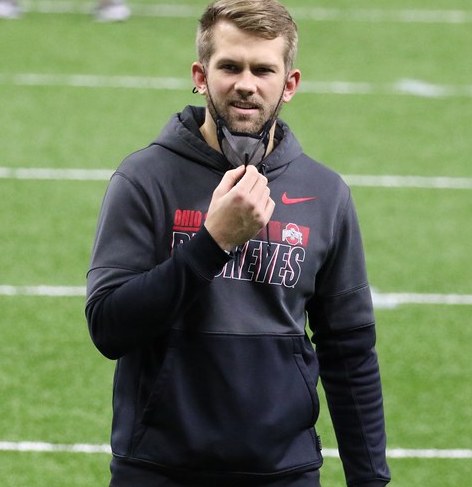 Corey Dennis began his career as an intern at Ohio State, helping with practice drills and signaling in plays to Buckeye quarterbacks in 2015 before earning a GA spot the following two seasons, working primarily with the wide receivers. The following year, he moved into a Quality Control role where he not only played a critical role in assembling the weekly offensive game plan but stepped in as the temporary quarterback coach when Ryan Day was elevated to interim head coach for the first three games of 2018. 
Dennis isn't the only former Quality Control staffer to get promoted. Brian Hartline began his coaching career as a QC coach in 2017 before taking charge of the wide receiver room. He and recently promoted Special Teams Coordinator Parker Fleming show just how important these QC roles are to the coaching staff, and it remains to be seen how many Day will hire for the upcoming season after employing four such staffers in 2020.
There is no single way to organize these support roles, as each competitor in the recent College Football Playoff features a different setup. Last fall, Notre Dame employed five staffers with the title of "analyst" in addition to its four GAs, but there were no Quality Control coaches listed in the media guide.
Clemson, meanwhile, employed four "senior assistants" similar to Quality Control positions, two analysts, and three "Video Graduate Assistants" which one can only assume were just junior analysts.
As one might expect, Saban's staff at Alabama was the most robust, by far. Though there were no Quality Control coaches listed in the media guide, there were an astounding 14 analysts listed.
Additionally, after two seasons in the analyst role, Butch Jones had been elevated to a new support role: "Special Assistant to the Head Coach." The former Tennessee head coach's role still remains a bit of a mystery, though he was often spotted following Saban around the sideline during games and providing input despite not wearing a headset.
Jones' story marks the most recent evolution of coaching support staff, and one the Buckeyes are beginning to explore themselves. 
While Napier was the first former coordinator to take an analyst role in Tuscaloosa, Mike Locksley and Steve Sarkisian were the first former head coaches to do so in 2016. Though the two had taken very different paths to get there, each found Saban's offices to be the perfect place to resurrect their careers.
After spending most of the 2016 season helping Lane Kiffin prepare game plans for the Crimson Tide offense, the duo was suddenly promoted to on-field roles following Kiffin's sudden departure prior to the 2017 CFP championship game. Though Alabama ultimately fell to Clemson in a classic contest, the offense - now led by Sarkisian - performed admirably, earning him a spot calling plays for the Atlanta Falcons the next season.
Locksley was named OC one year later and went on to win the Broyles Award as the nation's top assistant, earning the Maryland head coaching role in the process.
"I came in with the idea of wanting to see or get behind the curtain of the Alabama football program, look and see the consistency of how this place has won, and how Coach [Saban] has been able to adapt and change and improve as a coach," Locksley told reporters in January 2019. "It's like taking a sabbatical and going to study and become better."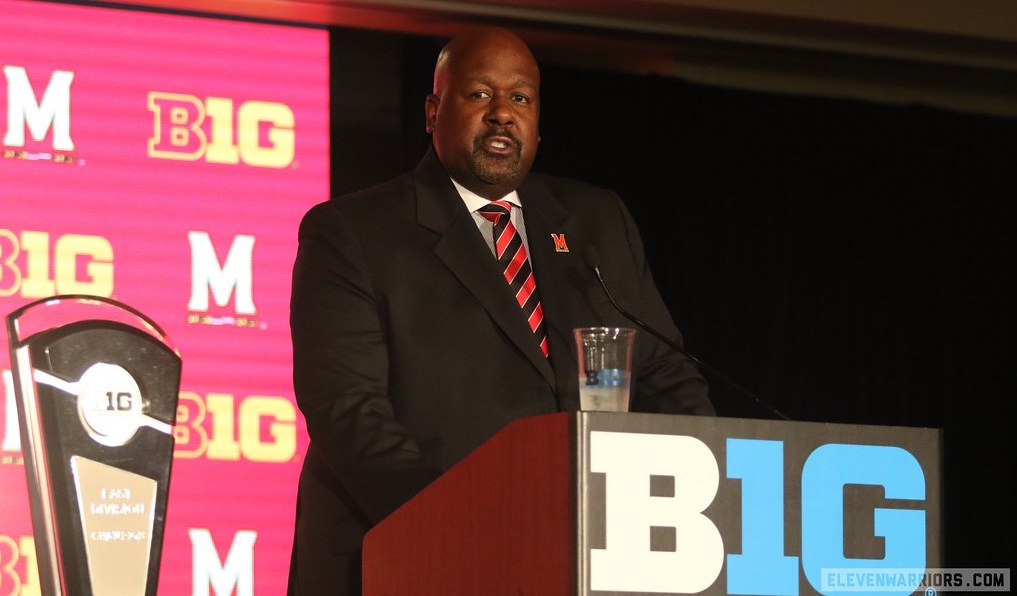 Sarkisian, of course, would return to Alabama as the offensive coordinator after two seasons in Atlanta, and today is in charge of one of the biggest programs in the nation. Upon taking the Texas job last month, Sarkisian was effusive in his praise of Saban and the environment he's created in Tuscaloosa.
"He's a tremendous mentor, and if you allow yourself to be mentored, I think you gain even more out of this experience," Sarkisian said prior to the CFP championship game last. "That's all I tried to do in my time here, whether it was my year here in 2016 as an analyst or the past two seasons as the offensive coordinator, is, one, coach the kids and do the best job I could do coaching the kids, but, two, really try to be a sponge with him and why he goes about what he does, some of the decisions he makes, so that if you ever get the opportunity like I'm getting now that hopefully, you can take some of these things with you to be a better coach down the road."
Just as Sarkisian had helped Kiffin take the Alabama offense to another level, Sarkisian was aided by the staff of analysts in the building last fall. Though 11 of the 14 are the more traditional, junior staffers looking to break into the business (such as former All-American cornerback Javier Arenas) three of Saban's analysts were former head coaches.
In addition to the aforementioned Jones, Saban employed Charlie Strong (South Florida, Texas, and Louisville), Mike Stoops (Arizona), and Major Applewhite (Houston) in analyst roles last fall. Each one has now moved into an on-field coaching job for the 2021 season, with Jones making the unprecedented move from full-time support staff to head coach at Arkansas State.
"I go back to my three years at Alabama, working with different offensive coordinators, you continue and sit back, and watch and evolve," Jones said on a recent podcast appearance. "I think you are constantly evolving. You are constantly adapting and growing to the game of football."
While other schools in the SEC have begun copying Saban's blueprint by hiring a number of staffers to analyze future opponents, Ohio State appears to be following suit as well. With junior staffers already in place as QC coaches, the need for veteran voices has been addressed with the hirings of Paul Rhoads and Todd Fitch in analyst roles.
We are thrilled to be a part of The Ohio State University Family! #GoBuckeyes

— Paul Rhoads (@CoachPRhoads) February 12, 2021
Both Rhoads and Fitch each have over 30 years of experience coaching Division 1 football and spent the 2020 season in coordinator roles. Though they won't be calling any plays or running any drills this fall, the duo can provide Day and his staff with valuable insight about what an opponent may try to do and recommend solutions to counter it before the on-field staff ever flips on the film.
In return, Rhoads and Fitch undoubtedly are looking for a similar boost in credibility given to former Alabama analysts. Rhoads spent seven seasons as the head coach at Iowa State but has bounced around between coordinator and position coaching jobs since. Fitch, meanwhile, has 15 years experience as a coordinator but only earned his first crack as a head coach in an interim capacity last fall following Derek Mason's mid-season firing at Vanderbilt.
For each former coach-turned-analyst, the chance to learn how a blue-blood program like Ohio State operates will surely help them in future job interviews. Until then, however, having an extra set of eyes on the competition is no longer an edge for national title contenders like the Buckeyes. Rather, it's quickly becoming table stakes.