"Don't it always seem to go, that you don't know what you've got 'til it's gone."

Rarely does the modern sports world evoke the lyrics of a folk song written in 1970, but ever since hearing the news of Kerry Coombs' departure from the Ohio State coaching staff for a similar role with Mike Vrabel and the Tennessee Titans, Joni Mitchell's famous words have played on repeat in my head. Now, only Zach Smith remains from Urban Meyer's original Buckeye coaching staff in the fall of 2012.
Coombs was beloved by Buckeye fans for his tireless work on the recruiting trail and as a never-ending source of enthusiasm and passion. Whether it be the fourth quarter against Michigan or the middle of spring practice, Coombs' voice could always be heard, never missing the chance to encourage or teach a player in scarlet in gray.
Ohio State Pass Defense

| Year | Yards/Attempt | National Rank |
| --- | --- | --- |
| 2012 | 6.4 | 26th |
| 2013 | 7.0 | 57th |
| 2014 | 6.1 | 12th |
| 2015 | 5.8 | 8th |
| 2016 | 5.6 | 1st |
| 2017 | 6.1 | 10th |
Yet despite spending more time in Columbus than any other defensive coach in that time, Coombs has rarely received credit from fans and media for Ohio State's consistent place among the top pass defenses in the nation. Having never been assigned play-calling duties, most observers instead lavished praise on Coombs' colleagues like Chris Ash, Luke Fickell, and Greg Schiano, believing their playbooks and game plans were the secrets to the Buckeyes' defensive successes (and occasional failures) over the past half-decade.
Perhaps due to his comparably modest background as a high school head coach, it may be easy for many fans to declare that Coombs should just be happy to be on the staff at a place like Ohio State. But after leading his alma mater, Colerain High School, for 16 years as the head coach (winning the 2004 Division-1 state title), Coombs spent five years mentoring defensive backs at the nearby University of Cincinnati where he coached in the Orange and Sugar bowls under Brian Kelly and Butch Jones. 
During that time with the Bearcats, Coombs would start a pattern that continues to this day, sending four of his pupils to the NFL (Mike Mickens, DeAngelo Smith, Brandon Underwood, and Haruki Nakamura). Of course, since joining Meyer in Columbus as cornerbacks coach, every single Buckeye starter at both cornerback spots has reached the next level.
Over the past three years, four Buckeye corners have been selected in the first round of the NFL draft (Bradley Roby - 2014, Eli Apple - 2016, Marshon Lattimore - 2017, and Gareon Conley - 2017) with All-American Denzel Ward poised to join their ranks this spring. Yet although Coombs has had more talent at his disposal at Ohio State, only Apple and Lattimore were considered to be elite prospects while Roby, Conley, and Ward all ranked outside the top 150 recruits in their classes nationally according to 247Sports.
Though Coombs proved to be effective at molding any raw clay presented him at the cornerback spot, perhaps the most impressive part of his work in the Woody Hayes Athletic Center was the fact that he did so under three coordinators, all of whom had differing philosophies and systems. In his first two seasons, working under Everett Withers, the Buckeyes relied heavily on Cover 3 and Quarter-Quarter-Half (Cover 6), meaning Coombs' unit had to master a number of zone and pattern-matching techniques.

Though the defense's overall results under Withers left plenty to be desired, Roby still found ways to shine, thanks in large part to Coombs. When playing a soft cushion in a Cover 3 alignment, Roby maintained great balance in his backpedal, keeping his chest above his knees, which allowed him to break quickly and make a play on the ball.
Roby's willingness to be physical speaks to the well-rounded coaching he received. While being this physical in the secondary starts with the player's attitude, Roby didn't just launch himself into ball-carriers.
Instead, as seen below, he stayed low and wrapped the runner's legs. This proficiency as a tackler led to Withers relying on Roby almost exclusively as the boundary corner in Cover 6, setting the edge in the run game and recording 52 tackles in 2013, the third-highest total on the team despite missing two games.
After Withers left to take the head job at James Madison following that season, Ash arrived in town with his Quarters defense in tow. Now, Coombs had to instill the subtleties of the pattern-matching system in which his corners neither followed a receiver no matter where they went nor did he drop to a specific zone.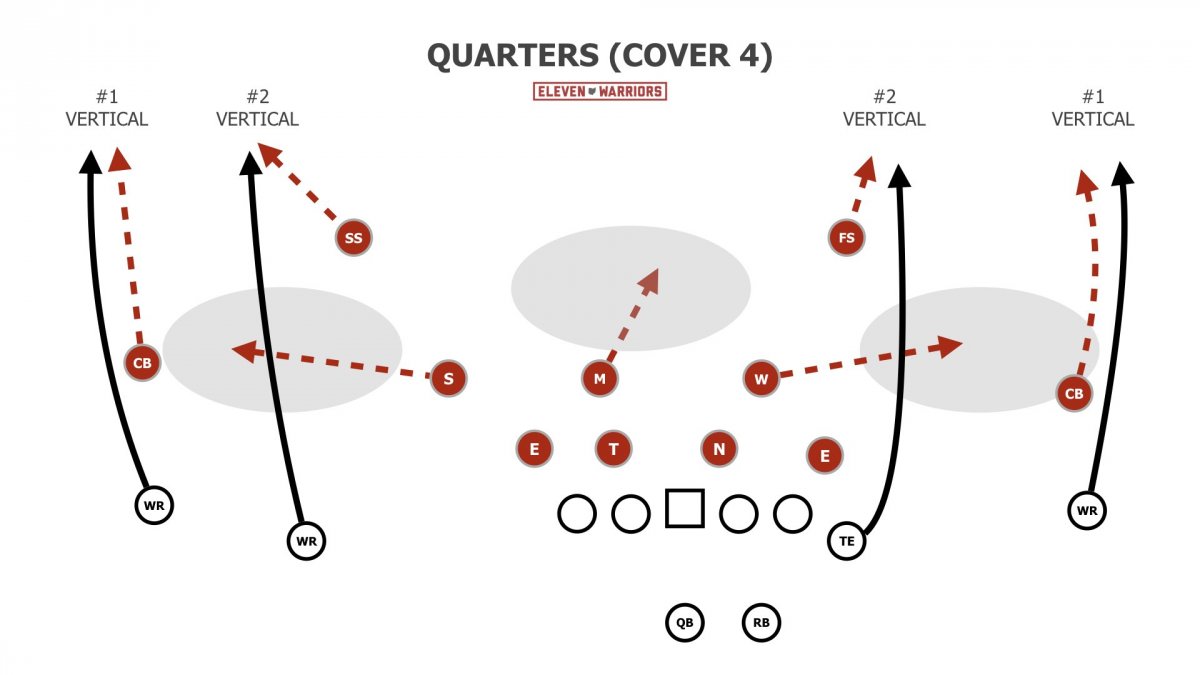 Rather, the OSU corners read the initial actions of the receivers and passed coverage responsibilities back and forth depending on what they saw. If the receivers all ran vertically downfield, the coverage looked like man, but could just as easily appear to be a zone against crossing routes.
Of course, this change in philosophy proved to be enormously successful, carrying the Buckeyes to a national championship in Ash's first season on staff. But as more teams became hip to the Buckeyes' tendencies, the unit began experimenting with more man-coverage schemes against pro-style offenses, taking advantage of the talent Coombs had cultivated on the outside.
While the responsibilities for the cornerbacks changed drastically, keeping their eyes locked on one man throughout the play, Apple and Conley proved more than capable of taking on the task. As Apple showed, not only does he force the receiver outside, funneling him into the sideline and away from the quarterback, he rips up through the ball to cause an incompletion. 
Most DBs put their hands up to make a play before ripping down at the ball, but that motion runs parallel to the receiver's efforts to pull the ball down into his body. By ripping up, Apple keeps the receiver from doing anything more than getting a hand on the ball.
Thanks to the strong work from Coombs and his corners, Ash earned a head coaching job at Rutgers, creating an opening that Schiano would fill. Upon his arrival in the spring of 2016, the former NFL head coach would lean heavily on the talented defensive backs at his disposal, as Conley, Lattimore, and Ward would allow him to primarily play Man-Free coverage (Cover 1) with star free safety Malik Hooker's range allowing the trio of corners to play without fear of making a mistake.
The result was the fewest yards-allowed-per-attempt of any team in America, and no opponent threw for more than 265 yards in a single contest while 8 of 13 opponents failed to even break the 200-yard mark.
Conley showed fans why he was expected to fill Apple's shoes as the team's top cover-man holding Oklahoma receiver and Heisman finalist Dede Westbrook to only 51 yards on 5 catches as the Buckeyes knocked off the Sooners in Norman.
As the red zone example below shows, Conley aligned slightly inside to keep Westbrook from gaining position on a quick, inside slant. But as the receiver breaks outside quickly on a speed out and races to the front pylon, the corner from Massilon breaks to undercut the pass, aiming for Westbrook's outside shoulder and running through the ball to create an incompletion.
While Conley was stellar in his final season in Columbus, Lattimore may have been even better on the other side of the field. Though he rarely saw the field during his first two years on campus due to injury, the former Cleveland Glenville star quickly put what he learned from Coombs into place as he earned first-team all-Big Ten honors in his only season as a starter.
But as good as Roby, Apple, Conley, and Lattimore were for Coombs, his star pupil may have been Ward. Not only was he Ohio State's first consensus All-American at corner since Malcolm Jenkins in 2008, he'll likely hear his name called in the top ten this April.
While Ward's natural speed may be what separates him from his former teammates, his technique is so smooth it often looks effortless. Never lunging or displacing his weight outside his shoulders, Ward mirrors receivers with ease, only looking to make a play on the ball once their hands go up to get it, also ripping up through the wideout's body to disrupt a potential completion.
But as Coombs departs for Nashville, he won't be leaving the cupboard bare for Meyer or his potential successor coaching the secondary, Alex Grinch. Though he seemed to struggle in his first career game as a Buckeye, transfer Kendall Sheffield eventually settled in, starring in the Cotton Bowl with four pass breakups against potential top pick Sam Darnold. 
Opposite Sheffield next fall will be Damon Arnette, and the duo will look to build on their 17 combined pass breakups in 2017. But whatever system Grinch decides to employ, he'll inherit a duo capable of doing more than simply playing man-to-man coverage. 
Though the Ohio State defense hasn't asked cornerbacks to get as involved in the run game in recent years, Coombs ensured his players remained unafraid to play with physicality. Despite being listed generously at 6'0" and 190 lbs, the undersized Arnette showed that Coombs makes his corners practice getting off stalk blocks on the outside with a rip move before attacking a screen pass.
Yet despite so much evidence to the contrary, few in Coombs' home state have bemoaned the loss of such an accomplished teacher and technician to the NFL. Had defensive line coach Larry Johnson made a similar move, the outcry would've undoubtedly been heard throughout Ohio. Yet despite coaching at the college level for more than 20 years, Johnson has mentored only two more first-round picks than Coombs throughout his heralded career.
Of course, it's easy to dismiss a man who spent the majority of his 35 years in coaching at high schools in southwest Ohio. But though he may not have spent most of that time developing NFL or Big Ten game plans, he had an equally challenging job of teaching fundamental skills to hundreds of teenagers.
Luckily for the Buckeyes and their fans, that ability to teach was put to great use over the past six years. Finding someone with a similar wealth of knowledge won't be easy.