Congratulations to all who picked Malik Hooker to be their 'breakout star' for the Buckeyes this fall.

With only six returning starters for the 2016 season, there were many choices for prognosticators of such a category. But after two interceptions during his first game as a starter in the Ohio State secondary, the sophomore free safety from New Castle, Pennsylvania already seems destined to be 'the next great defensive back' in Columbus. 
As a redshirt freshman last fall, the former basketball star saw action in all 13 games, mostly on special teams, while backing up star safeties Vonn Bell and Tyvis Powell. After both departed for the NFL last winter, many expected Hooker to fill the void left behind by at least one member of the talented duo. But while Hooker is lining up at free safety, the position manned by Bell during the previous two seasons, Hooker's role in the Buckeye secondary is very different to the one Bell held.
While the New Orleans Saints' second-round draft pick certainly made a number of plays during his Buckeye career, picking off nine passes over three seasons, his big plays rarely looked like the ones Hooker made in his first start. By now, nearly everyone has seen his ridiculous circus catch in the second quarter in which he tipped the ball out of the air, only to catch it while falling to the ground.
But what set up that interception is what separates Hooker's role to that of Bell. As the Scarlet and Gray defense lined up on that third down, they weren't in the 'Quarters' defense to which we've become accustomed since 2014.
Prior to that year, secondary coach Chris Ash installed the system to great fanfare, seeing results almost immediately as the back end of the Buckeye D began shutting down spread offenses with a system that seemingly blended the best parts of man and zone coverage.
With Ash now roaming the Rutgers sideline, his successor, former NFL head coach Greg Schiano, has taken a different tact with the Ohio State defensive backs. Despite only working with one returning starter in cornerback Gareon Conley, Schiano bet that the athletes at his disposal are simply superior to their competition, and after one game it appears he was right.
Although the Buckeyes came out with the same alignment as they had for the past two seasons, in a '4-3 Under' front with two deep safeties, the call was not what we'd been used to seeing. On the very first snap, the secondary rolled into a 'Cover 1' scheme, with every defender but Hooker locked up in man-to-man coverage against a Bowling Green receiver.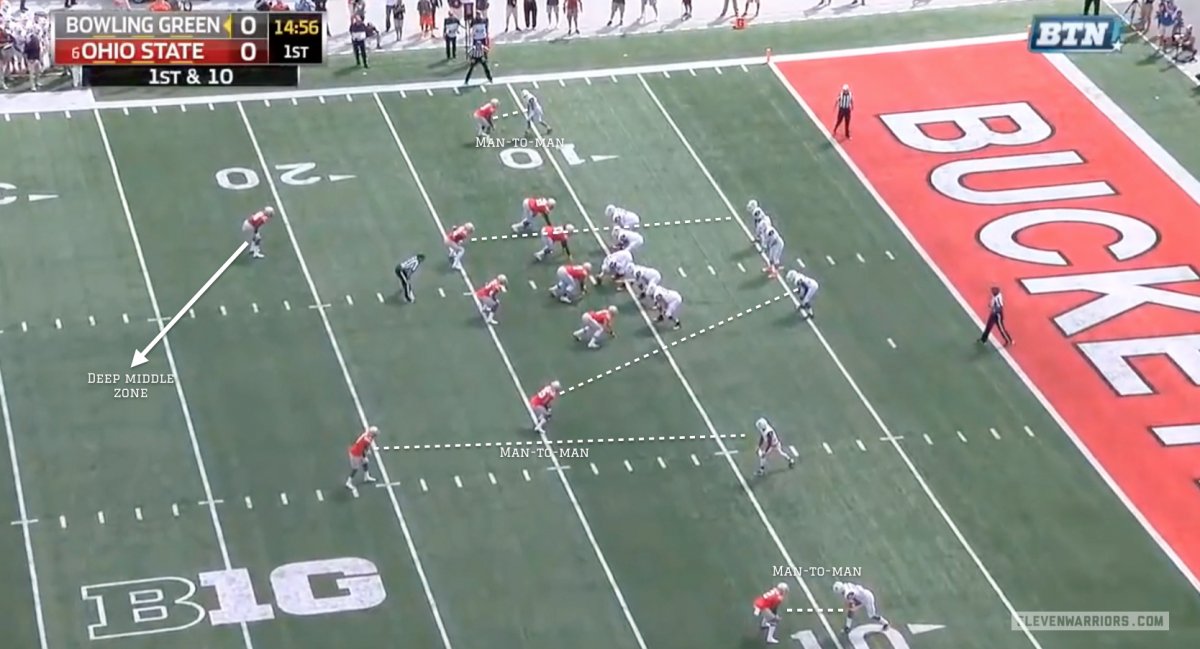 Instead of allowing SAM linebacker Chris Worley, lined up in the alley between the left tackle and slot receiver, to cover the curl/flat zone underneath to that side, he immediately had eyes in the backfield while strong safety Damon Webb rolled up quickly at the snap to cover the slot receiver in solo coverage.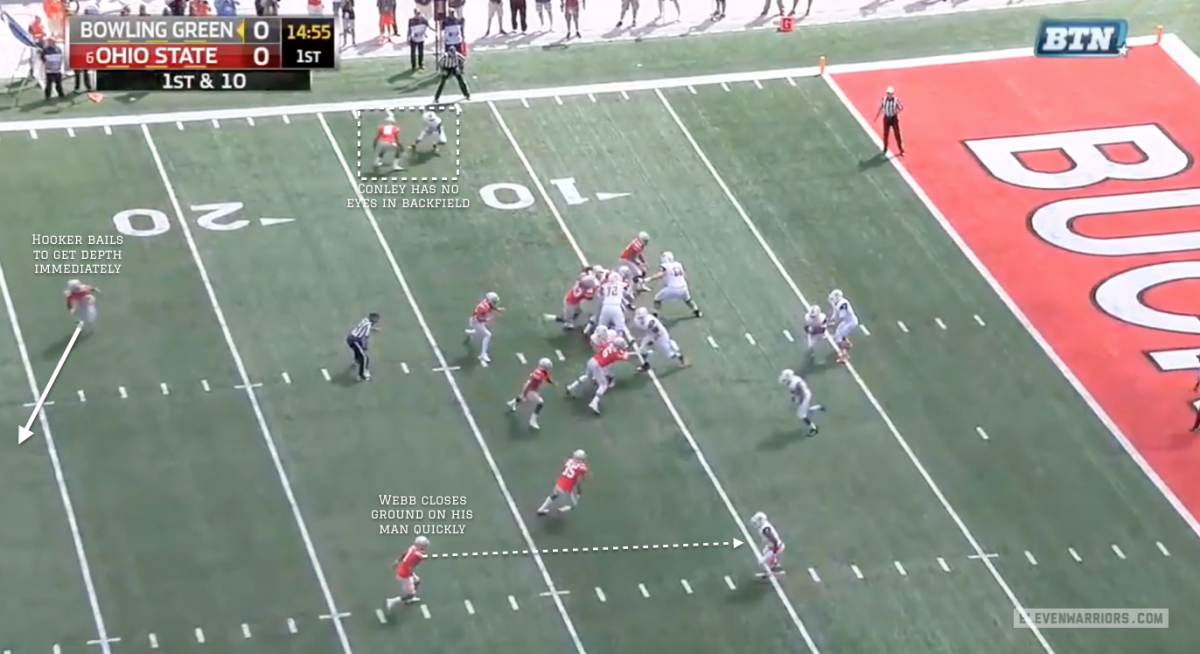 After playing cornerback for the past two seasons, Webb's move to safety this offseason seemed like a desperation move as Schiano and co-defensive coordinator Luke Fickell searched for bodies to fill the role after backups Erick Smith and Cam Burrows were beset by injury. However, the move allowed the Buckeye secondary to do far more in man coverage against the three and four-receiver sets often shown by 'spread' offenses like Bowling Green's.
The Buckeyes had certainly shown this coverage in the past, but often only against 'pro-style' offenses like Rutgers or Michigan that usually featured only two receivers at a time. In those instances, the biggest pressures of man coverage fell only to the cornerbacks on the outside while Bell and Powell would only have to match up with the less dangerous likes of tight ends and running backs.
To make matters more interesting, when the Buckeyes went to nickel personnel, removing a lineman or linebacker in favor of Damon Arnette, the Buckeyes would have five defensive backs, four of which had been recruited to play cornerback. Such was the case when Hooker pulled in his first career interception:
At the snap, Hooker immediately gains depth while reading the QB's eyes. He's been coached to immediately bail out to the wide side where there are multiple receivers, leaving Conley, the most experienced player in the secondary, all alone in solo coverage. Trusting Conley like that is a calculated gamble, but one Schiano and Fickell are more than willing to take, especially against a team like BGSU where the Buckeyes believe their guys are more athletic than anyone on the opposing side.
"It's more being able to know the defense a lot more and know what the guys in front of me are capable of doing, just reacting off what they do," Hooker noted after the game, crediting his teammates for allowing him to be in the position to make plays.
But the free safety's special talents are what holds this coverage together. The Seattle Seahawks have run Cover 1 for years with Richard Sherman, Kam Chancellor, and a host of other talented defensive backs with great success. But thanks to his ability to read and react faster than almost any other defender in football, free safety Earl Thomas is the most indispensable player in the entire group. 
With one player deep downfield with the range to make up for the mistakes of others, the other 10 defenders can play far more aggressively in front of him. For a unit with only three returning starters, that kind of approach can be a blessing, as they're simply asked to go out and make plays instead of worrying about responsibilities.
But this philosophy can also have a downside. By the second half, the Falcons began putting the Buckeye defense in precarious situations, identifying personnel mismatches with subtle formation changes.
We saw such an attempt on Hooker's second interception of the afternoon, as backup linebacker Joe Burger was forced to walk out and cover a slot receiver to the boundary as BGSU went with a 2x2 receiver set. Luckily, Hooker was there to help.
As the season goes on, the chess match between Schiano and his opposing coaches will be an interesting one to watch. By the time the Buckeyes travel to Oklahoma in two weeks, they may have gone back entirely to the Quarters scheme they've relied upon so heavily, unwilling to go mano-a-mano against the talented Sooner offense.
But with his many years as a secondary coach at the highest level, Schiano could insert countless wrinkles, blitzes, and other subtle tweaks to this 1-high coverage to keep offenses off balance all year. How many he adds may simply depend on his faith in the Buckeyes' newest star.
"He's a special athlete, there's no doubt," Schiano said of Hooker after the win Saturday. "He's got talents that not many guys have, The thing I'm most impressed with is there's a lot of those guys in this game that have that talent but don't work the way he does. If he continues to work the way he is, he can be a really fine player."
With two interceptions in the season opener, most would argue that Hooker is a pretty fine player already. But he may well be the key to the 2016 Ohio State defense becoming a special unit overall.