The Ohio State football program is reportedly set to lose one of its most unique personalities.
Ohio State assistant defensive coordinator Kerry Coombs, who was also the Buckeyes' cornerbacks coach and special teams coordinator, is reportedly leaving Ohio State to join the coaching staff of former Ohio State colleague Mike Vrabel with the NFL's Tennessee Titans, according to a report from Yahoo Sports' Pete Thamel.
While the Buckeyes should have coaches who are either already in Columbus or within their grasp to hire who can adequately fill Coombs' roles on the coaching staff, the overall set of qualities that made Coombs one of Ohio State's star assistant coaches will be tough for anyone to replace.
To see how successful Coombs has been at developing cornerbacks in his six seasons at Ohio State, one needs to look no further than his track record of putting cornerbacks in the NFL. Bradley Roby (2014), Eli Apple (2016), Marshon Lattimore (2017) and Gareon Conley (2017) all became first-round NFL draft picks under Coombs' tutelage, and Denzel Ward – who would make Ohio State the first school ever to have four first-round cornerbacks in three years – appears well on his way to following in their footsteps this year. Doran Grant (2015) also became a fourth-round draft pick after being coached by Coombs.
Going into the 2018 season, Coombs was certainly expected to play a key role in the continued development of an Ohio State cornerbacks group led by Damon Arnette, Kendall Sheffield, Jeffrey Okudah, Shaun Wade and Marcus Williamson – all of whom have the potential to be future NFL cornerbacks themselves, but must continue to improve to keep the Buckeyes' recent tradition of strong cornerback play going.
Beyond developing his cornerbacks into pro-ready players on the field, Coombs has also been known for the close relationships he has built with his players off the field. Ward was among those who took to Twitter on Wednesday to express that Coombs made a big impact on his life not only as a player, but as a person.
The Titans are getting the best college football corners coach in America! The amount of love and respect I have for @OsuCoachCoombs is indescribable. Definitely impacted my life beyond just being my coach. https://t.co/Iwc35J423Z

— Denzel Ward (@Flash_Ward12) January 24, 2018
Those relationship-building skills have not only enabled Coombs to be one of the top player-developing position coaches in the country, but also one of the nation's top assistant coaches in recruiting.
During his time on staff at Ohio State, Coombs has consistently been ranked as one of the country's top recruiter. He ranked 30th in 247Sports' national recruiter rankings for the recruiting cycle of 2013, 22nd for 2014, 17th for 2015, 17th again for 2016 and fifth for 2017. Players who Coombs has had a specific hand in recruiting who have since gone on to stardom for the Buckeyes have not only included Apple, Conley, Lattimore and Ward, but also Ezekiel Elliott, Vonn Bell, Sam Hubbard and Mike Weber, among others.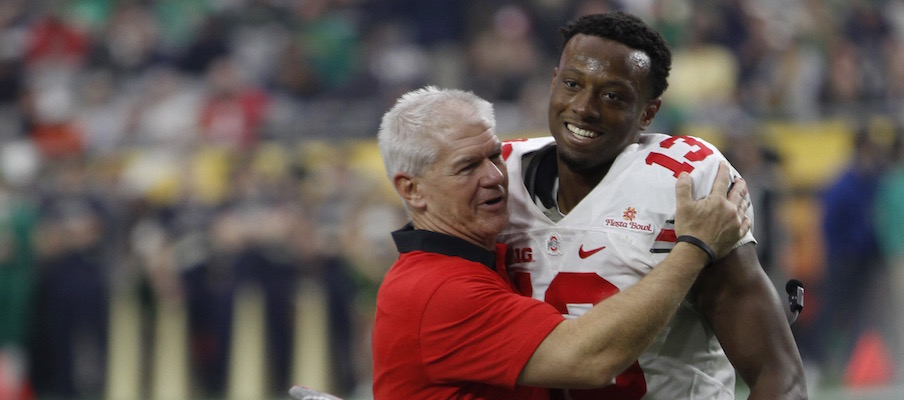 As a former Cincinnati-area high school coach (Colerain, Loveland), Coombs has strong connections to coaches throughout the state of Ohio – especially in the Cincinnati area – and also played a pivotal role in recruiting the state of Michigan, particularly in the Detroit area, as well in landing five defensive backs from the state of Florida in the past two recruiting cycles.
While recently hired defensive assistant coach Alex Grinch, whose specific role on staff has yet to be defined, is the presumable candidate to replace Coombs in his roles as co-defensive coordinator and cornerbacks coach – considering that Grinch was defensive coordinator and secondary coach at Washington State – Coombs' departure could make the Buckeyes look to fill his vacancy with another coach who has strong regional ties on the recruiting trail, especially considering the previous departure from the coaching staff of Luke Fickell last year.
Regardless of which coaches the Buckeyes might pursue to fill their latest vacancy, the quality of Coombs that might truly be missed more than any other is his energy and genuine passion for coaching college football.
Even from the press box high above the field, one could regularly see the animated Coombs being the first to celebrate with one of his players after making a good play – or the first to give them a strong reminder of how things were supposed to be done when they screwed up. One only needed to watch any game or practice for just a few minutes to get an idea of the energy that Coombs brought to the Buckeyes, as he was regularly the loudest coach on the field while running and jumping around as much as his players.
Being overly enthusiastic doesn't always translate to being a good football coach, but in Coombs' case it has, as his players have clearly responded to the demands for effort and enthusiasm that he has brought to them over the past six years.
Grinch is known for being an intense and enthusiastic coach in his own right, so he should pick up some of that slack. With coaches like Meyer, defensive line coach Larry Johnson and running backs coach Tony Alford on staff, one can rest assured that Ohio State's coaching staff will continue to bring plenty of energy to the field each and every day. But Coombs took that energy to another level that will difficult for anyone to replicate.