On the surface, it looked like a changing of the guard took place for Ohio State's offensive coaching staff on Tuesday, when quarterbacks coach Ryan Day was promoted to the role of offensive coordinator.
While Kevin Wilson is also still on staff as an offensive coordinator, Fox Sports' Bruce Feldman reported Tuesday that Day will handle play calling – a responsibility primarily held by Wilson last season – as part of his promotion. So whereas Day was subordinate to Wilson in their first season together on staff, at least in title as a co-offensive coordinator, Day now appears to have moved ahead of Wilson in the Buckeyes' coaching hierarchy.
In reality, though, Day's promotion – a move made by Ohio State to show its investment in Day, one day after he reportedly turned down an opportunity to become the offensive coordinator of the NFL's Tennessee Titans – might not change much at all in terms of how the coaching staff operates.
That's because Day already played a big role in orchestrating Ohio State's offense in 2017, and was already in line – even without a promotion – to play an even bigger role in 2018.
Day's influence on Ohio State's offense became obvious by the midpoint of last season, when the Buckeyes went on a six-game run of more than 500 yards of offense and at least 38 points. Day was specifically credited by Ohio State head coach Urban Meyer for implementing a mesh passing concept – as explained and illustrated by our Kyle Jones in this Film Study – that played a key role in the Buckeyes' offensive success over that stretch, in which the Buckeyes threw for more than 300 yards in every game.
"Ryan Day brought us that whole package to us," Meyer said Oct. 2, two days after that package set up a 39-yard touchdown catch-and-run on a crossing route by Johnnie Dixon against Rutgers. "It's been dynamic."
Over the course of the year – as Meyer and Wilson regularly referenced Day's work when answering questions about their offensive play calling and game planning – it became increasingly evident that Day was perhaps playing a bigger role in orchestrating the Buckeyes' passing offense than any other coach on the staff.
An increasing trend in football in recent years has been for teams to designate a passing game coordinator and a running game coordinator. While Ohio State does not explicitly define those roles like Michigan and some other schools do, the Buckeyes' coordinators nonetheless tend to split up those responsibilities in game planning. Wilson said in November that because of their various position-coaching backgrounds, Day typically takes on most of the responsibility for Ohio State's passing game plan each week – along with Meyer and wide receivers coach Zach Smith – while Wilson and offensive line coach Greg Studrawa led the way in putting together a running game plan.
So while Day could begin leading the way for the Buckeyes in terms of in-game offensive play calling, Wilson should continue to play a key role in devising Ohio State's rushing game plans, while Day's influence on the passing game from 2017 should carry over into his new role for 2018.
The reason why Day was already likely to play a bigger role in coordinating Ohio State's 2018 offense even before the promotion is because he will also, as quarterbacks coach, lead the way in determining who the Buckeyes' next starting signal-caller should be.
Day, in cooperation with Meyer and Wilson, will then be tasked with making adjustments to Ohio State's offensive scheme to best fit the skill set of whoever wins that battle between Dwayne Haskins, Joe Burrow and Tate Martell. Day being expected to lead that effort will be especially true now, but considering the potential for the Buckeyes' offense to place a greater emphasis on quarterback passing and less emphasis on quarterback running – especially if Haskins wins the job – it's likely that Day would have taken a leading role in that offensive redevelopment anyways.
The biggest question, from a staff dynamics standpoint, is whether Wilson – a former head coach at Indiana and before that, a Broyles Award-winning offensive coordinator at Oklahoma – will feel slighted in ceding responsibility to the 38-year-old Day, who has only three years of experience as a lead offensive coordinator (Temple, 2012 and Boston College, 2013-14) and has never been a head coach. The other question – one that already pervaded over Wilson and Day in 2017 – is whether Meyer will give them free rein to adjust the offense as they see fit, or limit them with the constraints of his traditional offensive concepts.
Ultimately, the only people who know for sure how that staff dynamic has worked and will work are the people who are inside the coaches' meeting rooms and actually involved in game planning. Publicly, however, each member of the offensive braintrust – especially Wilson this past season – has contended that it is a group effort where each coach has the opportunity to make an imprint on the offensive game plan.
"Our offensive staff's a joint deal, it's a group effort, there's a lot of talking between drives," Wilson said. "So there's a lot of open communication, that's how the offensive staff works."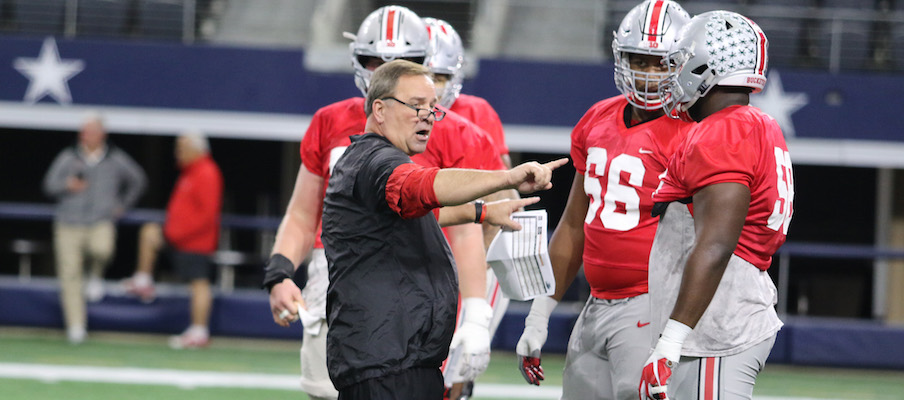 It's significant, to be sure, if Ohio State has decided to shift play calling responsibilities over to Day and take those responsibilities away from Wilson, especially considering Wilson's well-established track record and the hype that came with Wilson's arrival last year.
Play calling was already a collaborative effort between Wilson and Day (and Meyer) in 2017, though, as the two offensive coordinators sit next to each other in the coaches' booth during games and have discussions throughout the game on which plays to call.
Day might now have the power to overrule Wilson (with Meyer still having the ultimate veto power), and whether having three offensive minds debating over which plays should be called over the course of a game is a good thing is another question in itself.
As long as any hurt feelings are set aside, though, the collaboration between Ohio State's offensive coordinators shouldn't change drastically because of Day's promotion. Day might yield a bigger influence now than he did in 2017, but his role in coordinating the offense was already greater than his title might have suggested, and was already only going to grow in 2018 as the Buckeyes move on from the J.T. Barrett era and look to enhance their offense around a new passer.