While it remains uncertain exactly what Alex Grinch's role will be on Ohio State's coaching staff, we can start getting a better idea of what the Buckeyes' newest assistant coach could bring to Columbus by talking to those who had the opportunity to get to know him in his previous coaching job.
In a special offseason edition of Across the Field, we caught up with Washington State beat writer Stefanie Loh of the Seattle Times, who has covered the Cougars since 2015 and was recently named president of the Football Writers Association of America, to get her insight on how Grinch was successful as the Cougars' defensive coordinator and what impact he could make on the Buckeyes.
Washington State's defense improved in both points allowed per game and yards allowed per game in all three of Grinch's seasons leading the unit, improvement that Loh believes resulted from Grinch not only making schematic changes to the Cougars defense, but changing the way that entire unit approached the game.
"I think the big thing that I've heard a lot about him is that he didn't just come in and implement a new defensive scheme, he changed the culture," Loh said. "And he changed the mindset with which they play defense."
Washington State's defense didn't just allow less yards and points under Grinch's leadership, the Cougars also began making more big plays – forcing 24 turnovers in 2015, 23 turnovers in 2016 and 28 turnovers in 2017. According to Loh, that was by design; Grinch did a study when he arrived at Washington State, determining that teams who forced 24 or more turnovers typically won nine games or more, and his findings proved true in both 2015 and 2017, as the Cougars won nine games both seasons.
"They got the number of turnovers that he said in the study that if you got, you would win nine games, and they won nine games," Loh said. "And I think that that kind of lit a lightbulb with the kids, like 'Hey, this guy knows what he's talking about' and as we listen to what he's saying and we kind of buy in, he's going to take us to success. So I think that was a big part of it. He kind of changed their mindset and got them to buy in quickly."
"He didn't just come in and implement a new defensive scheme, he changed the culture."– Stefanie Loh on Alex Grinch's work as Washington State's defensive coordinator
Loh expects Grinch to have success at Ohio State, both in coaching and in recruiting, but she warns that the Buckeyes might have trouble keeping him around if he does.
"I wouldn't be surprised if he has a couple good seasons there that he's in the mix for a bunch of big head coaching jobs in the next two- to three-year range," Loh said.
Read more from our Q&A with Loh on Ohio State's new assistant coach below.
---
Q: Washington's defense allowed less points per game and less yards per game in each of Grinch's three seasons on the job. What do you think he did successfully in order to lead that improvement?
Loh: I think the most telling stat is turnovers. If you look at the year before he came in, they had eight turnovers all year. That year, they had a really bad defense. It seemed like the kids were just not motivated and just schematically and technically, they weren't very sound. What he did was he came in and he gave them an identity … We're going to play aggressive, we're going to force turnovers and turnovers win games.
If you look at the way he coached, he was a very popular coach. Players respected him, they thought he knew what he was doing, and he was very technically sound. So if you look at the way he coaches those (defensive backs), they made some strides under him.
The other thing that they did, in the last year, was really emphasize that speed to the ball. So you look at their sack rate too, that improved tremendously this past year. And so if you combine that with the fact that they've become a ballhawking defense, they caused a bunch of turnovers, that really helped them get to where they wanted to be.
Q: Grinch's defense was known in Pullman as the "Speed D." How did that all come about, and how did that define what the Cougars did defensively?
Loh: If you look at the makeup of this team, they've always been this offensive squad. (Washington State head coach Mike) Leach brought in his air raid offense, that thing was very established, so the offense had an identity. The defense never really did. They were always the afterthought. So he came in, call it a gimmicky marketing thing or whatever, but he came up with this identity for his defense and said 'Hey, this is the way we're going to play. We're going to play fast, we're going to swarm to the ball and we're going to force turnovers. Every opportunity that you get, your mindset should be that you're going to force a turnover and get the ball back.' And by kind of pushing that as much as he did, and then them having the success that they did a little bit better every year, I think he put that together and that created sort of like a defensive identity for this team to buy into. And that was hugely important for them because they never had that before.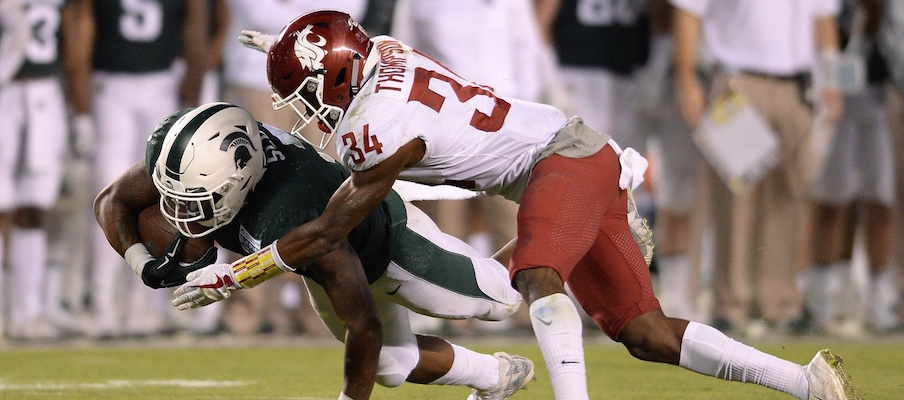 Q: What is Grinch's personality like? What should Ohio State fans expect to see from him on the sidelines and during interviews?
Loh: He's intense. The two things that you will pick up on immediately when you talk to this man is No. 1, he's intensely intelligent. The way he speaks, you can tell that there's a lot going on up there, and he's a very creative defensive mind. But the other thing is that he just radiates with this intensity that makes players want to go bat for him because he feels like he could go out there and jump in the scheme and show them what they're doing.
Q: Why do you think he decided to make this move at this point in his career?
Loh: He and his wife are both from Ohio, and they wanted to get back a little bit closer to home … so that was definitely a big part of it, but I think the other part of it was Urban Meyer. And I heard that he turned down some jobs that would have paid more to come back to Ohio, in part because of family but in part because he really wanted to work under Urban Meyer, and sort of learn from him and everything that he's done.
Q: How successful was Grinch on the recruiting trail, and what would you expect him to bring to Ohio State in that regard?
Loh: He really resonates with families. The first impression that most parents get of him is that he's a very energetic, a very cerebral, up-and-coming young coach. He genuinely seems to care about their sons. I know he came in here with very few ties to the San Diego area, and he became a pretty good recruiter for them, very persuasive and was able to pull in a bunch of kids from that San Diego area. And he has an eye for talent. What he had to do here, which he probably won't have to do at Ohio State because you guys can recruit a little bit more nationally, is that he was able to sort of project and take the kid that maybe was a linebacker who if he were two or three inches taller, would have gotten five or six more offers, he was able to find those kids and project and say, 'They'll do fine in my defense.' His main emphasis is on speed, and his thing was that ideally, you want them to big, fast, strong and ready, but not all programs can recruit those kinds of kids, so we're going to take the kids who are fast, and we're going to make them all the other things.