New Ohio State assistant coach Alex Grinch had his work cut out for him when he arrived on the job as Washington State's defensive coordinator in 2015.
Washington State's defense was among the worst in the country in 2014, ranking 99th in total defense (442.3 yards allowed per game) and 117th in scoring defense (38.6 points allowed per game).
Over the course of Grinch's three years in Pullman, however, the Cougars defense steadily got better.
The Cougars ranked 84th in the Football Bowl Subdivision in total defense (416.8 yards allowed per game) and 74th in scoring defense (27.7 points allowed per game) in 2015. They improved to 62nd in total defense (405.9 yards allowed per game) and 50th in scoring defense (26.4 points allowed per game) in 2016. In his final season as the Cougars' defensive coordinator and secondary coach, Washington State ranked 16th in total defense (323.3 yards allowed per game) and 56th in scoring defense, but with less points allowed per game (25.8) from the previous year.
Grinch's defenses at Washington State, known this past season as the "Speed D," were known for being aggressive and making plays on the ball. After forcing just eight turnovers in 2014 – tied for the least among all FBS teams – the Cougars forced 24 turnovers in 2015, 23 turnovers in 2016 and 28 turnovers (tied for ninth among all FBS teams) in 2017.
The Cougars also made more plays behind the line of scrimmage with Grinch leading the defense. After recording only 76 tackles for loss in 2013 and 77 tackles for loss in 2014, Washington State recorded 102 tackles for loss (10th-most in the FBS) in 2015. The Cougars dipped down to only 72 tackles for loss in 2016, but recorded 103 tackles for loss – tied for eighth-most in the FBS, and the second-highest total in Washington State history – in 2017.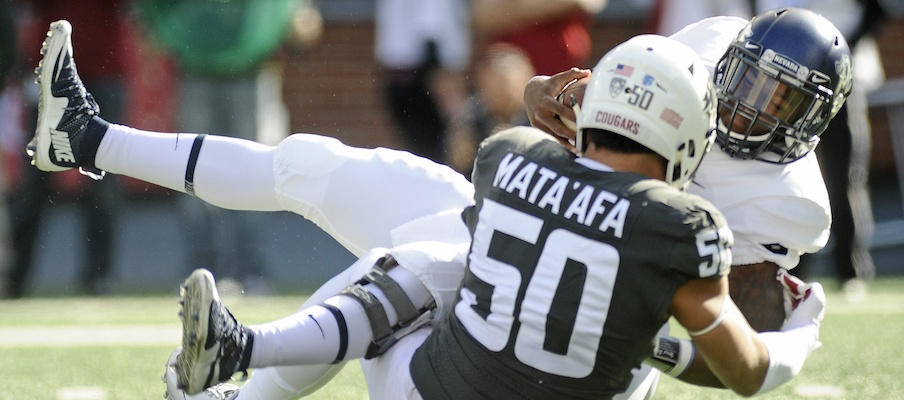 Perhaps the most impressive year-to-year jump for Grinch's defenses came this past season in passing defense, an area he played an especially big role in as defensive backs coach, when the Cougars improved from 112th in the FBS (271.7 passing yards allowed per game) in 2016 to ninth (170.9 passing yards allowed per game) in 2017.
All the while making big defensive plays with turnovers and tackles for loss, Grinch's defenses at Washington State didn't give up many big offensive plays, even while playing in a conference that tends to be heavy on downfield passing offenses. The Cougars tied for 47th in plays of 20-plus yards allowed in both 2015 (56) and 2016 (57), but the Cougars ranked 13th in that category in 2017, allowing just 44 plays of 20 yards or more.
The Cougars also had one of the nation's best third-down defenses this past season, allowing opponents to convert on 28.5 percent (49-of-172) of their attempts, the fourth-lowest percentage allowed by all FBS teams.
Grinch's reported hire raised some qualms after the Holiday Bowl, when Washington State's defense allowed Michigan State's offense – the same Michigan State offense that was held to three points and 195 yards by Ohio State – to score 42 points on 440 yards. The Cougars had a couple of other rough games this past season, most notably against Arizona, when the Khalil Tate-led Wildcats scored 58 points on 585 yards against Grinch's defense.
Overall, though, Grinch's defenses were among the best that Washington State has had in many years, and yielded impressive results under a head coach (Mike Leach) whose teams have been far more known for being explosive on offense – and often scoring quickly, putting their defenses back on the field regularly – than shutting down opposing offenses.
Grinch's role on Ohio State's coaching staff has not yet been announced – Fox Sports' Bruce Feldman reported that Grinch will be a co-defensive coordinator, and his background makes it likely that he'll be working with defensive backs – but regardless of what his exact coaching responsibilities might be, it would appear that Grinch will fit in well with an Ohio State defense that has also prided itself on forcing turnovers and making plays in the backfield in recent years.