While Ohio State officially announced the hiring of former Washington State defensive coordinator Alex Grinch on Monday, it remains uncertain exactly what Grinch's role will be.
Although Fox Sports' Bruce Feldman reported last week that Grinch would be a co-defensive coordinator for the Buckeyes, Ohio State said Monday that Grinch's "specific responsibilities will be announced at a later date."
That leaves it unclear not only what role Grinch will play on Ohio State's coaching staff this year, but how his addition could impact the roles of Ohio State's other defensive assistant coaches.
It is presumable that Grinch's role will be significant. While it's easy to guess why Grinch decided to make the move to Ohio State – he grew up in Columbus suburb Grove City, and his wife is from Ohio as well – it's also unlikely that Grinch, who was a Broyles Award semifinalist this past season as one of college football's top assistant coaches, would have left a Power 5 defensive coordinator post to be the low man on the totem pole for the Buckeyes.
That makes it more than believable that Grinch's position in Columbus will come with co-defensive coordinator duties, while the 37-year-old rising star will also likely be positioned as the defensive-coordinator-in-waiting to take over if Greg Schiano leaves Ohio State for a head coaching opportunity.
Given Grinch's background of being either a safeties or defensive backs coach in every one of his previous full-time coaching stops, it also seems a likely possibility that Grinch could take over Schiano's current position coaching responsibility as safeties coach.
The question isn't whether the Buckeyes will have a significant role for Grinch to take, because they surely will; it's how that role could change the responsibilities of the other coaches on Ohio State's staff.
If Grinch replaces Schiano as safeties coach, Schiano could presumably move into an oversight role from a position coaching responsibility standpoint while maintaining his responsibilities as the defensive play caller and scheme architect. It could also make sense for Schiano, who played linebacker collegiately at Bucknell, to spend more time working directly with Ohio State's linebackers alongside Bill Davis, considering the struggles that position group had in Davis' first year as linebackers coach.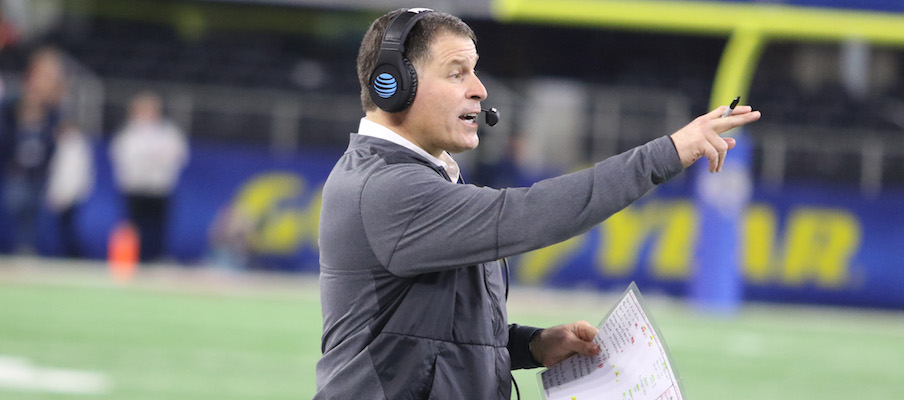 Kerry Coombs should certainly continue in his role as cornerbacks coach, considering that Denzel Ward is well on his way to becoming Coombs' fifth pupil in five years to be a first-round pick in the NFL draft. Coombs might no longer be a co-defensive coordinator if Grinch takes over that role, but that could enable him to spend more time focusing on his additional role as special teams coordinator.
The one coach whose role almost certainly won't change is defensive line coach and assistant head coach Larry Johnson, whose defensive line was once again one of the best in the country this past season. While many schools with five defensive assistant coaches have separate coaches for defensive ends and defensive tackles, Johnson's excellence in coaching defensive linemen would make it a mistake to take any of that responsibility away from him.
Ohio State might not be in any rush to finalize Grinch's coaching responsibilities just yet, because until spring practice begins and Grinch can begin working directly with players on the field, that doesn't really matter. For the next few weeks through National Signing Day, Grinch's primary responsibility will be the same as every other member of Ohio State's coaching staff: Recruiting.
The other reason why Ohio State might not be ready to announce Grinch's title yet is because the Buckeyes' coaching staff for 2018 might not necessarily be finalized yet. While there aren't many open collegiate coaching jobs that would likely entice any of Ohio State's coaches to leave at this point, the NFL is in the midst of its coaching turnover season. Considering that Schiano and Davis both have NFL backgrounds, Ohio State could be waiting to ensure that all of its coaches return for 2018 before finalizing Grinch's responsibilities.
Either way, Ohio State should have five defensive assistant coaches next year – if a coach was to leave, the Buckeyes would likely hire another coach for that side of the ball in order to keep the numbers balanced between offense and defense – which means that some coaching responsibilities will change. That's not a bad thing, however, as it gives the Buckeyes one more full-time coach to work directly with defensive players and help the Buckeyes prepare and game plan for opposing offenses while also giving Ohio State another coach on the recruiting trail.
Grinch, who successfully transformed Washington State's defense into an aggressive, playmaking unit during his three years in Pullman, should play a key role regardless of how Ohio State's defensive coaching staff ends up being structured in 2018 and beyond.