Ohio State has added three new players and subtracted three other players from its roster since we released our initial post-spring depth chart projection in April.
Former San Diego State offensive tackle Josh Simmons, Ole Miss defensive tackle Tywone Malone and Notre Dame receiver-turned-cornerback Lorenzo Styles are joining the Buckeyes as post-spring transfers, while wide receivers Kaleb Brown and Caleb Burton and offensive lineman Ben Christman have all transferred to new schools since spring practice (along with kicker Jake Seibert, who was already in the portal when we published the first post-spring projection).
Those incoming and outgoing transfers could of course have an impact on what Ohio State's depth chart looks like this fall. With that in mind, and with the expectation that Ohio State's transfer movement ahead of the 2023 season is now complete, it's time for an updated look at how the Buckeyes' depth chart could stack up this year.
Since there's been no on-field activity to change the depth chart projection at positions where the Buckeyes haven't had any incoming or outgoing transfers since spring, the only changes you'll see on this projection from our previous projection are at positions where the roster has changed. As such, our analysis for this projection is focused on those positions where movement has occurred. If you have questions about our projected depth chart at other projections, check back to our April article for our analysis on those positions' depth charts.
Quarterback
1. Kyle McCord
2. Devin Brown
3. Tristan Gebbia
Running Back
1. Miyan Williams
2. TreVeyon Henderson
3. Chip Trayanum
Wide Receiver (X)
1. Marvin Harrison Jr.
2. Carnell Tate
3. Kojo Antwi
Wide Receiver (Z)
1. Julian Fleming
2. Jayden Ballard
3. Noah Rogers
Wide Receiver (Slot)
1. Emeka Egbuka
2. Xavier Johnson
3. Brandon Inniss
Kaleb Brown's departure doesn't change the two-deep at wide receiver, but it positions Inniss to be the next man up at slot receiver behind Egbuka and Johnson, setting him up to be the likely starter inside one year from now assuming Egbuka enters the 2024 NFL draft. 
Brown's exit also opens up a spot on the three-deep for one of the second-year receivers who's still on the roster. Antwi appears to be closer to earning playing time than Kyion Grayes entering their second year in Columbus.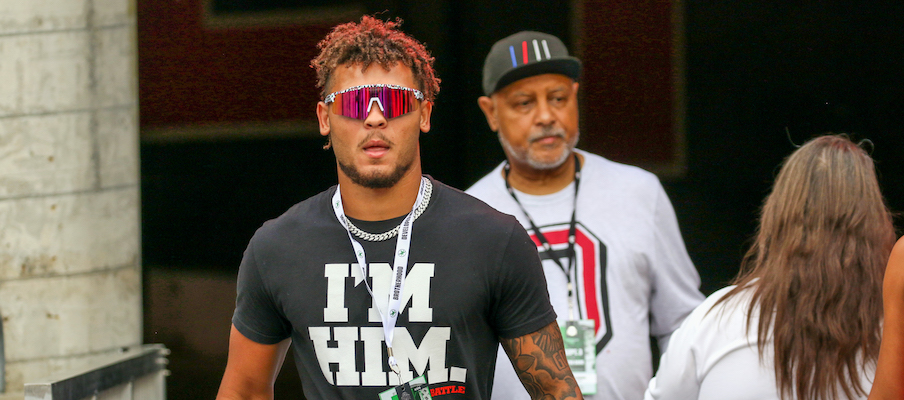 Tight End
1. Cade Stover
2. Joe Royer
3. Gee Scott Jr.
Left Tackle
1. Josh Fryar
2. George Fitzpatrick
3. Luke Montgomery
There was a school of thought that Fryar could move back to right tackle if Ohio State was able to bring in a left tackle via the transfer portal. Given that Simmons played right tackle at San Diego State and still needs development to become an Ohio State-caliber starter, the Buckeyes are likely to stick with Fryar on the quarterback's blind side as their most established tackle.
Left Guard
1. Donovan Jackson
2. Victor Cutler Jr.
3. Austin Siereveld
Ben Christman operated as the second-team left guard during spring practices, leaving a vacancy on the two-deep (though Enokk Vimahi is likely to be the next man up at both guard spots). That opens the door for Siereveld to compete for a second-string spot as a true freshman, but the better option may be a move from center to guard for Cutler, who had some issues with snapping during spring practices that were open to the media.
If Simmons or Zen Michalski wins the starting right tackle job, another option could be moving Tegra Tshabola back to guard to develop him for a potential future starting job inside.
Center
1. Carson Hinzman
2. Jakob James
3. Joshua Padilla
Although James missed the spring recovering from offseason surgery, he'll get a shot to compete for the starting center job in preseason camp. If Hinzman and James will make up the two-deep in one order or the other, it would make sense to give Cutler the chance to play at another position, which would also open up a spot on the three-deep for Padilla.
Right Guard
1. Matt Jones
2. Enokk Vimahi
3. Toby Wilson
Right Tackle
1. Josh Simmons
2. Tegra Tshabola
3. Zen Michalski
Simmons had some struggles in his first year as a starter at San Diego State, so he's no lock to be a starter for the Buckeyes this year. He still gets the nod as the most likely starter on this depth chart projection because he has a year of starting experience that Tshabola and Michalski don't, and neither Michalski nor Tshabola looked ready to be a starter this spring.
That said, this remains the most unsettled position on the depth chart as all three of them should get the chance to compete for the job in preseason camp. Once the competition is settled, it's possible Tshabola could move to guard or Michalski could move to left tackle to keep them all on the two-deep – but for now, the expectation is they'll enter camp splitting reps at RT.
Defensive End
1. JT Tuimoloau
2. Caden Curry
3. Omari Abor
Defensive End
1. Jack Sawyer
2. Kenyatta Jackson
3. Mitchell Melton
Defensive Tackle
1. Mike Hall
2. Tyleik Williams
3. Jaden McKenzie
Defensive Tackle
1. Ty Hamilton
2. Tywone Malone
3. Hero Kanu
Hall, Hamilton and Williams remain likely to be the top three defensive tackles on the depth chart. All three of them should see substantial playing time regardless of who starts, with Hamilton playing primarily at nose tackle, Williams playing primarily at 3-technique and Hall playing both spots depending on who's lined up next to him.
With no proven depth behind them, Malone likely slots in as the fourth defensive tackle on the two-deep with the potential to see snaps at both defensive tackle spots. Outside of the top three, Malone is the most likely defensive tackle to see extensive playing time this year, though McKenzie and Kanu performed well enough this spring to push for at least some playing time this year.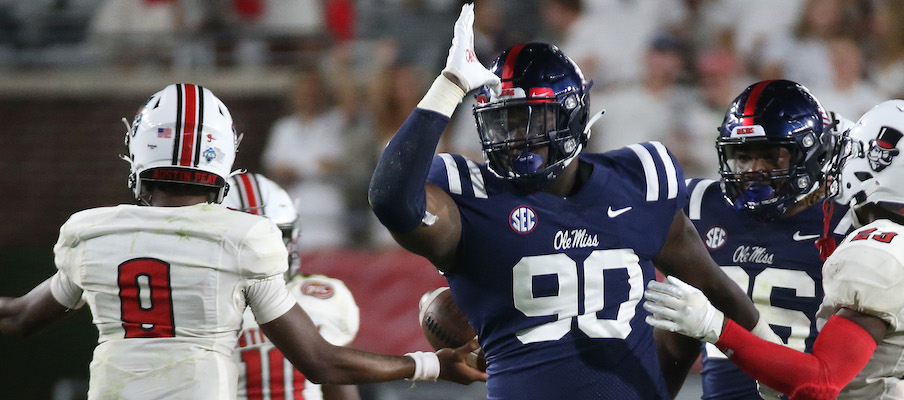 Linebacker (Will)
1. Steele Chambers
2. C.J. Hicks
3. Reid Carrico
Linebacker (Mike)
1. Tommy Eichenberg
2. Cody Simon
3. Gabe Powers
Cornerback
1. Denzel Burke
2. Jyaire Brown
3. Ryan Turner
Cornerback
1. Davison Igbinosun
2. Jordan Hancock
3. Jermaine Mathews Jr.
While Lorenzo Styles bolsters Ohio State's depth at cornerback and could contend for a bigger role at either corner or nickel next year, his addition doesn't change the projected depth chart right now.
Since Burke, Igbinosun, Hancock and Brown are expected to make up the two-deep at cornerback (with the order behind Burke still open for competition) and Styles spent the last two years playing wide receiver, it would be logical for Styles to redshirt the 2023 season as he reacclimates to playing defense, preserving his two remaining years of eligibility to play a bigger role in 2024 and 2025.
Nickel Safety
1. Cameron Martinez
2. Ja'Had Carter
3. Ryan Turner
Free Safety
1. Josh Proctor
2. Kye Stokes
3. Malik Hartford
Strong Safety
1. Lathan Ransom
2. Sonny Styles
3. Kourt Williams
It's worth noting Ohio State pursued former UAB safety Jaylen Key as a potential fourth post-spring transfer addition, which suggests Ohio State still has some qualms with its current safety depth chart considering Key is a sixth-year senior with only one remaining year of eligibility. But Ohio State isn't likely to add any other transfers after Key's official visit to Ohio State was canceled, leaving the projected safety depth chart as it was exiting spring.
Kicker
1. Jayden Fielding
2. Parker Lewis
3. Casey Magyar
It was already apparent before Seibert entered the transfer portal that he was unlikely to factor into the kicking competition this year, given that Fielding, Lewis and Magyar handled all of the kicking duties in the spring game. The competition between them – particularly Fielding and Lewis – will continue in preseason camp, but Fielding appears to be getting the first opportunity to win the job after handling kickoff duties last year.
Punter
1. Jesse Mirco
Ohio State will likely add a walk-on punter this summer to back up Mirco, but he remains the only punter on the roster right now as no such addition has been confirmed yet.
Long Snapper
1. John Ferlmann
2. Max Lominico
3. Collin Johnson
Kickoff Returner
1. Xavier Johnson
2. Carnell Tate
3. Chip Trayanum
Punt Returner
1. Emeka Egbuka
2. Jayden Ballard
3. Marvin Harrison Jr.
Kaleb Brown's departure gives the Buckeyes one less option in the return game, as he was expected to be one of the top backups at both kick and punt returner. His exit makes Tate and Ballard the top options behind returning starters Johnson and Egbuka. Trayanum is another option on kickoff returns after handling that duty for part of last season while Harrison spent enough time returning punts this spring that he appears to be an emergency option if the Buckeyes need a reliable ball-catcher back deep.