There was no question who Ohio State's best offensive weapon was against Penn State.
With Jaxon Smith-Njigba sidelined for the fifth time this season and Miyan Williams knocked out of the game with apparent hand and knee injuries on just his second carry of the day, Ohio State needed its other offensive players to step up. And no one did so in a bigger way than Marvin Harrison Jr.
Harrison caught a career-high 10 passes for 185 yards, the most receiving yards any Ohio State receiver has ever had in a single game against Penn State. All 10 of his catches went for at least 11 yards, topped by a 37-yard catch on the third play from scrimmage of the game, and all of his catches were good for first downs, including three third-down conversions and a fourth-down conversion.
The sophomore wideout did all of that despite having to leave the game briefly in the third quarter after landing awkwardly on his shoulder and being unable to feel or move his arm for a short period of time.
"Getting up, I couldn't really feel anything in my right arm, couldn't really move it, so I had to come out for a quick second," Harrison said after the game. "I was good after that. The adrenaline pushed me through."
The toughness Harrison showed in the process was what impressed Ryan Day most about his performance in Happy Valley.
"I mean, we know Marvin's talented. But to play tough the way he did says a lot about him, and he was gutsy today," Day said.
While Julian Fleming's return to his home state to play against a school that recruited him heavily drew more headlines in the week leading up to the game, Saturday was also a homecoming for Harrison, who grew up about three hours away from Penn State in Philadelphia. Knowing it could be his only opportunity to play at Penn State if he enters the 2024 NFL draft, Harrison wanted to take advantage of his chance to have a big game in his home state, and he certainly did.
"It means a lot, man," Harrison said. "This might be one of my only times for me to come back to Penn State and play there. So I tried to make the best of it."
After accounting for more than half of C.J. Stroud's 354 passing yards against Penn State, Harrison now ranks third in the Big Ten in both receiving yards (783) and receptions (48) this season. He still leads the conference with 10 receiving touchdowns although he did not score any touchdowns against the Nittany Lions.
Another big day for Stover
Ohio State's second-leading receiver against Penn State was neither Emeka Egbuka (6 catches for 53 yards) nor Fleming (two catches for 27 yards) but Cade Stover, who had his biggest game yet as a pass-catcher to continue his breakout season as a receiving threat from the tight end position.
Stover caught a career-high six passes for 78 yards against the Nittany Lions, highlighted by a 24-yard touchdown in the fourth quarter on which the man known as "Farmer Gronk" ran through three tackles on his way to the end zone.
HOW ABOUT THEM BUCKEYES?! @OhioStateFB finds the end zone for ANOTHA TD! pic.twitter.com/r9kfbVELLs

— FOX College Football (@CFBONFOX) October 29, 2022
That play made Day think back to Ohio State's 2018 game at Penn State and the famous catch-and-run touchdown Binjimen Victor scored in that game.
"Cade Stover, what can you say about that run he had? Clutch," Day said. "When Cade broke those tackles for the touchdown, it reminded me of Ben Vic."
Saturday was the second time Stover has topped 75 receiving yards this season, along with his three-catch, 83-yard performance against Toledo. Going into this season, no Ohio State tight end had topped 75 receiving yards in a game since Jeff Heuerman had five catches for 116 yards and a touchdown against Purdue in 2013.
Further speaking to Stover's usage in the passing game compared to other Ohio State tight ends in recent years, Stover – who had more catches against Penn State than he had in the entire 2021 season (five) – now has the same amount of receiving yards and touchdowns through eight games this season as Jeremy Ruckert had as Ohio State's top tight end for the entire 13-game 2021 season.
Jeremy Ruckert as Ohio States top tight end for the entire 2021 season: 26 catches, 309 yards, 3 TD

Cade Stover as Ohio States top tight end through the first eight games of 2022: 24 catches, 309 yards, 3 TD

— Dan Hope (@Dan_Hope) October 29, 2022
He admitted after the game that he didn't expect playing tight end to be as much fun as it has been for him this season.
"I didn't, but I'm having a blast," Stover said. "It's just an honor really to be trusted in that situation and just have an opportunity to make plays."
Stover also made a significant impact as a blocker against Penn State. While it wasn't a perfect day in that regard for Stover, who had multiple missed blocks on screen passes, he made a crucial block on TreVeyon Henderson's go-ahead touchdown run in the fourth quarter, sealing off two defenders to open a hole for Henderson to run for a 41-yard score.
TREVEYON HENDERSON TO THE HOUSE@OhioStateFB takes the lead right back! pic.twitter.com/DcW9nwmja0

— FOX College Football (@CFBONFOX) October 29, 2022
"Cade had a hell of a game," Stroud said.
Day takes blame for half-ending sack
If Ohio State hadn't come back to beat Penn State on Saturday, the three points the Buckeyes left on the table at the end of the first half would have undoubtedly been one of the game's biggest storylines.
With only six seconds left before halftime and Ohio State trailing 14-13, the Buckeyes had the ball at the 8-yard line looking to take a lead into the break. But instead of kicking a short go-ahead field goal, Ohio State decided to try for a touchdown pass, which ended with Stroud being sacked and the second-quarter clock expiring.
On 2nd & Goal @PennStateFball's defense said NOPE

Penn State enters the half with a 1-point lead pic.twitter.com/GsbpOOdN0n

— FOX College Football (@CFBONFOX) October 29, 2022
Both Day and Stroud said after the game that there was miscommunication between them on the play. Day expected Stroud to throw a quick fade to the end zone to leave time on the clock even if the pass was not completed, but Stroud instead looked to throw a slant to Egbuka.
"It was just miscommunication between me and Coach Day. Nothing too extreme," Stroud said. "I should have maybe just thrown the fade up. I knew I was gonna get zero (coverage), and I just gotta get the ball out of my hand. I wanted Mek to run a one-step slant right away, so they can catch them off-guard. They were kind of like backed up three yards in the end zone."
Even so, Day said he deserved all the blame for the Buckeyes ending that drive without points.
"We were not on the same page he and I, but I'll take all the blame for that," Day said. "Totally not his fault. Shouldn't have been in that situation. Six seconds left, just kick the field goal, get some momentum at halftime. So I'll take all the blame for that."
Beyond that sequence, Day also drew criticism on Saturday for his heavy usage of screens in the passing game, which were repeatedly stopped by Penn State's defense as Ohio State scored a touchdown on only one of its first nine possessions. Day didn't express the same regret about those play calls, though, believing that's an area where the Buckeyes needed better execution.
"It's part of the run game. And what it does is it forces them more to run to that side of the field," Day said. "We want them to defend the entire field. And if they put a lot of guys in a box, then we need to spread the ball on the perimeter. So we always say that we want to be able to attack them inside, attack them outside and then throw the ball down the field. And we could have done that more in the game. But I think if we had done a little bit better job in the perimeter in that area, we could have cracked the rock sooner."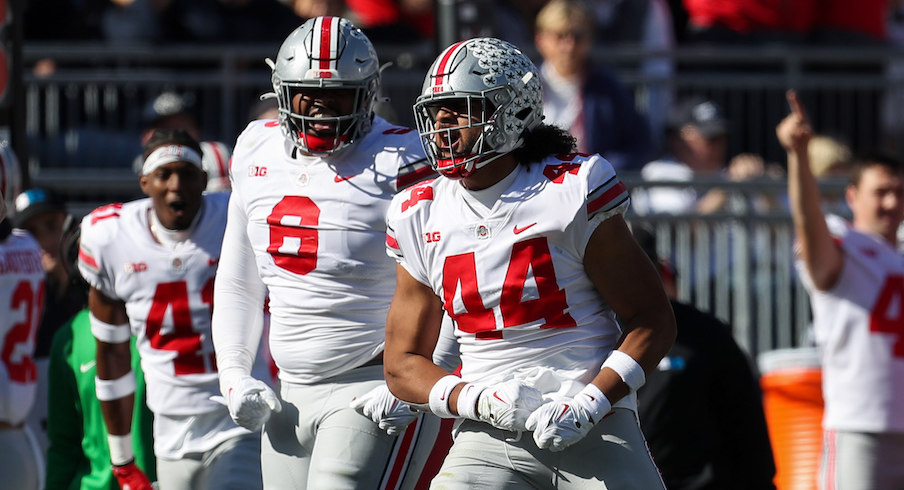 ​