"The Buckeyes have a prolific offense, but their fortunes rest on if the defense can be sturdy against tougher opponents."
That statement is the central thesis for every single Ohio State season preview in 2022. I just skipped the foreplay for this one and cut right to it so we can get it out of the way.
At this point in August you've probably read 87 Ohio State season previews. There's no reason to deny this - no one here will ever kink-shame you for binging on season previews. You've read 87 very similar 2022 glimpses despite knowing how they'll all conclude.
Each can be distilled down to offense great, defense hmmm? for earned reasons, but it doesn't mean Ohio State is only 50% mysterious entering this season. That's bad math.
People have forgotten about the adventure that was Ohio State Playing Special Teams in 2021.
OSU SPECIAL TEAMS: HOLD ONTO YOUR BUTTS

| SPECIAL TEAMS METRIC | OSU 2021 FINAL FBS RANKING |
| --- | --- |
| KICKOFF RETURNS | No.17 |
| OPPONENT KO RETURNS | No.22 |
| PUNT RETURNS | No.100 |
| OPPONENT PUNT RETURNS | No.39 |
| PUNTING | No.71 |
| OPPONENT PUNTING | No.94 |
| FIELD GOALS | No.2 |
| OPPONENT FIELD GOALS | No.10 |
Analysis from top to bottom: Great! Great! Yuck! Okay? Yuck! Yuck! Great! Great!
It's exactly what the imaginary progeny of the fertile offense and misfit defense of last season should look like. It took lousy 1st half special teams for the Rose Bowl to be as close as it was - the lousy 1st half defense shouldn't get all the blame.
This unit allowed Utah to rack up an appalling 222 kickoff return yards in an era where the NCAA is legislating kickoffs into irrelevance. But it also produced 178 kickoff return yards of its own, as well as the winning points as time (almost) expired. Yuck! Great!
Maybe six teams have the talent necessary to win this year's College Football Playoff. All of them are still vulnerable, and the champ will be the one that sequesters its vulnerabilities. Run-blocking, elements of special teams and *points angrily with both index fingers toward the defense* were Ohio State's last season.
The Buckeyes imported new coaches to address the first two vulnerabilities. The third one they handled in-house and made it Parker Fleming's full-time job, removing quality control from his program obligations.
Leading off with Special Teams? We switched things up to make it sexy again. No kink-shaming. 
You're now into your 88th Ohio State 2022 season preview, and the second one written by yours truly if you consumed part one last week. This is the encore. Let's get Situational!
PART HOPE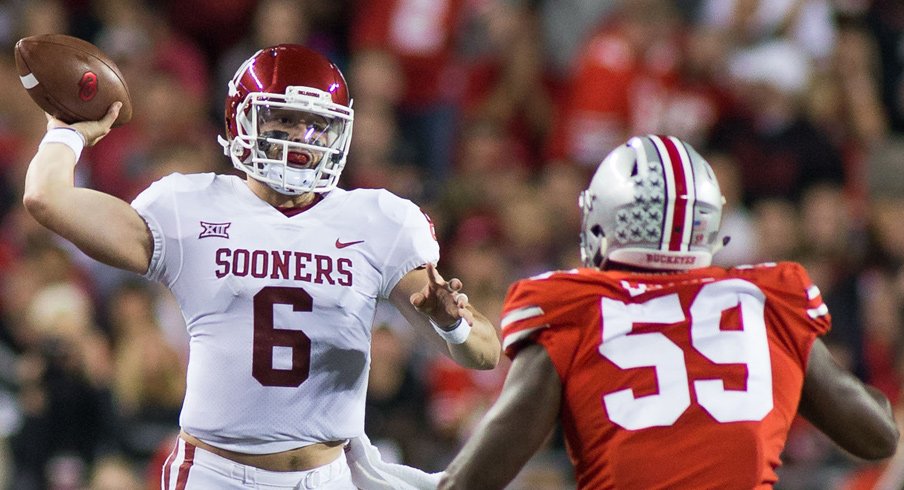 Ohio State's streak and B1G record of consecutive outright championships ended last season at four, but one record it still rides is the active streak of games scoring north of 20 points.
It currently sits at 61, like Roger Maris smiting Babe Ruth. Unfortunately, scoring 20 is fairly insignificant.
I'm on the record saying the Buckeyes need an output floor of an attainable 35 per game to go 15-0 in 2022. During this streak Ohio State has failed to eclipse 35 points a third of the time.
OHIO STATE IS 14-6 WHEN SCORING UNDER 35 POINTS SINCE OKLAHOMA 2017

| FOURTEEN WINS | SIX LOSSES |
| --- | --- |
| NEBRASKA 2021, PENN STATE 2018-19 & 2021, NEBRASKA 2021, NORTHWESTERN 2020, WISCONSIN 2017 & 2019, MICHIGAN STATE 2018-19, WASHINGTON 2019, MINNESOTA 2018, SOUTHERN CAL 2017, MICHIGAN 2017 | MICHIGAN 2021, OREGON 2021, ALABAMA 2021, CLEMSON 2019, PURDUE 2018, IOWA 2017 |
Yup, all six losses post-Oklahoma. The only opponent to make both columns is That Team.
Three of those games went sideways and 35 points probably wouldn't have flipped the outcome, but turning a blowout into a shootout makes a flip possible. Just ask the Rose Bowl.
Alabama won its COVID title scoring north of 35 in every game except its CFP semifinal against Notre Dame, when it conspicuously went turtle with the game in command, the Heisman already on campus and either Clemson or Ohio State up next.
The Buckeyes should be able to mirror that journey. It's reasonable to think this offense can put up 35 per - it already does that most of the time. It's rational to believe that should be enough to win it all.
PART HYPE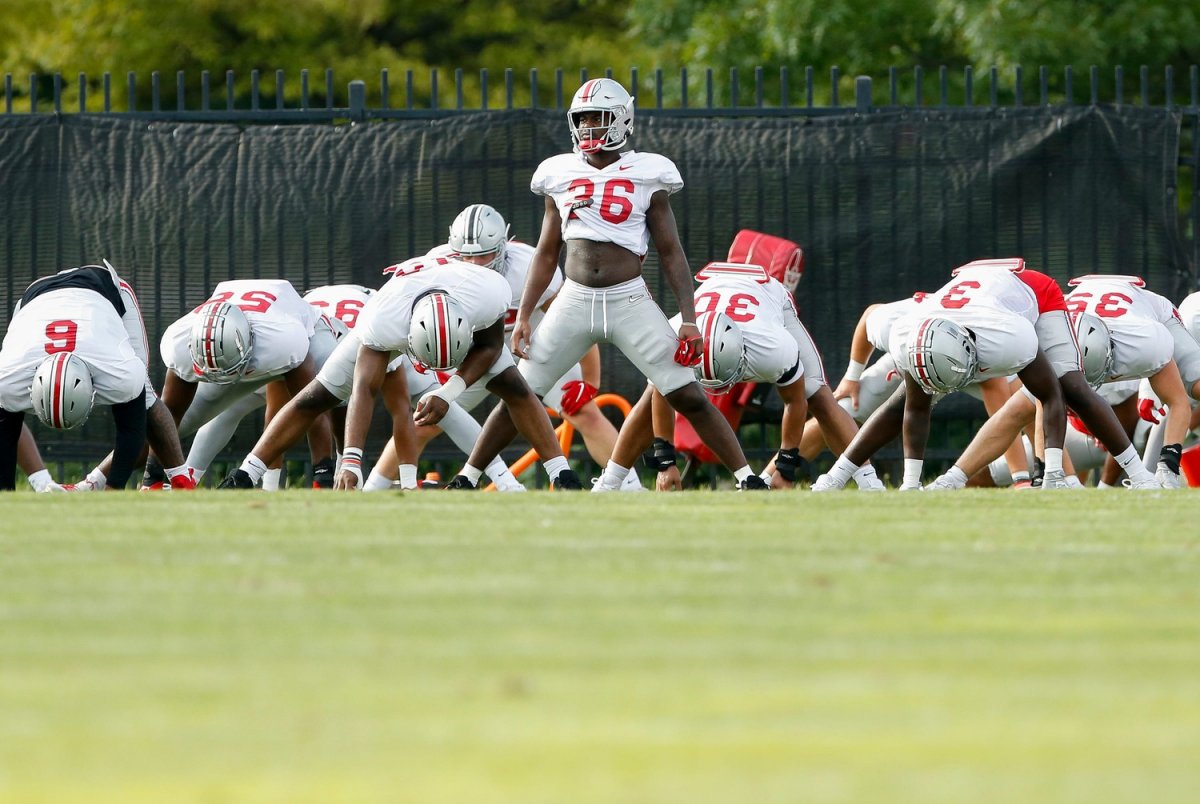 Ohio State football just completed nine months being openly disgusted with a 11-win season that ended with confetti in Pasadena. The program had a low-grade fever throughout 2021.
Its temperature appears to be back to normal. Sure, defense was sub-par and special teams were glitchy. But that fever was the symptom of a more serious condition.
Bonus 4) This Pope situation is a real one. That doesnt happen here, Coach Day seems to be in the middle of a fight for the soul of the program. I think hell be just fine but clearly some work to be done.

— Beau Bishop (@BeauBishop) September 26, 2021
Beau's observation following the Akron game, during which K'Vaughan Pope dramatically quit the team was on point. Fellow LB Dallas Gant had entered the transfer portal earlier in the week after having played 41 snaps in the season opener.
September quitting at a position of need. Doctor, that's an indication of an underlying disease.
The fever didn't subside even after the season was complete. While the Buckeyes were still dancing on that Pasadena dais, Marcus Williamson - who quietly didn't make the trip - was airing his grievances on Twitter.
The program was in the danger zone culturally all year, mired with a mix of Meyer holdovers who never broke through, a program put in a terrible position by the conference during 2020 which directly weakened title pursuit, a void in the leadership department - and defensive coaches who lost all credibility with players who had bet their football careers on them.
Ohio State was in the danger zone culturally throughout 2021.
Quarterbacks Jack Miller, Quinn Ewers, Jagger LaRoe and J.P. Andrade left the program, banking their elite instruction at Ohio State would produce playing time elsewhere. Four QBs would be a red flag anywhere else. But they were the only offensive players who transferred, and it made sense.
The other 14 who exited prematurely were all from the defense - every single one. Nearly the entire staff on that side of the ball turned over as well. That's one way to reduce a fever.
Beau's observation was truer than we wanted it to be. We'll see how efficacious the treatment was.
INTERMISSION
The Solo
The most Eighties musical year of the 1980s was 1983. Cut directly to the closing argument:
Every Breath You Take, Billie Jean, Flashdance, Down Under, Beat It, Total Eclipse of the Heart, Maneater, Baby Come to Me, Maniac, Sweet Dreams (Are Made of This)
That's your 1983 Billboard top 10, a who's who of 80s bangers that all hit over the same 12-month period. Thirst anthem Come On Eileen finished 13th. Barroom hymn Africa 24th. The Safety Dance 35th. All songs kids born this century know and enjoy today. 
Duran Duran made the year-end 100 with both Hungry Like the Wolf at 17 and Is There Something I Should Know? at 55. The latter was no.1 on the Ramzy chart for 1983 as nine-year old me was totally consumed by New Wave. It features a subtle harmonica solo.
Let's answer our two questions.
Is the soloist in this video actually playing the harmonica?
Lead singer Simon Le Bon is credited, but he doesn't appear to be playing it in the abstract video story. During live shows Le Bon did play a far more elaborate interlude, albeit within the same timbre. VERDICT: Assumed, not confirmed
Does this harmonica solo slap?
An eerie, three-note warble played to maximum effectiveness for just a handful of seconds, leaving harmonica haters in shambles. This solo is too elegant, too effective and too brief for anyone to form negative feelings. Easily the best shorty of the decade, apologies to Emmanuel Lewis and Gary Coleman. We didn't deserve 1983. VERDICT: Slaps
The Bourbon
There is a bourbon for every situation. Sometimes the spirits and the events overlap, which means that where bourbon is concerned there can be more than one worthy choice.
Week Zero of the college football kicks off with Austin Peay and WKU at noon this Saturday. Nebraska vs. Northwestern starts a half hour later in Ireland.
We made it, friends. It's here! Finally, an excuse to pour yourself bourbon on a Saturday.
Saturday is a private label juice running 70% corn, 20% rye and 10% malted barley. After some sleuthing I found this is an identical mash bill to the flagship Few bourbon. I did not sample them side-by-side, nor have I texted Few founder/distiller Paul Hletko to confirm it.
Some things in life should stay mysterious (Paul if you're reading this do not tell me, also please send over the new Alice in Chains collaboration bourbon at your convenience, please and thank you).
Saturday has a long and satisfying spicy rye finish which follows a sweet, fruity nose and taste. If you told me Saturday was finished in discarded apricot brandy casks I would believe it. I will be pouring this for the B1G clash in Dublin, as Irish whiskey is grossly inferior to what we distill in America.
Hold on, Irish inferior? Yes. We'll spend more time with that next week. In the meantime, Saturday is private labeled for and available through Mash & Grape.
PART GOSPEL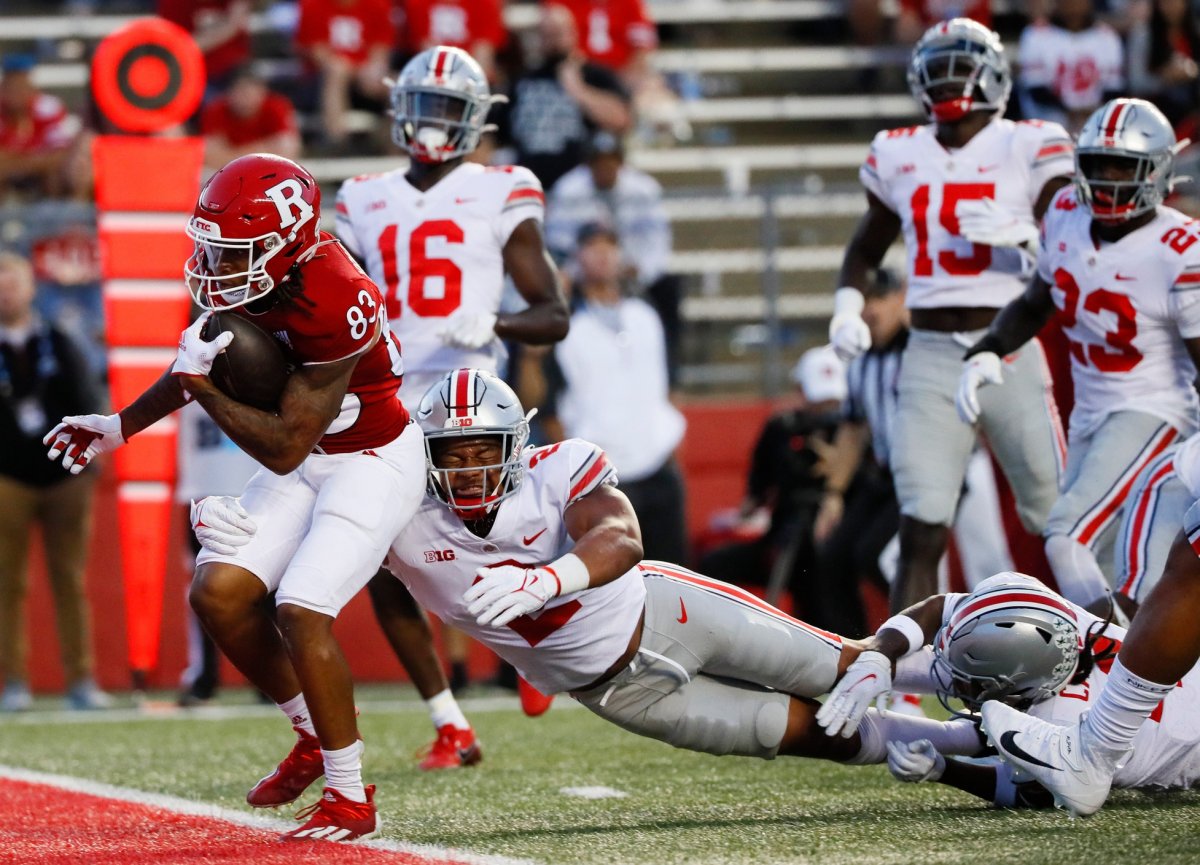 August is always the most optimistic time of year, with a few notable exceptions.
Back in 1999 six incoming freshmen were unable to participate in fall camp because of eligibility issues, arriving one year after Sports Illustrated illuminated Andy Katzenmoyer's Golf, Ballroom Dancing and AIDS Awareness eligibility curriculum. Optics, bad!
The Buckeyes were replacing a lot that season while trying to correct their academic image, and yup that didn't help either. In 2014 Heisman favorite Braxton Miller was lost for the season, thrusting freshman J.T. Barrett into the role.
We couldn't see January 2015 from August 2014. We only saw sadness. And then there's August of 2018, and you don't need to click on that.
In every other year, we reserve our pessimism for the actual season. August is for big dreams and splendor. But allowing a touchdown to an opponent? Disaster. That's true embarrassment. My team allows points? It's unacceptable, Ohio State should be good enough to shut out everyone.
I really do not think there is a fan base with a higher satisfaction threshold to clear than this one. Buckeyes expect perfect games, however rare those are. The 2014 B1G championship game (W 59-0) is a sacrament and arguably the program's most perfect outing. The 2015 Hawai'i game (W 38-0) produced apologies.
Our noses can smell the difference. Pessimism will rise this season. Game outcome is irrelevant.
We're hosting the 20th anniversary of the most recent perfect season next weekend, which if you're old enough to remember it - contained exactly zero perfect games. I predicted another perfect season for 2022 like an absolute fool. Same prediction as last year.
I'm sorry. Don't blame me. It's August's fault.
PART DECEPTION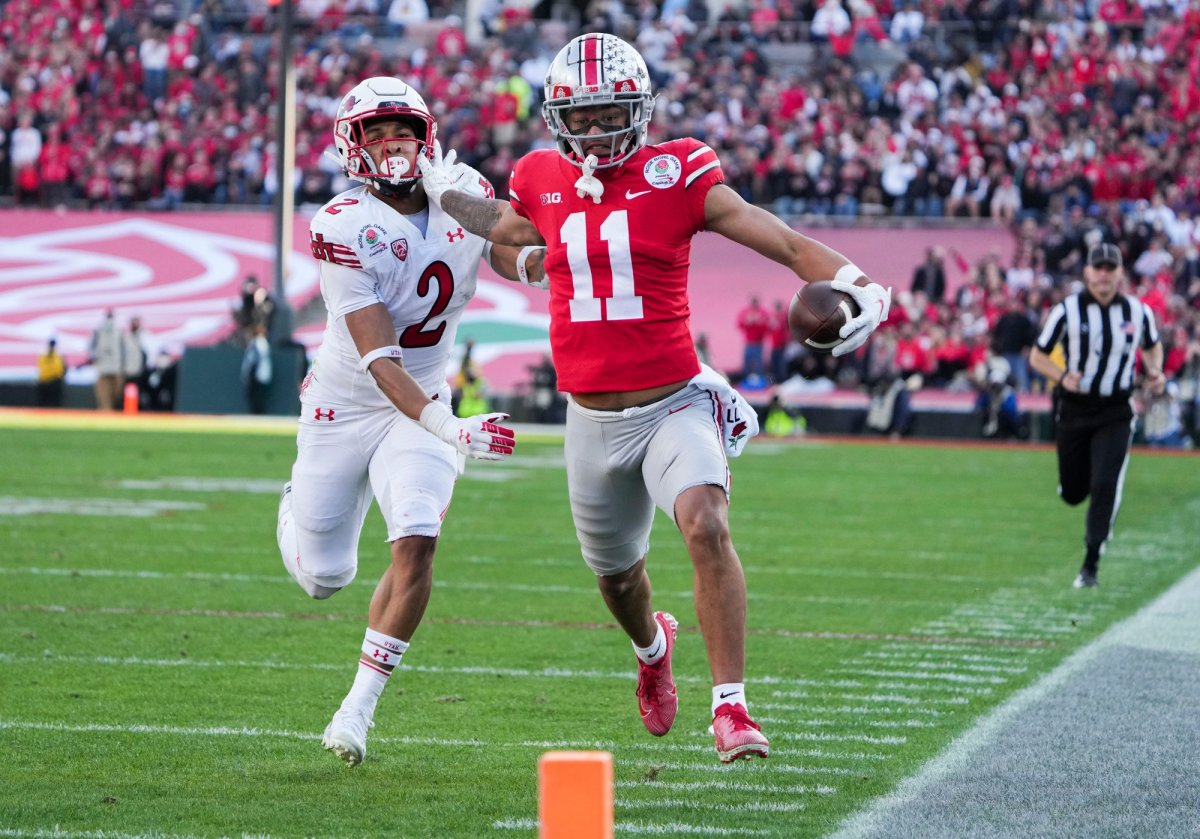 Jaxon Smith-Njigba will attract enhanced defensive attention in 2022 is a reasonable expectation. The departed Chris Olave and Garrett Wilson made exploring the slot a looser exercise over the past couple of seasons.
The question is if this attention will matter. Wilson sat out in Lincoln and Pasadena last season, and JSN proceeded to catch 30 passes for 587 yards and four touchdowns in his absence.
He singlehandedly ruined Nebraska and Utah's game averages - with enhanced defensive attention.
This season JSN will chew up enough scenery for other receivers to pile up statistics of their own - as they did in Pasadena, where they caught 22 balls for 224 yards and three touchdowns - exceeding what Utah normally allowed through the air. 
This is demoralizing for defenses. JSN is way too good to be a decoy, so the offense will reap the benefits of enhanced attention while continuing to enjoy the same production he delivers in spite of it.
Ohio State has only had two receivers catch more than 74 passes in a single season, with Parris Campbell in 2018 being the other one. I think JSN can eclipse 100 this year, while averaging north of 100 yards each Saturday if garbage time doesn't eat up too many of his opportunities.
If that sounds like a moonshot, it's not. JSN caught 95 passes and averaged 124 yards per game on a team that had Olave and Wilson. C.J. Stroud should also become the first quarterback to go over 5,000 yards passing in a single season. He would have done this last year without skipping Akron and missing Indianapolis.
Thanks for getting Situational today. Go Bucks, see you next week.