This is not the most hotly-anticipated Ohio State football season ever.
This is Part 1 | Part 2
Reader, you and I can be the heroes America desperately needs. We can be the ones who reign in the hyperbole plague holding America hostage, going back to whenever it was the Takes industry decided nothing could be ordinary anymore.
Let's be courageous. We can drive this scorched and unnecessarily exciting era to a close.
It's okay if something isn't the best ever or the worst ever or - most especially - unprecedented. That was novel back when we weren't getting clobbered by living in Interesting Times on a daily basis. Ordinary is just fine.
It's preferable, actually. Ordinary doesn't burden our unborn great-grandchildren, deplete the ozone or fuel the burgeoning therapy industry. And speaking of ordinary and preferable, your beloved Buckeyes have begun another college football season ranked among the top 5.
Entitlement zen. The Usual. Ordinary times. Nothing but single integer forecasts for a decade.
OMG PRECEDENTED TIMES

| SEASON | PRE RANK | FINAL RANK |
| --- | --- | --- |
| 2013 | 2 | 7 |
| 2014 | 5 | 1 |
| 2015 | 1 | 4 |
| 2016 | 6 | 6 |
| 2017 | 2 | 5 |
| 2018 | 5 | 3 |
| 2019 | 5 | 3 |
| 2020 | 2, 6 | 2 |
| 2021 | 4 | 6 |
| 2022 | 2 | TBD |
Two preseason rankings along with two preseasons two seasons ago was abnormal, unwanted and unprecedented. But as Alexander the Great famously said to Darius III: dude, enough. We don't have to do that again. Let's get back to being ordinary.
We'll keep the preseason anticipation as precedented as possible. We can make college football anticipation the one thing where we don't have to increase the heat against historical context. It's spicy enough already.
The sport is still vibrant, legal and wildly profitable - and we've survived long enough to foolishly invest our emotional intelligence and paychecks into college kids who have a real shot at being national champions. Yet again. Precedented times!
Ohio State football has been like this for decades now, which makes it normal. If the past few years have taught us anything, it's that we need to allow ourselves to savor the ordinary.
Welcome to Season 11 of The Situational, an Ohio State football series featuring tepid analysis, interesting whiskey, inside jokes and 1980s musical bangers. Let's get into the 2022 Buckeyes.
PART LIES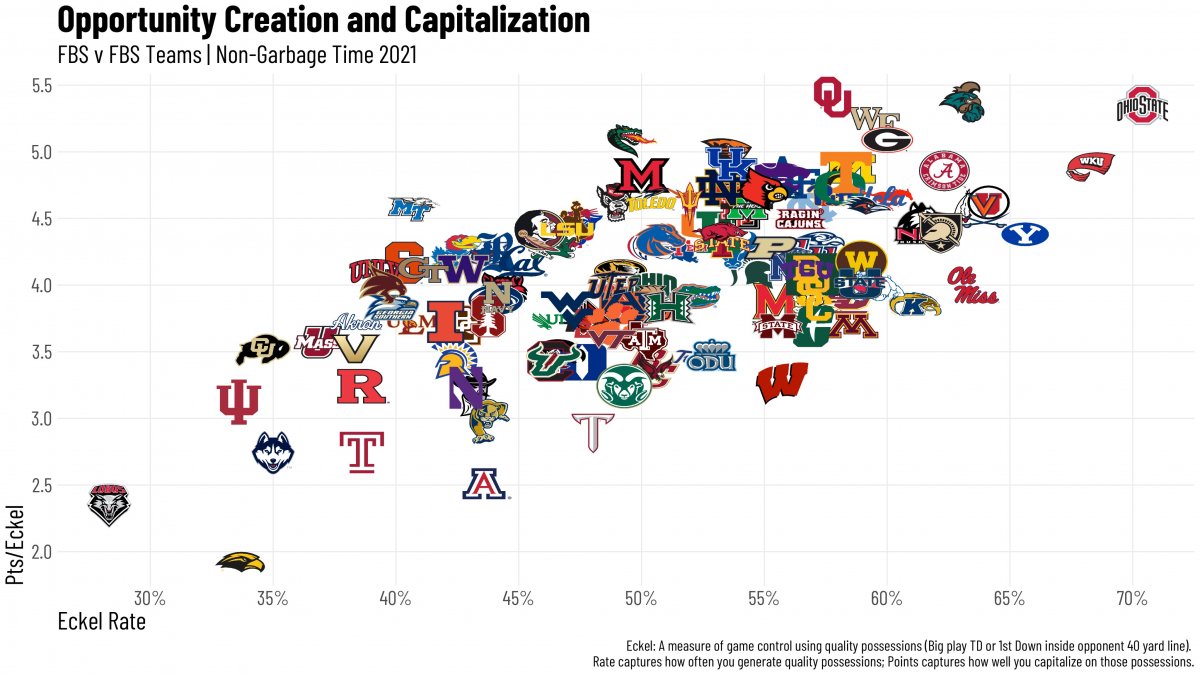 My qualitative brain relies on fading intelligence and fragile feelings to grade Ohio State's football units. We're all a little arrogant about things we love, and my finger-in-the-air assessment of the Buckeyes is usually accurate enough.
Quantitative instruments like SP+ are still a useful a sanity check. Last year's Buckeye defense was gross, and qualitatively we know this to be the case for reasons every writer on this web site beat to death ever since the Rose Bowl ended.
Ryan Day only retained Larry Johnson on that side of the ball. Data crunchers, stand down.
Above is a plot of quality possessions versus total possessions from last season, using variables like touchdowns and 1st downs deep in opponent territory to define quality. Garbage time and FCS opponents are not included, so there's no dilution. By this measure, Ohio State was in a class by itself for quality possessions and game command in 2021.
And it still lost two games in excruciating fashion; one to a school it was 9-0 against all-time, and the other to a school it hadn't lost to in a decade. My qualitative takeaway is an offense of this quality means very little without an okay defense as a complement. Stunning insight without a single pivot table.
Quantitative instruments are a sanity check for a sport whose live action is so fragmented and whose results require context. But sometimes, quantitative instruments are unwanted ghouls.
The Best Teams in College Football | 2015-2021 pic.twitter.com/qYbkTmWAEN

— parker (@statsowar) August 16, 2022
Spreadsheets and statistics are fine, but they'll never predict or explain the supernatural.
PART HEART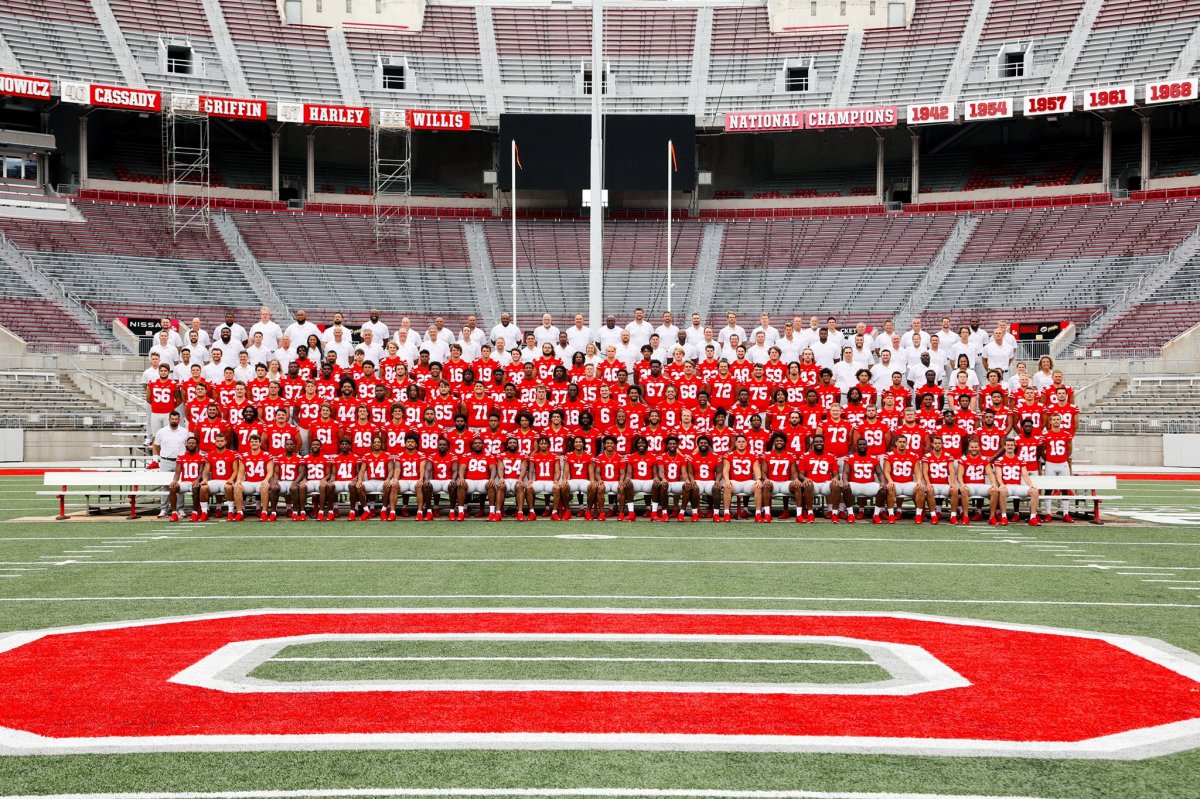 If everything goes according to plan, the people above will contribute to the production of a permanent 2022 placard which will hang in the north end zone just outside of the frame in the upper righthand corner of this photo alongside previous national championships.
The guys in the scarlet jerseys - who should be favored in every game - will move opponents around at will and score copious touchdowns while stifling opponents. The folks in the white shirts will put them in the best possible position to be ready to do all of this.
Every one of them will have a story.
So many emotions looking at this photo.
Right side, 2nd from top.
Its almost exactly a year since I got the worst call of my life
Here we are.
Happy & doing so well.
Go Bucks!! pic.twitter.com/TYnZjJVgpb

— Kristina Miller (@KschilbMiller) August 16, 2022
That's Harry Miller's mother talking about her son, one of those folks in the white shirts. In recent versions of this annual photo he was one of those guys in the scarlet jerseys. Harry was not scheduled or expected to be wearing a white shirt this soon.
The fact that he's in the picture at all is a triumph of the human spirt, the testimony of a stable and enviable program and the hallmark of an empathetic head coach who understands the big picture at least as well as Jim Tressel did.
Harry is an inspiration to everyone else sharing the photo with him, and the impact of his presence in the program will pay dividends for the guys who still get to wear the scarlet jerseys this season, as well in the future when they join the rest of us in wearing something else.
INTERMISSION
The Solo
One of my musical weaknesses is whenever a band or artist prominently places their own name in the song lyrics. If that happens, I'm in - I love it. The Who. Mike Jones. Queen. Black Sabbath. Big Country. Iron Maiden. Wang Chung. Motörhead. Literally every rapper.
I love it in movies too, like [every James Bond movie goes here] for example. The only thing that could have improved Top Gun: Maverick would have been if they had included a scene where Rooster says, "wow, you really are the Top Gun, Maverick."
I Feel for You is a Prince song, covered by Chaka Khan - in which Melle Mel from Grandmaster Flash says Chaka Khan 29 (!) times, elevating it from pop cover to hymn in my heart. It contains a prominent chromatic harmonica solo.
Let's answer our two questions.
Is the soloist in this video actually playing the harmonica?
This authentic harmonica riff and solo - free of computer enhancement - is provided by none other than Stevie Wonder, who is probably not blind and definitely too cool to appear in Chaka Khan's video. VERDICT: Not applicable, inconclusive.
Does this harmonica solo slap?
Harmonica solos of the 1980s don't get the credit they deserve because harmonicas are polarizing and also - this was a golden era for sax solos. I'm comfortable calling this the best extended harmonica solo of the decade. Only Mel repeating Chaka's name does heavier lifting.
You'll have to wait until next week to learn of the best abbreviated harmonica solo of the decade, but Stevie's work here is almost good enough to pardon him for I Just Called to Say I Love You.
He never went to jail for that. Folks, no one should be above the law. VERDICT: Slaps
The Bourbon
There is a bourbon for every situation. Sometimes the spirits and the events overlap, which means that where bourbon is concerned there can be more than one worthy choice.
My neighbor recently complimented me for being an electric car driver without an electric car driver personality. I think he meant I'm not smug about it, which is true. I'm not a car guy, I just need one.
Two other reasons I didn't fall into the smug trap - one is this South Park Prius episode from 2006 and the other is that it's hard to be smug about driving a Hyundai Kona, which I think is named for Korean coffee.
He gave me the compliment and then complained about gas prices. I said, "I'm sorry, remind me what gasoline is again?" I did air quotes when I said gasoline. Ha, owned.
Speaking of gasoline, high-proof bourbons renown for big, burning high rye expressions are sometimes iffy on quality and experience. Heat without character has never done it for me.
George Stagg is the flag-bearer and worth every bit of the hype it gets, but Junior is generally hard to come by - and north of 130 proof. Let's not hurt ourselves; nose hairs have a purpose.
Enter the Belle Meade 108.3 proofer, which has the most robust nose and flavor profile for any high-proof bourbon that I've sampled in quite some time. It didn't bite like a high-proof juice, but once I finished my second I knew immediately a third would be unwise. These columns have enough typos and missing words as it is.
Belle Meade is in liquor stores as well as on the Internet for under $80. Nothing smug about it.
PART TRUTH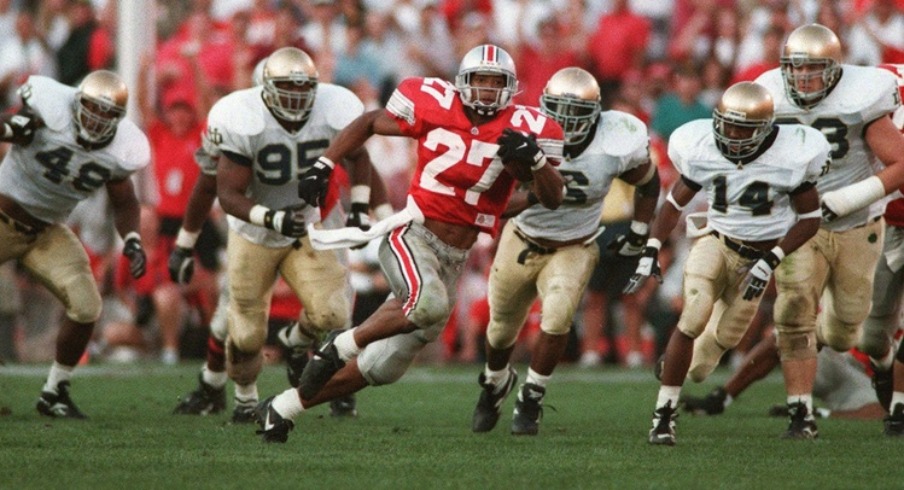 Earlier in the segment:
This is not the most hotly-anticipated Ohio State football season ever.
Season, sure. Season opener? Notre Dame will be Ohio State's third top-5 opener in 131 years of Buckeye football. The difference is the Buckeyes are a top-5 team too. That's never happened.
The Fighting Irish are not just America's vanity plate football program, they're the orphan team non-college attenders and bachelors degree havers alike have adopted as their own around the world. It's a big deal even when ND is bad, which, currently they're not.
Notre Dame also gives Ohio State a sixth ranked opponent over the past seven games, a run of competitive bangers devoted fans and ticket brokers absolutely love to see. And the one unranked foe in that stretch was Nebraska, arguably the greatest 3-9 team in college football history.
NOTRE DAME has the potential to create insurmountable Heisman hype for one of no fewer than three Buckeyes.
The Buckeyes close with the Wolverines in Columbus for the first time since Dwayne Haskins rewrote Michigan's opponents' record book. This is not the most highly-anticipated Ohio State football season ever. It is arguably the hottest opener, and the closer should be even spicier than usual - especially since it hasn't been played in Ohio for four years.
An important discipline in abandoning hyperbole is recognizing that which cannot be diminished. We're looking at the most intriguing regular season schedule bookends since the Buckeyes opened with Alabama in 1986. Rutgers and Indiana are still both in there somewhere. Everyone, remain calm.
This opener has the potential to create insurmountable Heisman hype for one of no fewer than three Buckeyes, and that's not hyperbole. We can talk about that in a couple of weeks.
PART GARBAGE
If it weren't for the 2nd half of the Rose Bowl, the aftertaste of the 2021 season would rival a cat with a UTI and acute gastroenteritis using your gaping mouth as a litter box while you sleep. C.J. Stroud, Jaxon Smith-Njigba, Tommy Eichenberg, Ronnie Hickman and Demario McCall rescued us from that fate.
I've watched that game - mostly the good half - innumerable times during the offseason to lubricate my bullishness for the 2022 season. In doing so, the play-by-play script is now engraved in my smooth brain, which means I have to get something off my chest about JSN's touchdown above.
In its glorious aftermath, Kirk Herbstreit gushed:
I don't know if it's the catch or the throw I'm about to fall over on, the throw by C.J. Stroud! The location! Outside shoulder, are you kidding me! And then the concentration, that's just, you don't teach that!
Look, play-by-play and color commentary have the highest degree of difficulty in the sports content universe. You will never see 99% of the very stupid thoughts I have because writers get the luxury of editing, time and rewrites. Live content comes with no safety netting.
The broadcasters who can do it unconsciously often use automated templates and sound bites they can rely on to quickly to color in the action (for example, Chris Fowler refers to every completion where the receiver was open as pitch and catch; if you need a Saturday night drinking game this season, you're welcome).
Herbie has his own Herbie-isms, as well as the added complexity while doing Ohio State games in that he has to pretend to be impartial. I made noises after that touchdown that I am unable to recreate right now, so I get how hard communicating is in that fragile condition.
Stroud dropped a 40-yard pass with precision into a space that only JSN could access. JSN tracked it over his shoulder, kept moving while concentrating and cleanly secured the ball, in-bounds.
You do teach that, actually. Every bit of the sequence was a billboard for elite teaching. Benefit of the doubt - Herbie knows it. He was just overwhelmed by the moment and said the opposite.
There's a difference between Brian Hartline and most WR coaches. That difference starts with recruiting and ends with performance. Ohio State won the Rose Bowl because of the unassailable combination of elite teaching and talent, and that is what lubricates my bullishness for the 2022 team.
Thanks for getting Situational today. We're not done previewing! See you next week for Part II.