Sixteen years ago my buddy Bruce and I were in London at a pub in Leicester Square drinking beer the way it was intended to be consumed: In broad damn daylight on a weekday while suckers were working.
At some point during our bar conversation a trio of fine British ladies - one at a time, girls - picked up on our distinct American accents and came over to further investigate. Moments later we were all having pints together.
"So where do you live in America?" Asked the second-most interesting one, whose name might have been Hazel.
"We live in Chicago," Bruce replied. And that was the truth. We could have said that we lived in TriBeCa or Beverly Hills or had some other clever fake backstory that might have been more fun, but we went with reality.
The response was, well, unexpected. Hazel made finger guns and started laughing.
"Chicago!" She said, furrowing her brow. "Capone! Bang bang!"
At that moment Alphonse Gabriel Capone, the notorious Depression-era gangster and bootlegger had been dead for nearly 50 years, over twice as long as I had been alive. It was 1996 and it took Hazel and her friends inside of five seconds to hear Chicago and immediately think of the St. Valentine's Day Massacre of 1929.
For a few of the ten-plus years that I lived there, my apartment was only a few yards away from where the massacre took place. I rarely ever thought about it. Chicago is a world-class metropolis that's impossible to properly characterize succinctly because the city has way too much going on, and it did then too. 
That year the Bulls won the NBA title following the return of Michael Jordan, the most popular athlete in the world. Oprah was at the height of her worldwide popularity. The city was 160 years old - a baby by European standards - and had famously burned to the ground before building itself back up into the fourth-largest GDP on the planet.
Regardless: Capone! Bang bang!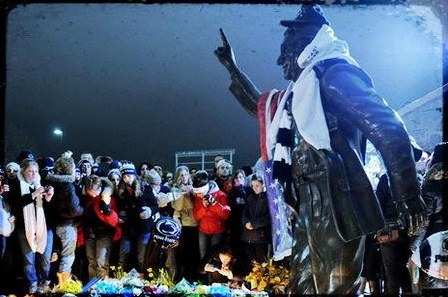 We took no offense to the display, and our stubborn refusal to be ugly Americans kept us from countering with a condescending reenactment of Lord Cornwallis' surrender at Yorktown. And even more importantly: Nice-looking girls bearing pints.
But this is part of how human brains break down subject matter, through basic word association. It's the way by which three English girls were able to quickly process an American city they had never seen.
It's not terribly dissimilar from the reason strangers still exuberantly make comments about tattoos when the subject of Ohio State arises - an easy, somewhat recent association - though freshness, as is the case with Capone, isn't required. Hey, did you hear that Woody Hayes once punched a kid?
About 15 years ago Ohio State provided a different kind of negative association against its academic integrity, via football - the easiest OSU association to make. The Buckeyes were the consensus preseason #1 team in the first-ever BCS campaign and Sports Illustrated assigned an asterisk to its top ranking, basing it on Andy Katzenmoyer's pending eligibility.
Katzenmoyer's eligibility cocktail, as it turned out, was a summer GPA-booster that included Golf, Music Appreciation and AIDS: What Every College Student Should Know (that Golf class was over-registered, but Katzenmoyer was conveniently squeezed onto the roster right before the term started).
Loading up on cake courses is hardly an exclusively-Ohio State eligibility phenomenon, but Katzenmoyer was regularly a sub-2.0 student and the twilight of the John Cooper era saw numerous players failing to stay academically afloat on an annual basis.
He ended up making the grade after winning the Butkus the previous season and was a first-team All American linebacker. But the damage was done: Golf, Music Appreciation and AIDS Awareness. There probably wasn't a single bar in Chicago that televised Buckeye games that season where opposing fans wouldn't joyfully announce Katzenmoyer's summer class schedule, unsolicited.
Katzenmoyer's classes that summer term had as much to do with any Ohio State graduate's academic record as Capone's murder sprees had to do with any Chicago inhabitants in 1996. It didn't matter.
The association had already been baked and served. The entire episode made it feel like all Ohio State degrees were being publicly devalued. Now Penn State's stakeholders are only at the beginning of being dragged down by the duplicitous actions of a few exquisitely morally bankrupt men.
The association is impossible to dodge, even for the innocent. When the Nittany Lions won their two national titles under Joe Paterno, the football team wasn't the only national champion: Those same stakeholders who are now burdened with Penn State's toxic reputation were champions too.
They celebrated those victories as their own. Thousands of Penn State alumni now find themselves with degrees that carry Graham Spanier's signature. His is among the surnames that are now toxic from this affair.
Every single time he - or Gary Schultz, or Tim Curley, or Paterno - laid eyes on Jerry Sandusky for at least 13 years they knew they were looking at a child rapist. They knew it whenever he visited the locker room, they knew it each time he took little boys on bowl trips after he retired from coaching and they knew it while they all lied about it to investgators.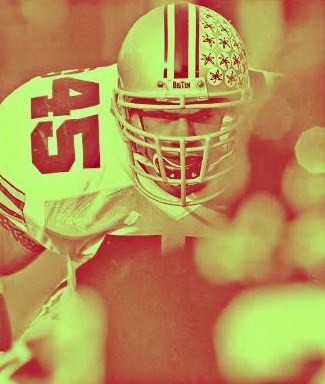 Unfortunately, that's the entire back row of the Penn State chessboard; the power pieces that can make all the moves. The pawns that are either mortified by the revelations or refuse to believe they're true are just as affected, short of impending criminal charges.
That impacts everyone who carries the Penn State flag, regardless of the fact that only a fraction of a percent of its stakeholders knew the horrible truth.
I never took any of Katzenmoyer's summer courses at Ohio State, but I did have football players in my classes. I had Political Science with Butler By'not'e and Economics with Cedric Saunders - both during the summer term, when eligibility elixirs are administered, apparently. There are much easier ways to inflate grades.
And there are virtuous, ethical and transparent Penn State administrators and stakeholders who are now forced to wear Penn State's shame. Unborn students will do the same decades from now. The staying power of Katzenmoyer's cupcake summer has a fruit fly's lifespan by comparison.
Penn State won't stop doing great things, regardless of how devastating the impact of this scandal hits its institutional health. Few institutions conduct more valuable research and no student body anywhere attends to a larger philanthropic initiative.
But those basic associations are either already taken or don't stick nearly as well as the unsavory ones do. Penn State is now the place where protecting a football program and old man's legacy clearly and overtly took precedent over children being repeatedly raped on its premises for at least a decade.
As with Hazel and her British lady friends, it will take many people inside of five seconds to hear Penn State and immediately think of the Sandusky tragedy. It's not that different from the way that for some Chicago will always be a gangster's paradise.
Back in 2003 Paterno brought WR Tony Johnson and LB Gino Capone to represent his team at the Big Ten Kickoff Luncheon in Chicago. He was prepared with a crowd-pleasing basic association for the podium, telling the thousands in attendance, "do you guys realize that I brought a Capone to Chicago?"
The crowd roared in appreciation. "After this," he continued, "we're going to Cicero!"
It's an easy connection to make even decades later. And that's a grim sentence that faultless Penn Staters will be serving for life.