Even though it's now just 3-7 this season, Nebraska has been competitive in every game it's played, and Saturday's game against Ohio State was no exception.
The Cornhuskers didn't make it easy, as the Buckeyes scored no points in the first quarter and led by only one score for most of the game, but ultimately escaped Lincoln with a road win as they outlasted Nebraska 26-17 to improve to 8-1 on the season and keep their College Football Playoff hopes alive.
Jaxon Smith-Njigba caught a school-record 15 passes for 240 yards and a touchdown while Noah Ruggles made all four of his field goal attempts – compared to just one of three by Nebraska's Chase Contreraz – to lead the Buckeyes to victory.
 
Q1
Q2
Q3
Q4
 

#5

 Ohio State
0
17
6
3
26
NEBRASKA
0
10
7
0
17
Ohio State turned the ball over on downs on its opening possession. After C.J. Stroud was stopped short on a 3rd-and-2 run, Ohio State opted to go for it on 4th-and-1. Stroud nearly completed a deep pass over the middle to Jeremy Ruckert, but Luke Reimer broke it up.
Adrian Martinez hit a 24-yard pass to Samori Touré on Nebraska's first offensive play of the game, but Ohio State held from there to force a 45-yard field goal attempt, which Contreraz missed wide left.
Stroud threw an interception on Ohio State's second drive of the game. After getting away with a near-interception earlier in the drive on a pass thrown directly toward Nebraska linebacker JoJo Domann that Ohio State wide receiver Julian Fleming was able to break up, he didn't get away with a second time when he tried to force a pass to Jaxon Smith-Njigba on the sideline, where Domann picked off Stroud for the first interception Stroud had thrown since Ohio State's third game of the season against Tulsa.
Ohio State went 3-and-out on its third possession of the game, and went scoreless in the first quarter for the first time since its loss in the second game of the season to Oregon. 
The Buckeyes finally scored their first points of the game with 11:25 to play in the second quarter, but were forced to settle for a 26-yard Ruggles field goal on their first trip inside the red zone.
Following a short punt that gave the Buckeyes the ball on Nebraska's side of the field for their fifth possession of the day, Ohio State finally scored its first touchdown of the game on a 3-yard pass from Stroud to Chris Olave.
Nebraska broke through for its first points of the game on its fifth possession of the day when Contreraz made a 39-yard field goal.
Smith-Njigba scored a 75-yard touchdown on the opening play of Ohio State's next possession, turning a short pass into a long score with an excellent open-field cut and some strong blocking along the sideline from Olave.
@jaxon_smith1 is taking advantage of the extra targets today!

The @OhioStateFB WR take it 75 yards for the score to give the Buckeyes a 17-3 lead pic.twitter.com/D3lcdQJUQT

— FOX College Football (@CFBONFOX) November 6, 2021
Nebraska responded right back with a big play of its own as Martinez connected with Touré for a 72-yard touchdown.
@HuskerFBNation can score long TDs too

Samori Toure takes off for the 72-yard touchdown pic.twitter.com/hJRveTuDal

— FOX College Football (@CFBONFOX) November 6, 2021
After both teams traded punts and Ohio State got the ball back with 38 seconds left to play in the second quarter, the Buckeyes attempted to extend their lead to two scores before halftime but ran out of time when Olave was tackled in bounds in the open field.
Ohio State was able to extend its lead to two scores on its opening possession of the third quarter when Ruggles converted a 46-yard field goal, his longest field goal so far as a Buckeye, to make it 20-10 with 9:42 to play in the third quarter.
After Ohio State was forced to settle for another field goal in the red zone two drives later, Ruggles made a 35-yard kick to extend Ohio State's lead to 23-10 with 2:05 to play in the third quarter.
Nebraska quickly cut Ohio State's lead down to six points before the end of the third quarter, when Martinez connected with Touré for a 53-yard gain and ran for a 1-yard touchdown one play later.
| OHIO STATE |   | NEBRASKA |
| --- | --- | --- |
| 495 | TOTAL YARDS | 361 |
| 90 | RUSHING YARDS | 113 |
| 30 | RUSHING ATTEMPTS | 34 |
| 3.0 | AVERAGE per RUSH | 3.3 |
| 0 | RUSHING TOUCHDOWNS | 1 |
| 405 | PASSING YARDS | 248 |
| 36-54 | COMPLETIONS–ATTEMPTS | 16-31 |
| 11.3 | AVERAGE per COMPLETION | 15.5 |
| 2 | PASSING TOUCHDOWNS | 1 |
| 25 | 1st DOWNS | 18 |
| 84 | TOTAL PLAYS | 65 |
| 5.9 | YARDS PER PLAY | 5.6 |
| 3-3 | RED ZONE | 1-2 |
| 9-19 | third down conv | 2-13 |
| 8-65 | PENALTIES | 6-60 |
| 33:52 | POSSESSION | 26:08 |
Stroud threw his second interception of the game on the first play of the fourth quarter when he heaved a deep ball into double coverage and was picked off by Nebraska safety Myles Farmer, giving the Cornhuskers the ball with a chance to take the lead. Nebraska failed to score after driving into the red zone, however, as Contreraz shanked a 31-yard field goal attempt.
The Buckeyes failed to score again on their next possession, ultimately punting the ball back to Nebraska from the 36-yard line. Ohio State was able to maintain its six-point lead for another Nebraska possession, though, as the Buckeye defense forced another Cornhusker punt.
Ohio State survived a massive scare on its next possession when Stroud was strip-sacked by Garrett Nelson, but Luke Wypler was able to chase down the loose ball to recover the ball and retain possession for the Buckeyes. Ruggles made another 46-yard field goal to give the Buckeyes a two-score lead with 1:29 to play, and Steele Chambers – who was not allowed to play in the first half after being ejected for targeting against Penn State – iced the game with an interception.
Having now won its last seven straight games since its loss to Oregon, Ohio State will look to keep it going next week when it returns home to Ohio Stadium to host Purdue.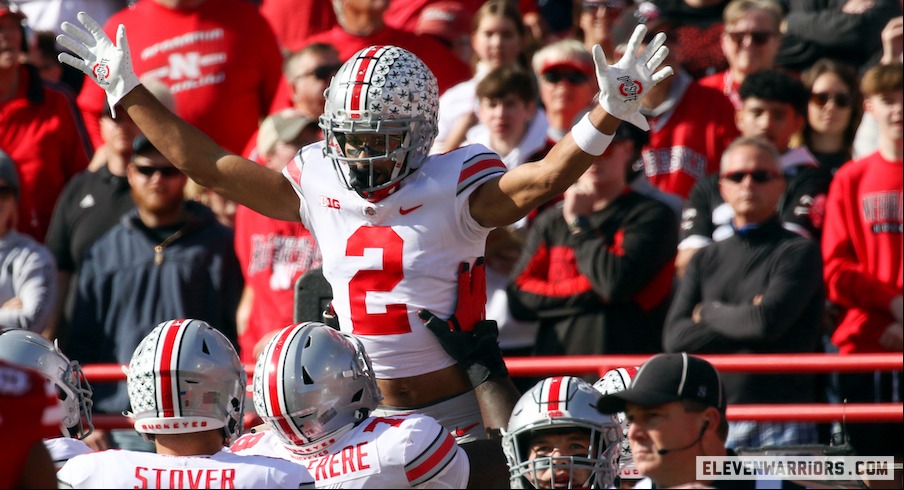 Game Notes
Olave, Haskell Garrett, Kamryn Babb and Teradja Mitchell were the captains for the game's opening coin toss. Nebraska won the coin toss, marking the eighth time in nine games that Ohio State has lost the coin toss this year.
Fleming made his first start of the year at wide receiver in place of Garrett Wilson, who was unavailable for Saturday's game. Marvin Harrison Jr. also saw extensive playing time at wide receiver with Wilson out.
Thayer Munford started at left tackle, Matt Jones started at left guard and Nicholas Petit-Frere started at right tackle. Dawand Jones, who started Ohio State's first eight games of the season at right tackle, took over at right tackle on the Buckeyes' third possession of the game with Petit-Frere moving back to left tackle and Munford moving back to left guard. Matt Jones also played snaps at right guard. Day said postgame that Dawand Jones was feeling ill before the game, which was why he did not start.
Cameron Brown started the game at cornerback for Ohio State, but came out of the game after just one play after suffering an injury on a tackle. He returned to the field on the next possession.
Antwuan Jackson and Taron Vincent started the game at defensive tackle.
Olave caught his 10th touchdown of the pass of the season on Saturday, bringing him to 32 for his Ohio State career, two shy of David Boston's school record. Olave also moved up to sixth on Ohio State's all-time receiving yards and receptions lists, surpassing K.J. Hill in yards and Corey Brown in receptions.
Ronnie Hickman made the first sack of his Ohio State career in the first quarter.
Jack Sawyer went into the medical tent in the second quarter after suffering an apparent injury to his midsection after pressuring Adrian Martinez to force an incompletion.
Attendance for Saturday's game was 84,426 as Nebraska extended its NCAA record to 381 consecutive sellouts.
Steele Chambers started the second half at linebacker for Ohio State after he was suspended for the first half due to his ejection for targeting in the second half of Ohio State's previous game against Penn State.
Ohio State has now won its last seven straight games against Nebraska, its last 13 consecutive road games and its last 27 consecutive Big Ten games. The Buckeyes have a 9-1 all-time record against Nebraska.
Ruggles became the first kicker in Ohio State history to make four field goals in back-to-back games.
Stroud's 36 completions against Nebraska were the second-most ever by an Ohio State quarterback in a single game. He threw for 405 yards, marking the third time he's topped 400 yards in a game this season.
With only 90 rushing yards, Saturday's game was the first time since Ohio State's 2018 loss to Purdue that it rushed for fewer than 100 yards in a game.
Smith-Njigba's 15 receptions broke the single-game record of 14 catches that was previously held by David Boston. His 240 receiving yards were the second-most in school history, behind only Terry Glenn's 253 yards against Pittsburgh in 1995.
The 75-yard connection from Stroud to Smith-Njigba was both the longest pass of Stroud's Ohio State career and the longest reception of Smith-Njigba's Ohio State career.
Ohio State's 495 yards of offense were the most against Nebraska's defense this season.