Before he began catching passes from Dwayne Haskins, Justin Fields and C.J. Stroud at Ohio State, Chris Olave caught passes from Jack Tuttle at Mission Hills High School.
In fact, Tuttle is a big reason why Olave ended up at Ohio State in the first place.
As has been well-documented on this website and others during his Ohio State career, Ryan Day was initially introduced to Olave when Day visited Mission Hills on a recruiting trip to see Tuttle in 2017. While Tuttle, who was the more highly touted recruit, didn't end up getting an offer from the Buckeyes, Ohio State began recruiting Olave that day. Olave, who was just a three-star recruit, has gone on to become one of the most productive wide receivers in Ohio State history and one of the biggest stars of the Buckeyes' 2021 offense that currently leads the nation in yards per game.
Olave may never have become a Buckeye, though, if he didn't have Tuttle throwing him the ball during his lone season on the field at Mission Hills, in which he caught 93 passes for 1,764 yards (a CIF San Diego Section record) and 26 touchdowns, earning him offers from Ohio State and many of college football's other top programs along the way.
"They were made for each other, because Chris became Chris largely because of Jack's talents. If we don't have a Jack Tuttle on our team at that time, then Chris doesn't have that season that's so dynamic for us," Mission Hills coach Chris Hauser told Eleven Warriors. "Jack Tuttle was on the map already. Chris was not on the map. So I think Jack played a huge role in Chris' evolution through his senior year and getting him to be recognized as that elite player that he was."
Four years later, Olave and Tuttle are still close friends. Tuttle said this week that he still talks to Olave, who he described as his "brother," on a weekly basis.
"That was one of my best friends in high school and we still talk to this day," Olave said last week.
Most of the time, both of them wish each other the best and root for each other's success. On Saturday night, however, they'll be trying to beat each other when Ohio State plays at Indiana, where Tuttle is expected to be the Hoosiers' starting quarterback against the Buckeyes.
"I love him, I'm so proud of him, but it's Ohio State week, baby," Tuttle said. "So gotta fire up and beat him."
While Olave became an immediate star during his freshman year at Ohio State, Tuttle's college football career has been more circuitous. A four-star recruit ranked as the No. 8 pro-style quarterback in the 2018 class, Tuttle signed with Utah out of high school but never played for the Utes, transferring to Indiana – where his father also played – after just one season in Salt Lake City. Since arriving at Indiana in 2019, Tuttle has been a backup quarterback for the most part.
Because Indiana starting quarterback Michael Penix Jr. separated his shoulder against Penn State, however, Tuttle is now starting in his place. So far, the results haven't been great, as Tuttle has completed just 51.4 percent of his passing attempts this season for only 356 yards on 70 attempts with three interceptions and one touchdown pass. 
But Tuttle was a highly recruited quarterback for a reason. He led the Hoosiers to a win over Wisconsin in his first career start after Penix went down with a season-ending injury in 2020. And while Tuttle only ended up having the opportunity to start two games last season due to the COVID-19 pandemic, Hauser is hopeful Tuttle will be able to take advantage of the opportunity to start multiple games in a row this time around.
"I'm extremely proud of Jack, because Jack went through his youth football as always being the guy. He was the guy you built your team around," Hauser said. "And so Jack has been Jack through the whole way, and what I mean by that is he prepares and grinds as he's going to get in the game. He doesn't just go, 'I'm not the guy, whatever.' So I think every time his name is called to go in, he's ready to go. But you're going in cold, you're going in in moments that are all of a sudden.
"So I think right now, this is gonna be a moment in his career that can kind of change the path for him now. Because he's the guy right now …  and this is Ohio State. This is a huge one for him. Wisconsin was a big one last year, but this is Ohio State. And you're talking about a team that wow, I firmly believe is going to end up in the College Football Playoff again. So he's gonna give it everything he has and he's gonna lay it on the line because he's an extremely tough kid and there's something to be said when you're a quarterback, the stop and go of your career. You get in, you get out; you get in, you get out. So now he's got a moment to really, I think, change his path as a starter."
Olave knows from experience that Tuttle will be doing everything he can to try to give his team a chance to win on Saturday.
"He's one of the hardest workers I've ever known," Olave said. "You can't take that away from him. His work ethic is off the charts. He's always trying to make the right play. One of the best leaders I've seen. So to have those characteristics as a quarterback, that's huge. I can't wait to see him play."
Of course, similar comments can be made about Olave, a team captain who's helped the Buckeyes win a lot of games while catching 140 passes for 2,260 yards and 29 touchdowns since 2018.
"Known him for a long time, such a great kid," Tuttle said. "Everything he's gotten, he's really worked hard for and he really deserves."
Hauser, who made the case to Day on that day in 2017 that Olave had the talent to play at Ohio State, couldn't be prouder of what his former receiver has accomplished as a Buckeye.
"He has certainly delivered in a huge way for Ohio State from a production standpoint, but I think also carrying on the torch that the guys that he walked into with Parris Campbell and Terry (McLaurin) and Johnnie Dixon who treated him so well, he's paying it forward," Hauser said. "And I think that is a credit to Coach (Brian) Hartline, Coach Day, the program and what it does there."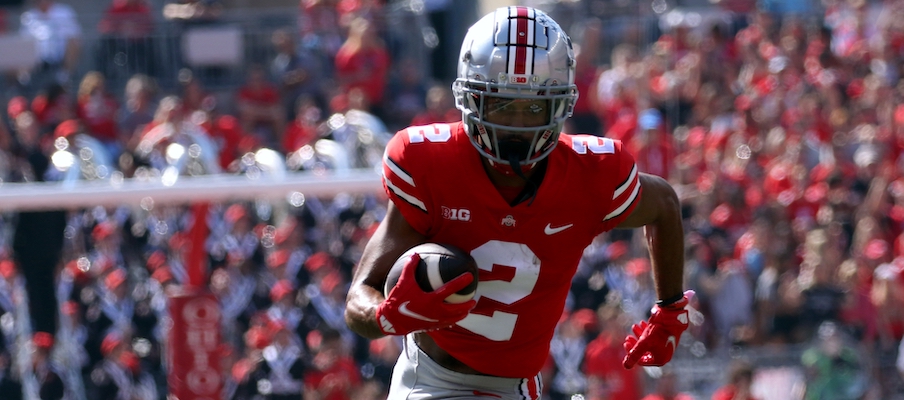 Olave is a Buckeye and Tuttle is a Hoosier, and they'll both be doing whatever they can when their respective offenses are on the field to try to lead their team to a victory on Saturday night. Their bond, however, is one that transcends their current status as Big Ten rivals and dates back to when they were playing on the same team in San Marcos, California, on Friday nights.
They certainly haven't been forgotten back home, where Hauser will be among those proudly watching as his former star quarterback and wide receiver play major roles for Big Ten teams against one another in the national spotlight.
"It's rewarding for us at the high school level to know that their experience here is something they cherish and they look back fondly on because now where they're at, they're rock stars now," Hauser said. "Back in high school, they were Jack and Chris, they were just walking around the campus like everybody else. But now if they were to walk around campus, it changes, because they've become names that people know nationally. 
"They've both stayed true to who they are, and that's such a credit to their upbringings from their families and their willingness to support our high school whether it's a Zoom call to support us during that shutdown or helping out with some advice to a position player that maybe wants to play college football or wants to learn about what it's like to be a quarterback in college. So they've given back when they can and for all of us back home, we look forward to turning on the TV on Saturday and watching them play."