Tom Allen's Indiana Hoosiers were the darlings of the Big Ten last year, when they gave Ohio State its biggest scare of the 2020 regular season.
The subsequent fall from grace has been swift and hard in 2021, as Indiana already has twice as many losses through the first six games of the season as it did in the entirety of last season's impressive 6-2 run.

INDIANA HOOSIERS
2-4 (0-3 B1G)
ROSTER / SCHEDULE
---
7:30 P.M. – SATURDAY, OCT. 23
MEMORIAL STADIUM
BLOOMINGTON, INDIANA
---
ABC
WatchESPN
Just last November the Hoosiers put up 35 against the Buckeyes with a furious second-half comeback in Columbus, but Indiana has mustered a total of 21 points in three games against conference competition this year.
Let's take a closer look at this year's edition of Indiana, which limps into this upcoming weekend's matchup with the fifth-ranked Buckeyes coming off of two straight losses.
Gave Sparty a scare
Indiana's 2021 campaign has been far from awe-inspiring thus far, but the Hoosiers did manage to come within a touchdown of knocking off a top-10 team this past weekend.
A Michigan State offense that entered the week red-hot managed just one touchdown all game against Indiana, and the Hoosiers were a failed two-point conversion away from tying things up 17-all in the fourth quarter. The Spartans edged out a 20-15 win to remain undefeated, but they did not go untested on the day.
INTERCEPTION! @IndianaFootball is still in this game! pic.twitter.com/XMR7bpQXFv

— FOX College Football (@CFBONFOX) October 16, 2021
Doak Walker Award frontrunner Kenneth Walker was held to just 3.7 yards per carry. Fresh off a 221-yard performance the week prior, MSU wideout Jalen Nailor had just 22 yards against Indiana. Spartan quarterback Payton Thorne had his worst game of the season so far, completing less than 54 percent of his passes while throwing for just 126 yards, one touchdown and two interceptions.
Had the Indiana offense not turned the ball over three times, including a pick-six in the first quarter that gave the Spartans their only points until the second half, there may have been a different result in Bloomington.
Injuries, poor play at QB
In 2020, Michael Penix Jr. might have been the best quarterback in the Big Ten not named Justin Fields. His fourth year with the Hoosiers has been far less successful, to say the least, and a separated shoulder threatens to keep him out of this year's game against the Buckeyes.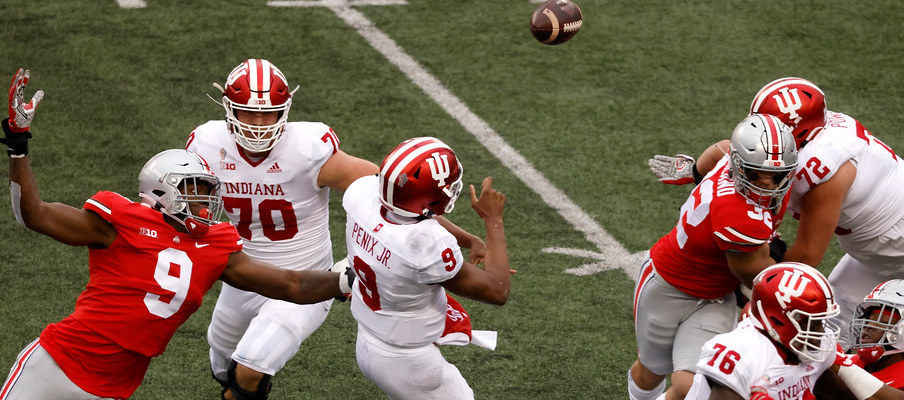 However, if Penix was worried about backup Jack Tuttle putting a commanding hold on the position in his first start of the season Saturday, he might be resting a bit easier this week. 
Tuttle accounted for all three of Indiana's turnovers against Michigan State with two picks and a fumble. On a whopping 52 passing attempts, Tuttle finished with just 188 yards through the air to end the game with an average of 3.6 yards per pass.
PICK SIX @MSU_Football's defense puts the Spartans on the board in Bloomington. pic.twitter.com/JOBSube53C

— FOX College Football (@CFBONFOX) October 16, 2021
As underwhelming as Tuttle's performance was, his 76.5 passer rating was not the worst by an Indiana starter this season, as Penix began the year with a no-touchdown, three-interception nightmare against Iowa. Penix has thrown for fewer than 200 yards in three of his five starts.
Tuttle and Penix have combined to throw twice as many interceptions as they have touchdowns this season, and with the second-lowest average number of passing scores thrown per game in the Big Ten (0.8), the Hoosier pass attack has not come close to resembling its 2020 form this season.
Commendable strength of schedule
Although it is accurate to point out that Indiana's only wins this season have come against the Big Sky's Idaho and Conference USA's Western Kentucky, it would be rather difficult to fault the Hoosiers all that much for any of their four losses.
That's because each time Indiana has suffered a defeat this season, it's been against a team that currently sits in the top 11 of the AP Top 25 Poll. According to the Sports Reference algorithm, Indiana has the second-highest strength of schedule in the entire country.
Top-5 hardest remaining schedules in College Football

1. Nebraska
2. Auburn
3. Maryland
4. LSU
5. Indiana

— PFF College (@PFF_College) October 5, 2021
The Hoosiers opened the year with a loss to Iowa, which ranked No. 2 in the country before being upset by Purdue this past weekend. Indiana had a fourth-quarter lead over current No. 2 Cincinnati two weeks later before an eventual two-touchdown loss. 
Indiana's second Big Ten matchup came against then-No. 4 Penn State, which stayed undefeated with a 24-0 win against Allen and company. The Hoosiers' next contest, again a losing effort, came against No. 10 Michigan State. 
Needless to say, Indiana's schedule has been front-loaded with heavy hitters in 2021, and things don't get much easier with Ohio State next up on the docket. That said, Indiana will get to close out its season with four unranked opponents in five weeks once the Buckeye matchup is finished.
Second-worst scoring defense in the Big Ten
Given the caliber of opponent Indiana has been tasked with on a weekly basis, this stat may be something of a misnomer. Still, the Hoosiers will enter their next matchup with the second-worst scoring defense in the conference.
Indiana has allowed 26.8 points per game, which is fewer than only Maryland, a team that gave up 66 and 51 in its last two outings. The Hoosiers have managed to keep every team they've played under 40 points, but three teams (Iowa, Cincinnati and Western Kentucky) have scored between 31 and 38 against Indiana this season.
Indiana's sub-27-point defensive scoring average would actually rank better than five teams in the SEC at present, but in conjunction with an impotent offense and the stout defenses across the Big Ten, it hasn't been good enough for the Hoosiers to win many games. In fact, six defenses in the Big Ten rank in the top 30 in the country in terms of scoring allowance, which only makes Indiana's look worse by comparison.
Indiana returned 10 starters from last year's defense, including senior linebacker Micah McFadden, who has been a bright spot with nine tackles for loss and 3.5 sacks. Aside from scoring, the Hoosiers are middle-of-the-pack in the conference in total yards allowed (333.2), passing defense (209.3) and rushing defense (123.8).
@mcfadden_micah pic.twitter.com/Kx6UTjtT0P

— Indiana Football (@IndianaFootball) October 14, 2021
Its performance against Michigan State may be something to build off of, but in Charlton Warren's first year as the Hoosiers' defensive coordinator since replacing Kane Wommack, Indiana hasn't quite gotten the job done when it comes to limiting opposing offenses.
Run game woes
No Indiana player who has rushed the ball at least 20 times this season possesses a yards-per-carry average of more than 3.7. Stephen Carr, who has received the lion's share of touches among Hoosier running backs, is averaging just 3.6 yards per pop.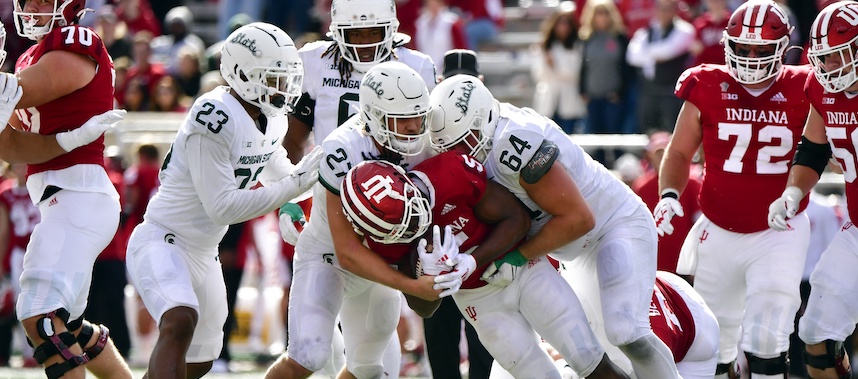 The entire team average is even lower than that, as only 21 teams in the country have a worse average than the Hoosiers' collective 3.4. Three of those teams – Purdue (2.8), Iowa (3.1) and Rutgers (3.3) – reside in the Big Ten, so Indiana's poor run game numbers are not the worst in the conference.
That doesn't make them look much better, though, as Indiana's 124.2 yards per game on the ground ranks in the bottom three in the Big Ten. Indiana has not had a 100-yard rusher against Big Ten competition this season, and Carr's only 100-yard games came against Idaho and Western Kentucky. Indiana has failed to tally 100 yards rushing as a team in two of its three conference matchups this season.
Unfortunately for the Hoosiers, their next game is against an Ohio State team that has allowed just 79 rushing yards per game on 2.3 yards per carry in its past four games.